Anybody said spiders for Halloween?? I did! Let's make Halloween chocolate cupcakes with chocolate spiders ! 😉
A delicious chocolate muffin, topped with a milk chocolate whipped ganache and a few decorations are all you need to make those babies.
Let's see the recipe, Chef!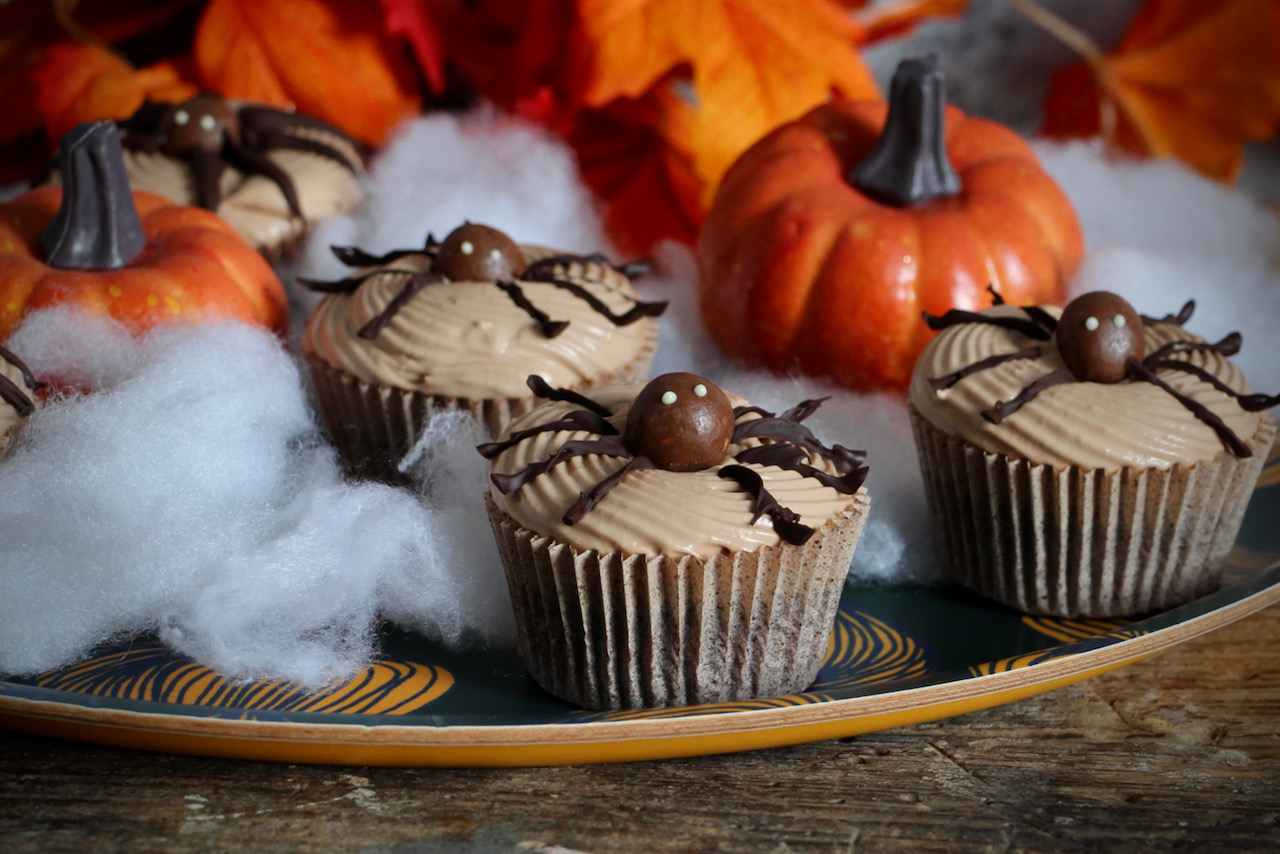 Print Recipe
Halloween Chocolate Cupcakes
Ingredients
Ganache

200 g liquid cream (30% fat)

100 g milk chocolat

1 tsp honey

Cupcakes

1 cup plain yaourt

1/2 cup milk

1/2 cup vegetal oil

1 egg

1 cup sugar

2 cups flour

1/2 tsp baking powder

1/2 cup unsweetened cocoa

Decoration

10 g dark chocolat

12 chocolate balls

5 g white chocolat
Instructions
1
Pour 50 g of cream in a saucepan. Add the honey.
2
Heat until it boils. Stop heating immediately.
3
Add the milk chocolate and combine.
4
Add the 150 g of cream, combine.
5
Place a clingfilm directly on the mixture so that there's no air remaining.
6
Set aside in your fridge for at least 4 hours.
7
Preheat your oven to 200 C / 390 F degrees.
8
Mix the flour, sugar, cocoa powder, and baking soda in a large bowl.
9
In another bowl whisk the egg, yogurt, milk, vanilla, and vegetable oil until you get an homogeneous batter.
10
Pour into the powders mixture and stir until batter is just blended.
11
Fill prepared muffin cups 3/4 full.
12
Bake 18 minutes. Check baking with a toothpick: insert into the center, if it comes out clean it's baked. If not, bake another 1 or 2 minutes.
13
Cool in the pans for 10 minutes before removing to cool completely on a grid. Set aside in your fridge.
14
Melt the dark chocolate and pipe 2 cm strings on a parchment paper. Set aside in your fridge.
15
Place the bowl and whisk in your freezer for a few minutes.
16
When the bowl is cold, pour the cream inside and whisk for a few minutes. You should get a firm and compact ganache.
17
Pour the ganache in a piping bag with star nozzle and pipe the ganache on the cupcakes.
18
Place the chocolate ball in the center of each cupcake, add 4 strings of chocolate on each side.
19
Melt the white chocolat and draw the eyes of the spider on each chocolate ball.
20
Set aside in your fridge until serving.