Every day you make my spinach and cherry tomato curry, it was obvious that I had to suggest a variation of this recipe.
So today we will cook my spinach and Paris mushroom curry!
The idea remains the same:
simple recipes, easy to cook
healthy recipes
seasonal recipes, full of flavors.
I love spinachs, I love fresh Paris mushrooms, the combo was an obvious match.
As far as the sauce is concerned, I suggest to make it with coconut milk and cream. Since I often had the question, let me add that coconut milk and cream are not mandatory for those who don't like them so much. You can add cream only, coconut milk only or mascarpone or simply a poultry broth for a lighter version. In this case, you will have a very good dish but without the smoothness brought by the dairy.
You get the idea, it's a multiple choice recipe!
I even had an idea while writing this post: you can add grilled flaked almonds for a crunchy feeling!
The utensils:
A large sauce pan for the spinachs
And a large frying pan.
Shall we do this?
The reicipe, Chef!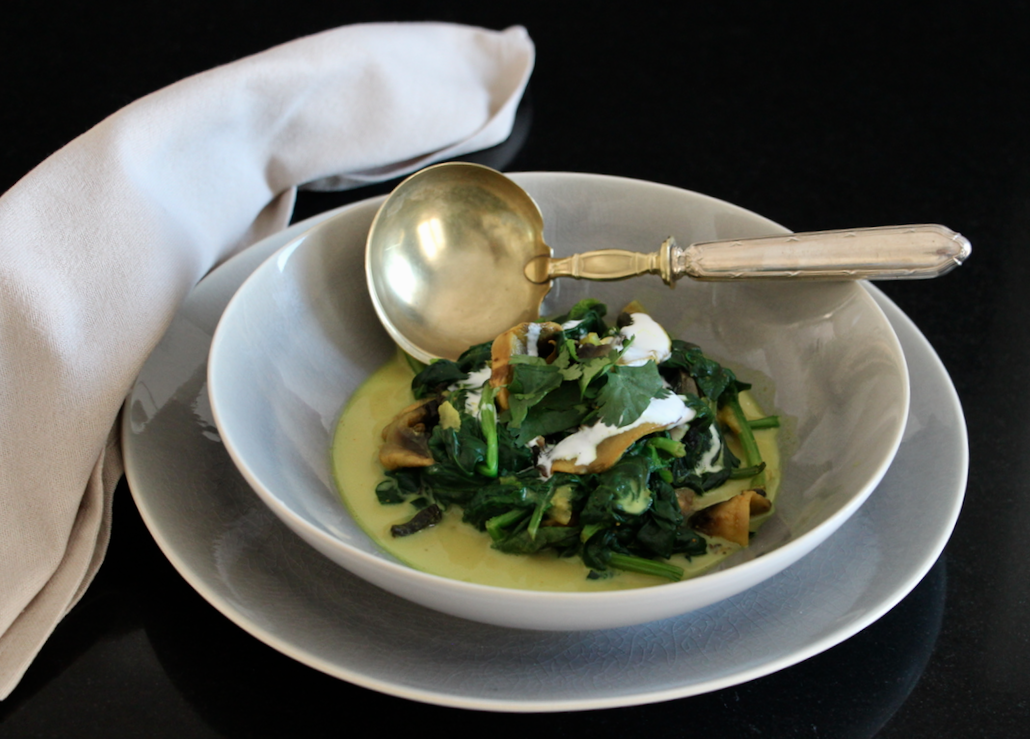 Print Recipe
Spinach and Paris Mushroom Curry
Ingredients
3 handful fresh spinach
1/2 onion
4 large mushrooms
2 tablespoons oil
20 cl coconut milk
5 cl cream
Salt
Pepper
1 teaspoon curry
1/2 teaspoon curcuma
Ground ginger
5-6 leaves coriander
Instructions
1
Boil a large volume of salted water.
2
Plunge the spinachs in the boiling water for 2 minutes.
3
Drain them (press to remove as much water as possible). Set aside.
4
Heat the oil in a frying pan and add the minced onion.
5
Stir fry for 2 minutes then add the mushrooms (peeled and cut in slices). Cook at medium heat for 5 minutes.
6
Add the spinachs, coconut milk and spices, salt, pepper.
7
Stew 10-15 minutes with cover at low heat.
8
Add cream before serving. Spread chopped coriander.