Hello my lovelies!
Are you looking for an easy and quick cake to make? That can be garnished with whatever is in your fridge?
Stop right there! You just found it…
Here is the gesundheitskuchen or Alsatian health cake!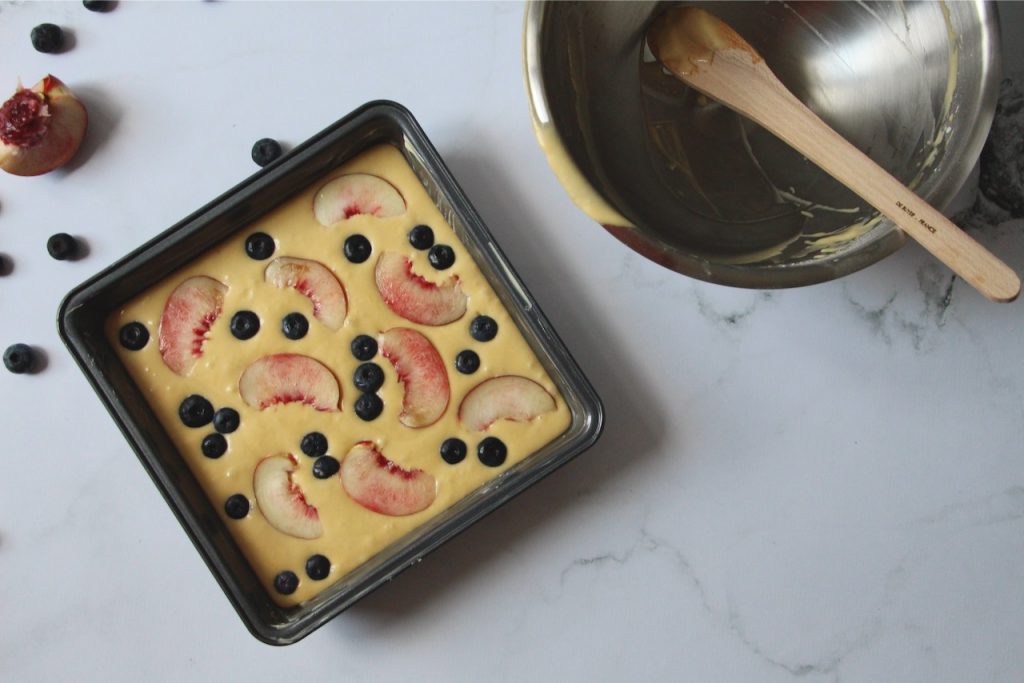 This is a traditional cake from Alsace, very smooth, and so easy to bake that you will do it over and over!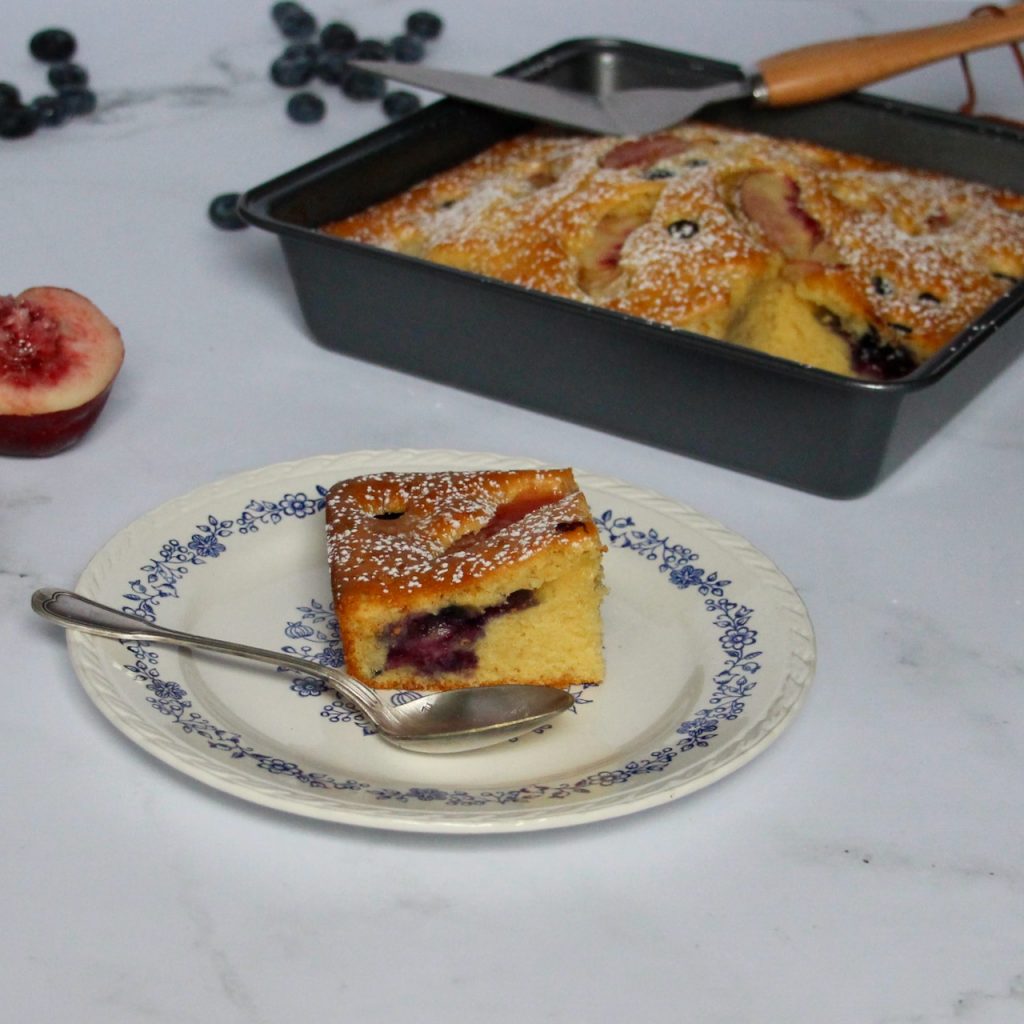 The recipe is like many other cake recipes but with brandy (kirsch or rhum for instance). The rest of the ingredient list is eggs, flour, sugar, milk, butter and baking powder.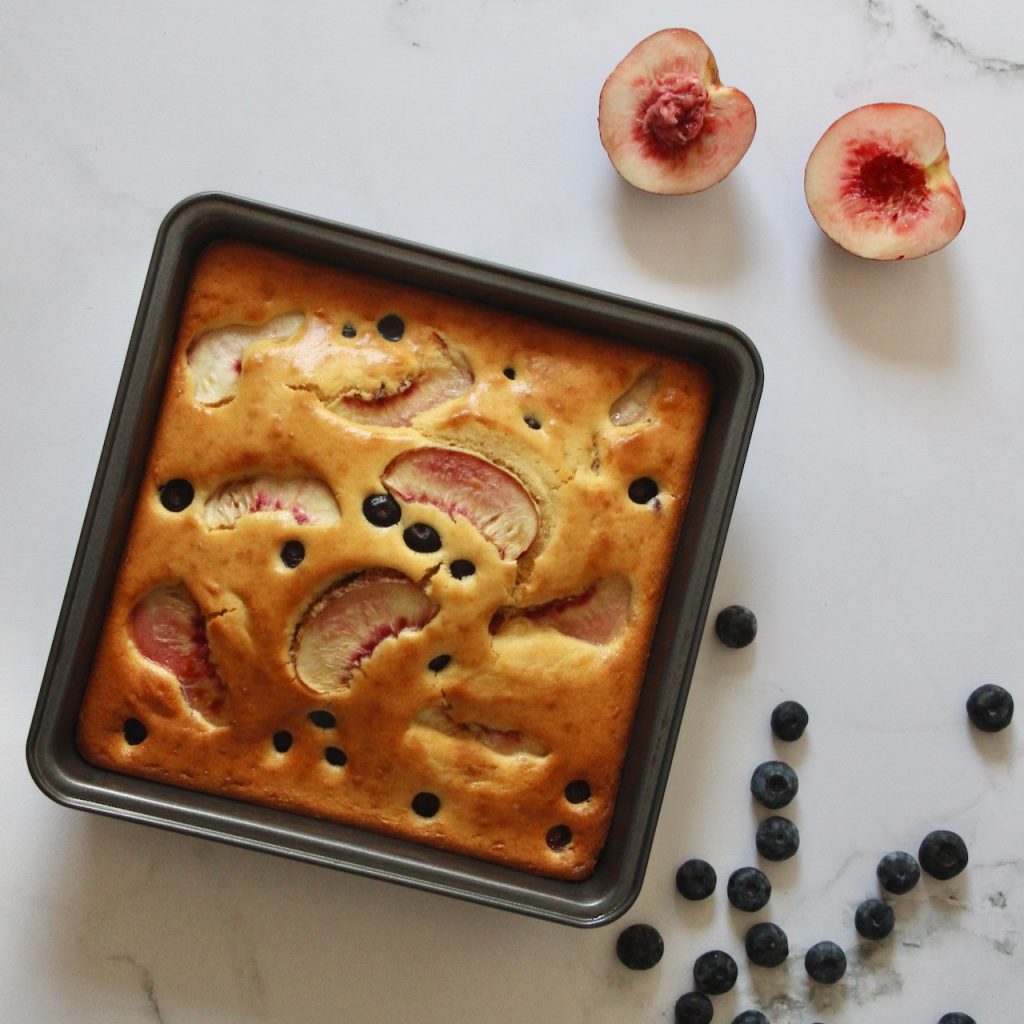 The important part of the recipe is to make sure to whisk the eggs and sugar quite vigourously in order to get a foamy batter. That's what will make your gesundheitskuchen or Alsatian health cake light and moist.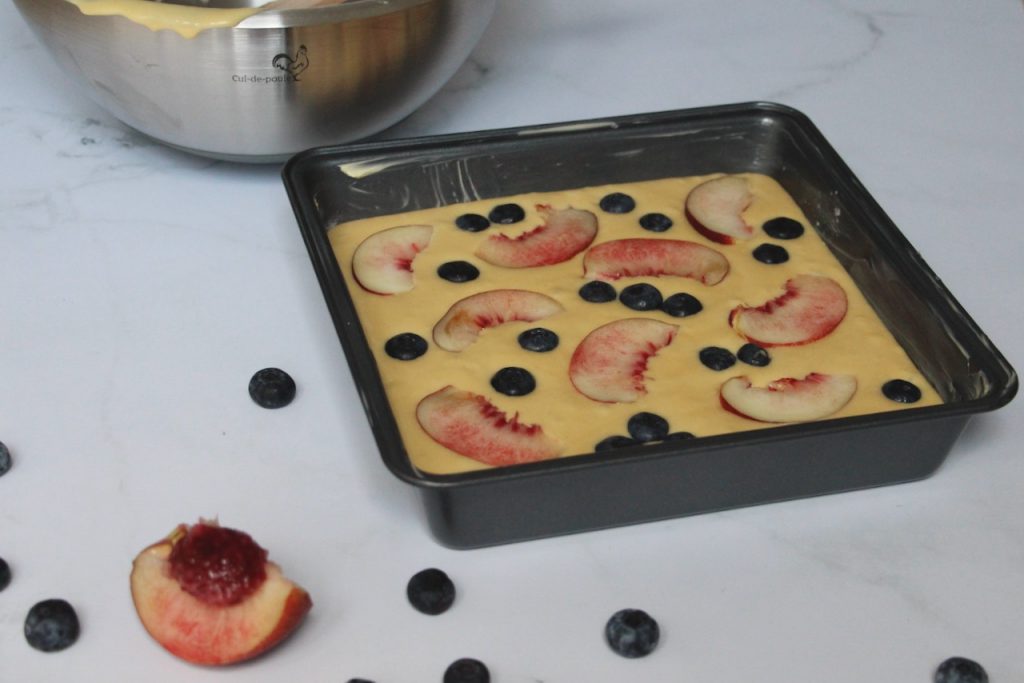 This cake was introduced in Alsace at the 19th century.
Easy to preserve, cheap and nourrishing (super important in Alsace!! 😉 ), it became an iconic recipe served with coffee or a glass of wine (at the time).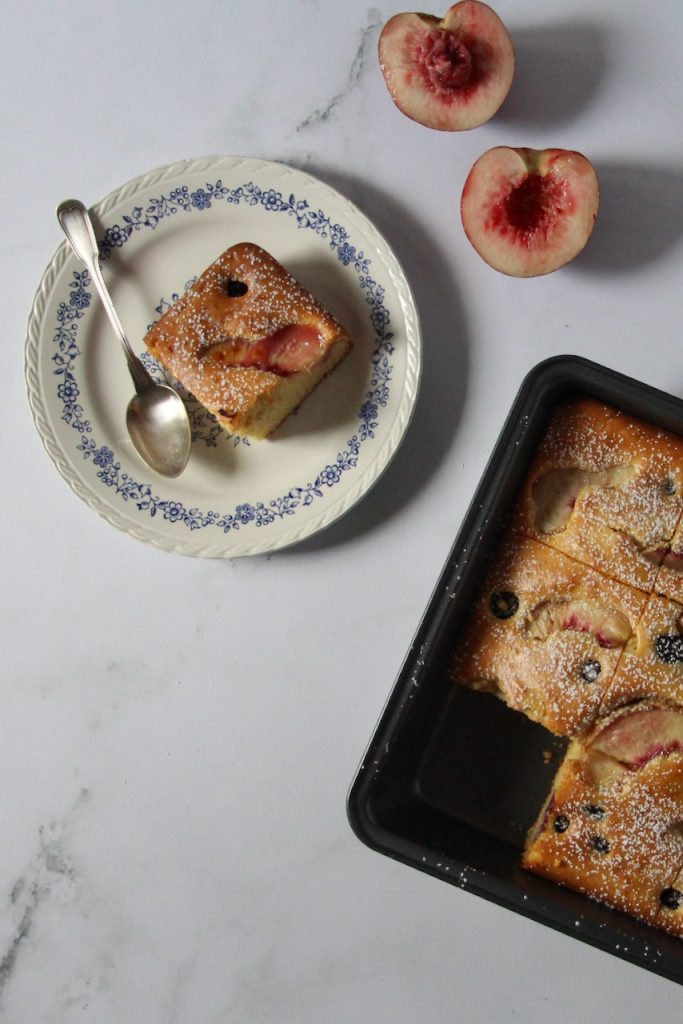 I couldn't find the explanation of the origin of this gesundheitskuchen or Alsatian health cake. Considering the ingredients, it's not really a diet cake!! Maybe it was in the 19th century!! Who knows??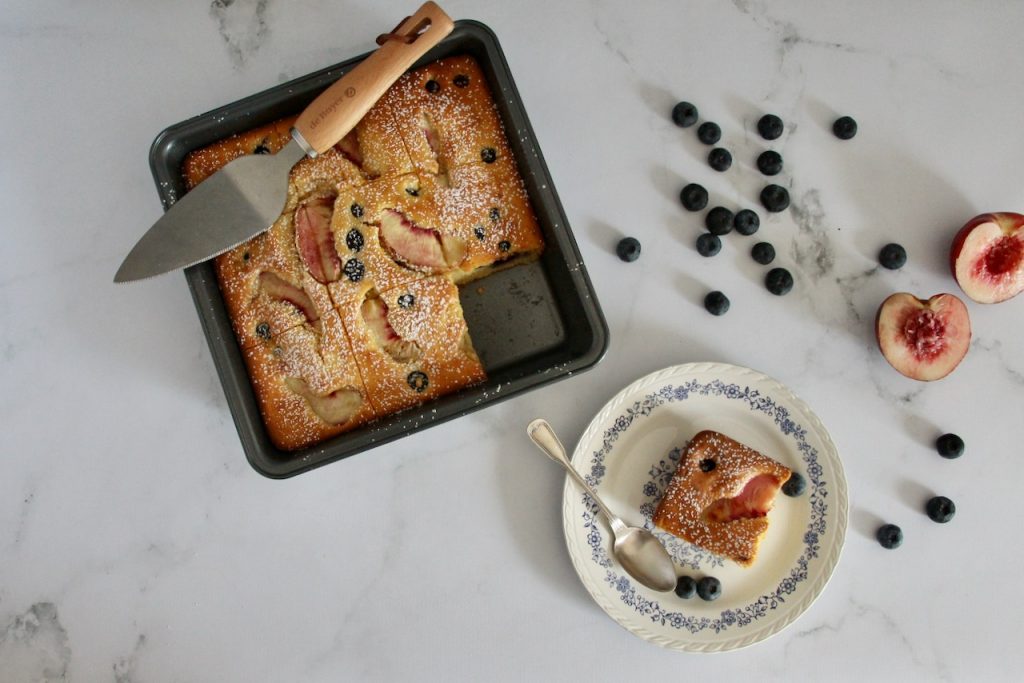 You can adjust the recipe according to your tastes or simply to what you have at hand: lemon zests, vanilla, fruits, nuts or chocolate. Here I chose nectarine and blueberries. A really good combo. Fruits make this cake even smoother… humm…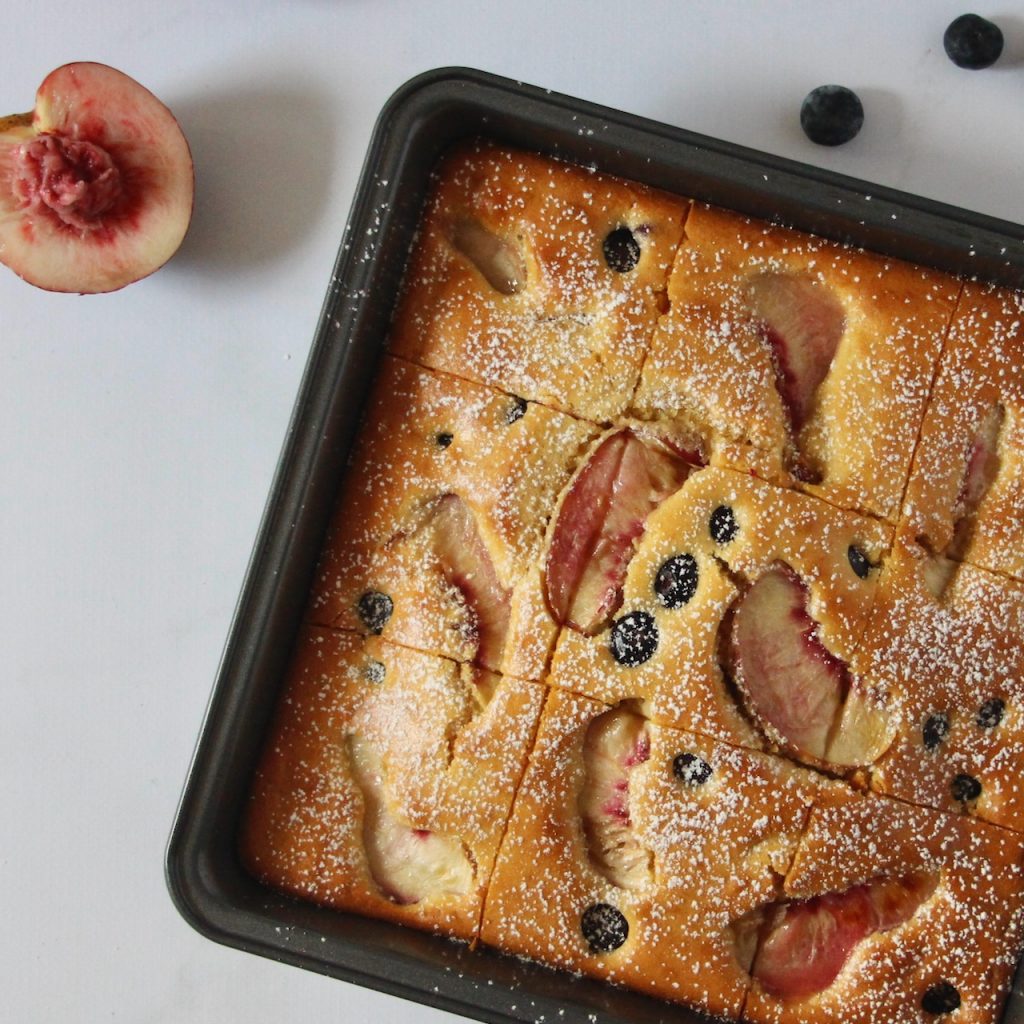 I used my square mold from the "homebaking" box by De Buyer. 9 inches large, it's the appropriate size for this gesundheitskuchen or Alsatian health cake.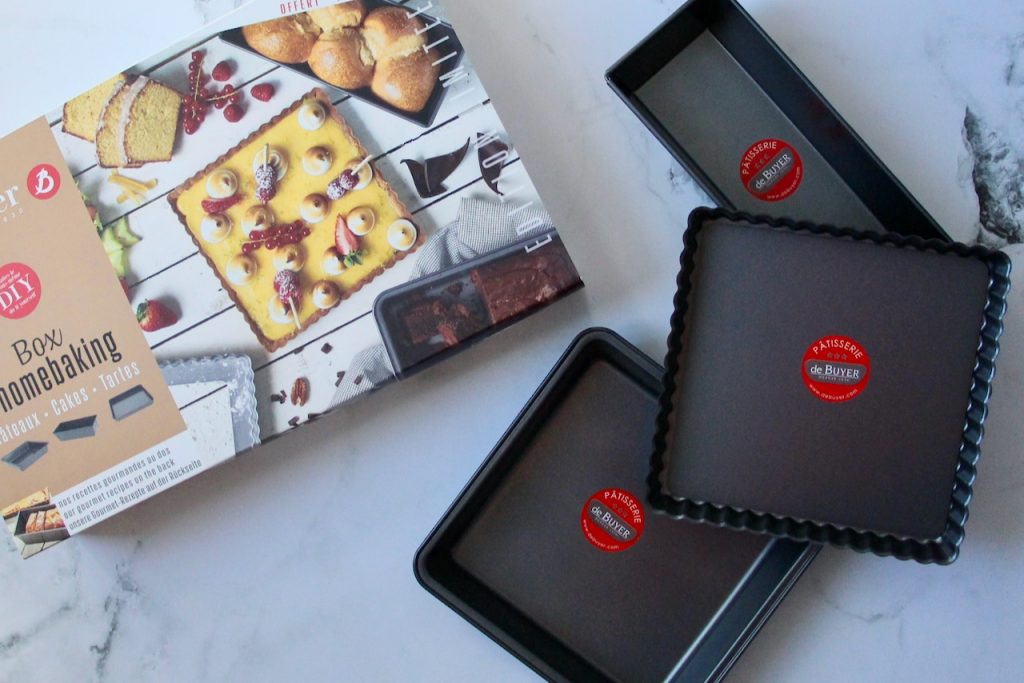 Perfect unmolding, uniform cooking. I strongly recommend it… 😉
The utensils:
My square mold (you got that already),
A large bowl,
A good whisk (or an electrical one)
And that's it!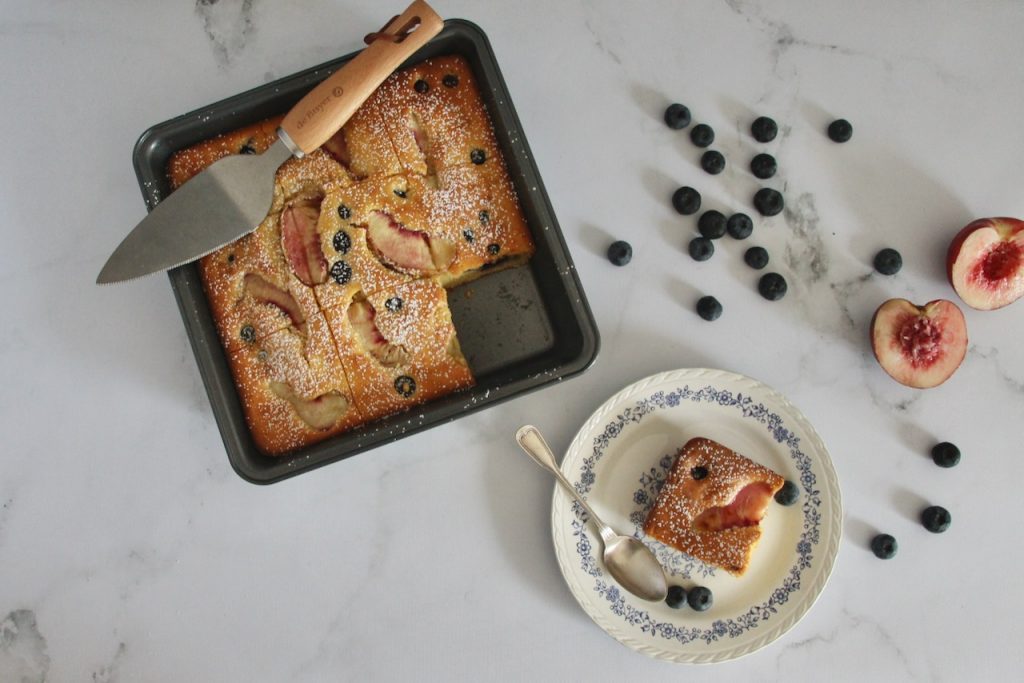 Shall we start?
The recipe, Chef!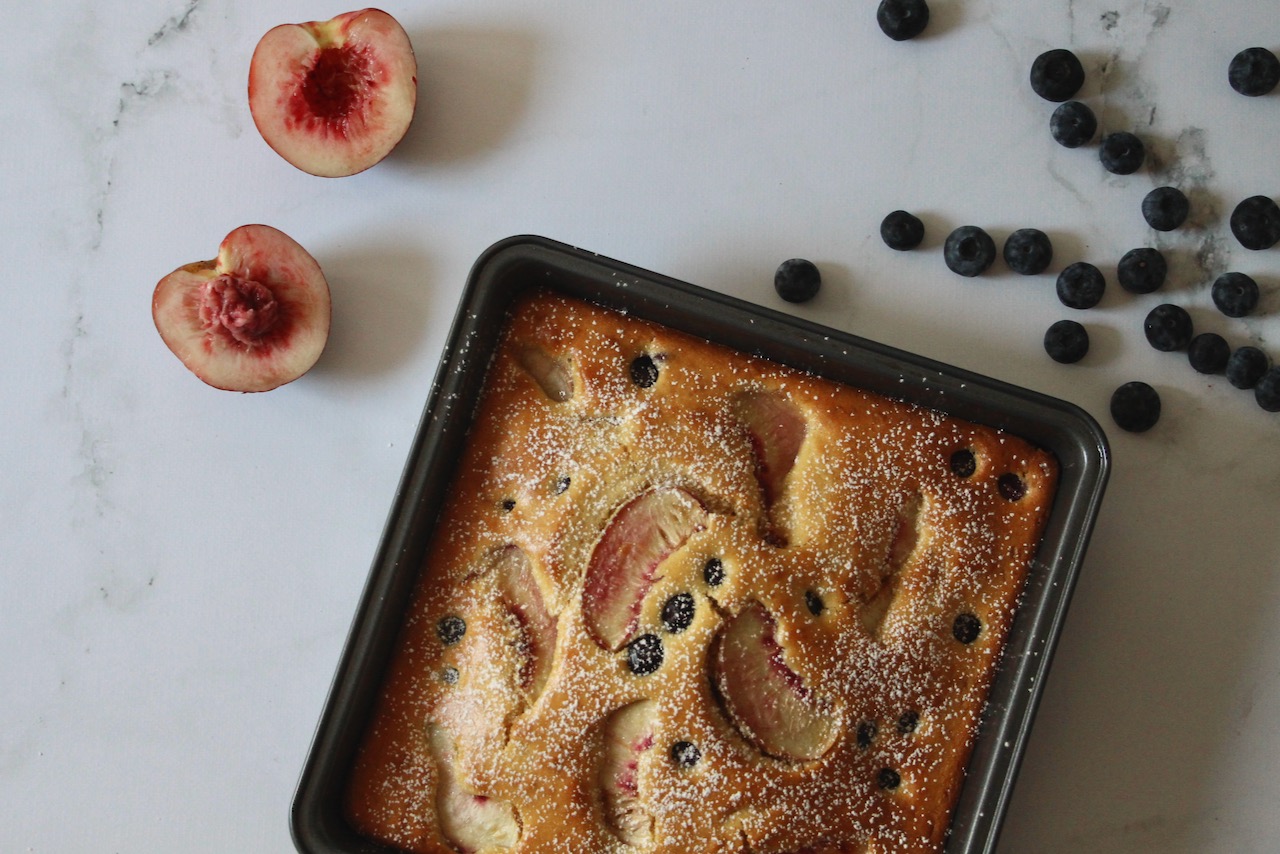 Print Recipe
Gesundheitskuchen or Alsatian Health Cake
Ingredients
4 eggs

100 g sugar

125 g butter

250 g flour

6 g baking powder

100 g milk

1 tablespoon kirsch

1 pinch flower salt (optional)

1 nectarine

75 g blueberries
Instructions
1
Preheat your oven at 180 degrees.
2
Melt the butter and set aside.
3
Whisk the eggs and sugar until foamy and white.
4
Add the flour, baking powder and flower salt. Mix.
5
Add the milk, butter and kirsch. Mix until you get an homogeneous batter.
6
Cut 1/4 of the nectarine in cubes. Add them with 25 g blueberries to the batter.
7
Pour in your buttered mold.
8
Place the rest of the nectarine cut in slices and the blueberries on top.
9
Cook 30 to 35 minutes (check with a knife).
10
Let cool down on a grid, spread icing sugar if you want.