Hello hello friends of the celery!
Want something new? Fresh? Healthy? Something different as the usual snack? Or offer a light and savoury starter to your guests? Got it! You are one the right page here!
Today I'm going to share a stunning recipe : mash celery with bacon. I suggest to eat it cold ( but warm works too). It is tasty, light and so easy to cook !
You can cook it anytime of the year and serve it with any kind of drinks.
You can also serve it as a starter or in a nice verrine on your Sunday brunch plate.
Cherry on the cake : it is a clever way to get the reluctant ones to eat celery. And more, I like to use vegetables that we don't use so much any more.  When we mention celery, we think of the school cafeteria meals or something you might find in a supermarket. But if you cook it with the appropriate ingredient like bacon, you will get a delicate dish with a light smoked taste.
Finally, you can keep it quite a while in your fridge and this vegetable is really cheap.
So, try it and keep me posted !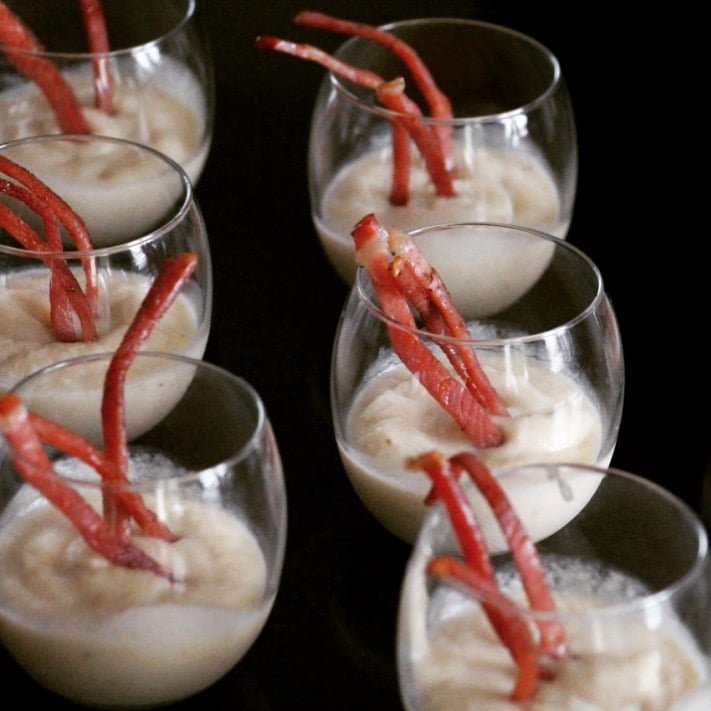 Print Recipe
Ingredients
1/2 Celery
1/2 l milk
100 g smoked pork belly
Bacon slices
Pepper
Ground ginger
Parsley
Mild red pepper
Instructions
1
Peel the celery and cut into 1 inch cubes.
2
Then put the cubes in a pan with the milk, pork belly and chopped parsley.
3
Heat the pan and when it starts to boil, lower the heat significantly until the celery cubes soften.
4
Blend, season with pepper, ground ginger and a bit of mild red pepper. Set aside in your fridge.
5
Before serving, put a few slices of bacon in a heated pan.
6
Fill in your verrines with your mash celery and serve with the bacon.
7
It's ready ! Bon appetite !
Notes
You don't have to add salt since your smoked pork belly is already salted.