Pasta, dairy, green vegetables… Not too bad for a meal, right? And quite yummy!!
In those troubled times, this is definitely what we need: spinach and ricotta lasagna – cannelloni!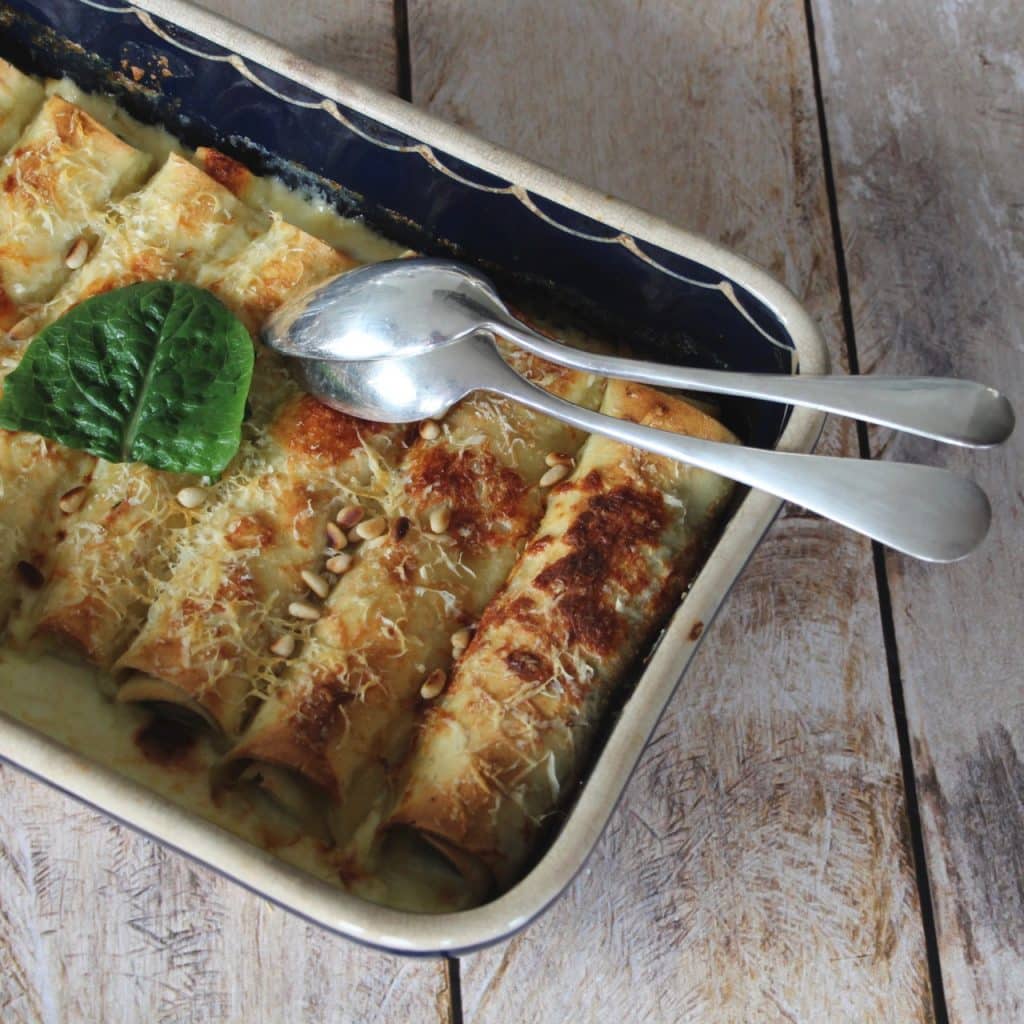 This is a yummy simple dish, that you can prepare in advance (you will just keep the oven cooking part for the last minute) and that will be highly appreciated by most of your guests I'm sure.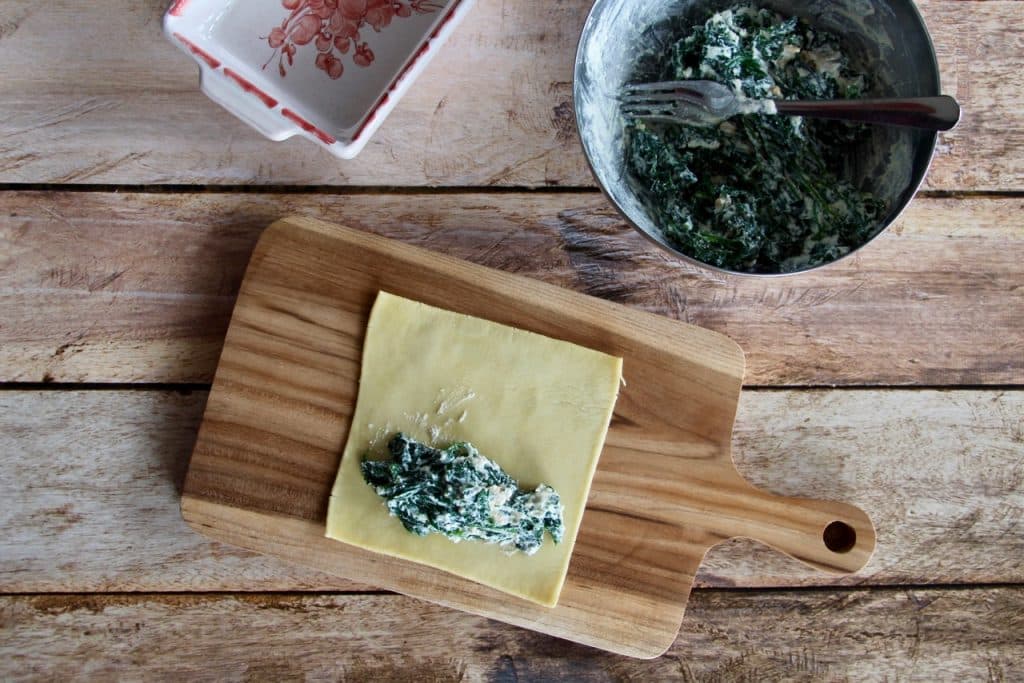 Yes, it's made with spinach and some people don't like them so much, but (yes there's a but!!), but mixed with ricotta and combined with my Alfredo sauce, it's yummylicious.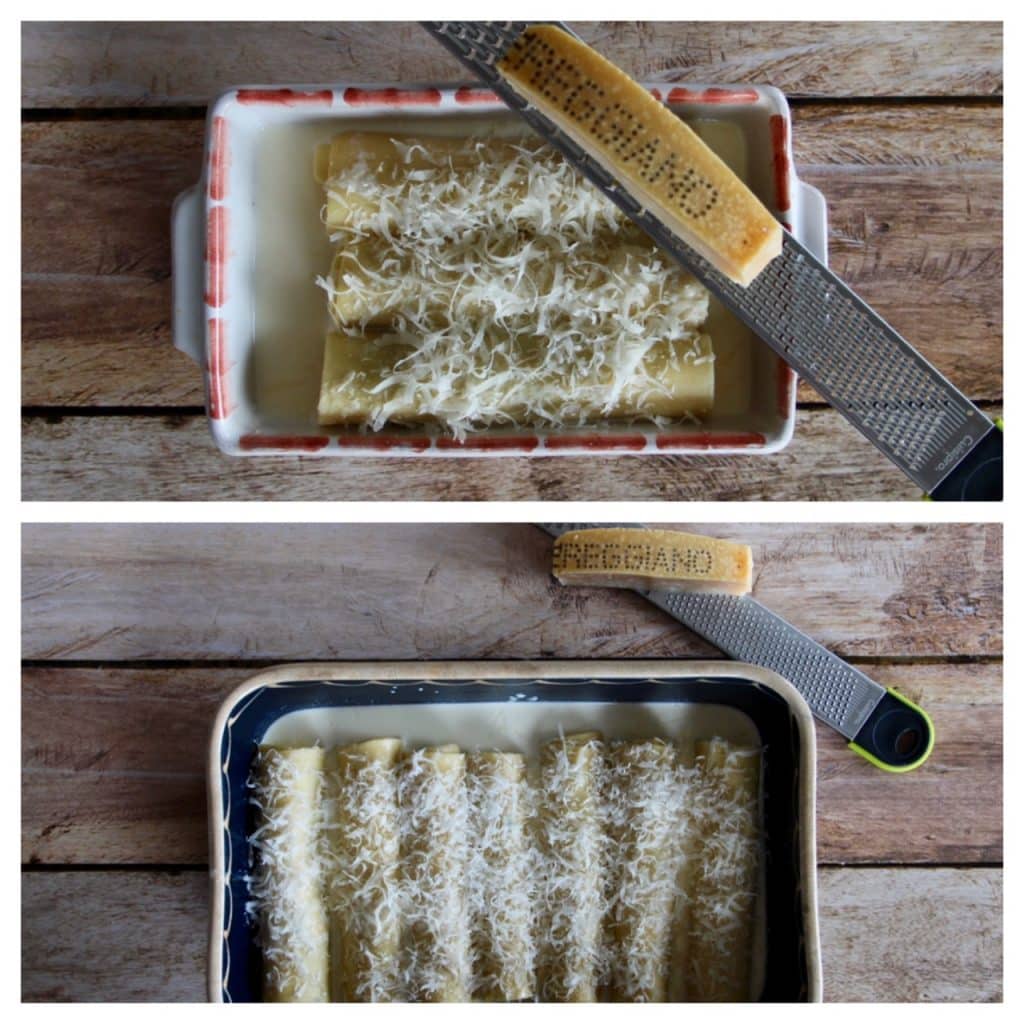 So this Alfredo sauce, you might remember it because I already shared it here with my Rigatoni with Alfredo sauce, is actually a creamy sauce with cream and parmesan… So yum!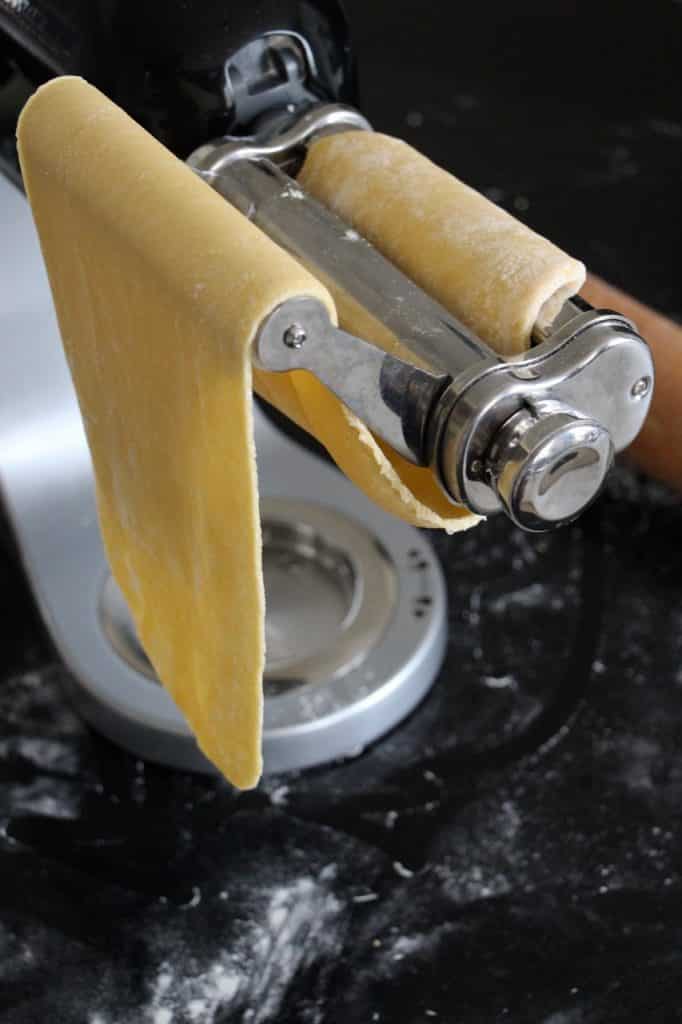 As far as "pasta" is concerned, I chose to make my own lasagna. I used a pasta machine to make my lasagna, but you can make them with your rolling pin.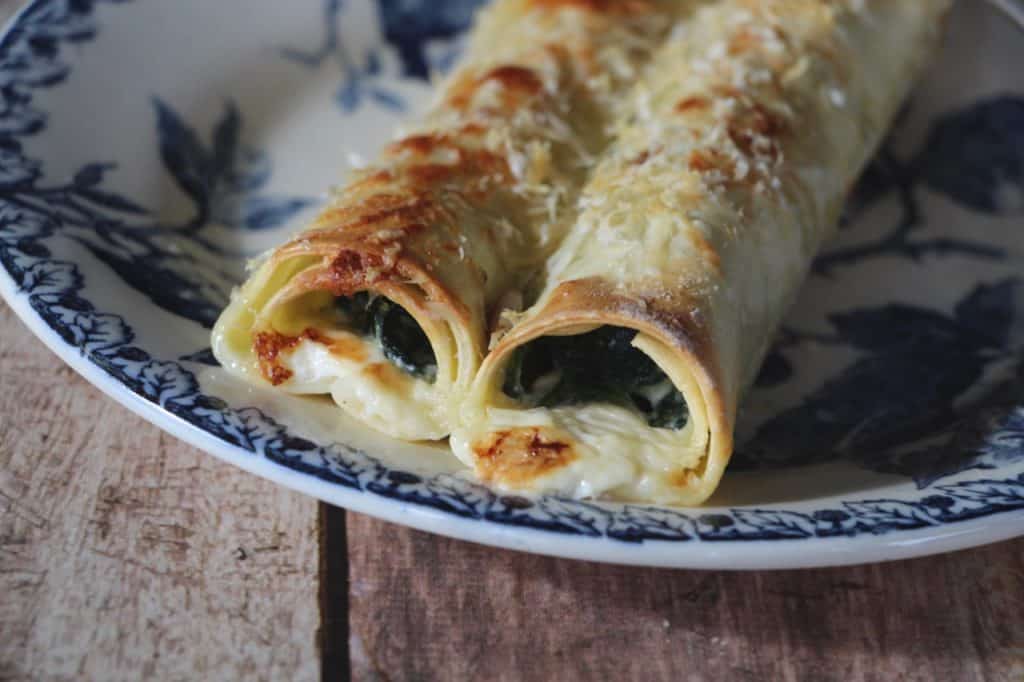 You just have to keep in mind, in both cases, that the pasta should be thin because it will thicken during cooking. And if the pasta is too thick, it's not that good, plus it might be under cooked…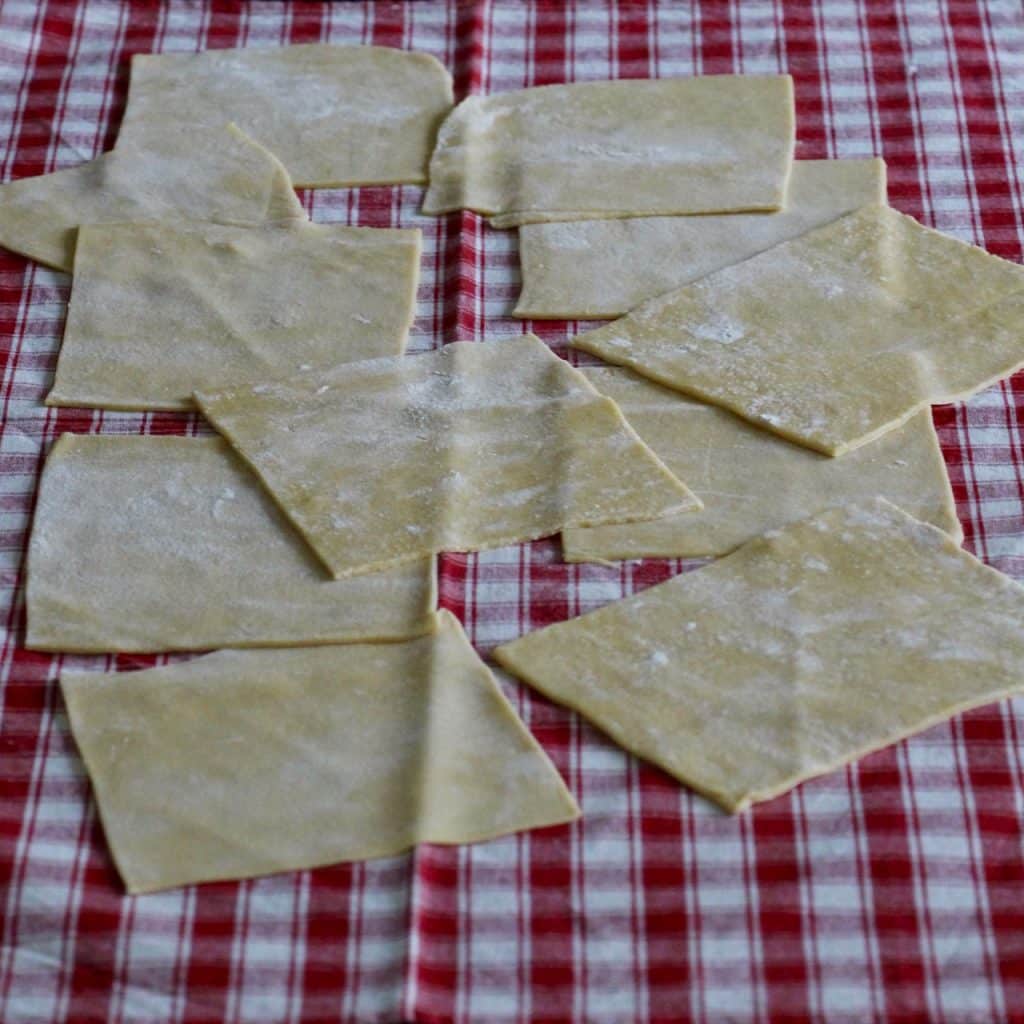 You can of course buy industrial ones at your usual supermarket.
You can make this spinach and ricotta lasagna – cannelloni as your usual lasagna. The cannelloni shape here is just goodlooking and easy to serve by the plate.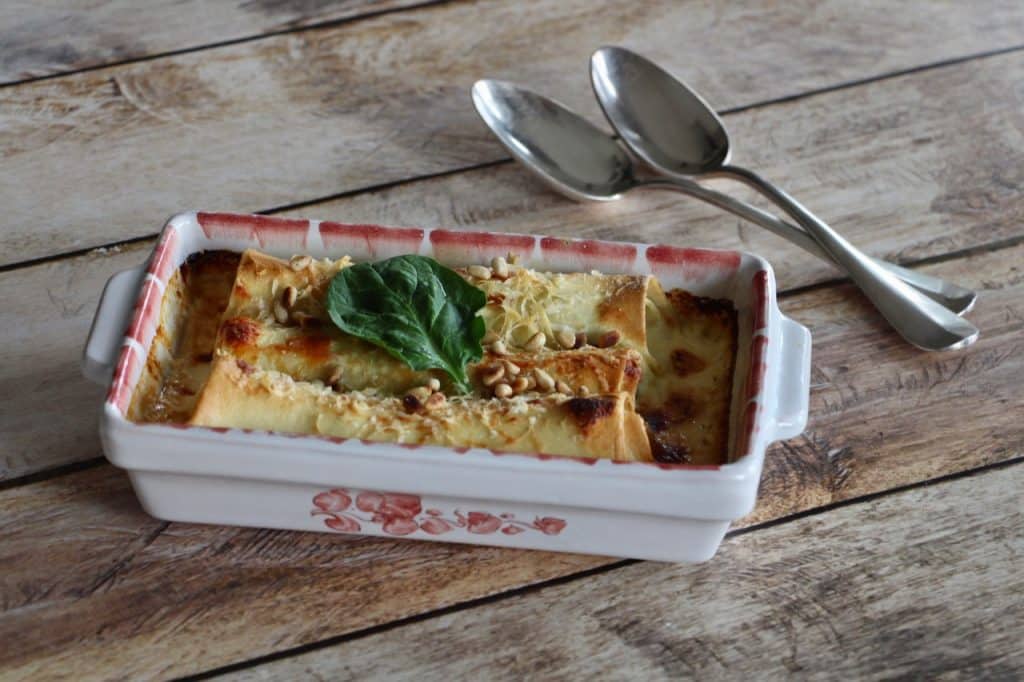 In a nutshell… You can replace the spinachs by the green part of chard, you can also add thin slices of butternut for instance. Regarding the cheese, you can take a cream cheese or goat cheese instead of the ricotta. You get it, this recipe is full of options.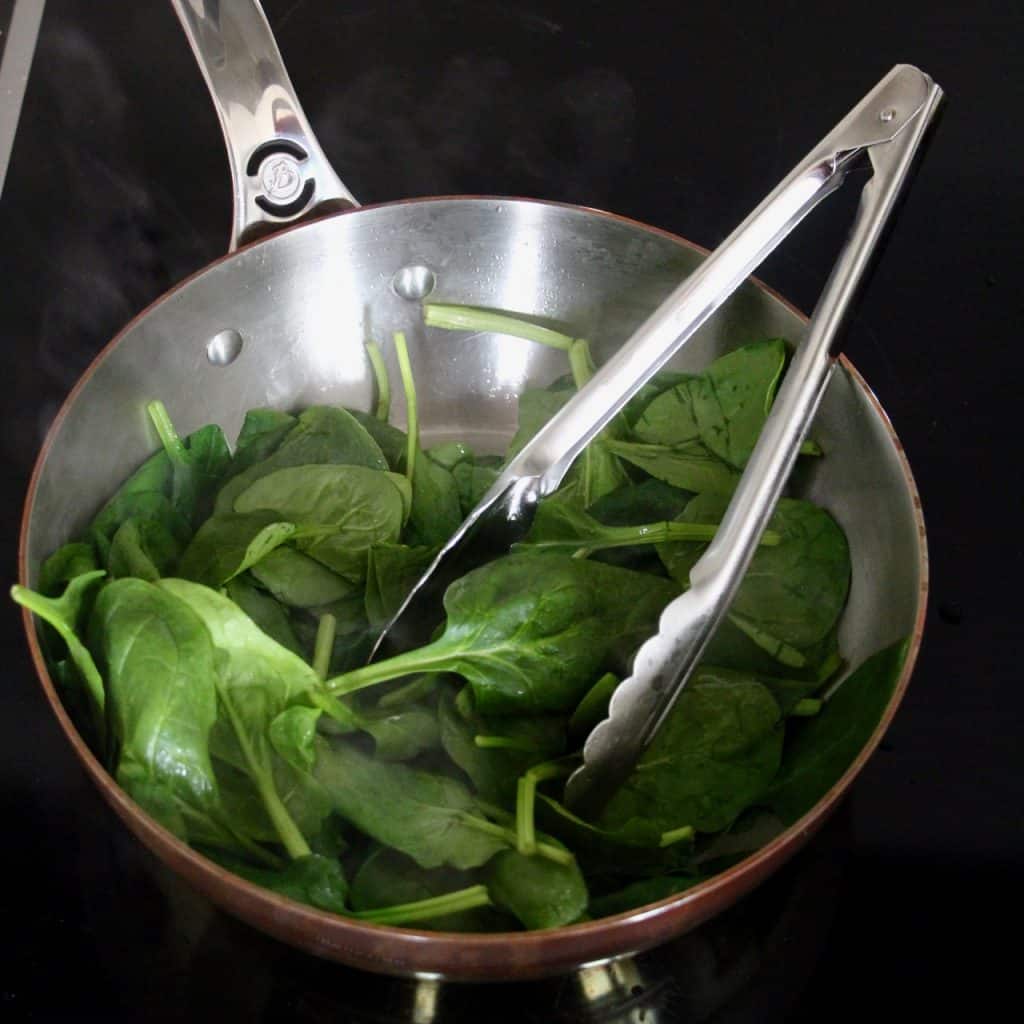 The utensils:
A pasta machine or a rolling pin,
A large bowl,
A sauté pan or a frying pan (here my Prima Matera sauté pan by De Buyer)
And a  gratin dish.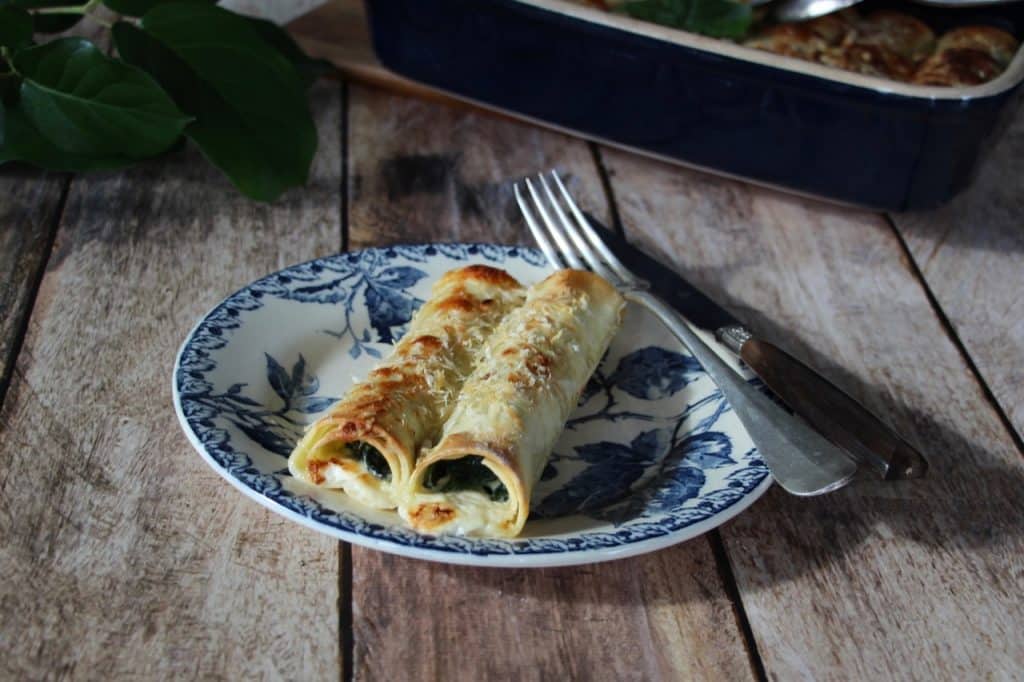 Shall we now? Let's do this!
The recipe, Chef!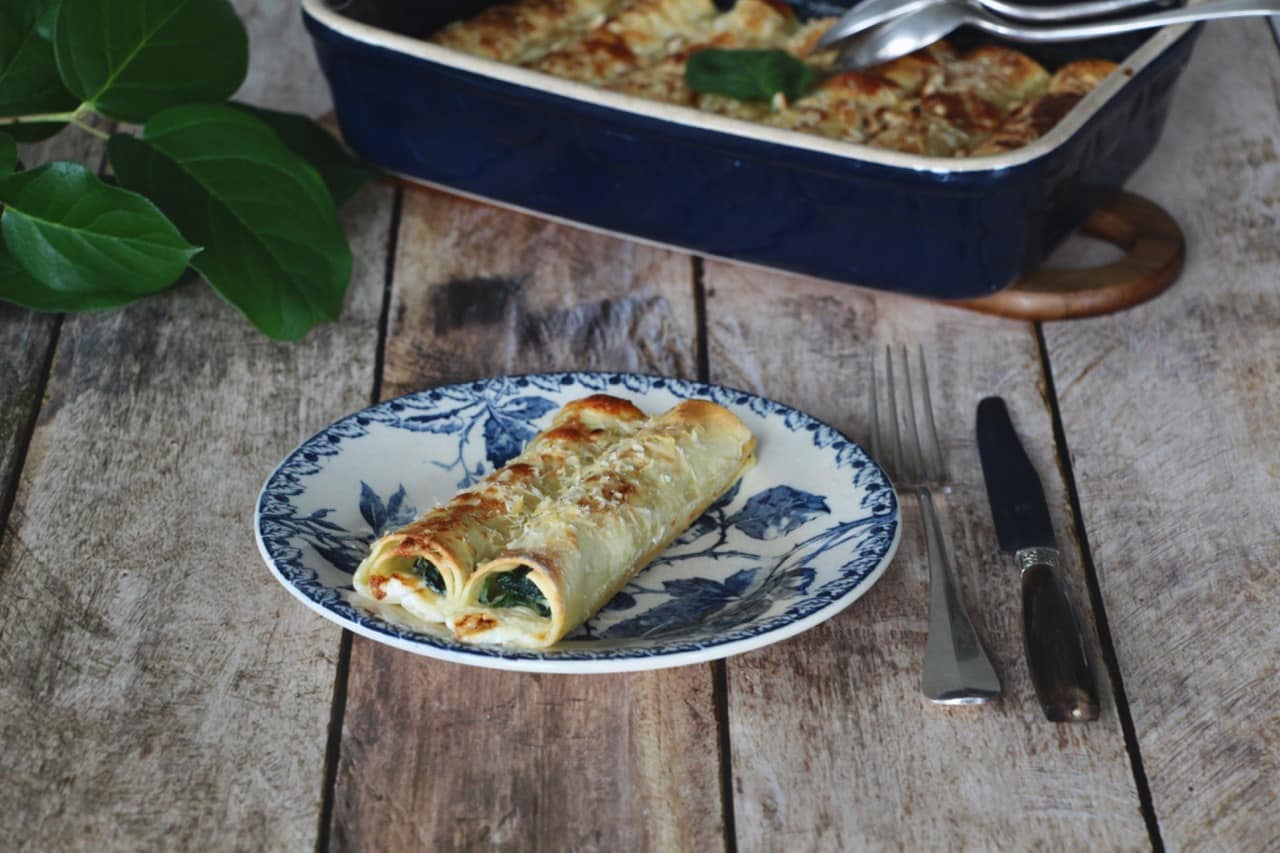 Print Recipe
Spinach and Ricotta Lasagna - Cannelloni
Ingredients
300 g flour (for the lasagna)

3 medium eggs (for the lasagna)

500 g spinach (for the filling)

200 g ricotta (for the filling)

1 handfull pine pinions or pistachios (for the filling, optional)

Olive oil (for the filling)

300 g liquid cream (for the sauce)

100 g grated parmesan (for the sauce)

Salt

Pepper

Ground ginger

Ground coriander

30 g grated parmesan
Instructions
1
Make the pasta for lasagna.
2
Mix the flour, eggs and 1/2 teaspoon salt until you get an homogeneous dough.
3
Wrap it in clingfilm and set aside in your fridge for at least 20 minutes.
5
Wash and drain the spinachs.
6
Heat 1 tablespoon olive oil in your sauté pan. Add half of the spinachs, cook at high heat (7 on a scale from 1 to 9) for 2 minutes. Set aside in a bowl.
7
Pour another tablespoon of olive oil in the pan and add the rest of the spinachs. Cook. Set aside in the bowl.
8
Pour the ricotta in another bowl, add salt, pepper, 1/2 teaspoon ground ginger and 1/2 teaspoon ground coriander. Mix gently.
9
Drain the spinachs to remove the water, add them to the ricotta. Add pine pinions. Mix well. Set aside.
11
Heat (medium heat) the 100 g parmesan and cream in a sauce pan, mix from time to time. Add pepper.
12
Remove from the stove when the parmesan has completely melted.
13
Proceed with the final step of the recipe.
14
Spread the dough on your floured working plan and make 10 rectangles of 14 cm x 18 cm (with your pasta machine or rolling pin).
15
Preheat your oven at 180 degrees.
16
Boil a large volume of salted water. Put the pasta rectangles, one after the other, for 1 minute each time.
17
Place the filling on each rectangle and roll.
18
Place the lasagna-cannelloni in your dish. Pour the Alfredo sauce and spread the 30 g of parmesan.
19
Cook for 25 minutes. At the end, set your oven on grill for 2 minutes to get a nice golden color.
Notes
You can add roasted pine pinions or pistachios on your lasagna when serving.