Hello my friends!
This Sunday is Mother's Day in France which brought me to thinking about a nice way to celebrate all mothers !
Flowers? Yes and no… I decided to make a bouquet with vanilla and raspberry madeleines!
Let's see the recipe, Chef!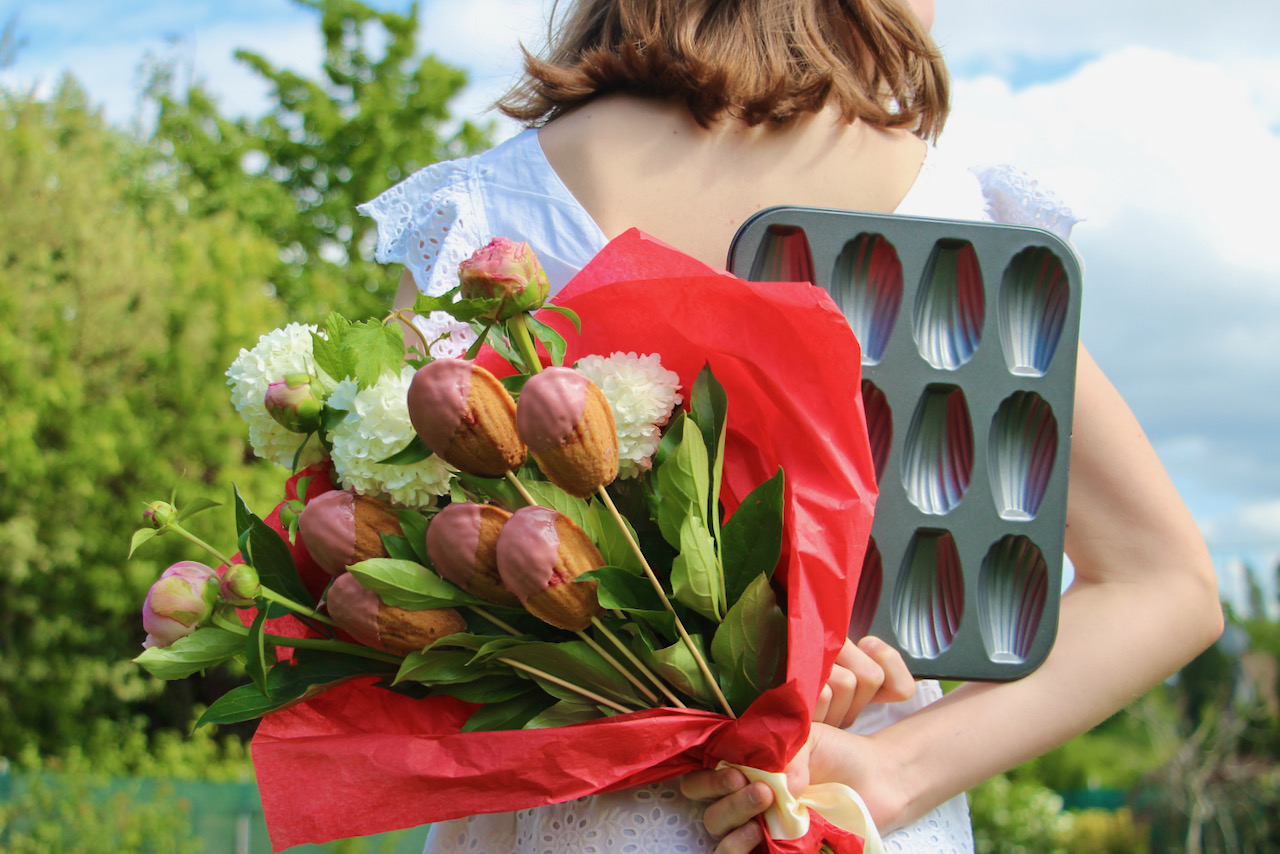 Print Recipe
Vanilla and Raspberry Madeleines
Ingredients
2 large eggs

110 g sugar

150 g flour

1,5 tsp baking soda

75 g butter

28 g honey

1/2 vanilla pod

22-24 small raspberries

60 g Ruby chocolate
Instructions
1
The day before (or at least 4 hours in advance), melt the butter and honey in your sauce pan.
2
Pour the flour, sugar, baking powder, vanilla seeds in your food processor bowl.
3
Start whisking and add the eggs one by one.
4
Whisk for 5 minutes at rather high speed (4 on a scale from 1 to 6).
5
Reduce the speed to the lowest and add the melted butter and honey.
6
Whisk at medium speed (3 on a scale from 1 to 6) for a minute.
7
Place a cling film directly on the surface and set aside in your fridge for the night.
8
The next day butter and flour the madeleine molds.
9
Pour the batter in a piping bag.
10
Pipe a bit of batter, place the raspberry and fill in up to 3/4. Start over with all the mold cavities.
11
Place them back in your fridge.
12
Preheat your oven at 210 C / 410 F degrees.
13
Place your madeleines in the oven and lower the temperature immediately to 170 C / 340 F degrees. Cook 8 to 10 minutes according to your oven.
14
Remove from the oven, let cool down 5 minutes before unmolding.
15
Melt the chocolate with a double boiler and soak the cooled down madeleines. Once the chocolate is spread on your madeleine, leave to dry on a grid.