I had that in mind for a long time now… Then I looked here and there to find the right recipe!!
I'm happy to tell you that today we will make a gingerbread house!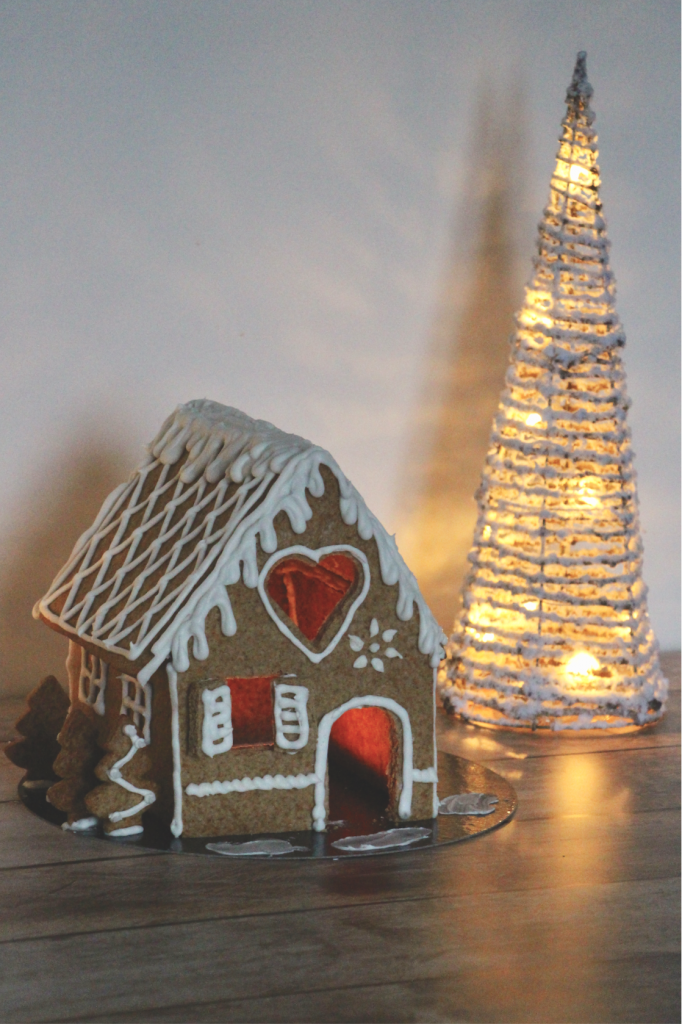 I looked on Pinterest (click to see many decoration examples), and found my inspiration on fashioncooking.fr.
As always, I did it my way…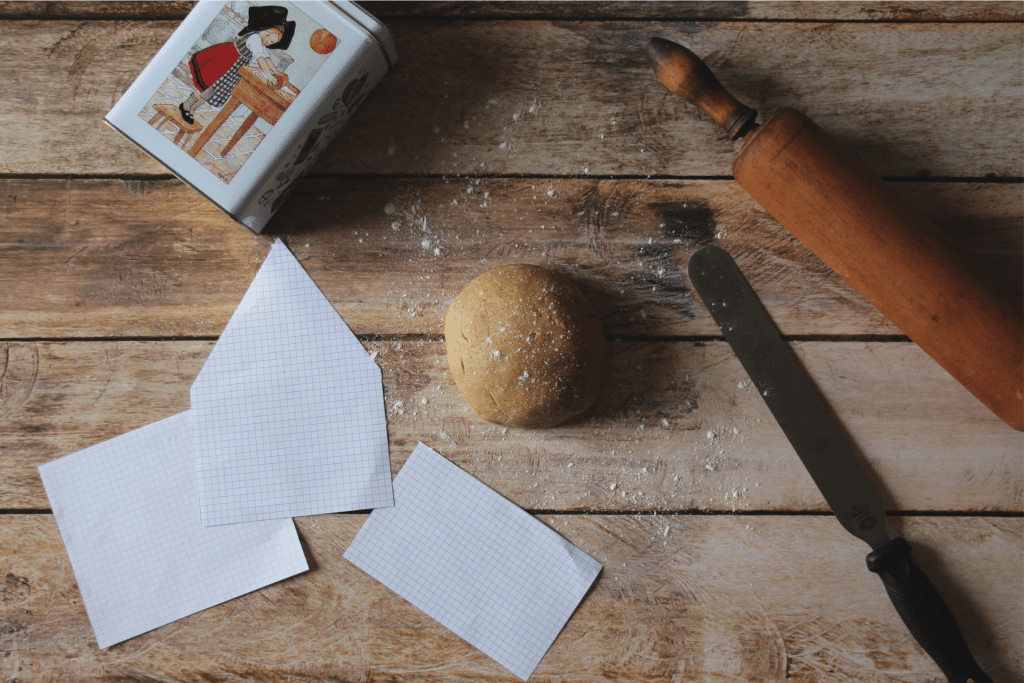 The recipe isn't complicated,but you will make it over 2 or 3 days. The main issue will be the mounting. You will have to do this very slowly if you don't want your gingerbread house to collapse!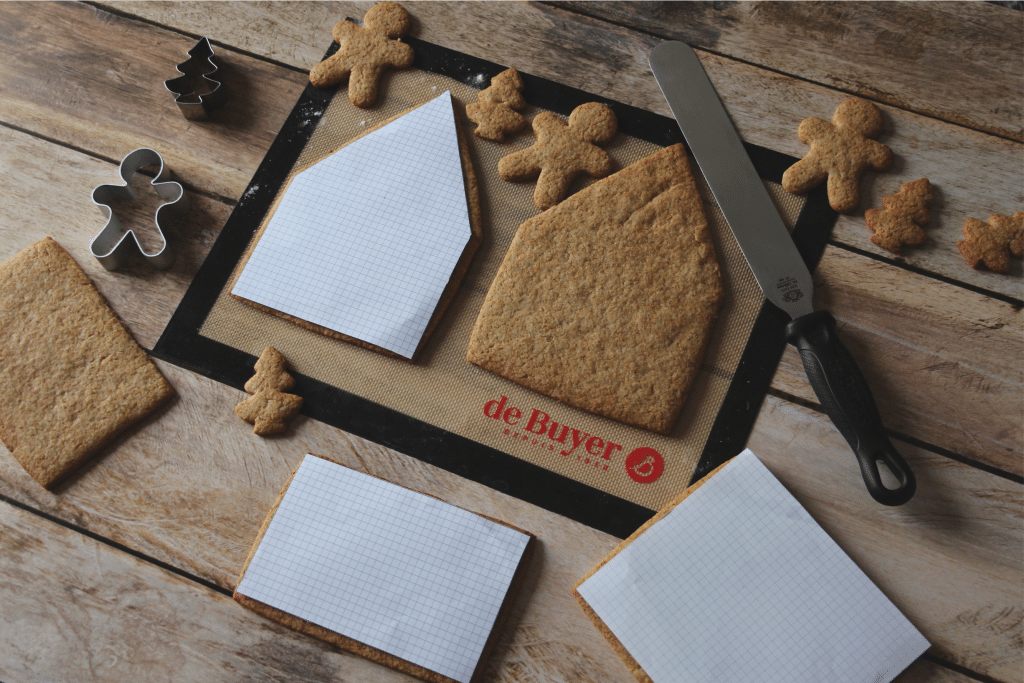 Here are a few pics of the process: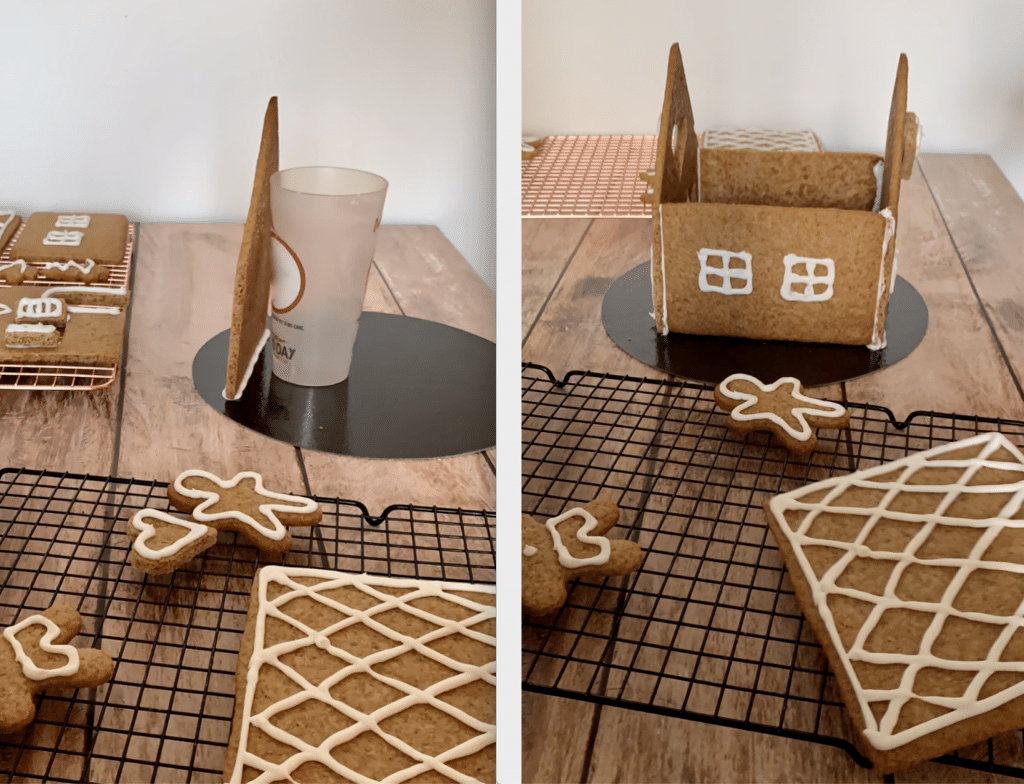 You will make 3 shapes for:
the front and back of your house (width 14 cm, heigth 10 cm, roof part 13 cm),
side walls (length 16 cm, heigth 10 cm),
roof parts (length 17 cm, heigth 14 cm)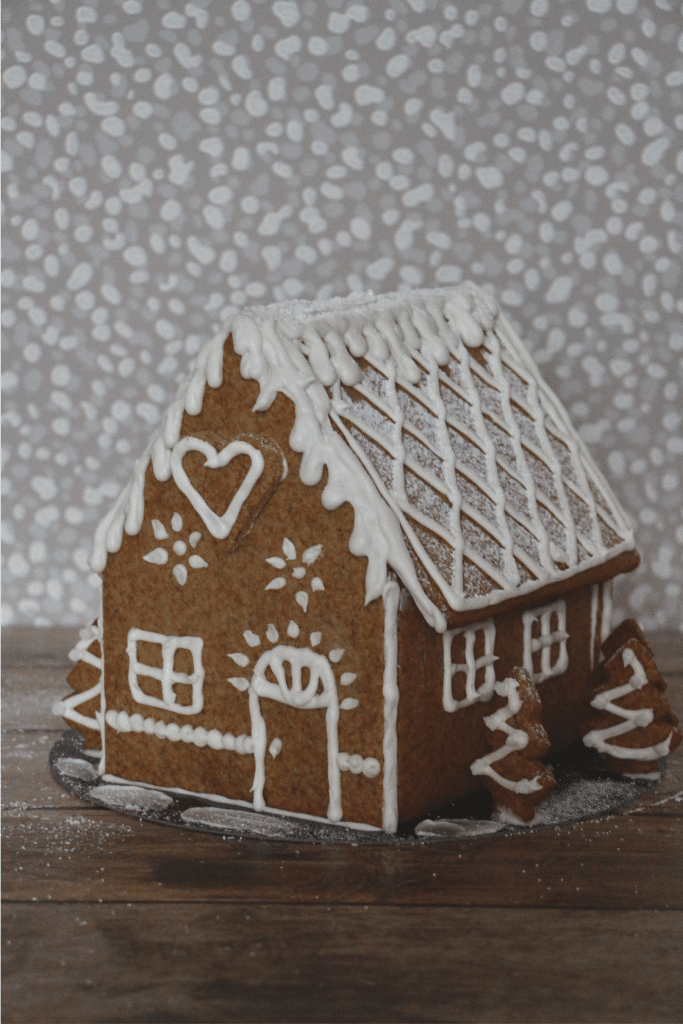 I have a few videos in my permanent stories on Instagram. Go and have a look!!
Honestly, I made it the hard way… I had many difficulties but you will get the benefit of them… First let the icing dry for one hour when putting the walls together. When you add the roof parts, place a glass under each of them to maintain until the icing is dry. As I didn't wait long enough (and that everything collapsed …), I took sewing needles to maintain the walls and roof parts together. That saved me…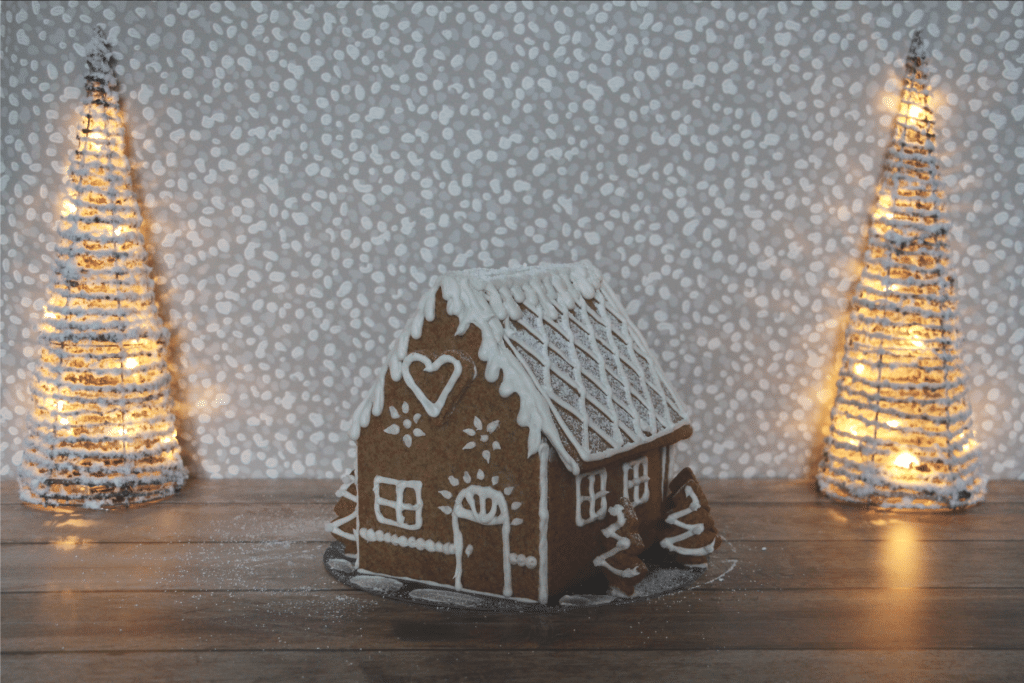 You will have too much pastry for sure. It's not possible to do otherwise since the recipe requires 2 eggs (with one you won't have enough)… You can freeze the rest or make cookies as I did here to make the Christmas trees.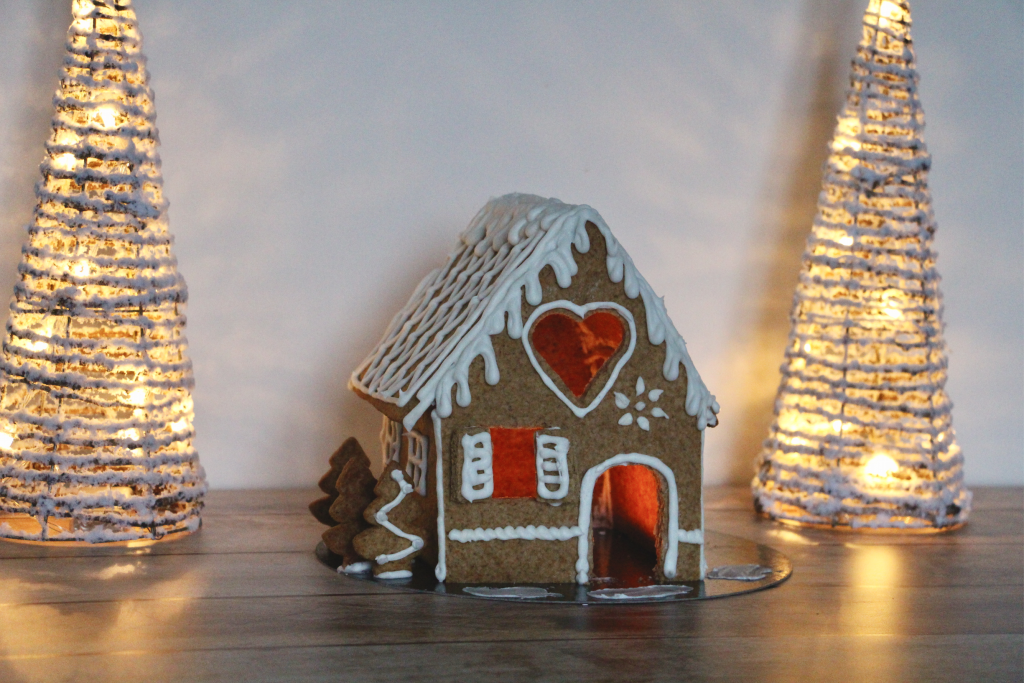 It can be a nice gift for the teacher or for your guests at Xmas, or just something to enjoy with a nice cup of tea.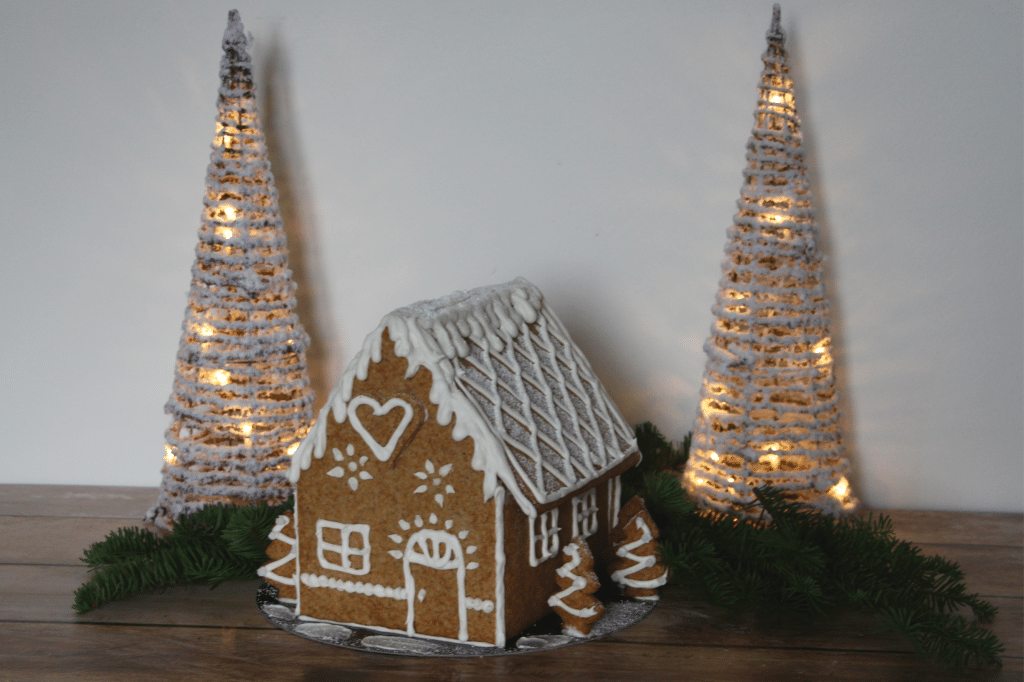 The utensils:
A food processor,
A rolling pin,
Two baking mats or baking sheets,
A straight spatula to manipulate the pieces,
Cutters
And a knife (a Genoise cutter is ideal).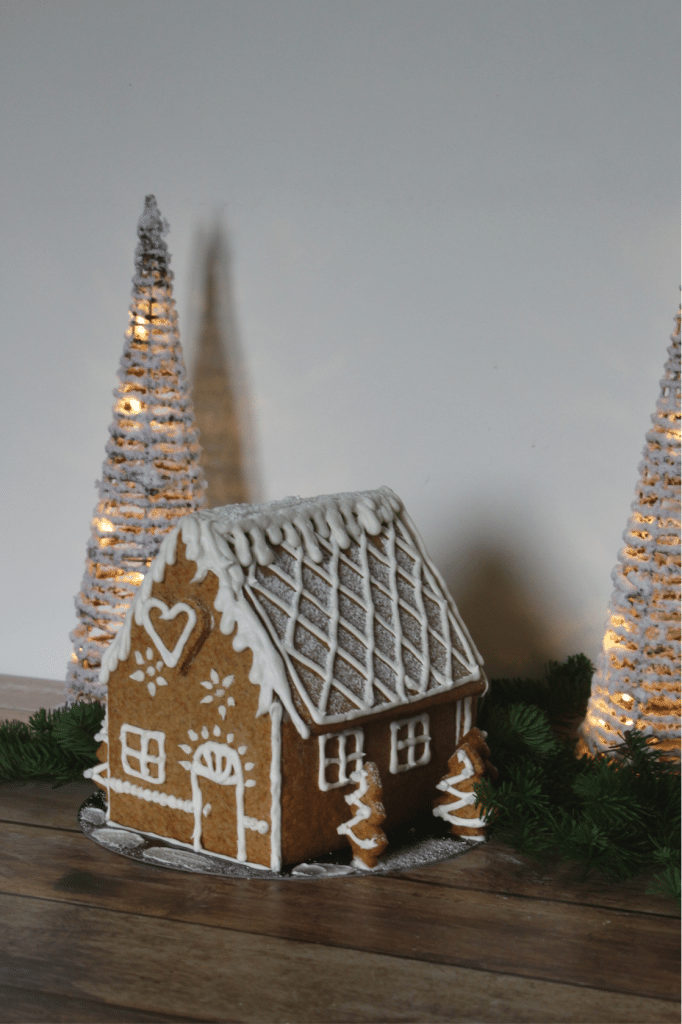 You can add candies for decoration if you want…
Ready now?
The recipe, Chef!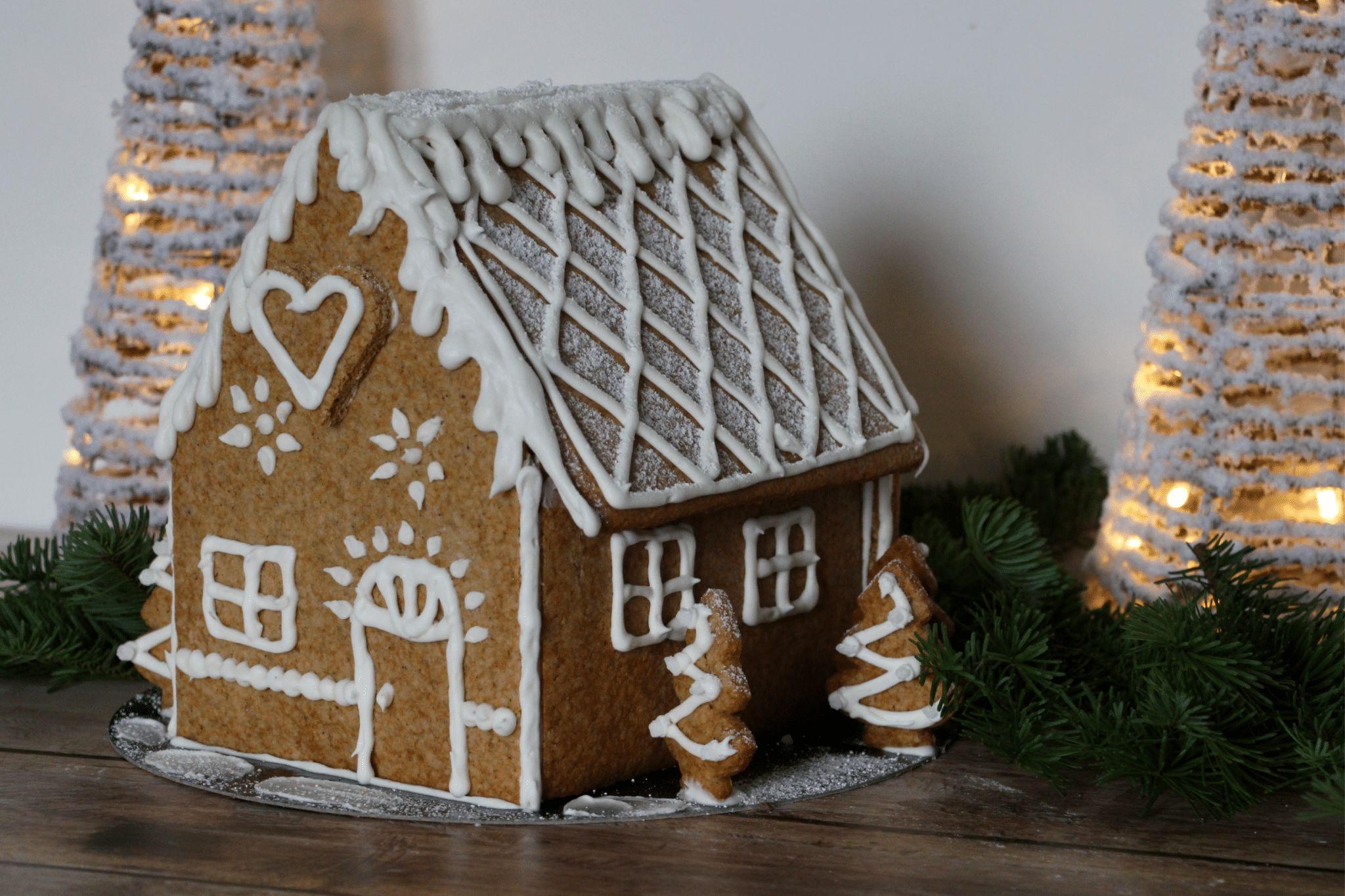 Print Recipe
Ingredients
650 g flour

200 g cold butter

2 tablespoons gingerbread spice mix

3 g baking powder

250 g brown sugar

150 g honey

2 eggs

1 pinch of salt

2 egg whites (70g)

400 g icing sugar

7-8 drops of lemon juice
Instructions
1
Pour half of the flour with the butter cut in pieces in your food processor bowl.
2
Mix at low speed (2 on a scale from 1 to 6) then at higher speed (4on a scale from 1 to 6).
3
Add the rest of the flour, baking powder, brown sugar, salt and gingerbread mix. Mix.
4
Add the beaten eggs and honey. Mix.
5
You will get a crumble mixture.
6
With your hand, shape two balls, wrap them in a cling film and set in your fridge for one night.
7
The next day, make your house parts shapes on paper.
8
Preheat your oven at 180 degrees.
9
Flour your workplan and spread both pastries with a 5 mm thickness.
10
Cut the 6 shapes (front and back, 2 sides et 2 roof parts). You can also make snowmen, Christmas trees...
11
Place the pieces on two baking mats, leave some space between each of them.
13
Place them on a grid to cool down.
14
Once cold, reshape according to your paper sheets and make windows and door if you want.
15
The next day, prepare the royal icing.
16
Whisk the egg whites for 30 seconds.
17
Add the icing sugar and whisk 2 minutes. You should get a shiny white mixture with a rather firm texture.
18
Add the lemon juice drops. Whisk.
19
Pour 3-4 tablespoons of icing in your piping bag with diameter 2 nozzle. Place a cling film on the rest of the icing.
20
Make decorations on each parts. Let dry, you should be able to touch the icing without making marks.
21
Add more icing in your piping bag if necessary and "glue" the front or back on your serving plate. Maintain with a glass for instance.
22
Glue the walls and the back or front. Let dry at least one hour.
23
Glue the roof parts, maintain with a glass under each piece.
24
When it's dry, complete the decoration with snow on the roof for example.
Notes
You can spread icing sugar on the roof.