Hellos my friends!
You know how much I love dough and recipes related to dough… Most of the time I share sweet recipes such as my brioches, but today I will switch to savory. We are going to make pita bread with thyme.
According to my dear friend Wikipedia, pita or pita bread is a generic name for a flat and round bread mostly eaten in South-East Europe or in the Middle Eastern countries.
The word pita comes most likely from the Ancient Greek word pektos, which means « solid » or « coagulated, lumps ». In the Arabic world, such flat bread like pita are called khubz (ordinary bread). Those breads are cooked in an oven.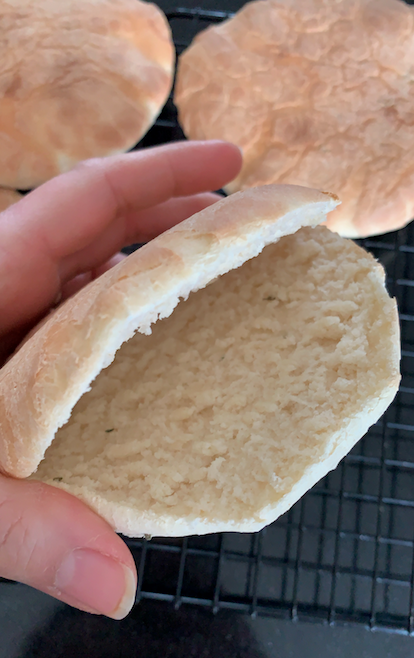 The pita bread is also called nowadays « Turkish bread », « Lebanese bread », « Syrian bread » or « Arabic bread », even if the bread is different in each country.
This pita bread with thyme will be great with your mezze buffet for example (humus, mechouia salad, raïta, …), with a dish like a chicken/veggie curry or to make the famous pita sandwiches, or any kind of kebab.
You get it, we are deep in Mediterranean or Middle-Eastern flavors, flavors that feel like sunshine and holidays!
There's nothing complicated in this pita bread with thyme. The recipe itself is quite quick to make, if you don't take into account the two rising times. It's also a nice change to your usual bread if you can't or won't go to the bakery.
The utensils:
My kMix food processor by Kenwood
And 2 baking mats (or baking paper sheets).
Before getting to the recipe, let me tell you that I decided to add fresh thyme from my garden in those pita flat breads. You can make them without any additional herb or you can add cumin seeds, rosemary according to what you fancy.
Shall we now?
The recipe, Chef!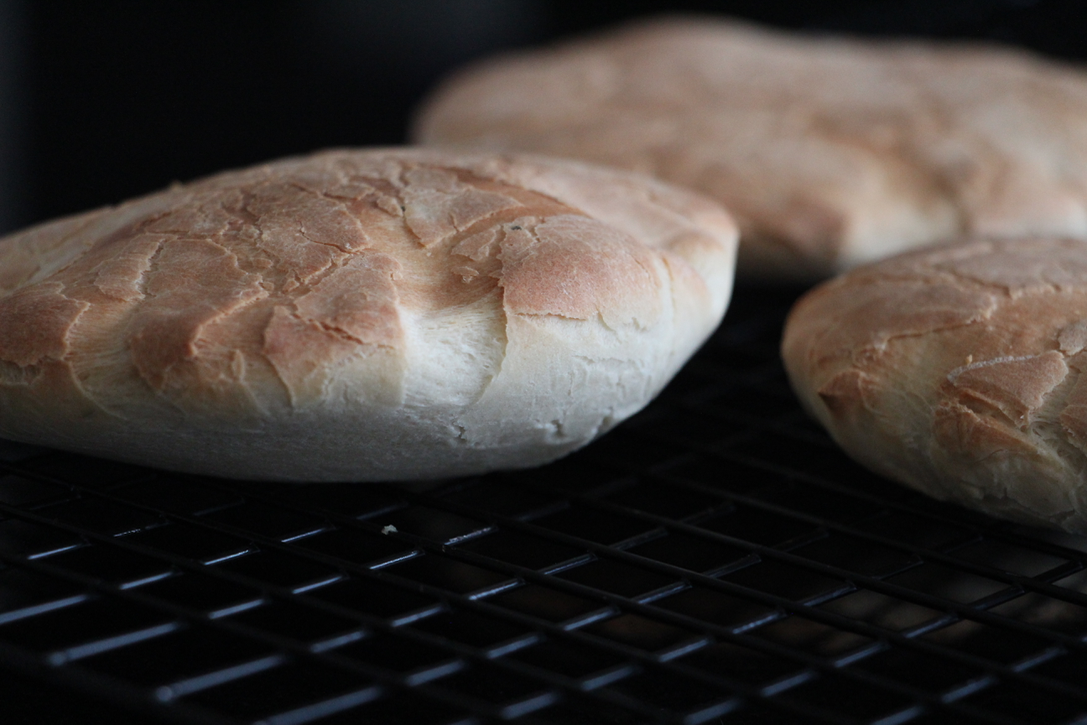 Print Recipe
Ingredients
500 g all purpose flour
10 g salt
10 g dehydrated yeast (or 20 g fresh)
2 tablespoons olive oil
30 g sugar
220 g lukewarm water
3 stalks fresh thyme
Instructions
1
Pour the yeast in 200 g of water (set aside the remaining 20 g). Mix.
2
In your food processor bowl, put the flour, salt, sugar and thyme leaves.
3
Start kneading at low speed (2 on a scale from 1 to 6) and add little by little the olive oil and the water with yeast.
4
Once the whole water and yeast poured, add the remaining water if needed: you need to have the right consistency of dough (not to hard, not to sticky).
5
Keep on kneading for a few minutes and increase the speed up to 4.
6
Cover the bowl with a humid linen and let rise for 2 hours.
7
After this resting time, cut the dough in 8 pieces, make balls and leave them to rise 30 more minutes. (you can put your humid linen on top to avoid the dough to dry too much, which happened here).
8
Preheat your oven at 240 degrees.
9
Flatten each ball and make a round shape of 5 mm height, 15 cm diameter.