Stoooop !!!!! I think I put enough "o" and enough exclamation points… 😉
We are going to stop buying industrial pizza doughs made with weird ingredients.
We are going to make pizza dough.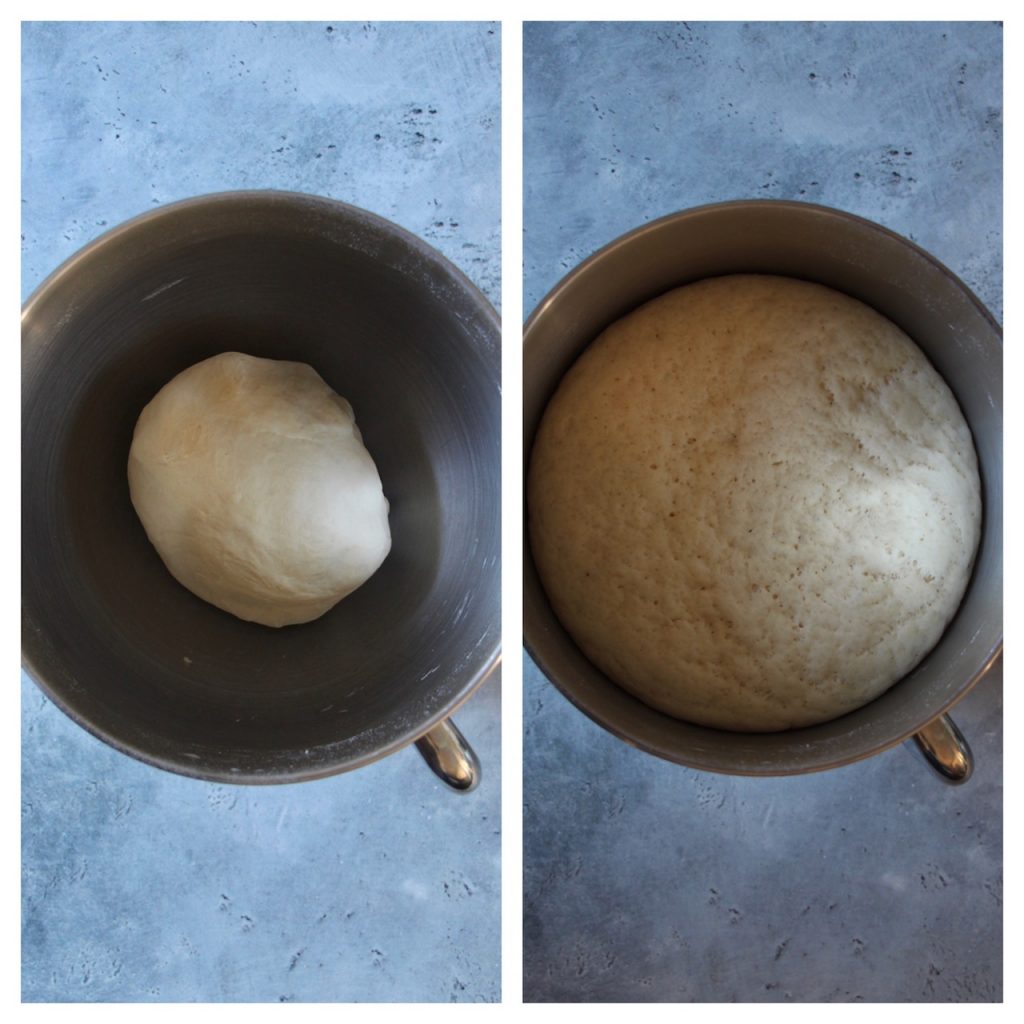 Yes we are going to make pizza dough because it's really super easy and simple. If you have a food processor, you can make this recipe with your eyes closed! And without, it works too with a bit of muscle energy…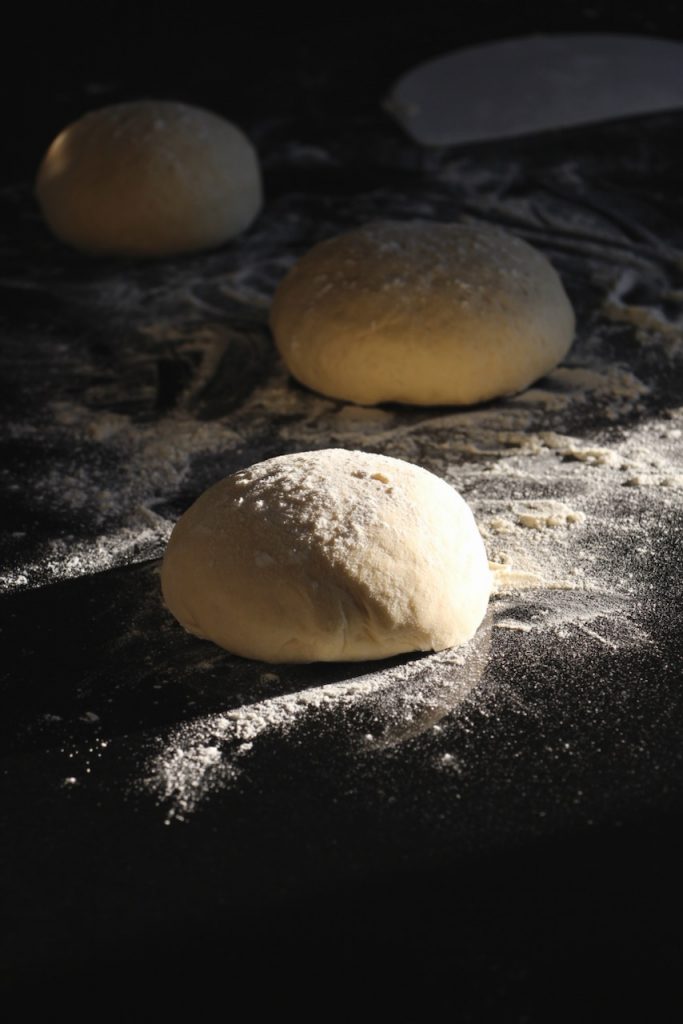 A few simple and healthy ingredients, a bit of kneading and an hour of rise, and that's it. This is all you need to get a delicious pizza dough. You are going to be surprised by the result! A super crunchy crust, not too thick if you spread it well, like in your favorite Italian restaurant!
And after, it's more than easy: you just add whatever you like!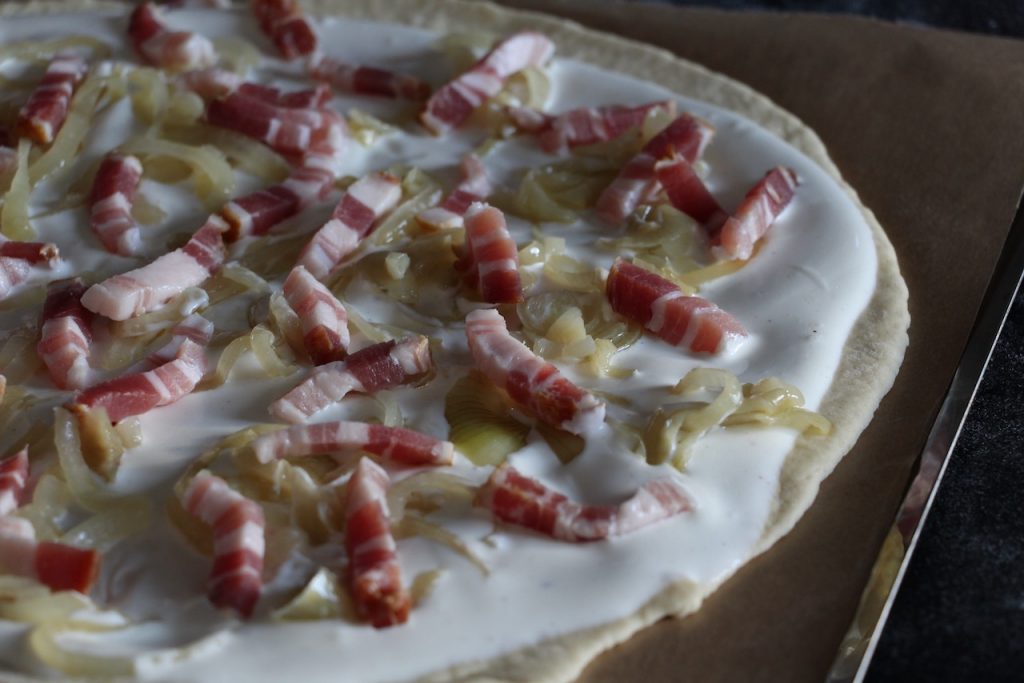 Traditional pizza with tomato sauce, white pizza (here I took the topping of my tarte flambée and it was absolutely delicious!!), just do as you feel it. I usually add very simple ingredients (ham, olives, mozzarella, chorizo, tuna, eggs…). Do not hesitate to comment this post with your toppings of choice…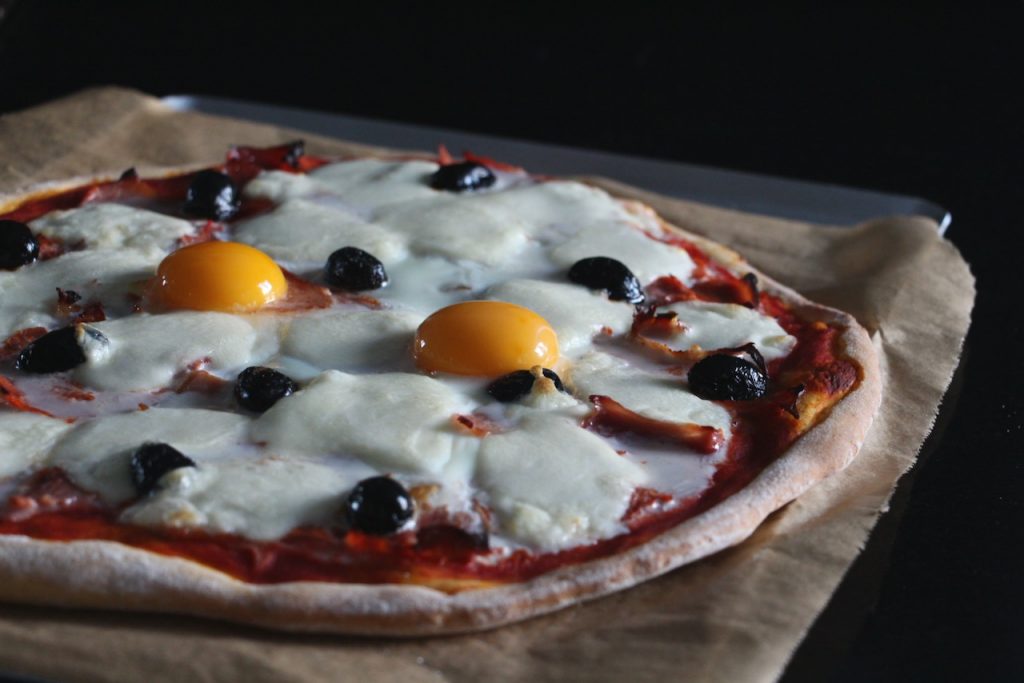 As far as cooking is concerned, I do recommend a very hot oven (220 degrees for me) and you will let your pizzas around 15 minutes in it. If you have a pizza oven, it's obviously even better!!
My advice for the eggs: to keep a very flowing yolk, pour the egg white on your pizza, cook 4-5 minutes. Add the egg yolk and serve right away (or put back in the oven just for a minute).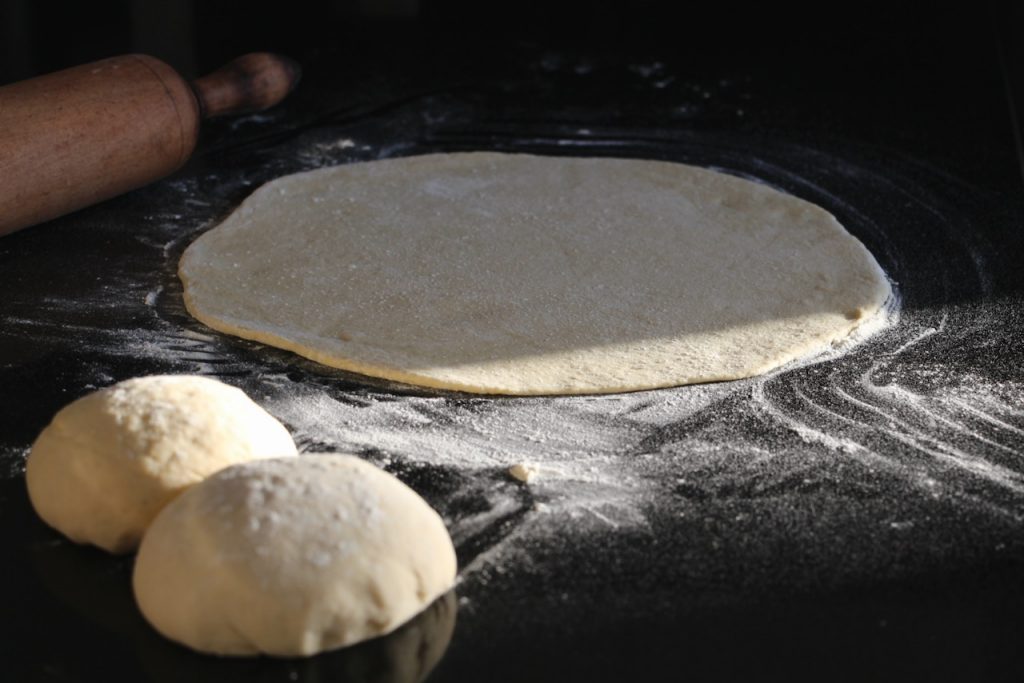 The utensils:
A food processor with hook (or a bit of arm strength 😉 )
And a rolling pin!
That's it…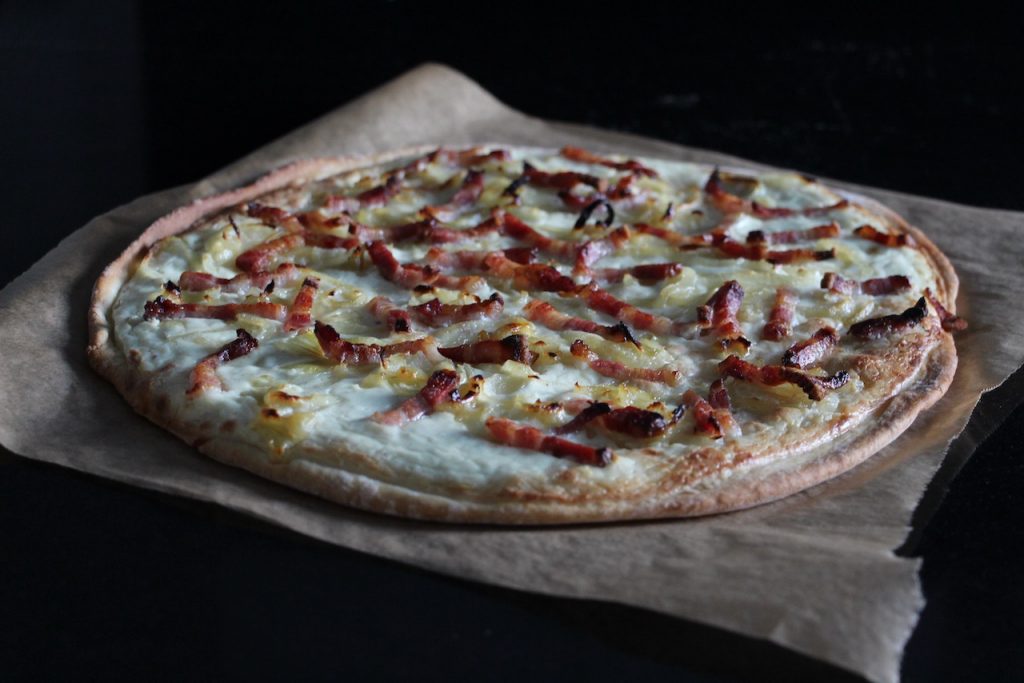 Shall we now?
Let's go to Italy!
The recipe, Chef!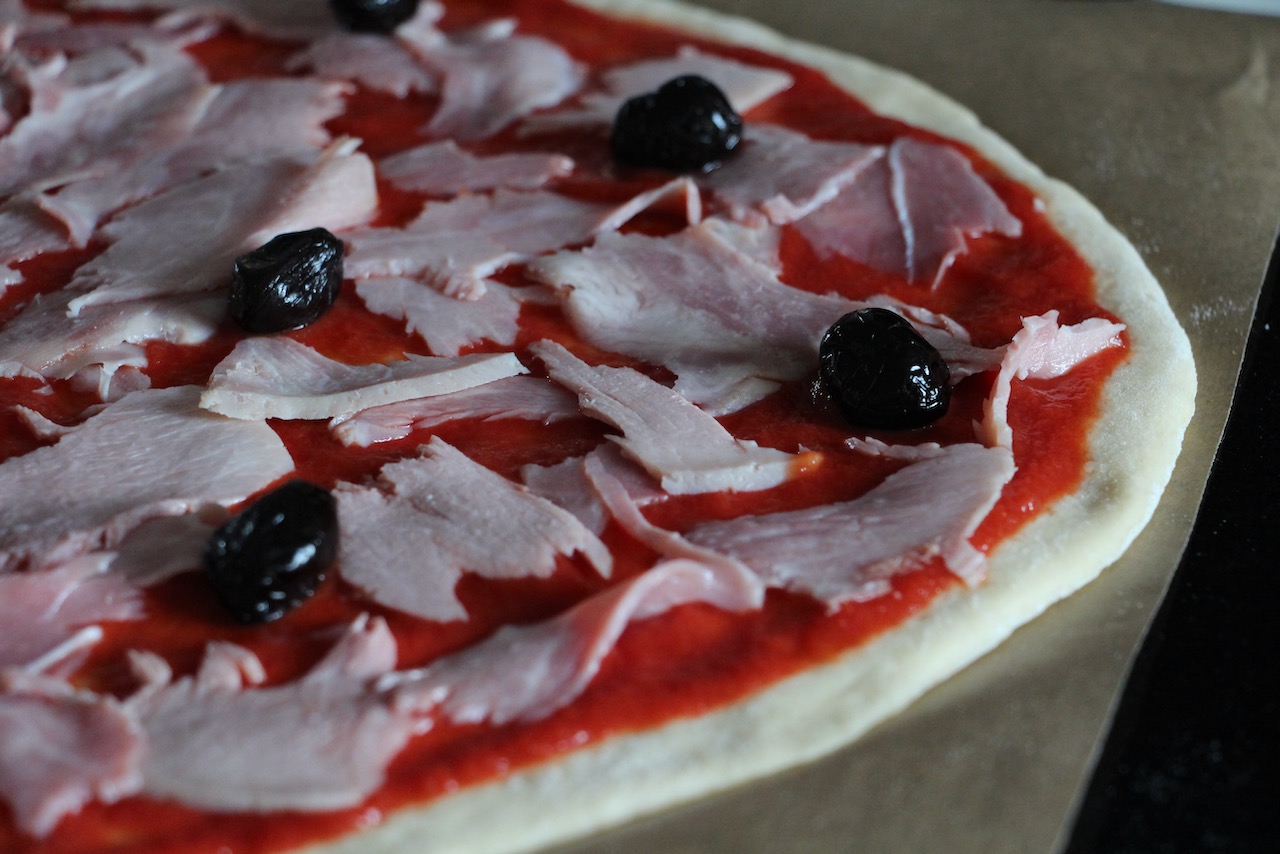 Print Recipe
Ingredients
500 g flour
10 g dehydrated yeast or 20 g fresh one
4 tablespoons olive oil
250 g lukewarm water
1 teaspoon salt
1/2 teaspoon sugar
Instructions
1
Mix gently the water and yeast.
2
Pour the flour, olive oil, salt and sugar in your food processor bowl.
3
Start kneading at low speed (2 on a scale from 1 to 6) and pour slowly the water/yeast.
4
Keep kneading and increase gently the speed to 4, your should get a firm dough.
5
Cover with a linen and let rise for one hour.
6
Shape 2 or 3 pizza doughs.