Fancy sweet? Fancy savory? I salute you both! 😉
Which such an introduction, you easily got that it's a sweet and savory dish I will share with you today!
Here is my caramelized pork with sesame seeds.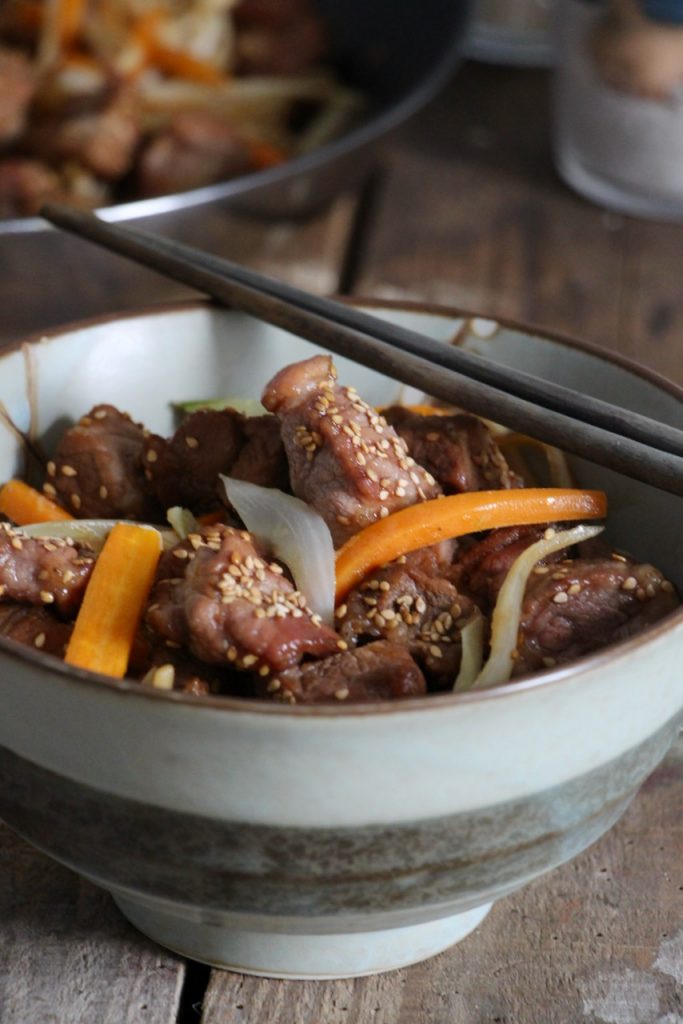 This recipe is a recurring one at home. Cooking a caramelized pork with sesame seeds is honestly very simple, it's really tasty and pretty well balanced: pastas, veggies and meat. What could you ask for more?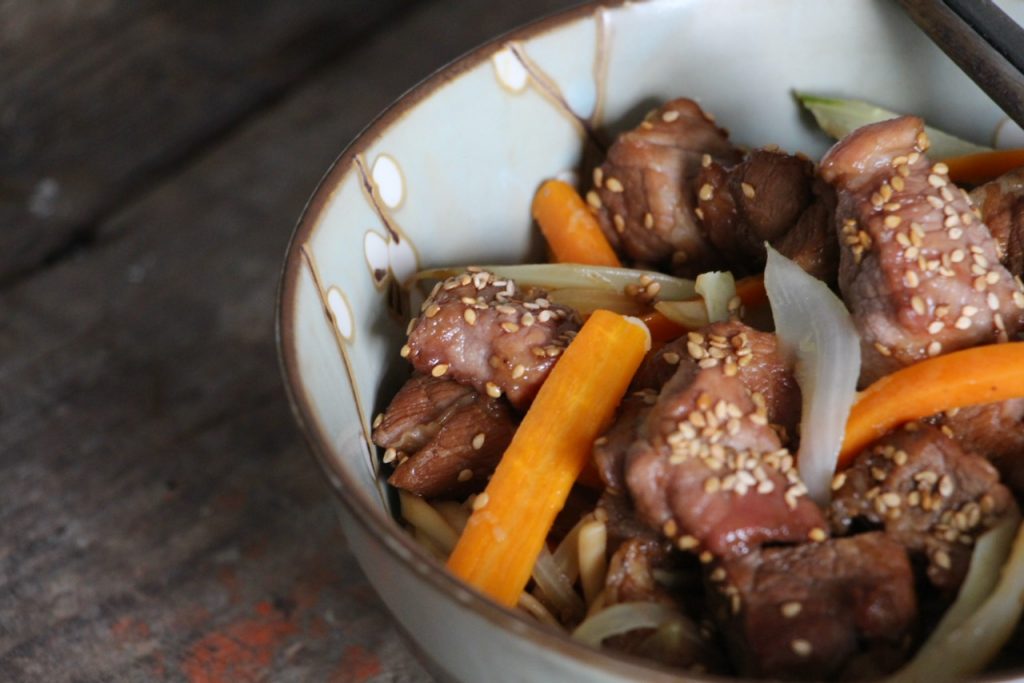 Franckly? It's a quite cheap dish and that's good news!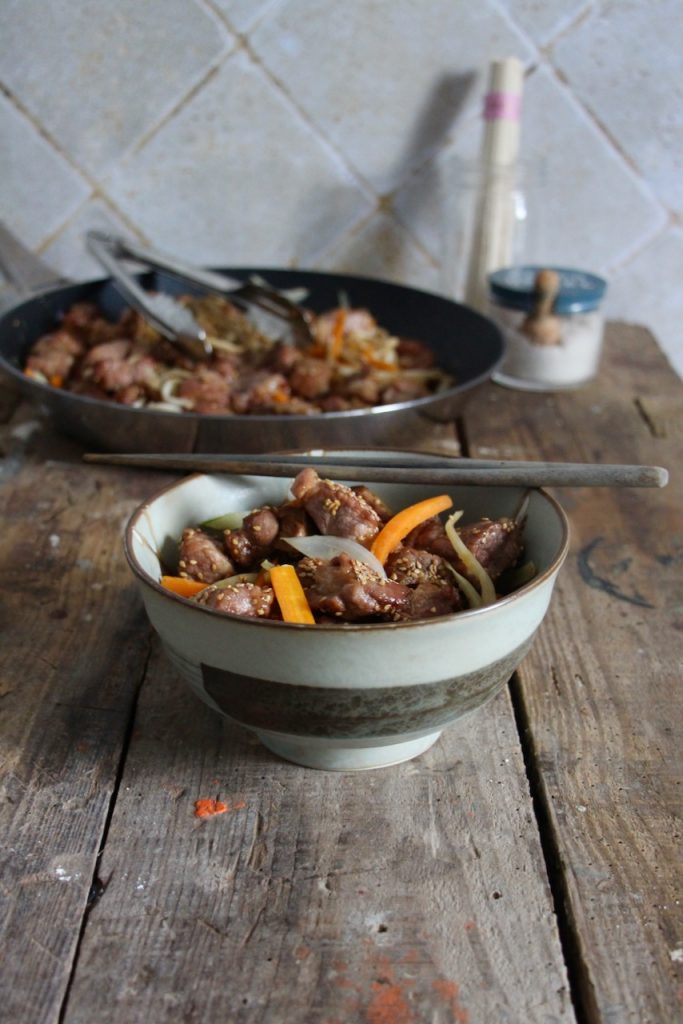 Besides you can make several variations of this caramelized pork with sesame seeds:
you can have chicken or beef instead, it will be delicious too,
you can take almost whatever veggies you have in your fridge: leek, courgette, brocoli, celery stalks.
My advice would just be to keep the carrots which, besides the lovely color it brings to the plate, gives a sweet taste and a crunchy texture.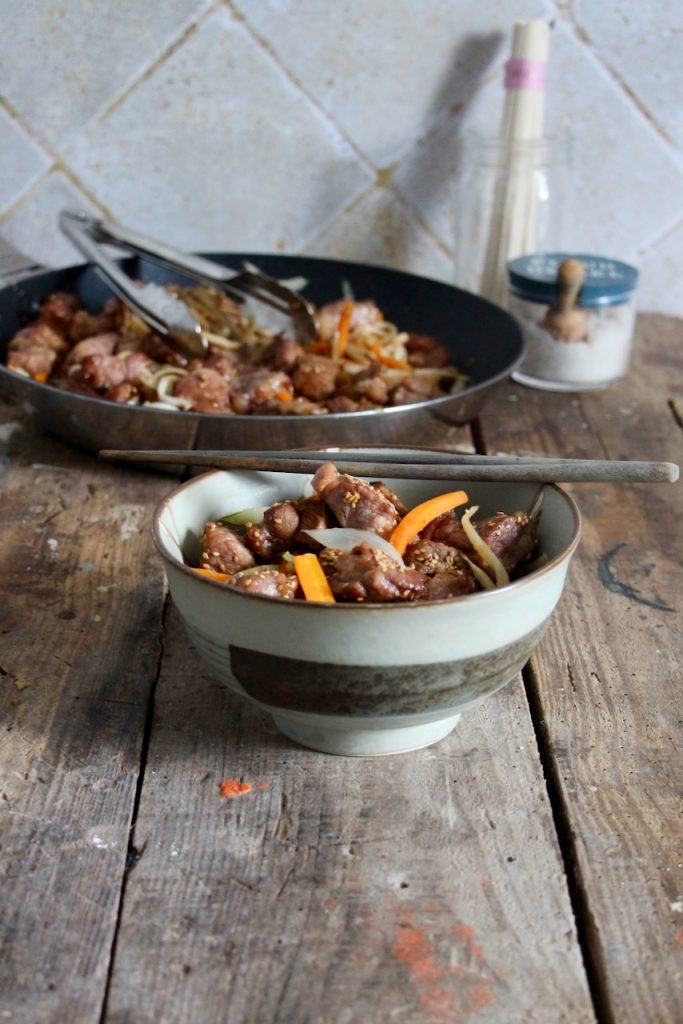 As far as pasta is concerned , I always go for the Japanese udon noodles.  Udon are among the most usually eaten noodles in Japan. They are made with soft wheat. They are white and sold in small bundles as you can in the picture above.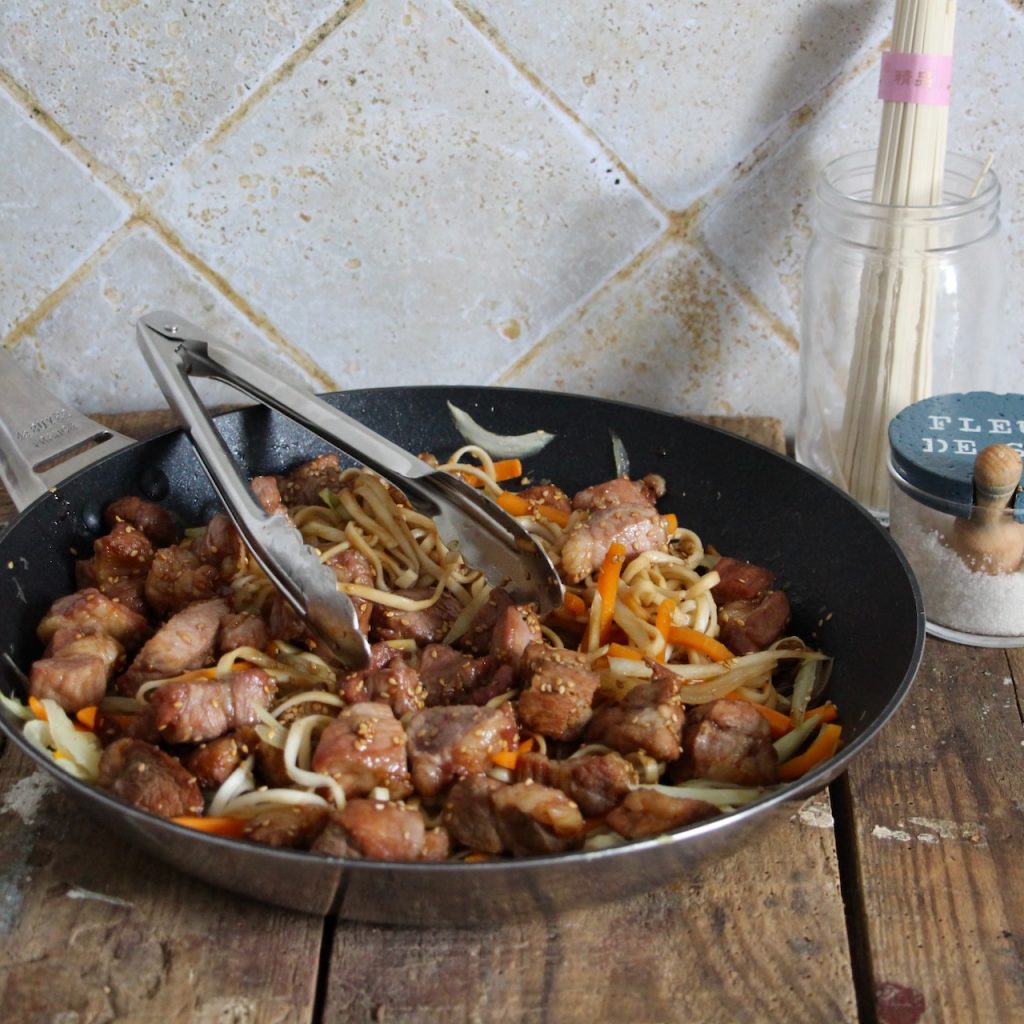 (Presentation: my Affinity frying pan and my tongs by De Buyer)
It's not always that easy to find them, even if your supermarket has a large world food department. If you have an Asian grocery store nearby, it's probably the best place to look for them. Otherwise, Chinese noodles will be perfect too.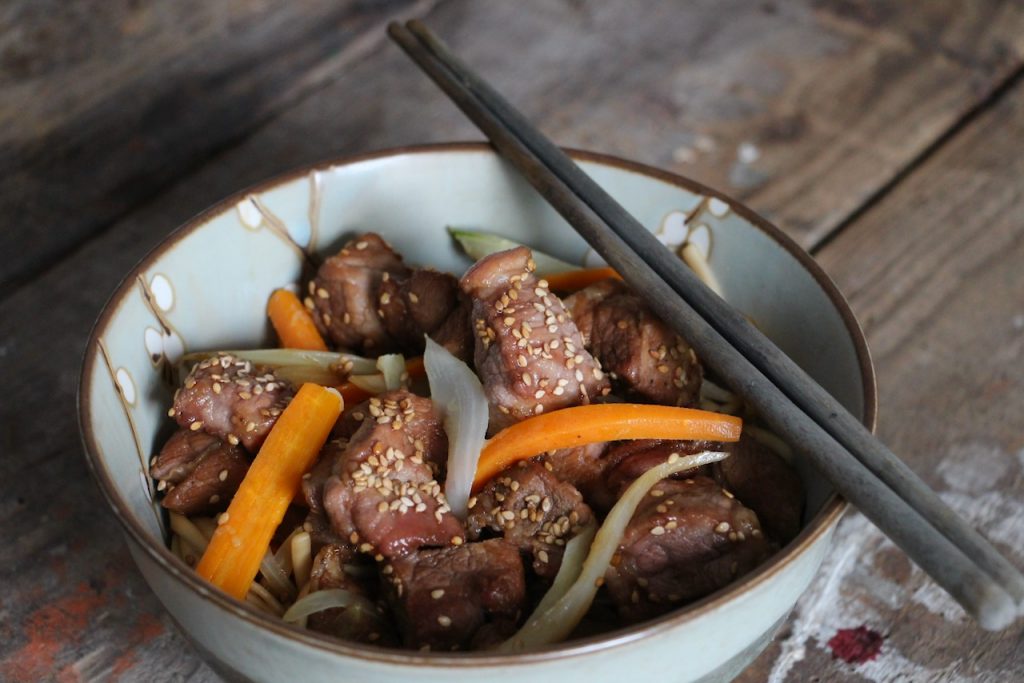 The utensils:
A large frying pan for the vegetables (or a wok),
A large steel frying pan to stir the pork in the caramel,
A large sauce pan to cook the udon pastas,
A small frying pan to roast the sesame seeds (optional),
Your usual cutting board
And a sharp knife.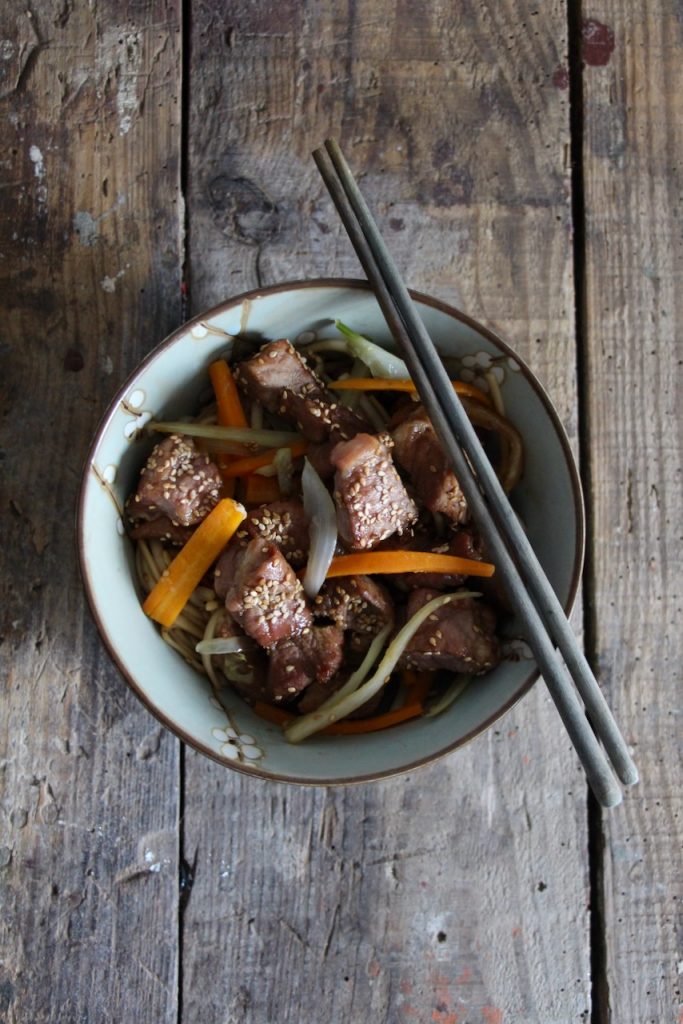 With all this, you're all set! In 25 minutes you're going to enjoy a delicious caramelized pork with sesame seeds!!
In the kitchen, now!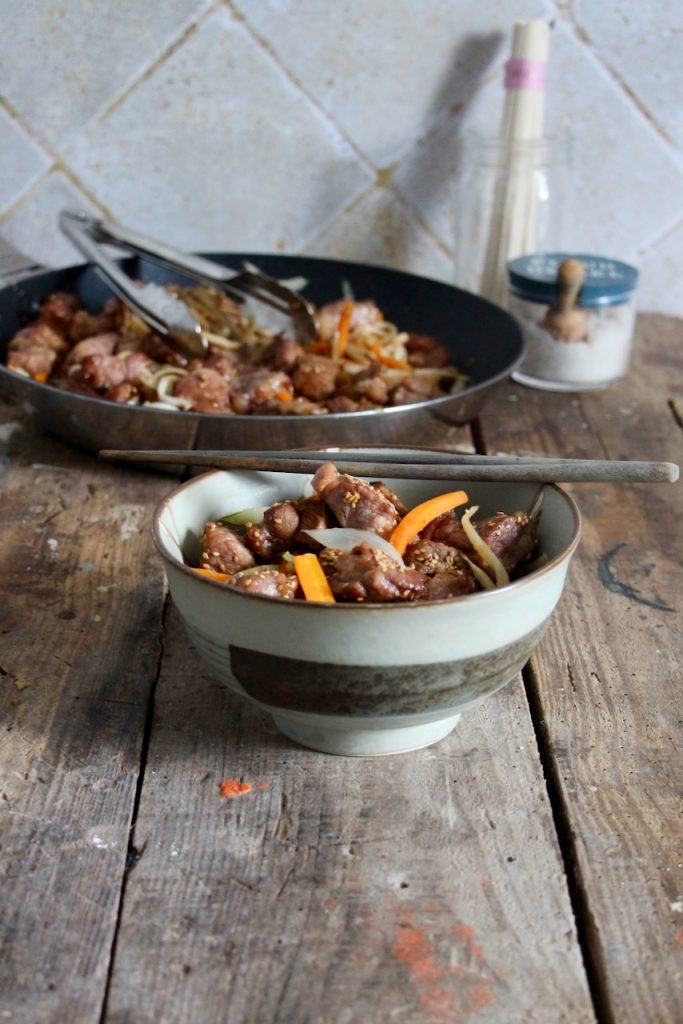 The recipe, Chef!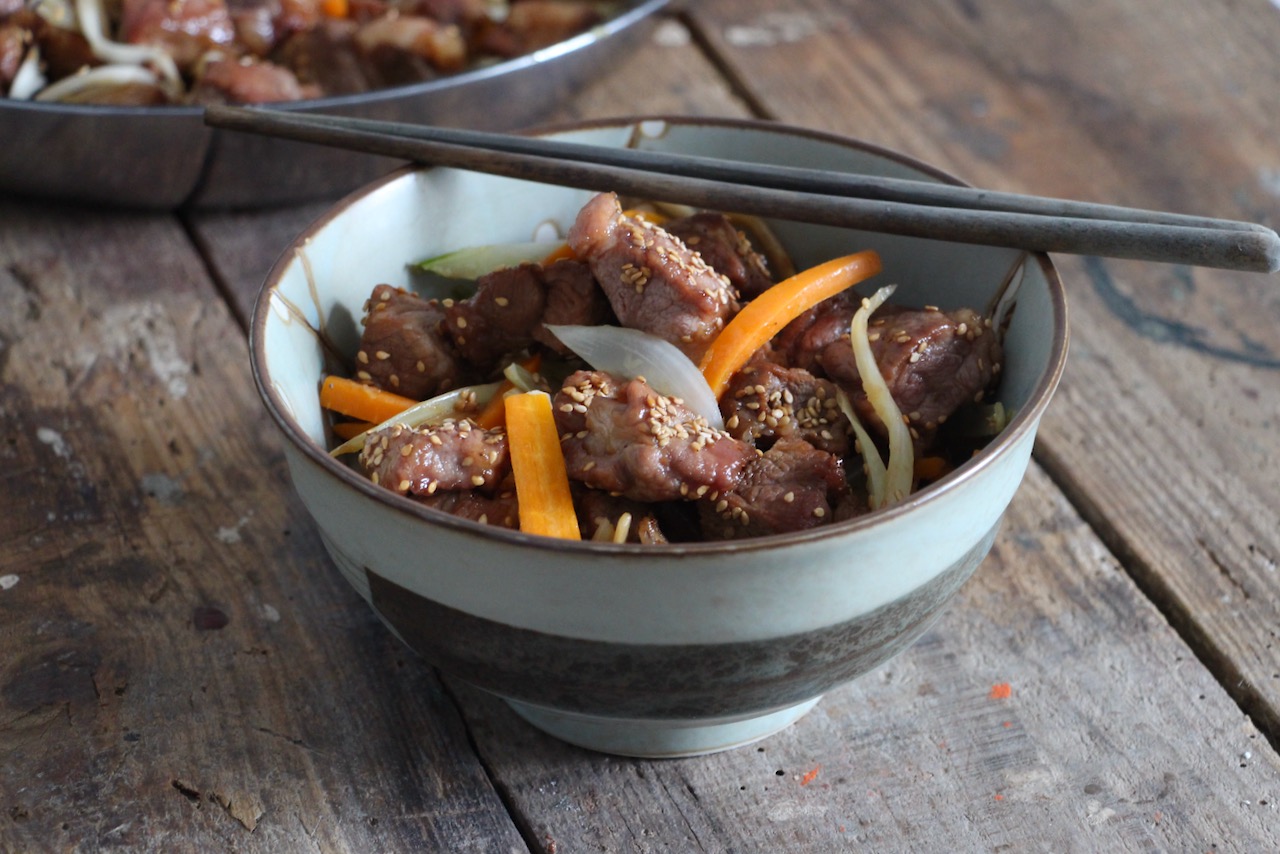 Print Recipe
Caramelized Pork with Sesame Seeds
Ingredients
600 g pork loin
3 carrots
1/2 fennel
1 onion
2 garlic cloves
200 g udon noodles
50 g salted soy sauce
2 tablespoons sesame seeds
30 g sugar
Vegetal oil
Salt
Pepper
Instructions
1
Heat 2 tablespoons of oil in your large frying pan (or wok). Add the onion peeled and cut in thin slices.
2
Add the carrots and fennel peeled and cut in sticks, add the grated garlic.
3
Cook at rather high heat for 5 minutes, mix from time to time then add 1/3 glass of water, add salt and pepper and cover with a lid.
4
Cook 10 more minutes at medium heat.
5
Pour 5 tablespoons of water and the sugar in the other frying pan. Start at medium heat.
6
After a few minutes, when it starts to get orange/brown, add the pork loin cut in 2 cm cubes and the soy sauce.
7
Cook at medium heat and mix from time to time until the pork is cooked. Add salt and pepper.
8
Cook the udon noodles in your sauce pan according to the instructions on the package.
9
Drain the noodles once cooked and add them to the veggies. Add finally the pork cubes and the sauce.
10
Stir fry for 2 minutes the sesame seeds in a small frying pan.
11
Spread them on the pork and serve.