Hello food lovers!
Today let's travel a bit! Follow me close to my lovely Alsace (my birth region) in the Lorraine region. You will discover the famous Lorraine hoptpot.
A comforting family meal… Typical French food!!
It's basically a vegetable stew with a few extra sausages and meat.
For those who have already tasted this Lorraine hotpot, you will notice that I did put a slight Alsatian touch with Strasbourg sausages. I just can't help it !! You can add other type of sausages like smoked ones for instance or salted pork knuckle (I sincerely hope that Google Translate didn't trick me on this!!)…
My version is simple, tasty and easy to cook: vegetables, smoked pork belly and the famous Strasbourg sausages. If you can, choose sausages from your butcher. The industrial ones found in supermarkets aren't very good….
You will just need to take into consideration to cook it slowly and gently. The recipe is really simple.
This dish is perfect for family or friends meals, it's convivial, kids love it (and they eat many vegetables this way!! which can be a tricky goal to achieve…).
It's also a great way to cook seasonal vegetables: cabbage, turnips, carrots, potatoes…
The utensils:
A good cutting board and a sharp knife
A cast iron casserole such a my Staub diameter 26 cm.
No more waiting…
The recipe, Chef!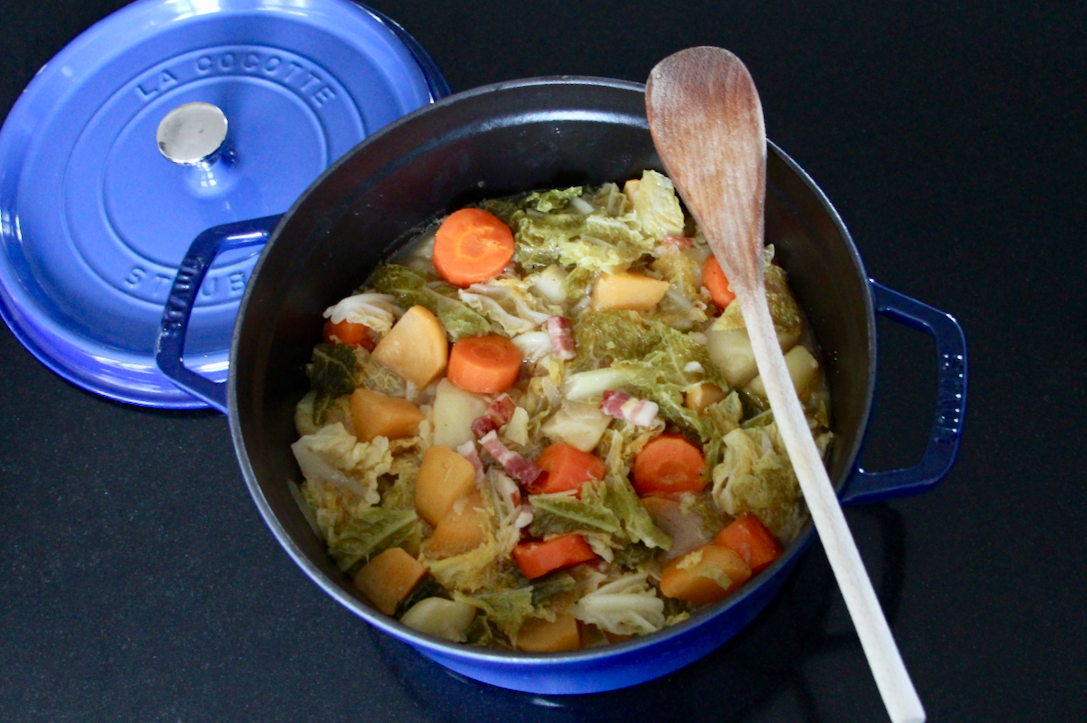 Print Recipe
Ingredients
1/2 Savoy cabbage
2 onions
2 golden turnips
3 potatoes
3 carrots
4 slices of smoked pork belly
6 Strasbourg sausages
20 g butter
Salt
Pepper
Paprika
Red mild pepper
Ground ginger
Instructions
1
Prepare the vegetables: peel them, wash them, cut them in pieces.
2
Melt the butter at medium heat in your casserole.
3
Add the minced onions and cook 2-3 minutes.
4
Add the carrots, the turnips and potatoes.
5
Cut the slices of pork belly in sticks. Add them in the casserole.
6
Add finally the Savoy cabbage and 30 cl of water. Add salt, paprika, red mild pepper and ginger. Cook at low heat with cover for 1 hour and 30 minutes.
7
At the end of cooking, boil a large volume of water. Stop heating when it boils and put the Starsbourg sausages in the hot water. Leave 8 to 10 minutes without heating.
8
In the meantime adjust seasoning with salt, pepper and spices.
9
Place the sausages on your hotpot and serve.