Is having an enjoyable and healthy meal a real thing ? How do you cook for friends keeping both balance and great taste ? One answer is here in this post: my chicken basquaise. A dish to brag about without the guilt of gaining weight.
The chicken basquaise is super good !
I'm not going to tell you my whole life, but I have 3 kids, so I had 3 pregnancies and also 3 pregnancy diabetes.
I won't explain what pregnancy diabetes is, but one thing for sure is that I had a no sugar/no fat diet for each last 4 months of my pregnancies… So, it became quite a headache to have friends coming at home for dinner or even to go to the restaurant. I had to be creative …
I started cooking dishes such as this chicken basquaise and it was great ! Delicious, especially since the red peppers are almost candied, and healthy : low fat, white meat and veggies (I don't add white wine like in the original recipe). What could be better ?? It saved me from the food deprivation depression !! 😉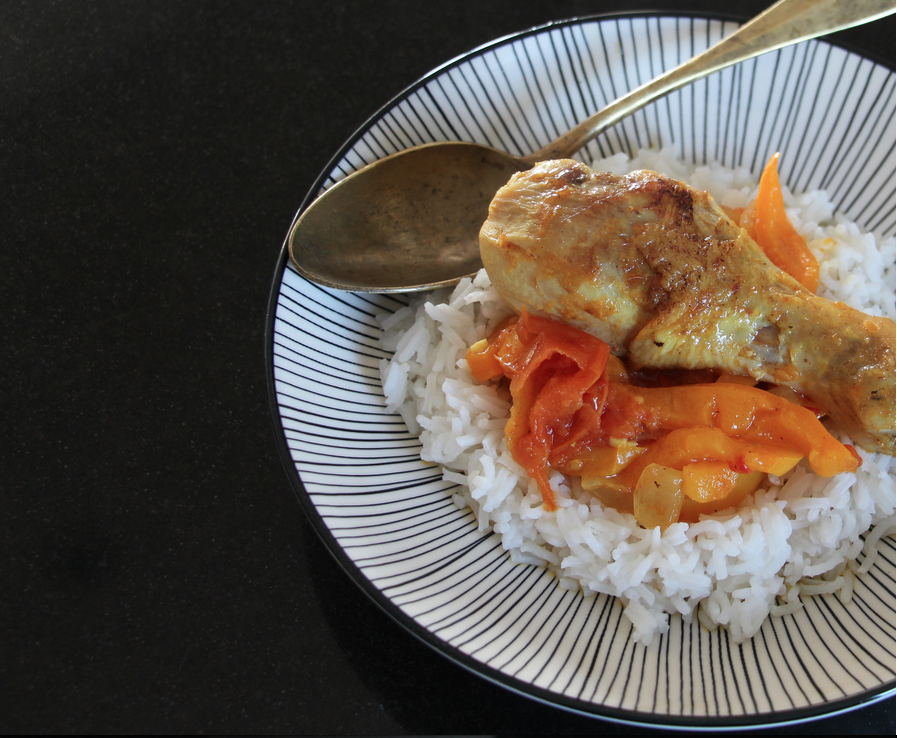 Since that times, the chicken basquaise is one of my favorite meals, loved by the whole family and friends.
Now that you can't wait to get the recipe… Chef ! Bring it on !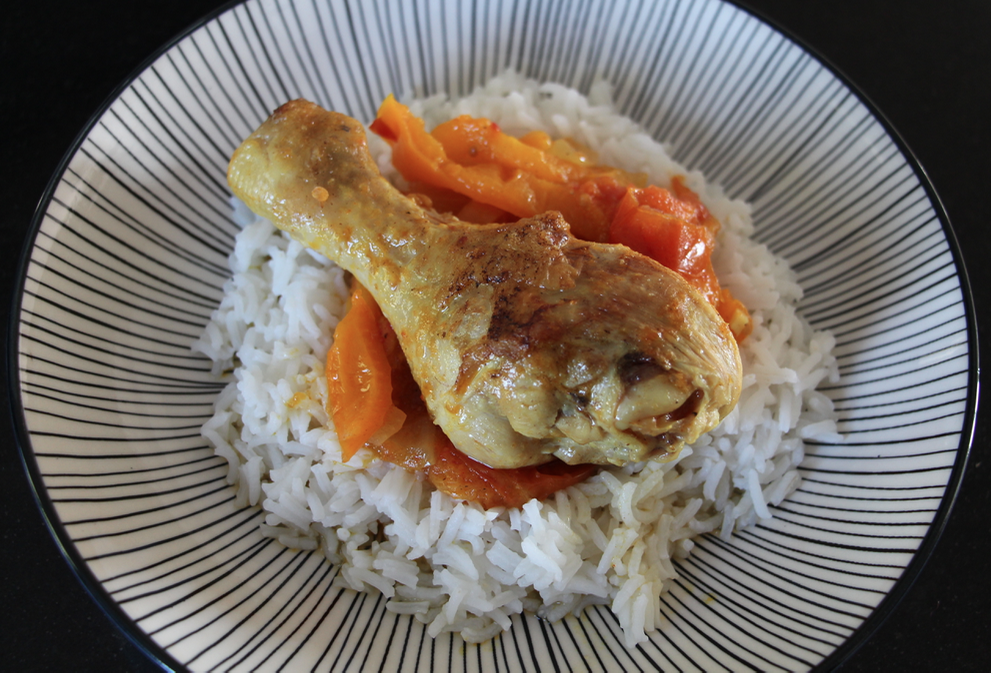 Print Recipe
Ingredients
8 chicken drumsticks

2 red peppers

4-5 tomatoes (approx 800 g)

1 onion

2 garlic cloves

Olive oil

20 g butter

Paprika

Mild red pepper

Curcuma

Ground ginger

Salt

Pepper
Instructions
1
In a large stewpan, cook briefly the chicken with the olive oil and butter until you get a golden color.
3
Cut the onion and cook it in the stewpan.
4
Wash, scoop and cut the red peppers in 4 parts. Then cut them in slices.
5
Add the red peppers slices to the onion and keep cooking at high heat (8 out of 10).
6
Mince the garlic and add it in the pan.
7
Cut the tomatoes in 1 inch cubes and add them to the red peppers.
8
Season with paprika, mild red pepper, curcuma and ground ginger.
10
Cook at medium heat for 45 minutes.
11
Then add the chicken and cover again.
12
Cook at medium heat for 30 minutes.
14
Serve with rice or noodles.
Notes
This recipe is for 4 serious eaters ! Very often, I only serve one chicken drumstick if they are "chubby" enough. You can add Espelette red pepper if you want your chicken to be a little bit spicy. I advise to add pepper at the end of your cooking (whatever you're cooking actually) since ground pepper will give bitterness when cooked...
Enregistrer
Enregistrer
Enregistrer