Christmas is coming!! Let's get ready for celebrations!!
Today's recipe is a delicious starter: foie gras ravioli with carrot soup.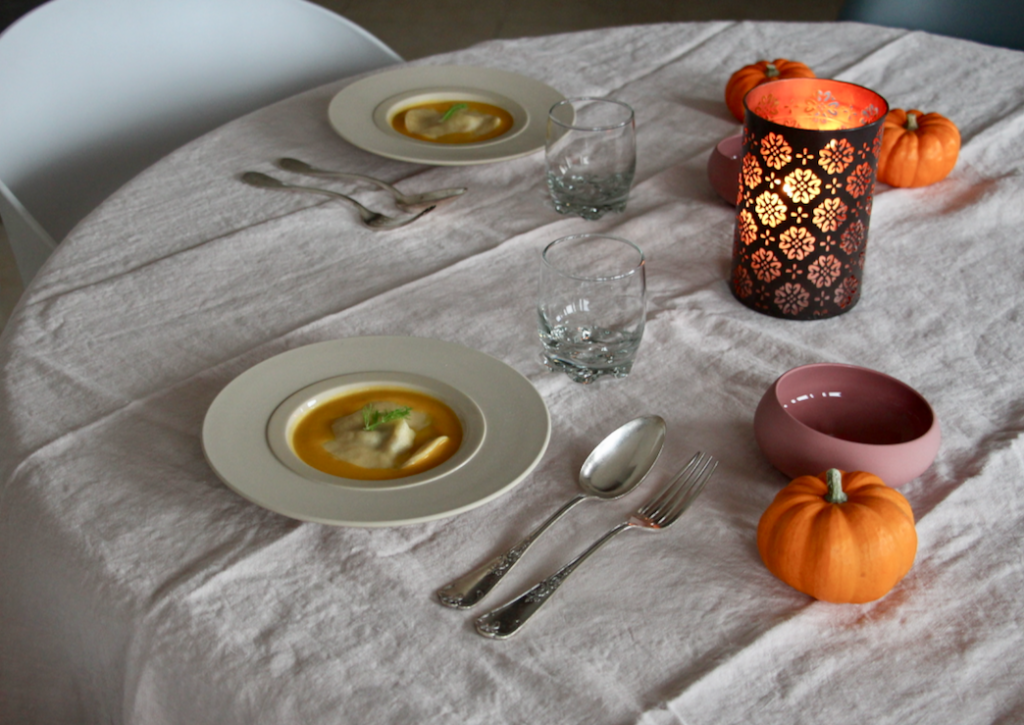 This dish isn't that complicated to make. You just need to be a little bit organized…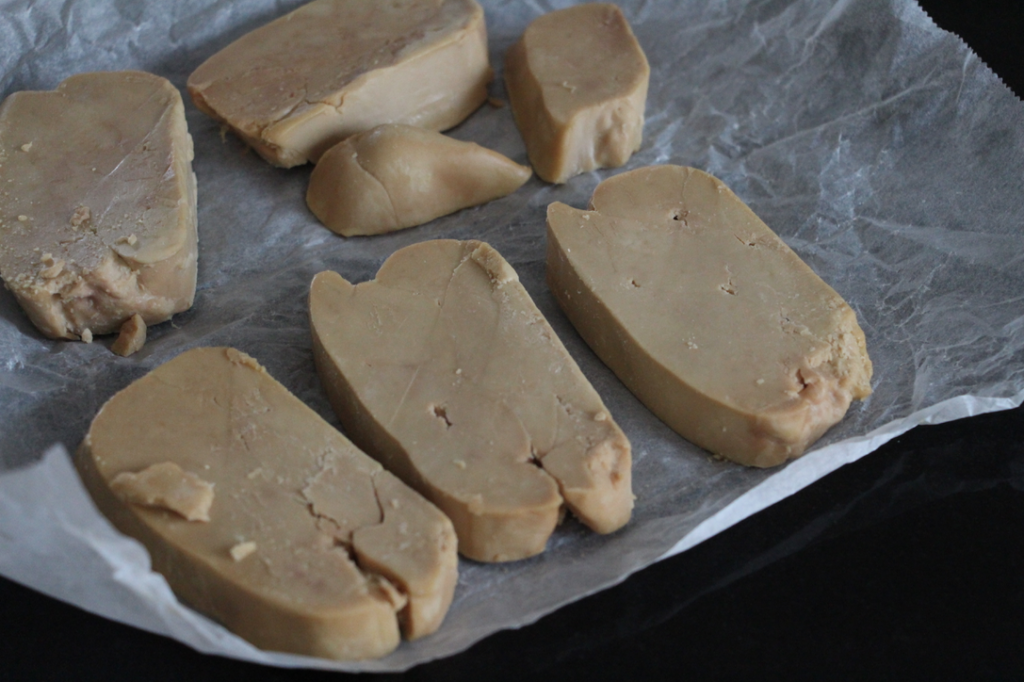 First, you will make a carrot soup based on my 4 C soup recipe. Don't you worry, I wrote it all down again just below…
This soup can easily be prepared the day before, which is very convenient! Then you'll just have to heat it up again…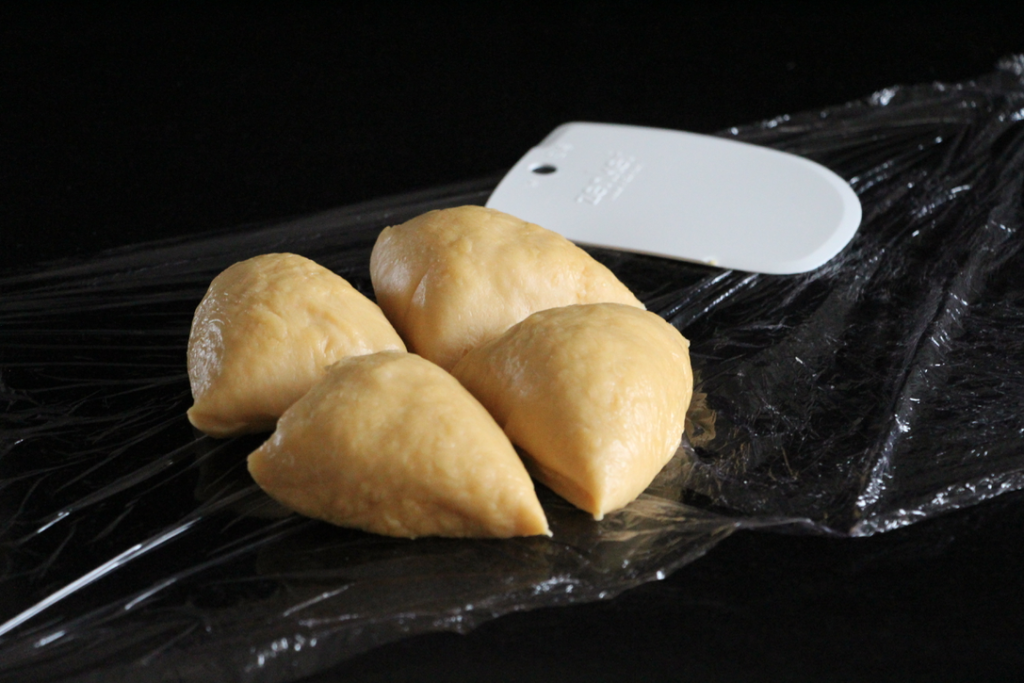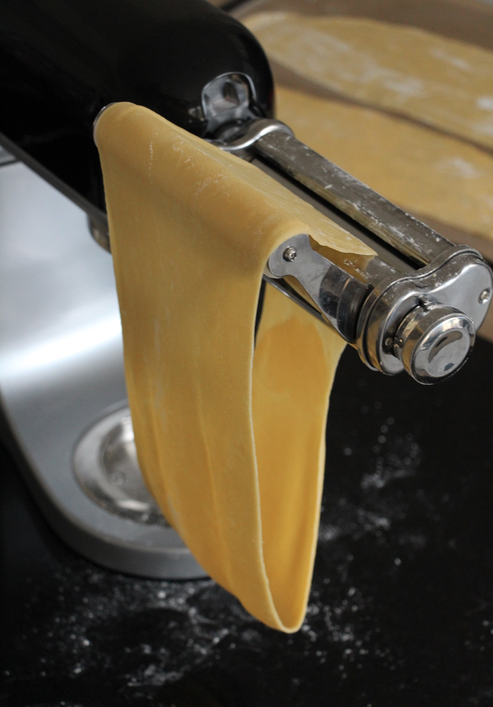 Then you will have to make ravioli. Here you can start early as well (not too much though) and cook them at the last minute, just before serving.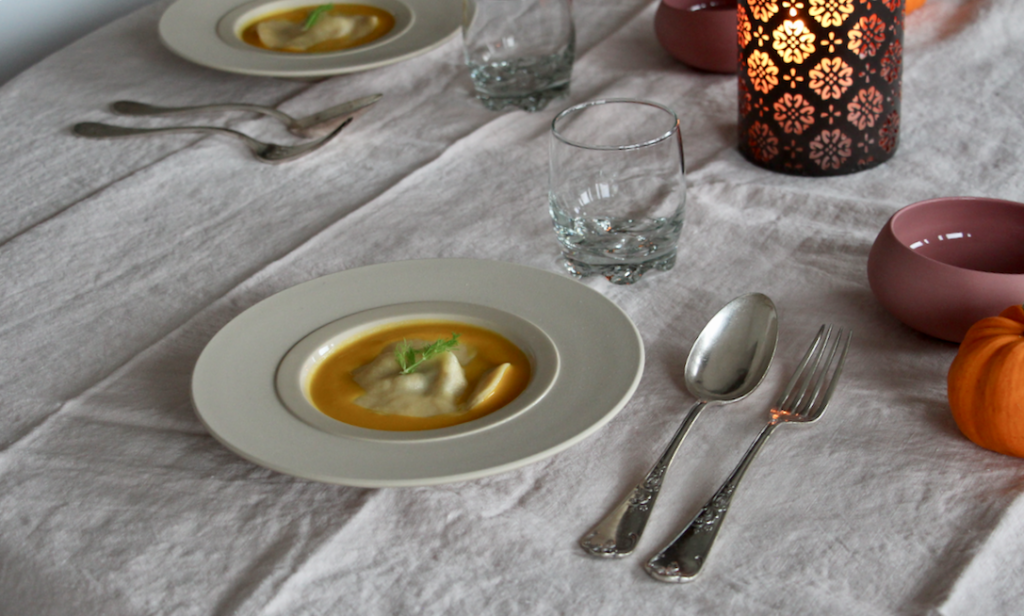 There is fresh duck "foie gras" in the recipe, so we are in the celebration theme, but the required quantity is limited so your budget won't suffer!!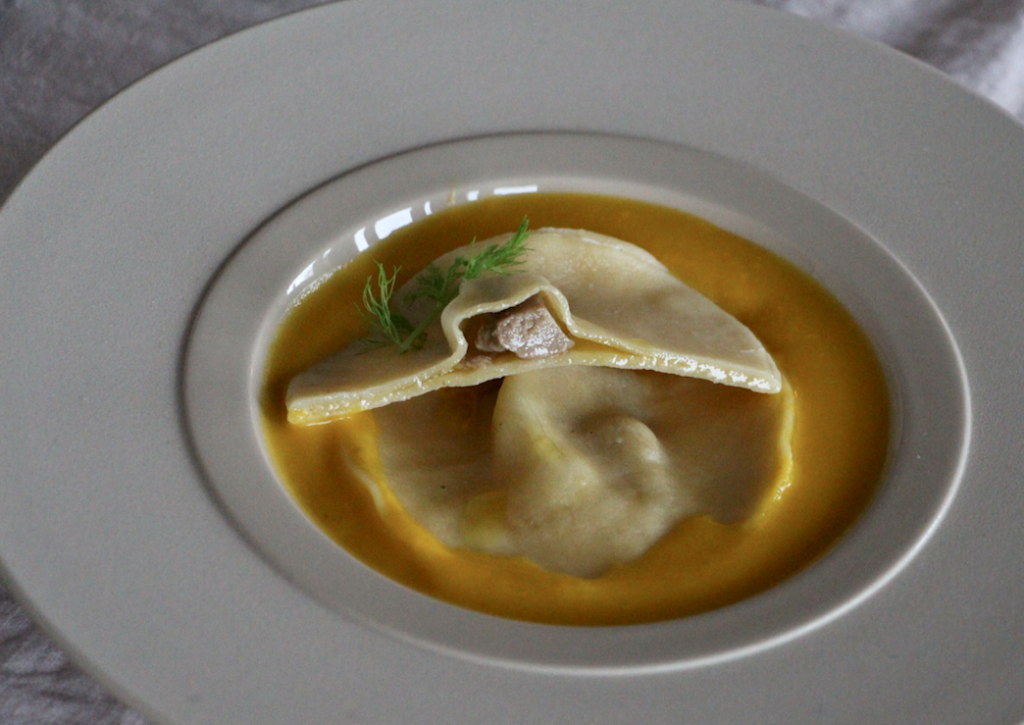 And what about the taste combination of foie gras and carrot soup?? Spices, coconut milk, carrots, foie gras… A delight that will introduce a perfect dinner!!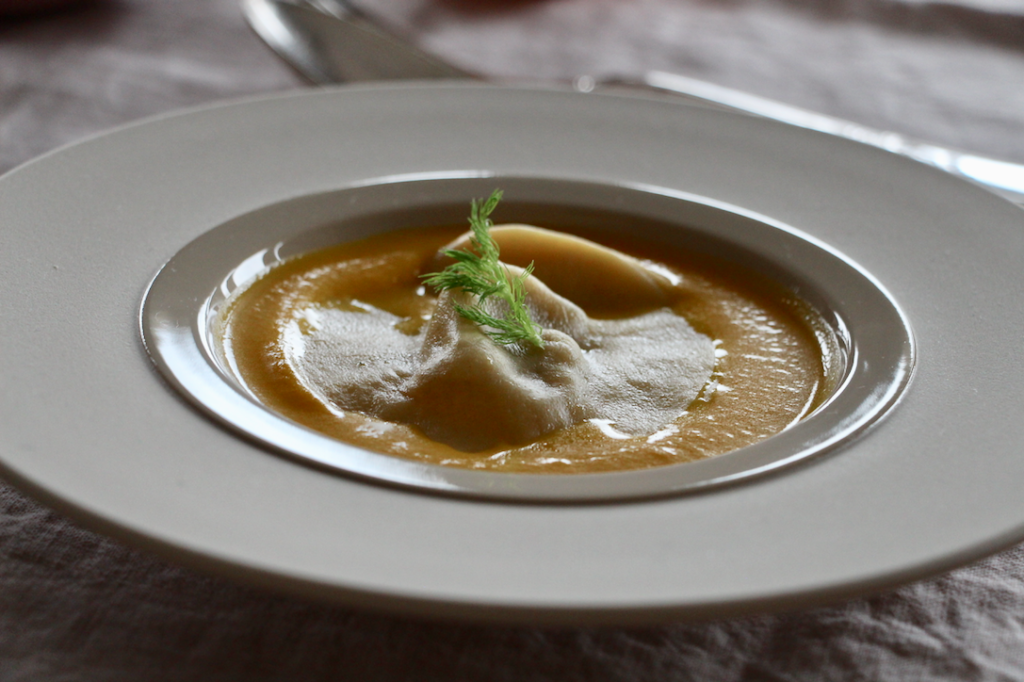 The utensils:
My Affinity sauce pan by De Buyer for the soup or my Thermomix
A rolling mill for the ravioli pasta
A cutter (or a glass!!) to make nice round shapes of pasta.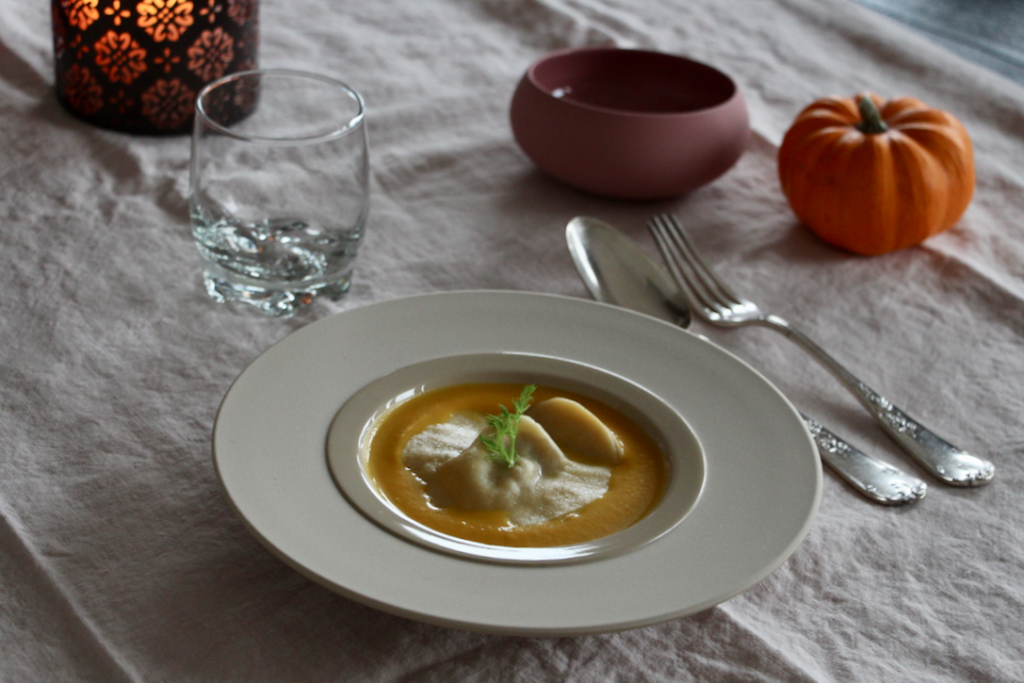 (Presentation : pink Gourmet Bahia bowl, beige Gourmet Bahia plate, pink linen tablecloth by Degrenne)
Shall we?
The recipe, Chef!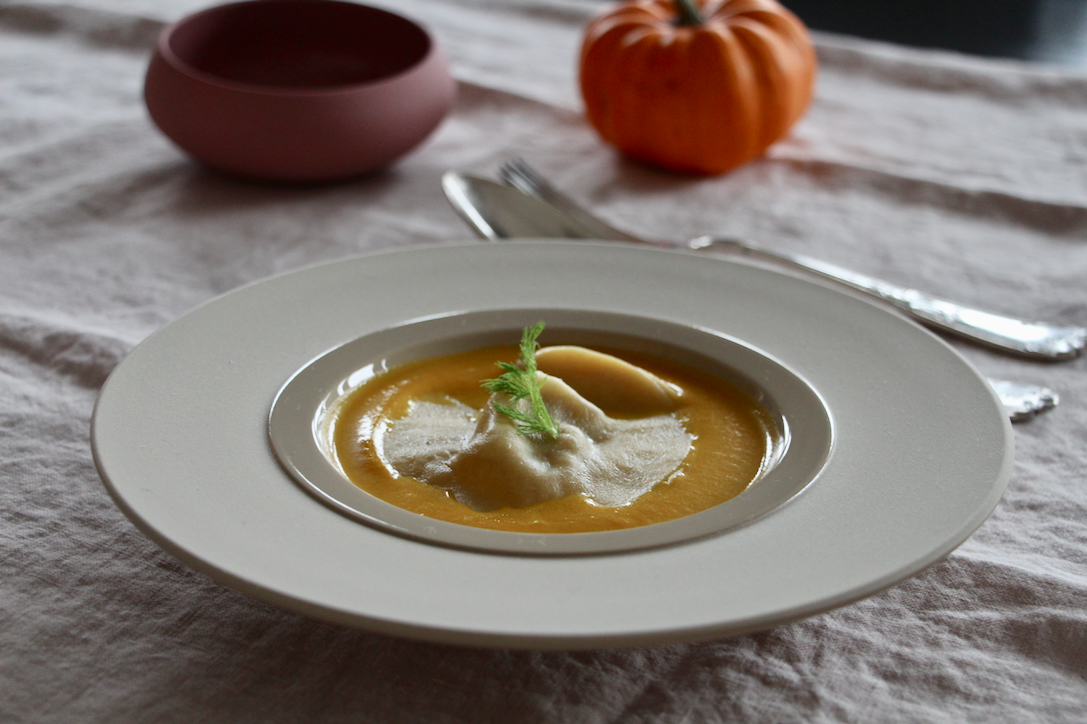 Print Recipe
Foie Gras Ravioli with Carrot Soup
Ingredients
7 or 8 carrots

1 big onion

20 cl coconut milk

Water

15 g butter

1 tablespoon of olive oil

1 teaspoon of curry

1 teaspoon of ground coriander

1/2 teaspoon of ground ginger

1 chicken stock cube

1/2 teaspoon of coarse salt

300 g flour

3 eggs

3 tablespoons olive oil

1 pinch of salt

2 chicken stock cubes

3 slices of fresh duck liver
Instructions
1
Place the flour in your food processor bowl. Add the eggs, salt and olive oil in the center.
2
Knead at speed 2 on a scale from 1 to 6 until you get an homogeneous dough.
3
Make a ball, warp it with cling film and set it aside in your fridge for 30 minutes.
4
Peel the onion and carrots. Cut them in pieces.
5
If you have a Thermomix, go to bullet point 11.
6
Pour the olive oil in a sauce pan, add the butter, the onion and cook for 2 minutes.
7
Add the carrots, curry, ground coriander, ground ginger, coconut milk, 30 cl of water and boil. When it starts boiling, add the chicken stock cube and coarse salt.
8
Reduce the heat, cover and cook for 20 minutes.
9
At the end of the cooking, mix with a hand blender.
11
Place the onion, olive oil and butter into your Thermomix bowl and set 4 minutes, 80 degrees, speed 2.
12
Add the carrots, curry, ground coriander, ground ginger, coconut milk, the chicken stock cube, coarse salt and 30 cl of water. Set 20 minutes, 100 degrees, speed 2.
14
If you wish, add water to adjust the constistency.
15
Season with salt, pepper and spices. Set aside.
16
Cut your dough in 4 pieces and spread them with a rolling mill, make very thin layers.
17
Make 36 discs with your cutter (in order to make 18 ravioli).
18
Spread salt, pepper, ground coriander and ground ginger on your foie gras slices. Cut 18 pieces and place them on the pasta discs.
19
Spread egg white on the border of the 18 discs covered with foie gras, then place one of the remaining discs on each of them. Make sure to seal without leaving air inside the ravioli.
20
Boil a large volume of water with 2 chicken stocks cubes, add a teaspoon of coarse salt.
21
Cook 3 to 4 minutes the ravioli in the broth (4 or 5 ravioli at a time, not more).
22
In the meantime, heat the soup.
23
Pour soup in your serving plate, place the ravioli and serve.
Notes
You can use the remaining broth for a detox meal. Cook vermicelli in it and you'll have a delicious soup! Also, you will probably have remaining pasta, you can make 100% homemade lasagna!