Hello my dear friends!
Who's in for a pumpkin risotto with bacon and basil?? You can believe me when I tell you that it's an absolute must try!!
Let's see the recipe, Chef!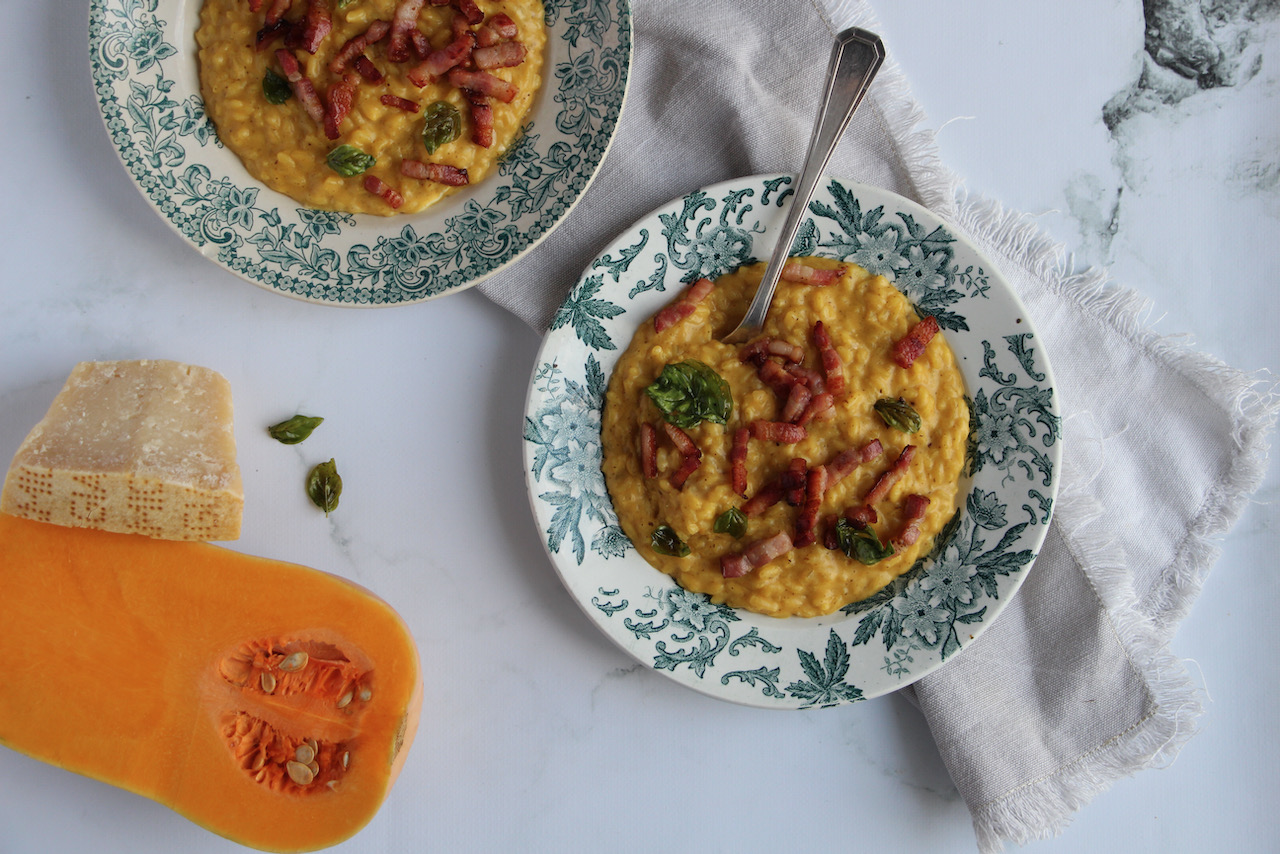 Print Recipe
Pumpkin Risotto with Bacon and Basil
Ingredients
200 g butternut or pumpkin

10 g butter

4 strips thick-cut bacon, diced (approx 150 g)

A few basil leaves (or sage)

1 large shallot

200 g risotto rice

1 l poultry broth

1/4 tsp saffron

75 g freshly grated parmesan

1 large tbsp mascarpone

Salt to taste

Pepper to taste
Instructions
1
Melt the butter in a sauce pan and add the butternut peeled and cut in cubes.
2
Cook for 20 to 25 min with lid at medium heat until soft.
3
Remove from the stove, mix with a blender. Set aside.
4
Stir fry the diced bacon in a sauté pan. Set aside in a plate.
5
Stir fry for 2-3 minutes the basil leaves in the bacon fat. Set aside.
6
Chop the shallot and stir fry ion the bacon fat. Add the rice and cook for 2 minutes, stirring frequently with a wooden spoon.
7
Add a cup of broth and bring to a simmer. Once the liquid has been absorbed by the rice, add the saffron, 3 to 4 tbsp of butternut purée and a cup of broth.
8
Once that broth has been absorbed, add another cup, stirring occasionally. Continue to add broth, 1 cup at a time while stirring until it has been absorbed into the rice and the rice is cooked as you like it.
9
Remove from the stove, add the grated parmesan and mascarpone. Season to taste with salt and pepper.
10
Spread the bacon and basil.