Hello my friends!!
Here is a recipe that I make very often and that I finally share with you…
My strawberry tiramisu!
You have already two nice tiramisù recipes on the blog:
Here I share a version that particularly fits after a heavy meal. Why you may ask? Just because the strawberry brings a bit of acidity that will counter-balance the sweet taste of the mascarpone mixture. And we are in the middle of the strawberry season now, lets' enjoy it!!
You can make this strawberry tiramisu with any kind of crackers that you want (or that you have in your kitchen!!) : speculoos, Graham crackers, lady fingers, shortbread biscuits… The hardest part is to choose!
For an even yummier version, you can add a strawberry sauce and pour some on your strawberry tiramisu.
The great advantage of this dessert is that it's better to make it 12 hours in advance so that you get the right consistency. So when you have guests, you make it the day before and you still have plenty of time to make the rest of your menu.
I like to serve it in individual portions, I think it suits the strawberries well. It's a fact that the strawberries cut in very small cubes will release juice and your tiramisu might be less firm. In jars, no problem with the texture consistency!
The utensils:
A small sauce pan,
A large bowl,
A food processor with whisk to make the chantilly cream,
A spatula,
A rolling pin to crush the crackers
And a grater for the lime zests.
There you go now!
The recipe, Chef!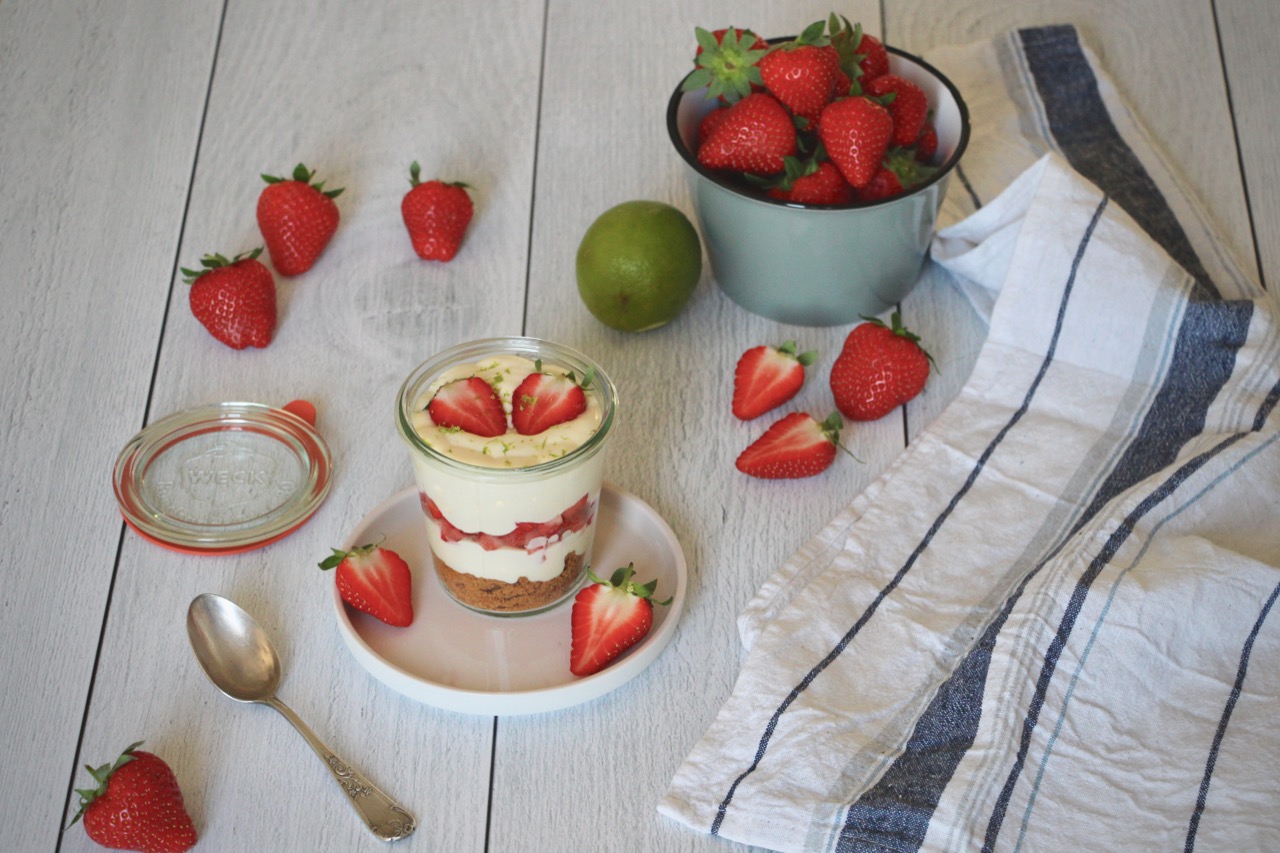 Print Recipe
Ingredients
250 g Graham crackers
1 lime
400 g strawberries
4 egg yolks (80g)
114 g sugar
34 g water
250 g cold mascarpone
200 g cream
1 tablespoon iced sugar
Instructions
1
Take a large bowl and put the mascarpone in. Set aside in your fridge.
2
In a pan, put the water and sugar. Heat until you get a syrup making little bubbles (2 minutes should be enough).
3
Add the syrup to the egg yolks in a bowl and whisk with your electric mixer for 5 to 6 minutes. The mixture should cool down. Put in your freezer for 2-3 minutes.
4
Add the syrup and eggs to the mascarpone and mix with a spatula until you get a creamy and homogeneous mixture.
5
Set aside in your fridge.
6
Make a firm chantilly cream with the cream and iced sugar.
7
Add the chantilly cream to the mascarpone mixture (use a spatula).
8
Set aside in your fridge for 2 hours.
9
After the 2 hours, crush the crackers and put them in your jars.
10
Cover with mascarpone cream. Put the rest of the cream back in the fridge.
11
Cut the strawberries (set aside 8 for decoration) in very small cubes. Add to the jars.
12
Cover with a final layer of mascarpone cream. Add one strawberry per jar and spread lime zest.
13
Set aside in your fridge for 12 hours before serving.
Notes
Cold is key in this recipe. Respect carefully the mandatory fridge time.