Hey guys!
I already introduced here my chorizo and zucchini risotto and my red risotto with shrimps.
Today, may I suggest a mix of both recipes?… My shrimp and chorizo risotto!
It was a special request from my son who adores risotto, who adores chorizo and who adores shrimps!!
I made it all!! 3 in 1!! 😉
We will stick to the basic risotto recipe, with parmesan cheese at the end of the recipe. I chose to use a broth instead of white wine (honestly because I didn't have any open bottle, otherwise a glass would probably have ended up in my stew pan…).
The mandatory utensils:
And iron cast stew pan, I chose a 26 cm diameter Staub
A sauce pan for the broth
And a heat resistant spatula
And that's it!
Shall we make risotto now?
The recipe, Chef!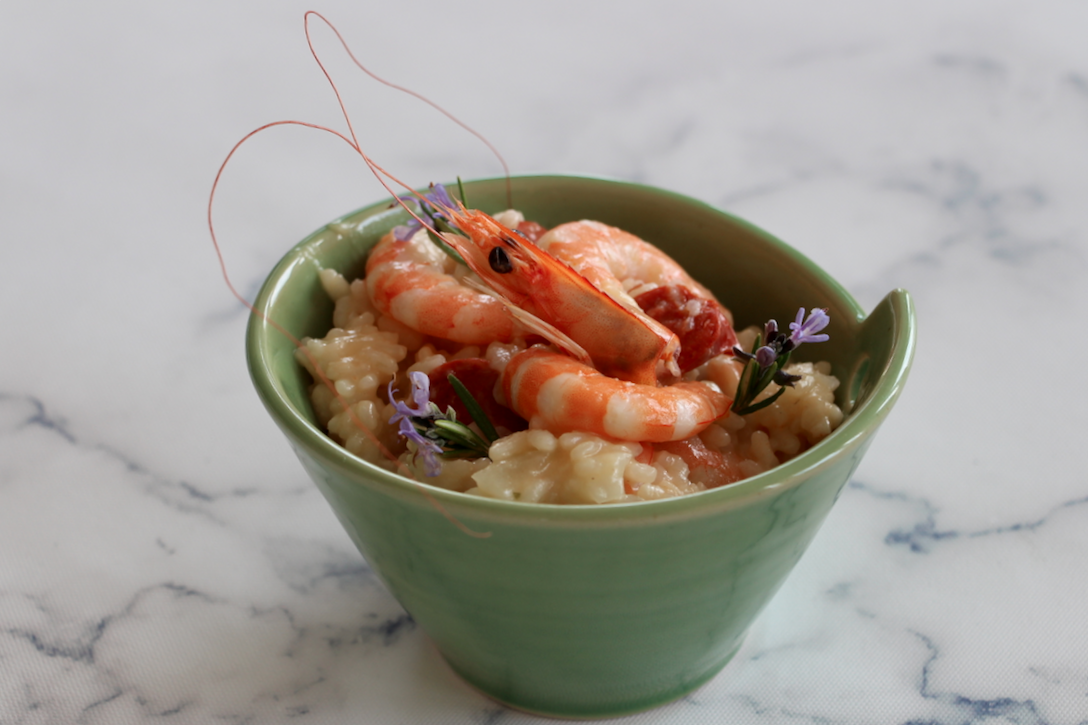 Print Recipe
Shrimp and Chorizo Risotto
Ingredients
300 g risotto rice
750 g chorizo
20 shrimps
1 onion
100 g grated parmesan cheese
Sunflower oil
1,5 liter chicken broth
Salt
Pepper
Ground coriander
Red mild pepper
Instructions
1
Cook gently the minced onion with one tablespoon of oil in a pan.
2
In your cocotte, pour 2 to 3 tablespoons of oil and add the rice. Cook until the rice gets translucent (use regularly a spatula to mix your rice, it shouldn't get brown). This step will take a few minutes.
3
Add two ladles of broth and cook until it is fully absorbed by the rice.
4
When it's done, start over again until your rice is cooked.
5
Add the chorizo cut in slices to the onions, then add the shrimps.
6
Add the parmesan cheese to the rice.
7
Season with salt, pepper, ground coriander and red mild pepper.
8
Add the onion/chorizo/shrimps.