Hello my friends,
Today I will revisit a famous dessert : the Foret Noire (black forest…). I have decided to make a modern version of this classic element of French pastry.
Let's give a look to the recipe, Chef!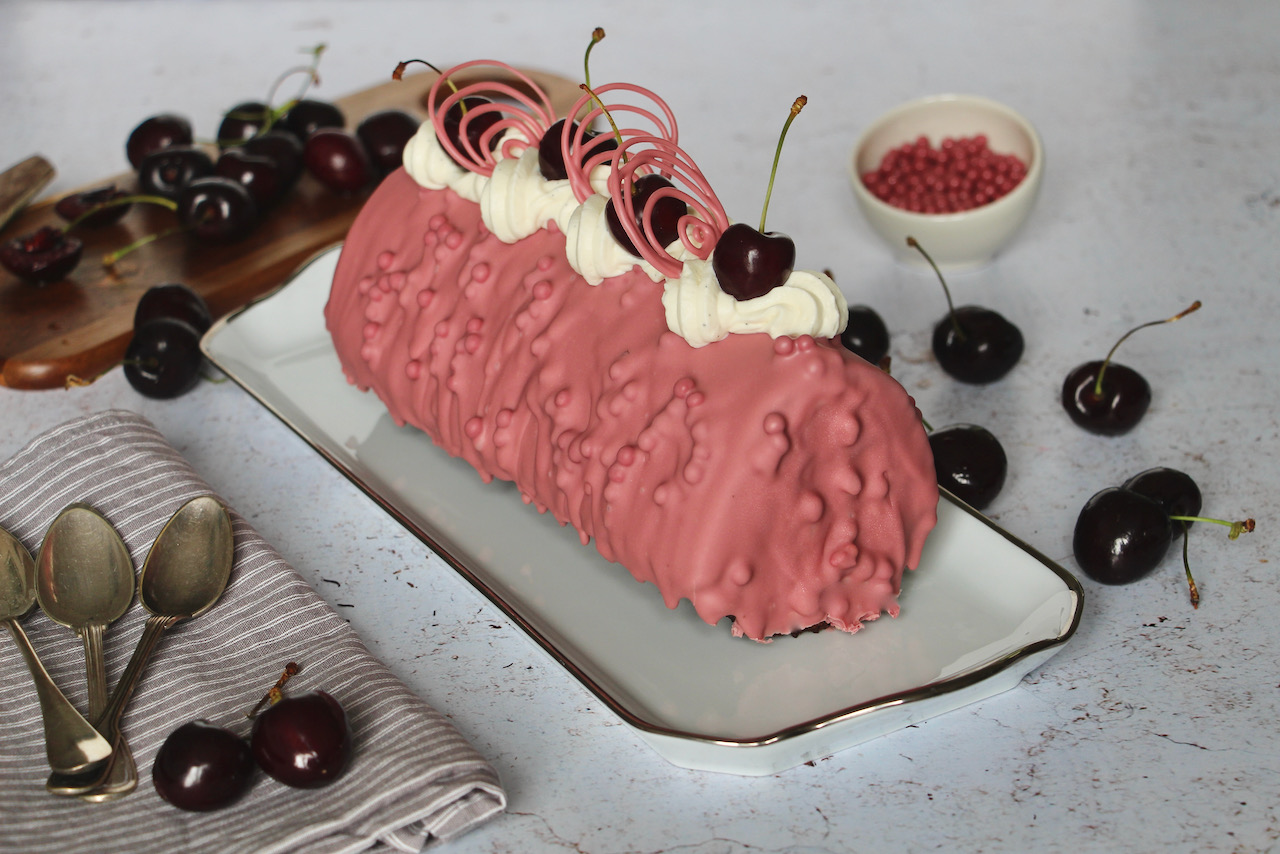 Print Recipe
Ingredients
200 g eggs (for the sponge cake)

100 g sugar (for the sponge cake)

60 g flour (for the sponge cake)

35 g unsweetened cocoa powder (for the sponge cake)

200 g liquid cream (30 % fat)

100 g mascarpone

1 tsp icing sugar

160 g cherries

350 g Ruby chocolate

85 g neutral oil

85 g Crispearls
Instructions
1
Preheat your oven at 190 C / 375 F degrees.
2
Oil your oven tray and place a baking paper.
3
Combine the eggs and sugar in your food processor bowl and whisk for 15 minutes.
4
Add the flour and cocoa powder in three times.
5
Mix gently with a spatula.
6
Stop mixing as soon as the batter is homogeneous.
7
Pour it on the baking tray and make the surface even with your spatula.
9
In the meantime, place a humid linen on your working plan and spread sugar .
10
As soon as the sponge cake is cooked, place it on the linen.
11
Remove the baking paper and roll the sponge cake with the linen.
13
Start whisking the cream.
14
When it starts thickening, add the mascarpone and icing sugar.
15
Whisk until firm and smooth.
17
Spread the chantilly (save a bit for finale decoration) and place the cherries cut in half and destoned. Save a few for decoration.
19
Place in the freezer for 6 hours or more.
20
After that time, melt your Ruby chocolate with a double boiler.
21
Once melted, make a few decors.
22
Add the oil to the rest, combine and add the Crispearls.
23
Remove the cake from the freezer, place it on a grid
24
Cover with melted chocolate.
25
When the chocolate is hard again, pipe the remaining chantilly and place your cherries!
26
Finish decoration with your chocolate decors.
Notes
If you don't add the chocolate glazing, the freezer stage isn't necessary.