Hello my friends!
Isn't it time to think about a nice appetizer for the weekend?
Summer vegetables rolls sound good to you?
Yes? Then let's see the recipe, Chef!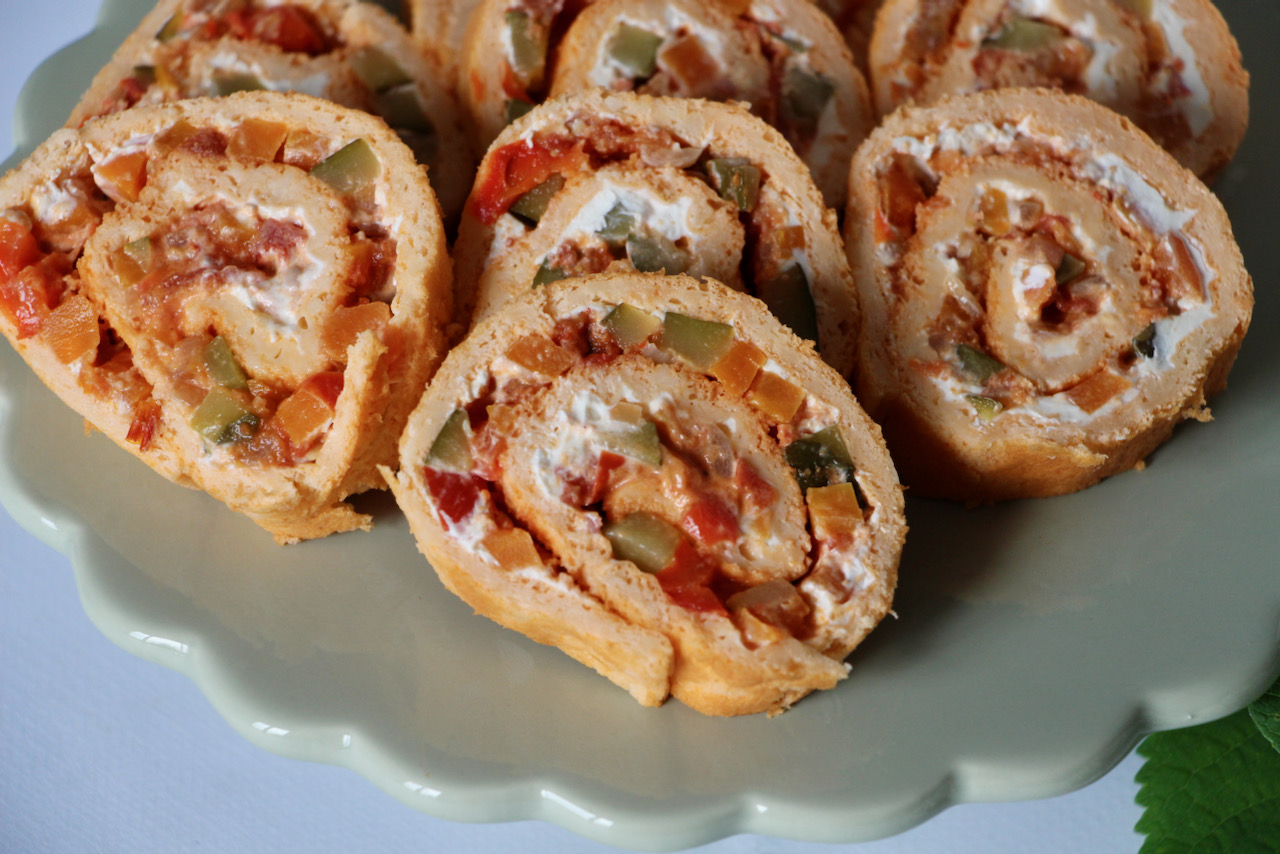 Print Recipe
Ingredients
1/2 red pepper

1 carrot

1 small zucchini

200 g tomato pulp

1/2 onion

3 eggs

80 g water

50 g grated cheese

1tsp tomato concentrate

25 g flour

15 g cornstarch

1 tsp baking soda

5 tbsp olive oil

150 g cream cheese

Salt

Pepper
Instructions
1
Heat 2 tbsp olive oil and add the chopped onion.
2
Add the carrot, red pepper and zucchini all cut in very small cubes.
3
Pour the tomato pulp after 2-3 minutes, add salt and pepper.
4
You can also spread spices (ground ginger, paprika, curcuma, etc) or thyme, rosemary.
5
Cook at medium heat until your veggies are quite soft (around 30 to 40 minutes).
6
Remove from the stove and let cool down.
7
In the meantime make the roll.
8
Preheat your oven at 190 C / 375 F degrees.
9
Oil your oven tray and place a baking paper.
11
Pour on the eggs and whisk right away for 5 minutes. You'll get a foamy mixture.
12
Add the flour, cornstarch and baking soda. Mix.
13
Add the 3 remaining tbsp of olive oil, tomato concentrate and grated cheese. Mix.
15
Pour it on the baking tray and make the surface even with your spatula.
17
In the meantime, place a humid linen on your working plan.
18
As soon as the sponge cake is cooked, place it on the linen.
19
Remove the baking paper and roll the sponge cake with the linen.
21
When it's cooled down, spread the cream cheese on the whole surface.
22
Add the vegetables (without liquid) and roll without pushing too much.
23
Wrap in baking paper and place in your fridge for a few hours.
24
Cut in slices for serving.