Hello my friends!
I don't know how you deal with it but having Christmas, the Epiphany, Candlemas, winterfood (with a lot of cheese in France !!) and Fat Tuesday in a row is defintely fatal to me!!
I gain a "bit" of weight (how could I lie here ??) and I want light and fresh food with veggies!!
So today let's have a chickpeas, roasted carrots and red pepper salad!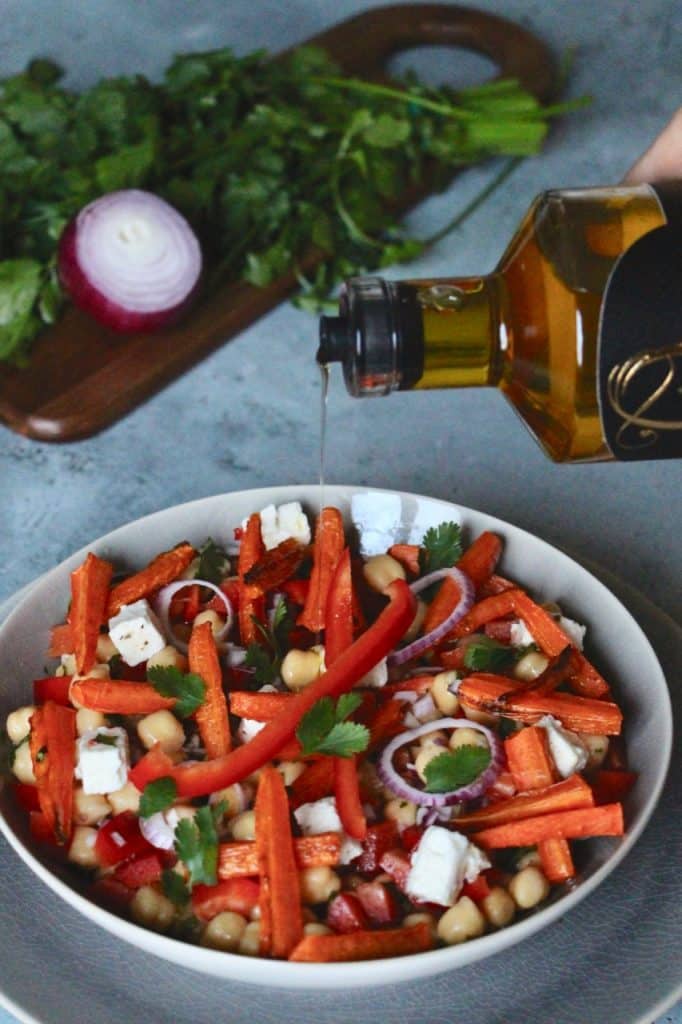 Double benefit of this recipe: its simplicity, its quickness to be prepared!! Aww, I almost forgot… it is delicious!!
To make a nice salad, like this chickpeas, roasted carrots and red pepper salad, you need high quality ingredients. I'm talking obviously about the vegetables but also the olive oil. Do not neglect this point and take a tasty olive oil with a balanced flavor.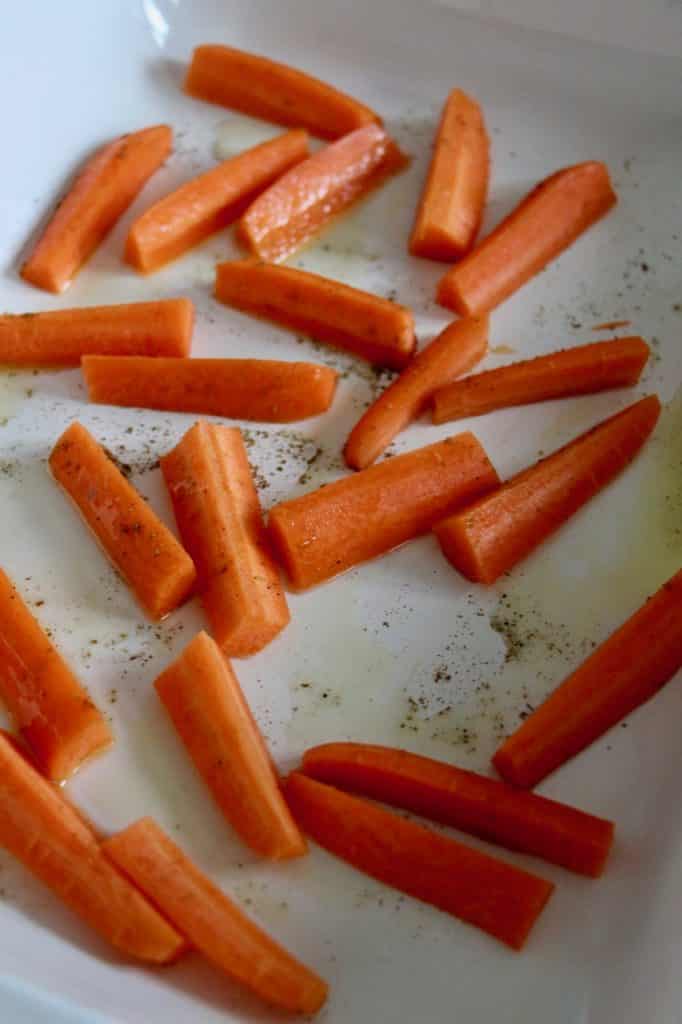 You also need a good seasoning. Here I do it with 3 components: the red onion that will be finely chopped, the coriander for its freshness (if you're not a huge fan, you can take parsley 🙂 ) and ground cumin!
In the end you get a tasty and delicate chickpeas, roasted carrots and red pepper salad, that makes you travel!! well almost…
I add feta cheese and it's great!! You get a delicious, nourrishing meal that remains light. Happiness in a plate!!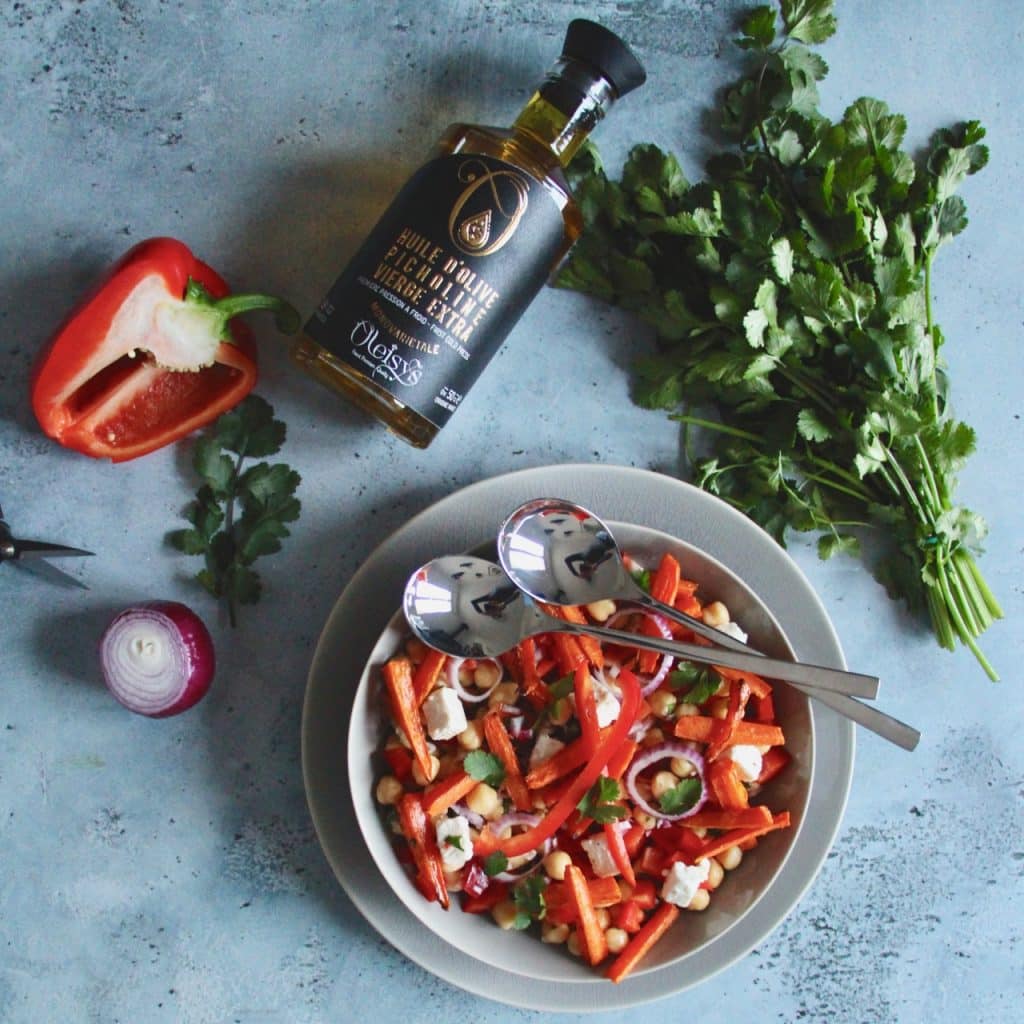 You can have this salad as a main dish, as a starter or even in little jars for appetizers…
Depending on the season, you can add cucumber cut in small cubes, cherry tomatoes or roasted butternut for instance.
The utensils:
An oven dish,
A cutting board
And a sharp knife.
And that is it!!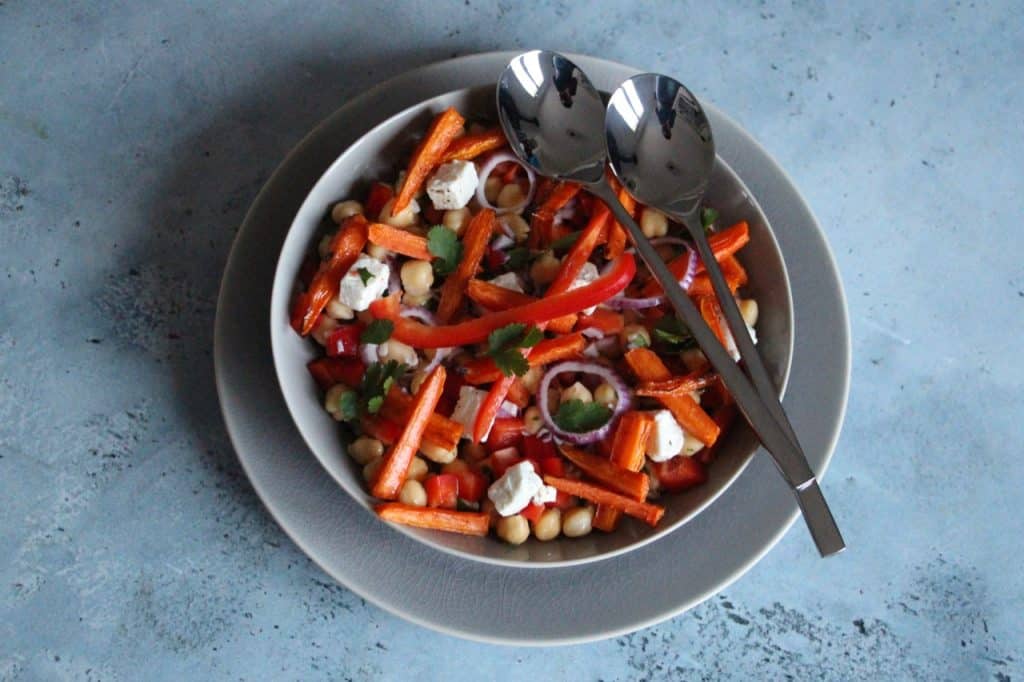 Okay, no more talking now!!
The recipe, Chef!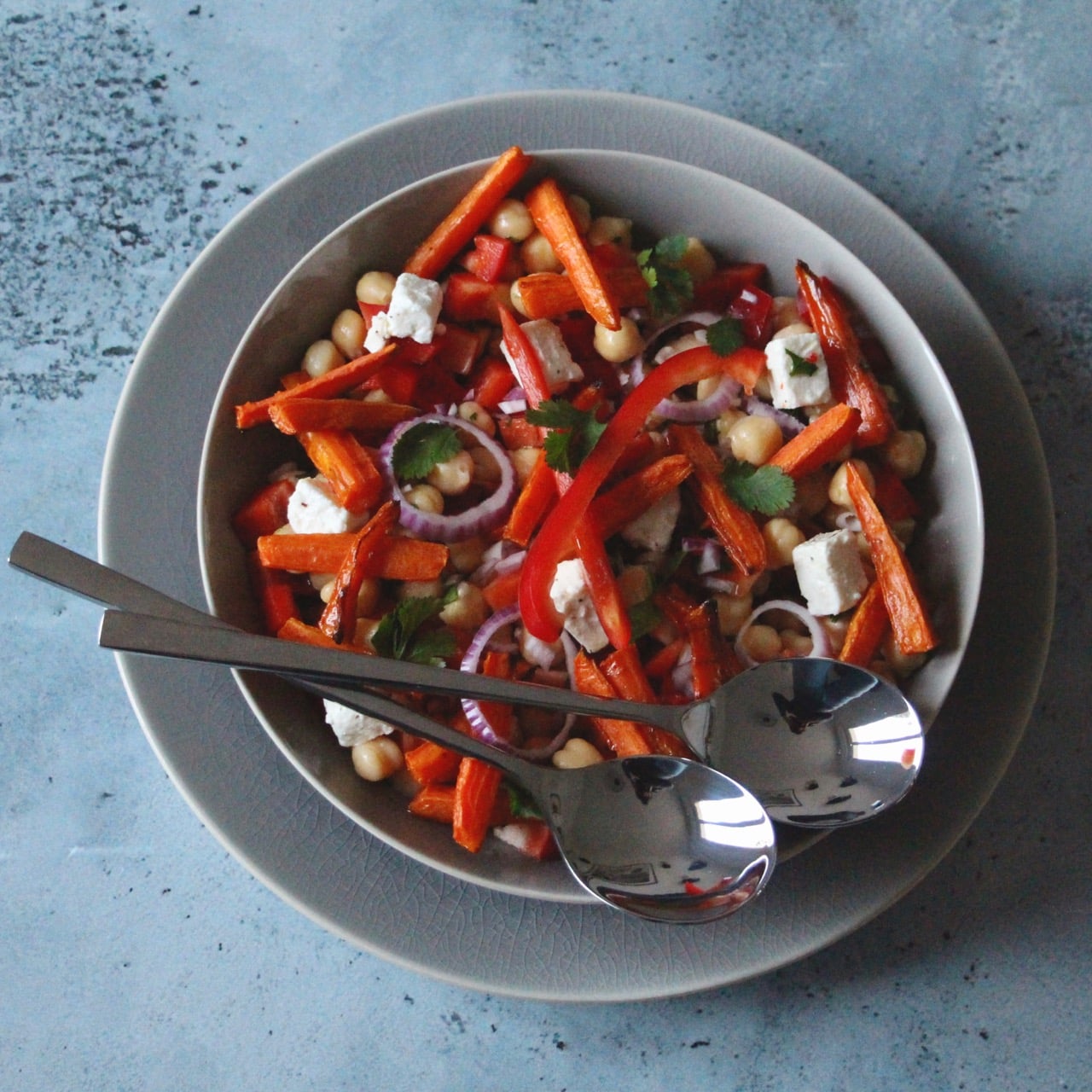 Print Recipe
Chickpeas, roasted Carrots and Red Pepper Salad
Ingredients
400 g canned chickpeas

2 carrots

1/2 red pepper

1/2 red onion

8-10 coriander stalks

100 g feta cheese

1/2 teaspoon ground cumin

Salt

Pepper

Olive oil
Instructions
1
Preheat your oven at 200 degrees.
2
Peel your carrots and cut them in sticks. Place them in your dish, spread ground cumin and add 1 or 2 tablespoons of olive oil.
4
In the meantime, rinse the chickpeas, drain and dry them with absorbing paper. Place in your serving bowl.
5
Add 1 tablespoon of olive oil and chopped coriander. Mix.
6
Add the chopped onion, the red pepper cut in cubes and the feta cheese.
7
Add salt, pepper and 1 or 2 tablespoons of olive oil.
8
When your carrots are cooked, add them to the salad and serve.