Hello !! It's summer all over again!! We want fresh food, we want color!
This is why my pistachio and pomegranate quinoa salad is right on time!!
So it's a real shortcut to call this salad like I did since there is so much more than quinoa, pistachio and pomegranate in this salad!!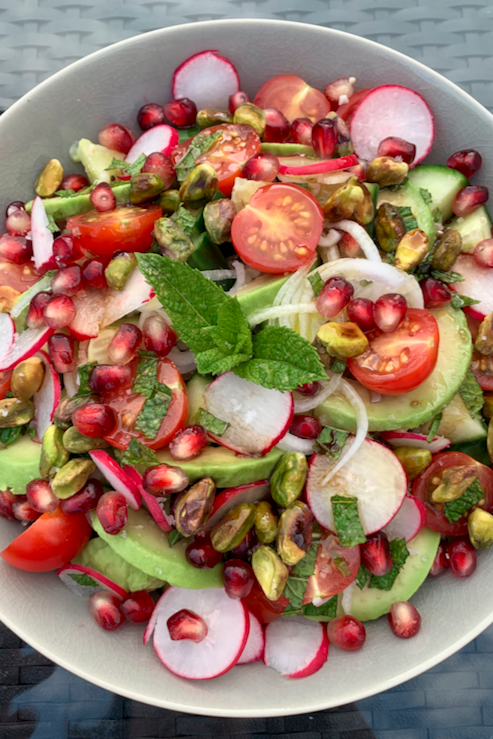 As you can quite easily see on my pics, this salad has plenty of ingredients, full of color, full of flavors, they are all so yummy!! And super healthy too!!
This quinoa salad will join for sure the list of summer salads I made that you can already find here on the blog.
(Presentation: Modulo Abstraction plates by Degrenne)
And since it is a summer salad, let's stick to the season with the ingredients: radishes (from my own garden here!!), cherry tomatoes, cucumber, avocado, fresh mint (from my garden too 😉 ), pistachio and pomegranate. You get it: colors and flavors are in my plate!!
My extra magic ingredient: colza oil, with sesame flavor by La Tourangelle.
This salad can be an excellent vegan dinner (or just a meatless meal). And if you add grilled chicken, I'm pretty sure it will be quite a treat!!
You can also have it as a starter before a more generous meal or in little jars as appetizers if you chop finely the ingredients.
Shall we?
The recipe, Chef!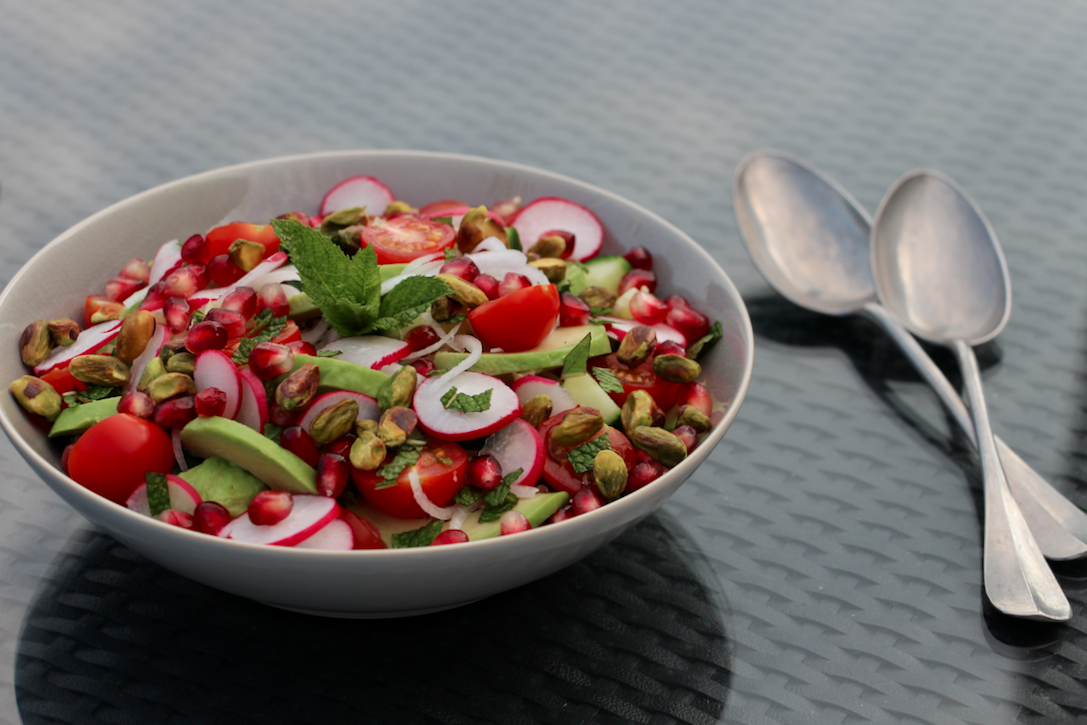 Print Recipe
My Pistachio and Pomegranate Quinoa Salad
Ingredients
120 g quinoa
3 radishes
1/2 avocado
1 large piece of cucumber (10 cm)
5 mint leaves
1 quarter pomegranate
1 handful pistachios
9 cherry tomatoes
1/2 spring onion
3 tablespoons colza oil (or olive oil)
1/2 tablespoon balsamic vinegar
Salt
Pepper
Instructions
1
Cook the quinoa according to the package instructions.
2
Meanwhile wash, peel and mince the vegetables (radish, avocado, tomatoes, onion). Cut the cucumber in cubes.
3
Stir fry the pistachios in a frying pan a few minutes.
4
Remove the pomegranate seeds.
5
Place your cooked quinoa in a strainer, rince with cold water. Press to remove all the water.
6
Place the quinoa in a large bowl, add the vegetables, the pomegranate seeds, the pistachios, the chopped mint.
7
Add oil and balsamic vinegar.
8
Season with salt and pepper. It's ready!