Hello my friends!
Let's make a trip today! Let's go to Turkey or Greece and enjoy simits! The famous, ring breads with sesame seeds!
Ready to go?
Let's see the recipe, Chef!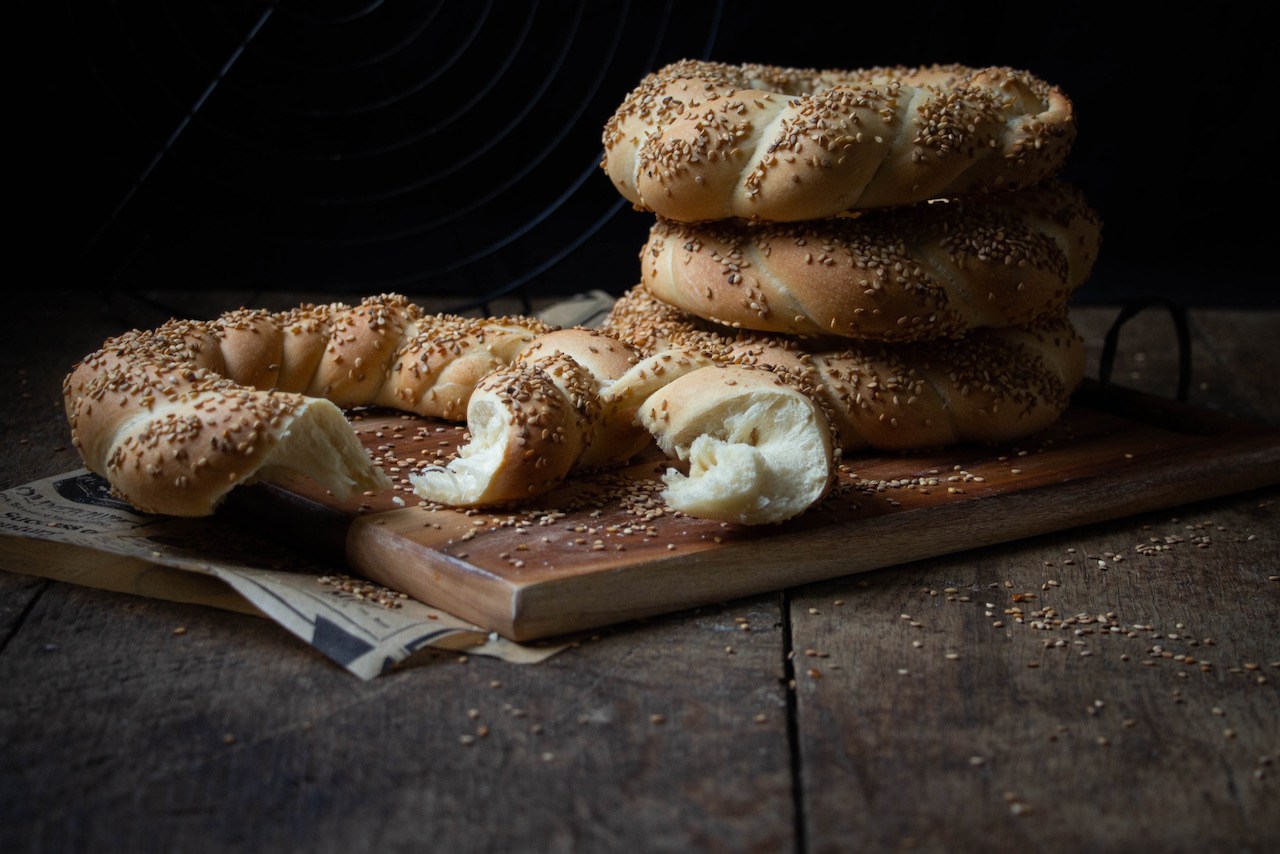 Print Recipe
Simit, Turkish breads with Sesame Seeds
Ingredients
400 g flour

7 g salt (1 tsp 3/4)

4 g sugar (1 tsp)

30 g melted butter

180 g lukewarm water

8 g dehydrated yeast (or 16 g fresh one)

1 tbsp grape molasse (or pomegranate or honey)

30 g water

4 tbsp sesame seeds
Instructions
1
Pour the flour, salt, sugar and melted butter in your food processor bowl.
2
Combine yeast and lukewarm water.
3
Start kneading at low speed and pour slowly the water/yeast.
4
Knead for 8 minutes increasing regularly the speed.
5
Pour the dough in an oily bowl, cover with a linen and leave to rise for 1 h to 1h30 until the dough has doubled in size.
6
Combine the molasse and water. Set aside.
7
Stir fry the sesame seeds for 2 minutes. Set aside.
8
Divide the dough in 8 pieces.
9
Roll out 8 pieces into 50 cm tubes each and lay them parallel to each other.
10
Roll two tubes in opposite directions to make a twist. Meet the ends and pinch them together to make a ring. Repeat with the remaining 6 pieces to make 3 more rings.
11
Dip each ring in molasses and water mixture then in sesame seeds and place on a baking sheet lined with parchment paper.
12
Let it rise for another 20 minutes.
13
Preheat the oven to 200 C / 390 F degrees.
14
Bake in the oven for 25 minutes until the simits are golden brown and fully cooked.
15
Let cool down on a cooling rack.