Because winter isn't over yet, because we need color, because we want vitamins, because we want tasty food. And because it's different!!
Here is the famous 4 "C" soup, by Casserole&Chocolat ! Carrot, Coconut milk, Curry and Coriander!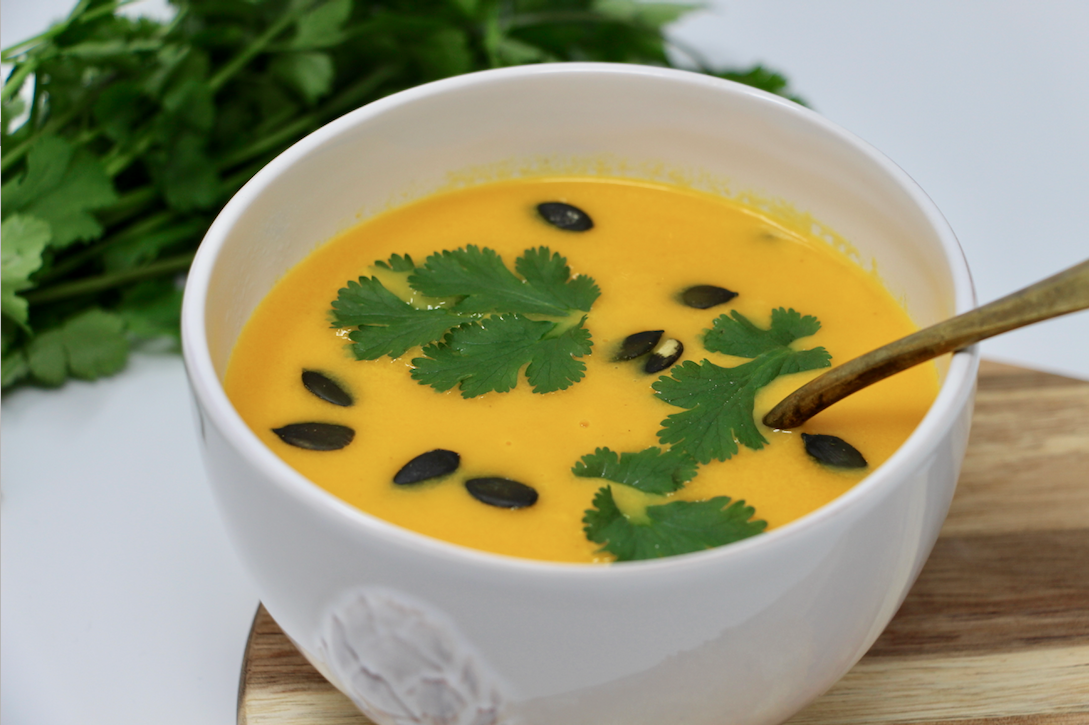 So as far as colors are concerned, we are all set!! This shiny orange will bring energy on your table. A few leaves of fresh coriander, and you'll have green too!! Don't you worry… you are on a food blog and not a "painting for dummies" one!! 😉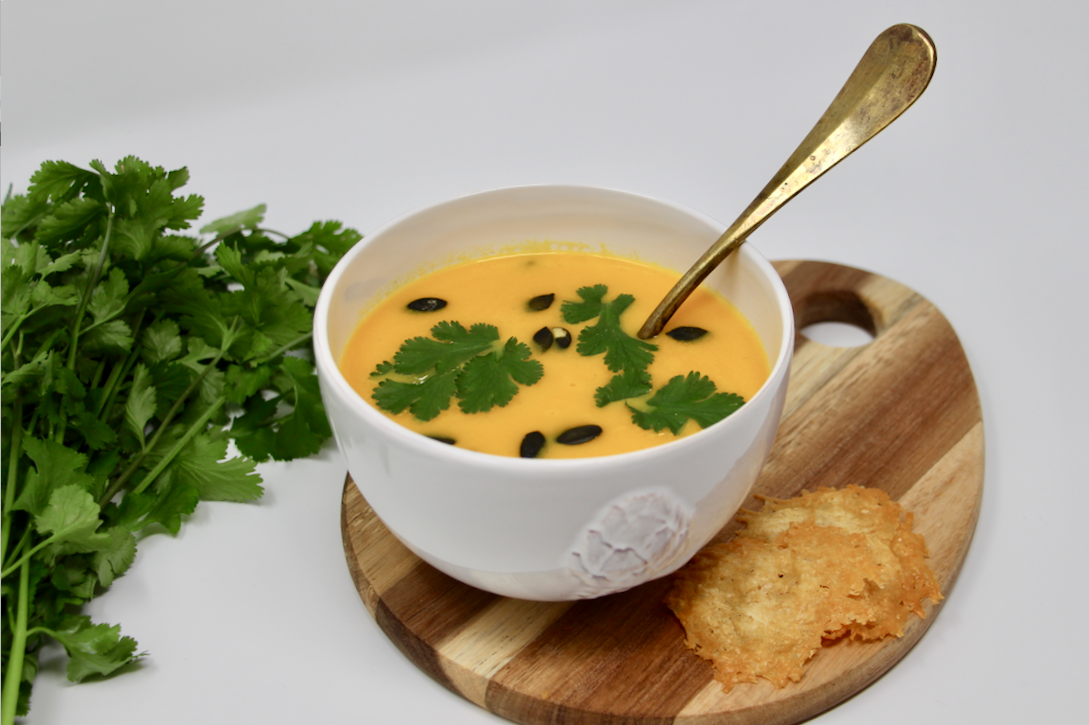 Regarding vitamins, carrots are a pretty good choice, don't you agree ? And it remains a super healthy recipe for a light dinner. Or a starter with, as shown here, Parmesan cheese tiles. This 4 "C" soup will also be a great element for your aperitif table, in little jars. Shall I go on?? 🙂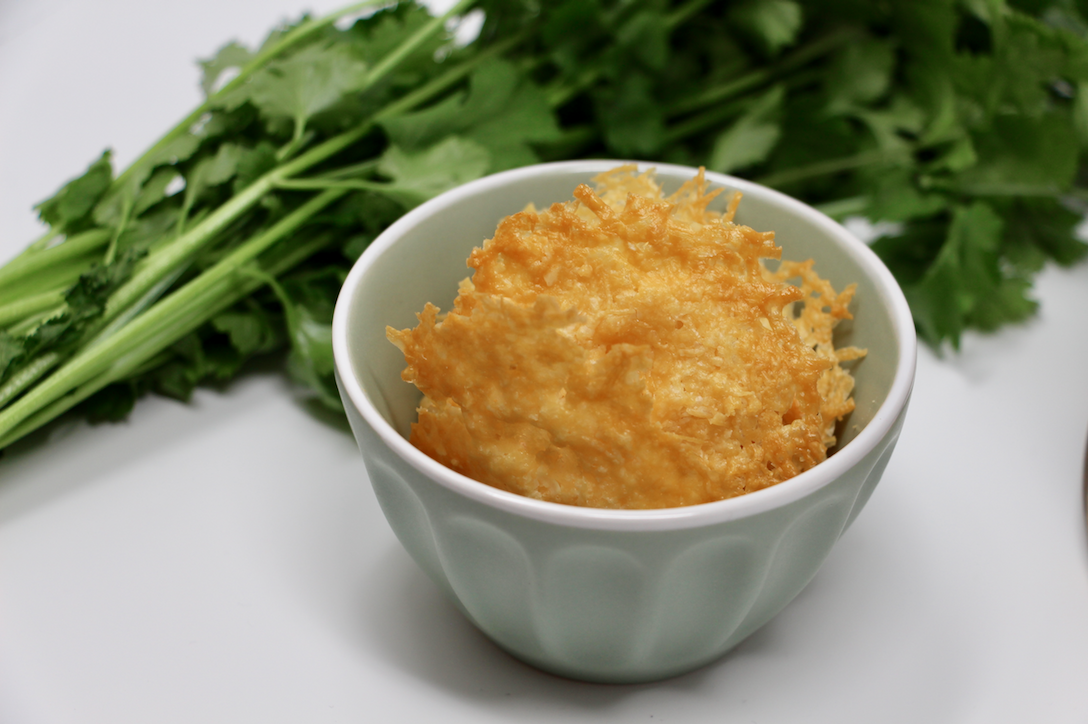 And finally, taste will be great!! Do not hesitate to spread with sunflower seeds onyour soup bowl. It's a great combo. And as always, I buy my spices from Albert Ménès, for a perfect balance of tastes!
Aww … I forgot… It's super easy to cook!!! Happiness in a bowl…
Shall we? The recipe, Chef!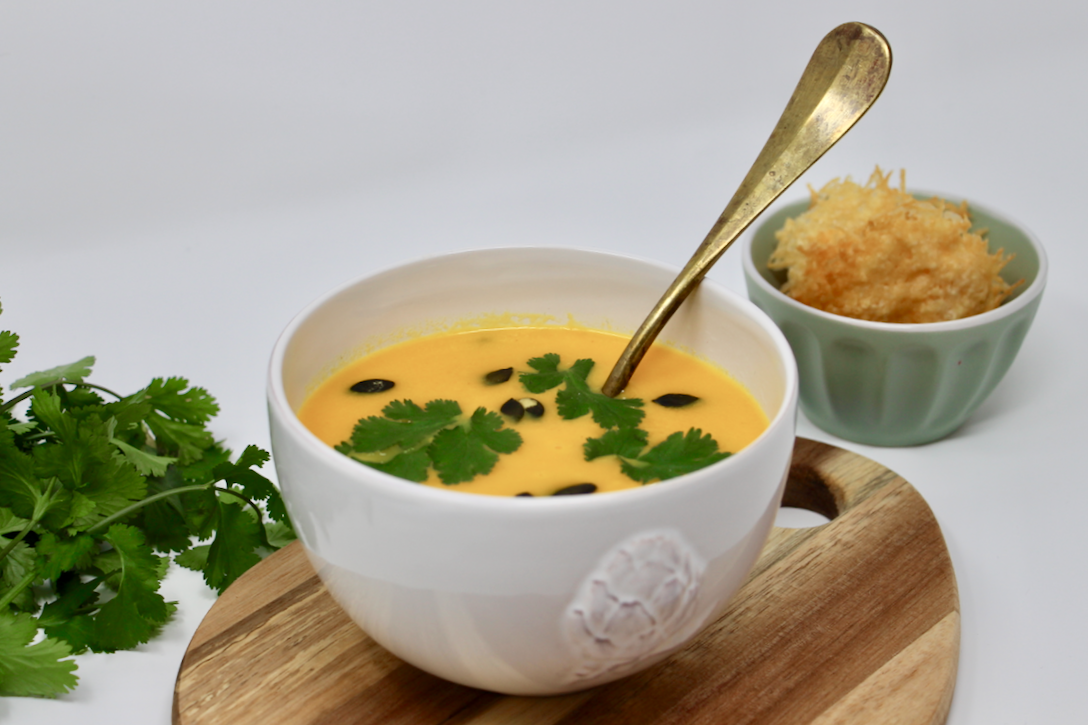 Print Recipe
Ingredients
7 or 8 carrots
1 big onion
20 cl coconut milk
Water
15 g butter
1 tablespoon of olive oil
1 teaspoon of curry
1 teaspoon of ground coriander
1/2 teaspoon of ground ginger
1 chicken stock cube
Fresh coriander
1/2 teaspoon of coarse salt
Instructions
1
Peel the onion and carrots. Cut them in pieces.
2
If you have a Thermomix, go to bullet point 9.
3
Pour the olive oil in a sauce pan, add the butter, the onion and cook for 2 minutes.
4
Add the carrots, curry, ground coriander, ground ginger, coconut milk, 30 cl of water and boil. When it starts boiling, add the chicken stock cube and coarse salt.
5
Reduce the heat, cover and cook for 20 minutes.
6
At the end of the cooking, mix with a hand blender.
8
Place the onion, olive oil and butter into your Thermomix bowl and set 4 minutes, 80 degrees, speed 2.
9
Add the carrots, curry, ground coriander, ground ginger, coconut milk, the chicken stock cube, coarse salt and 30 cl of water. Set 20 minutes, 100 degrees, speed 2.
11
If you wish, add water to adjust the constistency.
12
Season with salt, pepper and spices.
13
Serve with chopped fresh coriander.
Notes
If you do not like it too spicy, reduce the spices quantities and adjust at the end of the preparation. To make your Parmesan cheese tiles, make little piles of freshly grated Parmesan cheese on a silicone mat. 5 minutes in the oven at 210 degrees and that's it!