Hello my lovelies!!
During summertime, we are always looking for new salad recipes, but when I say salad I mean fun ones, super good ones, salads with a little "wow effect" ! And this is why I say "stop right there, just taste this one!!"… Quinoa tabbouleh salad by Jamie Oliver!!!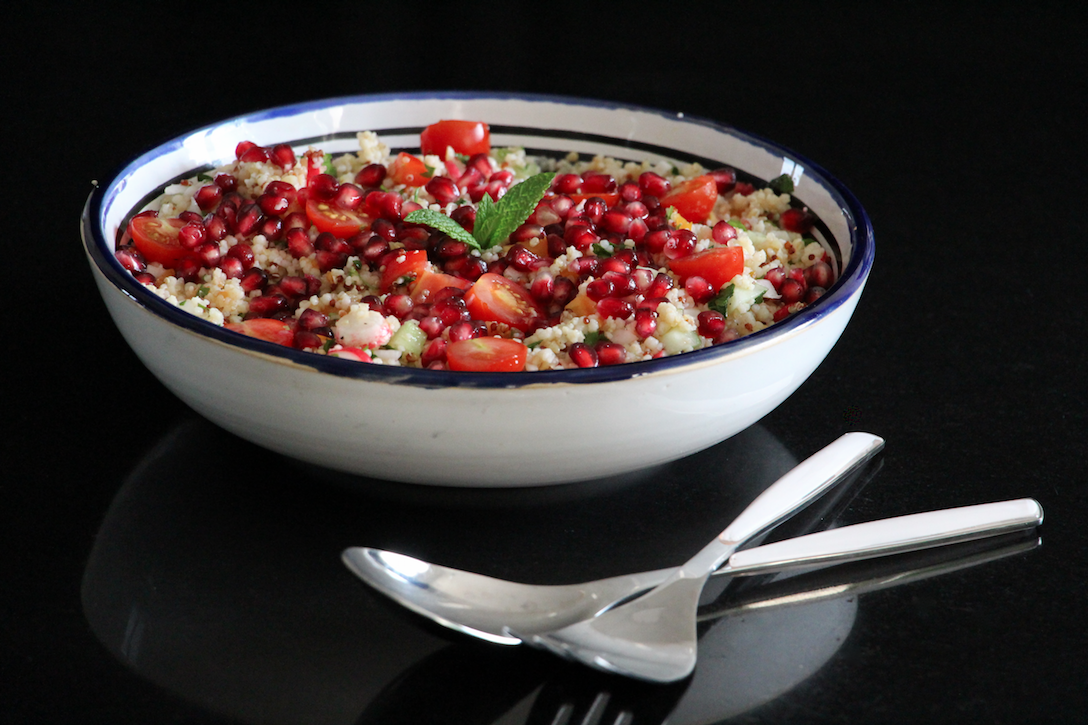 First of all, Jamie Oliver is just a huge culinary crush for me. All the recipes I tested from his blog are amazing!! And I just love his style, his philosophy through cooking. What can I say, this guy is an example to follow for me. And cherry on the cake, his blog helps me with some recipe translation issues I have from time to time when I'm stuck on a word!! 😉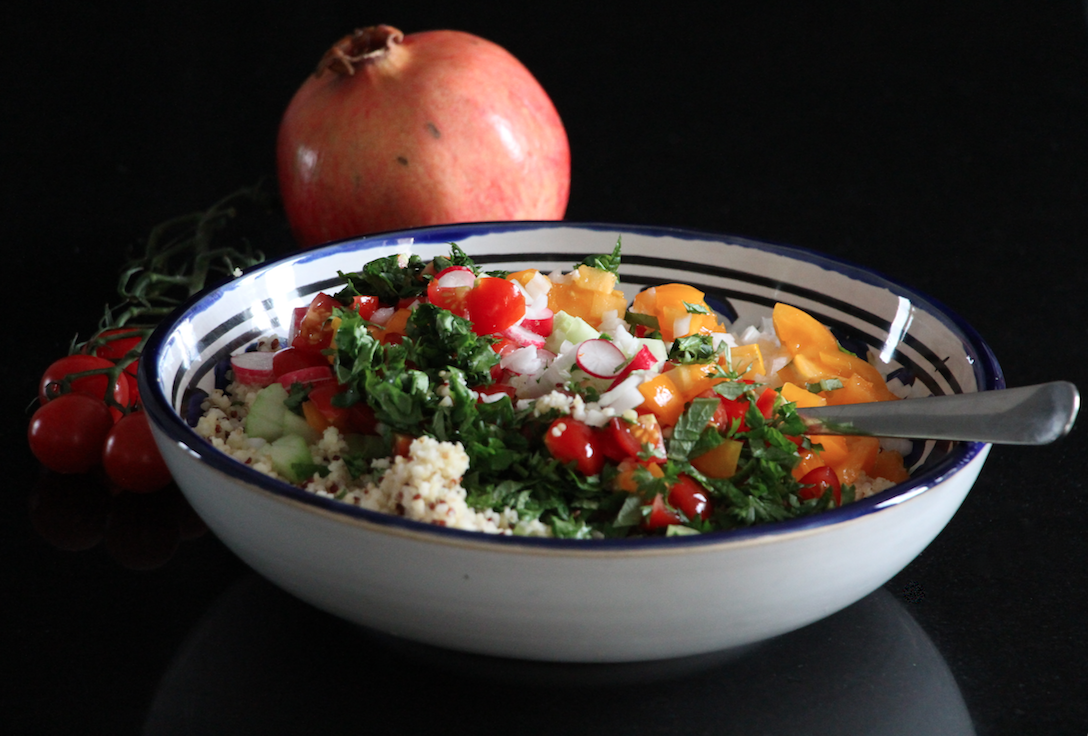 Then there is quinoa. I had this plant on my table for the first time not so long ago actually. And I love it since then. I already introduced my zesty quinoa salad which is really amazing, lots of flavors and taste!! With this recipe, you'll have the same feeling, I promise!!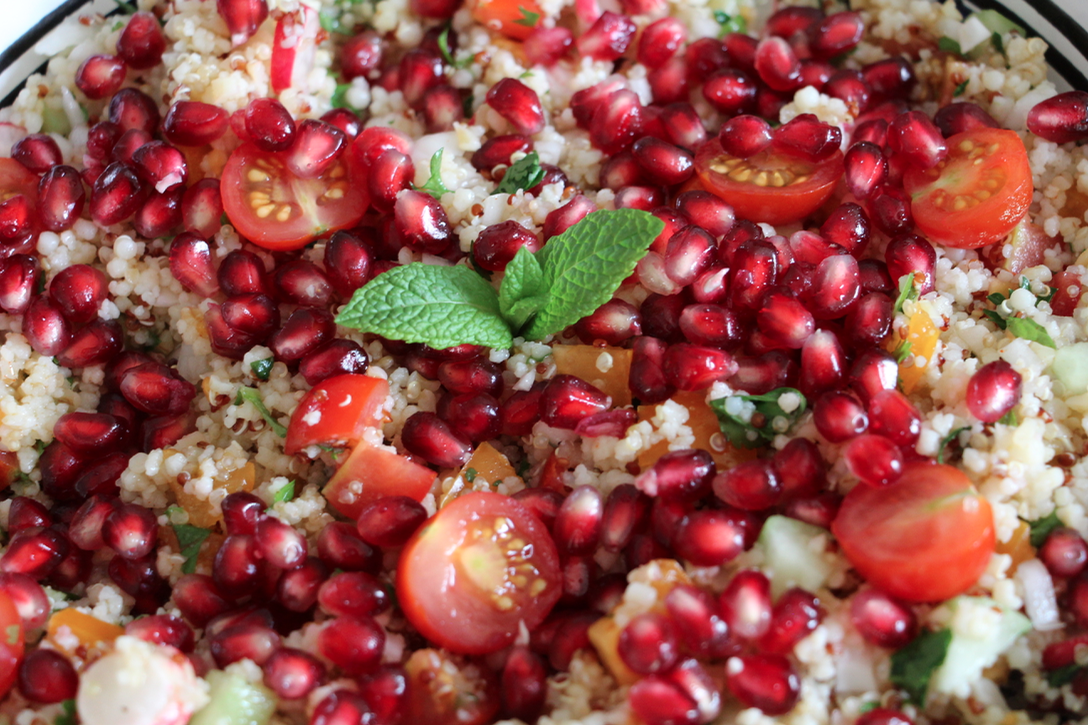 Of course, you know me, I made a few adjustments from the original recipe…
First, the recipe includes toasted pistachios. I hadn't pistachios at home. Shame on me… I'll just have to cook the recipe again, but with pistachios this time… And I had a little piece of cucumber looking at me and begging to be used… I couldn't resist… And I added fresh coriander because it is so good!!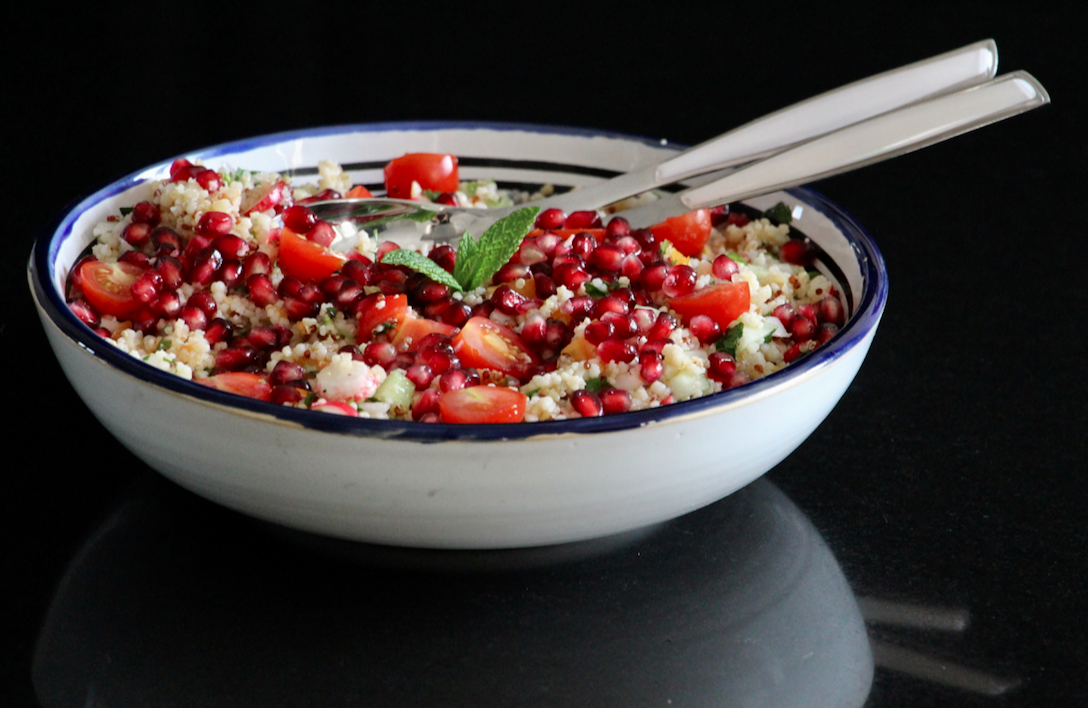 Are you ready to have a taste and color explosion on your table?
The recipe, Chef!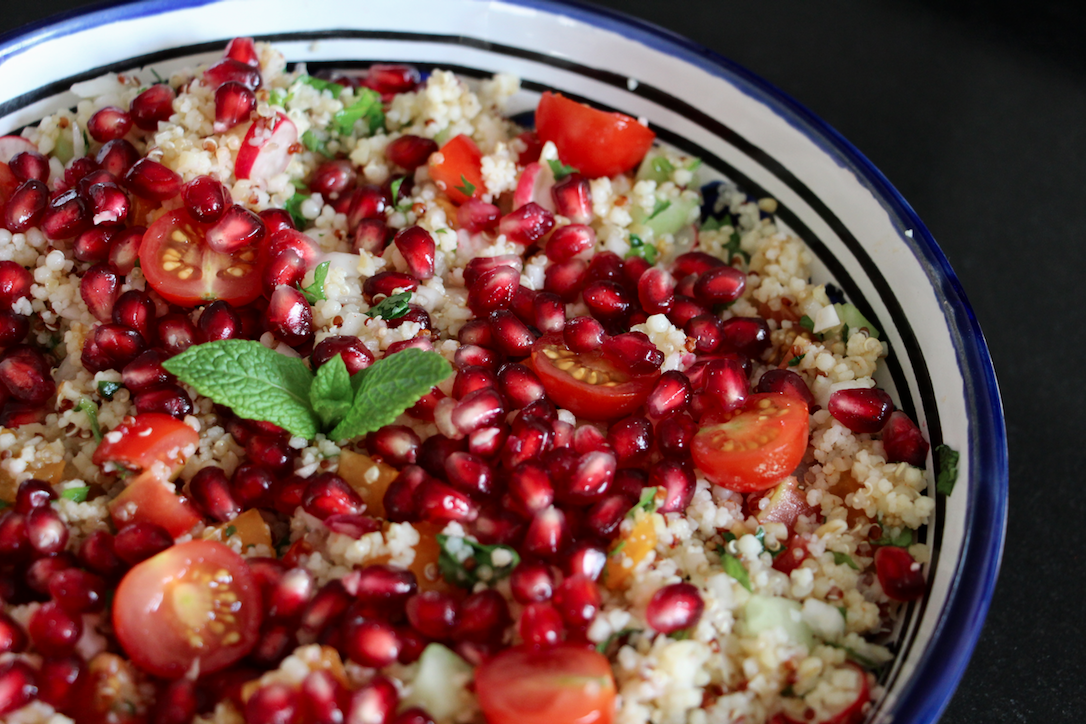 Print Recipe
Quinoa Tabbouleh Salad by Jamie Oliver
Ingredients
250 g quinoa
1 ou 2 spring onions
15 cherry tomatoes
1 orange tomato (optional, brings a nice color)
7 radishes
1/4 cucumber
1/2 pomegranate
1 bunch of mint
1 bunch of parsley
1 bunch of coriander
2 lemons
4 tablespoons extra-virgin olive oil
Salt
Pepper
Paprika
Instructions
1
Cook the quinoa in a large volume of salted boiling water according to the packet instructions.
2
Drain, rinse with cold water and leave to cool completely. Set aside.
3
Peel and chop the onions.
4
Cut in small cubes the tomatoes and cucumber. Trim the radishes.
5
Finely chop the mint, coriander and parsley leaves.
6
Whisk the olive oil, lemon juice (I add it little by little to adjust according to my taste), salt, pepper and paprika.
7
Add the quinoa and all the chopped vegetables in a large bowl. Pour the sauce. Adjust seasoning.
8
Finally, add the pistachios and the pomegranate.
Notes
You can also serve this recipe with bulgur wheat. Or a mix quinoa-bulgur wheat. The pomegranate brings a delicious taste and has many medicinal virtues. Use it over and over!!