So spring is here, and soon summer will be coming (I'm telling you! Time flies!!), I switch to drinks and appetizer mode!
And I like to try new recipes to mix with my usual basics…
Today we will make a salmon, avocado and mango tartare!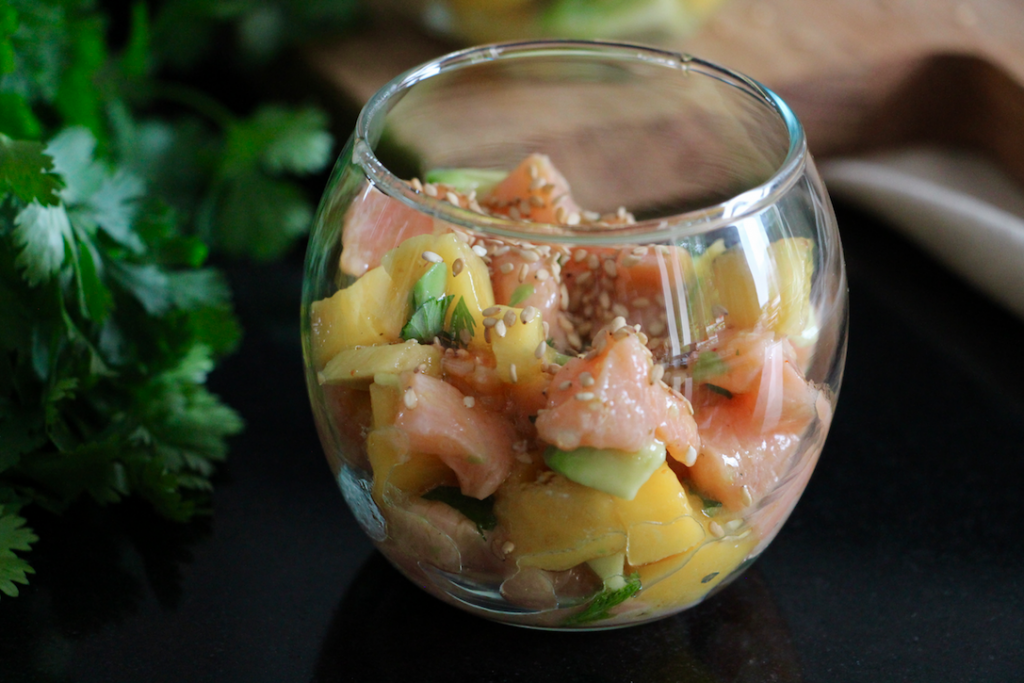 Salmon tartare is prepared, like the steak tartare, with fresh raw salmon and seasonings. It is commonly spread on a cracker or bread and eaten as an appetizer or a starter.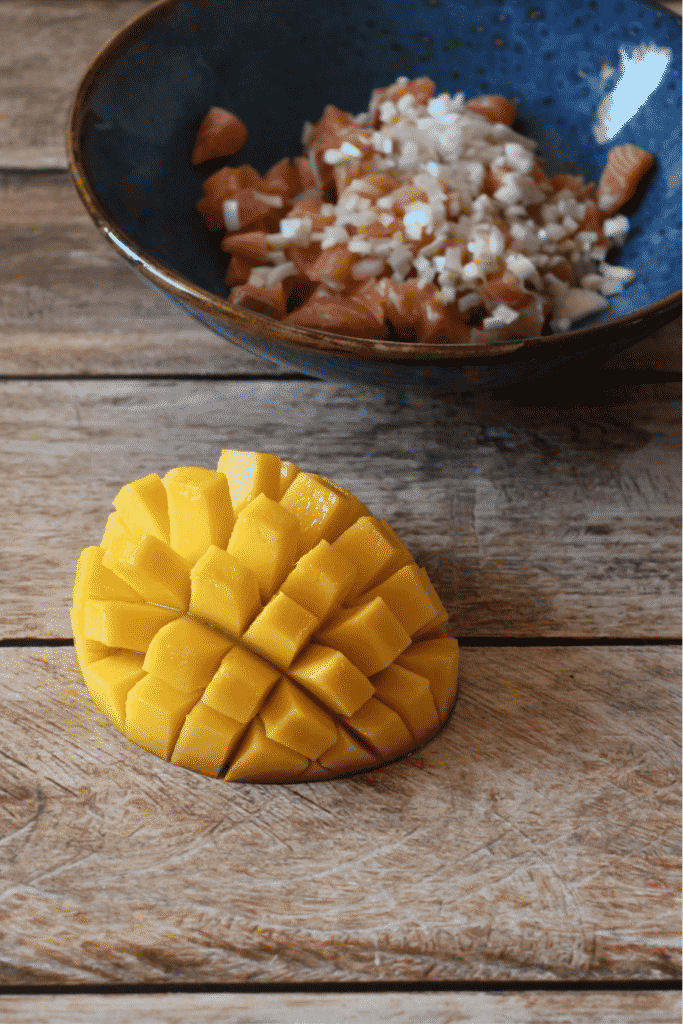 Here I chose jars to serve this super delicious salmon, avocado and mango tartare!!
As an appetizer or a starter, it's great. 15 minutes of preparation at most, color on the table, taste, fantastic freshness, the whole thing without guilt. Set aside the fat of the salmon, the rest of the ingredients is rather light.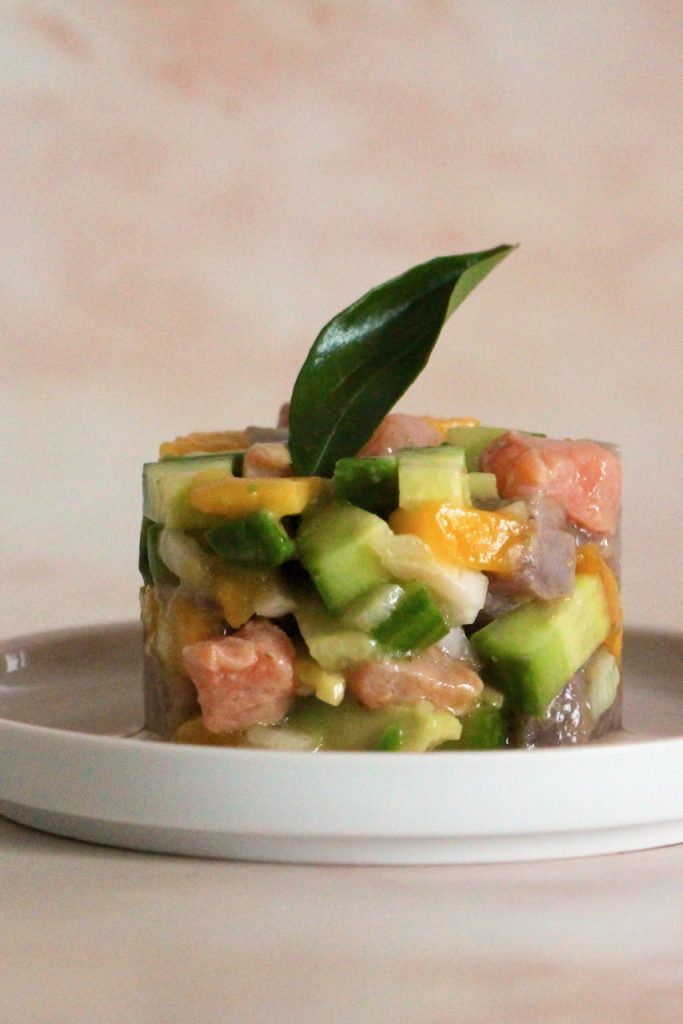 The lemon and lime will bring the right touch of acidity, the avocado and mango will make this tartare smooth and the coriander will make it rock!!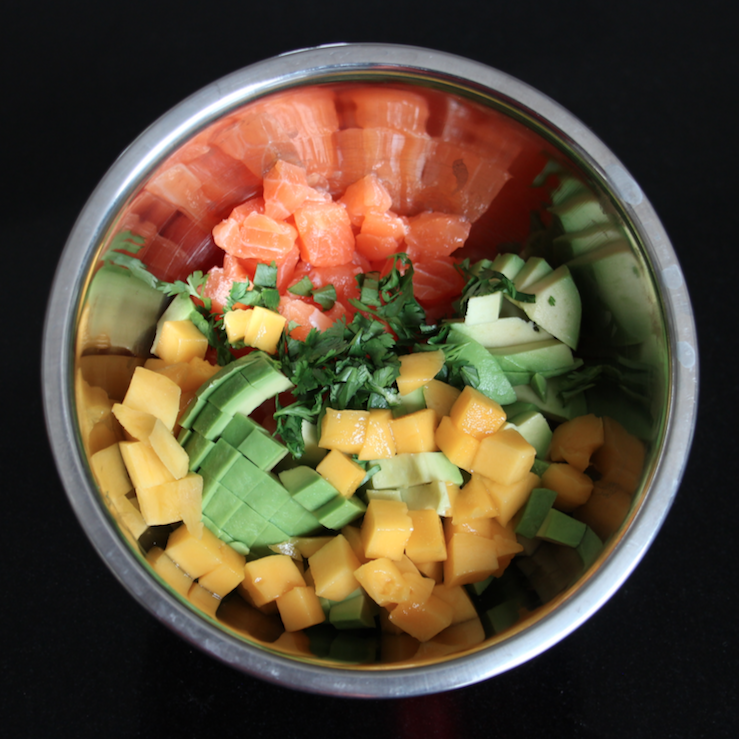 As I did with my avocado, pomegranate and salmon tartare, I took the Poudre des Alizes mix by Roellinger for the spices. It was perfect! Subtle and balanced taste, just as I like it. Perfect match.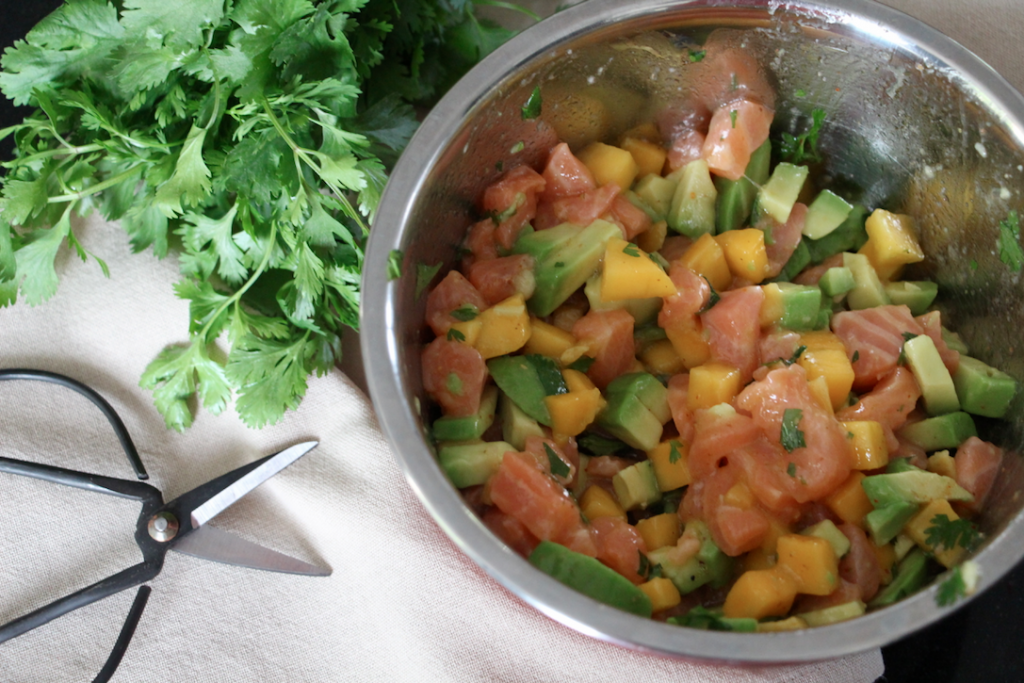 If you don't have this mix spices, go for ground ginger and ground coriander, it will work too.
In terms of presentation, I took those round 15 cl jars, I think the tartar looks good this way.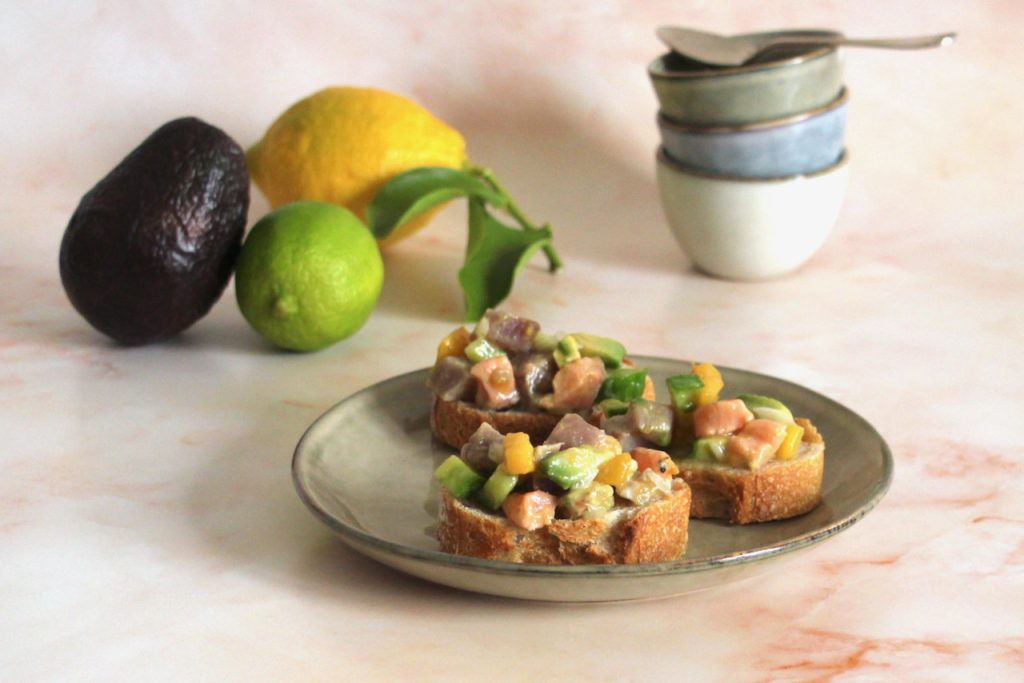 It will look delicious too in a large plate where everybody can grab a spoon. Even more if you make this salmon, avocado and mango tartare in large quantities for a buffet for instance.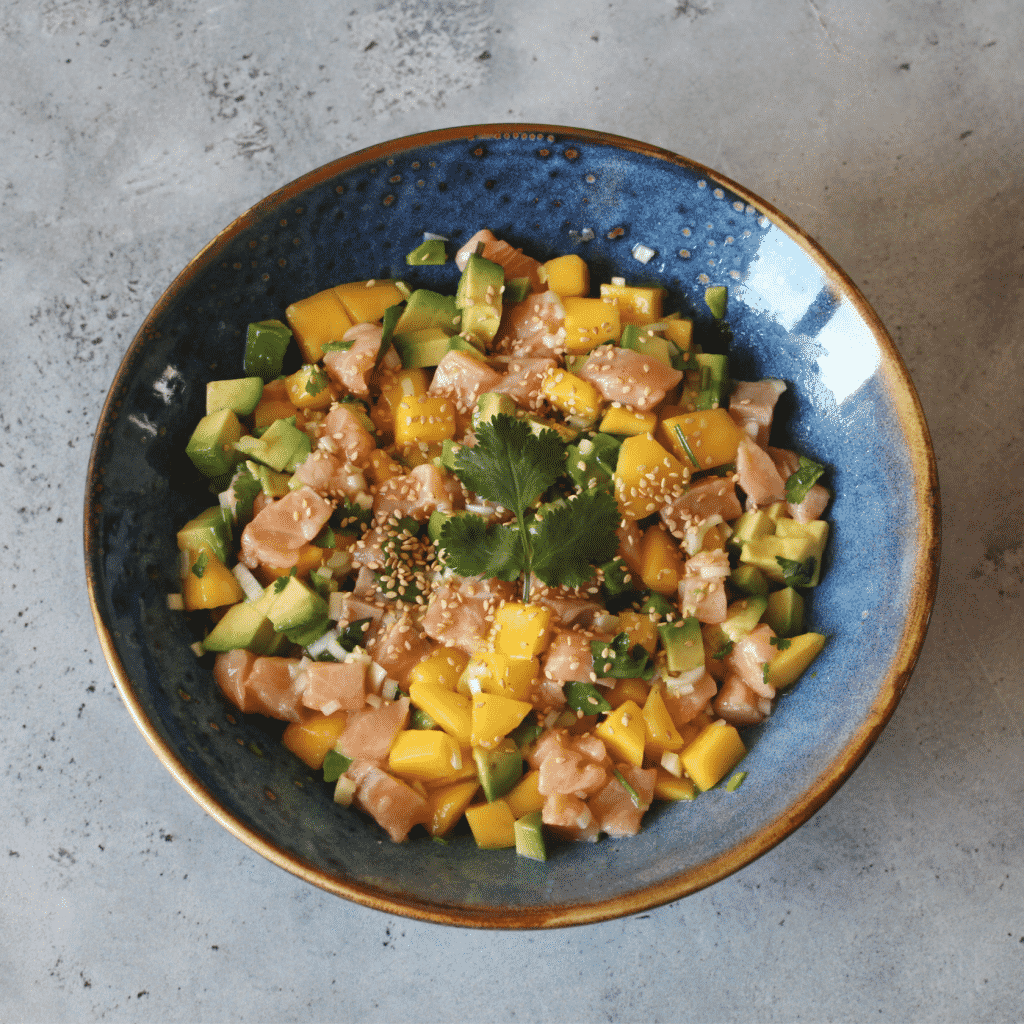 The utensils:
Simply a cutting board,
A lemon squeezer,
And a sharp knife.
I think you are ready to cook…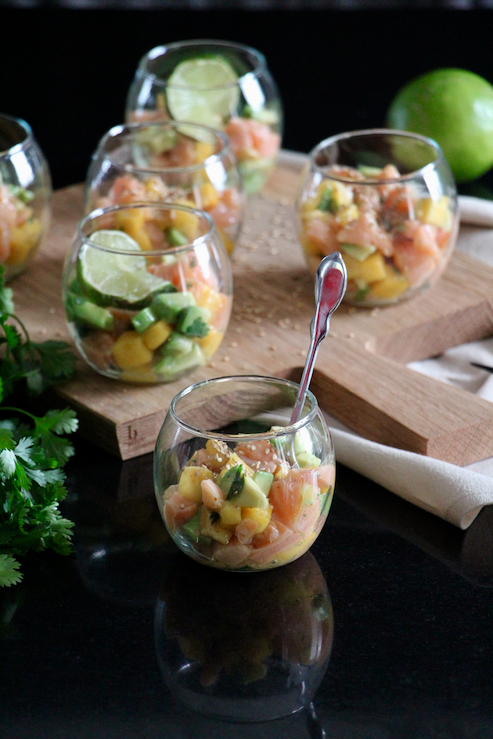 Let's do this!
The recipe, Chef!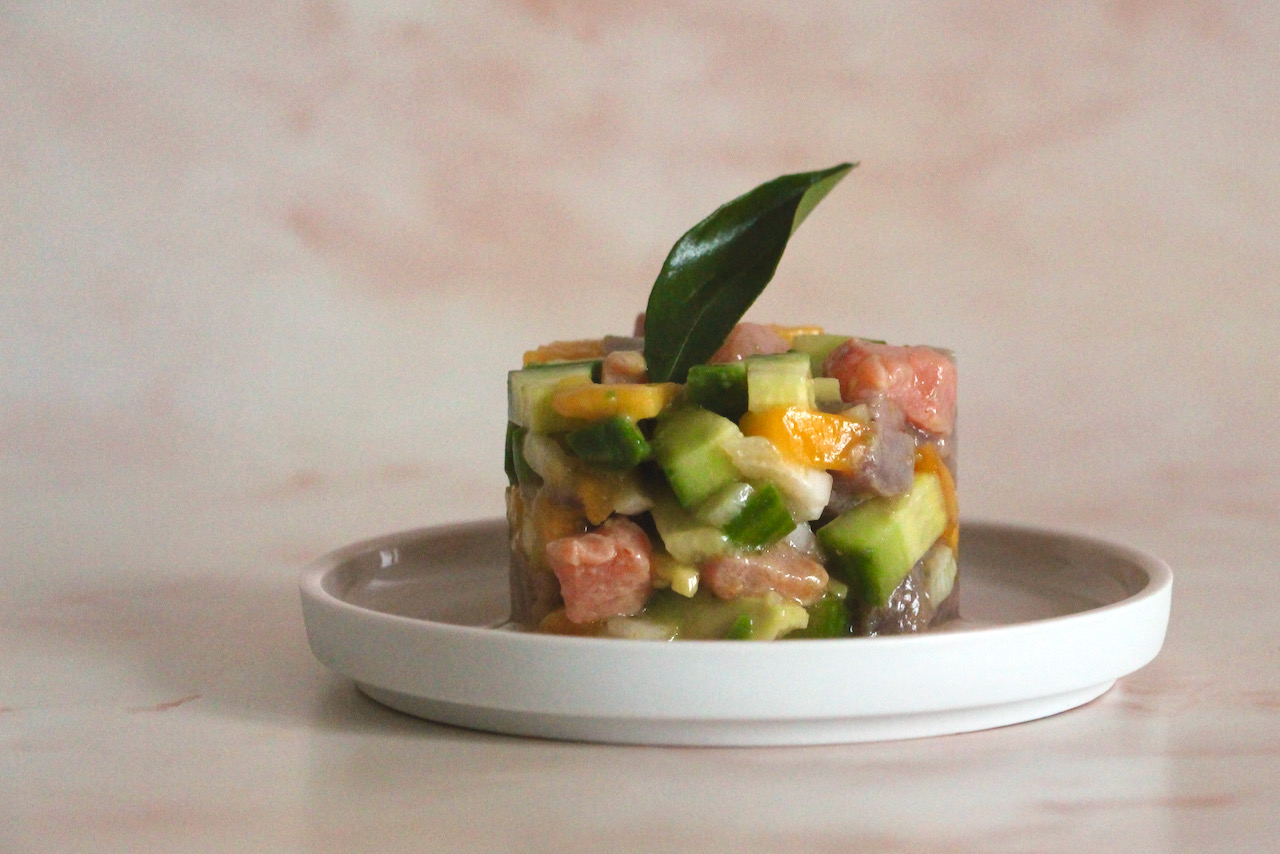 Print Recipe
Salmon, Avocado and Mango Tartar
Ingredients
250 g fresh salmon

1 avocado

1/2 mango

1/2 lemon

1/2 lime

2 tablespoons olive oil

1/2 teaspoon spices

1 teaspoon sesame seeds

1 pinch flower salt

Pepper

Fresh coriander leaves
Instructions
1
Cut the salmon in small pieces.
2
Do the same with the avocado and the mango.
3
Rince and dry the coriander leaves.
4
Place the salmon, mango and avocado in a bowl, add the chopped coriander.
5
Season with flower salt, pepper, sesame seeds and spices.
6
Pour the olive oil and the lemon juices. Taste and adjust seasoning if you want to.
7
Mix gently and set aside in your fridge until serving.