Go! Go! Go!
An easy, healthy and super delicious recipe!!
Let's make my Mediterranean veggies stew!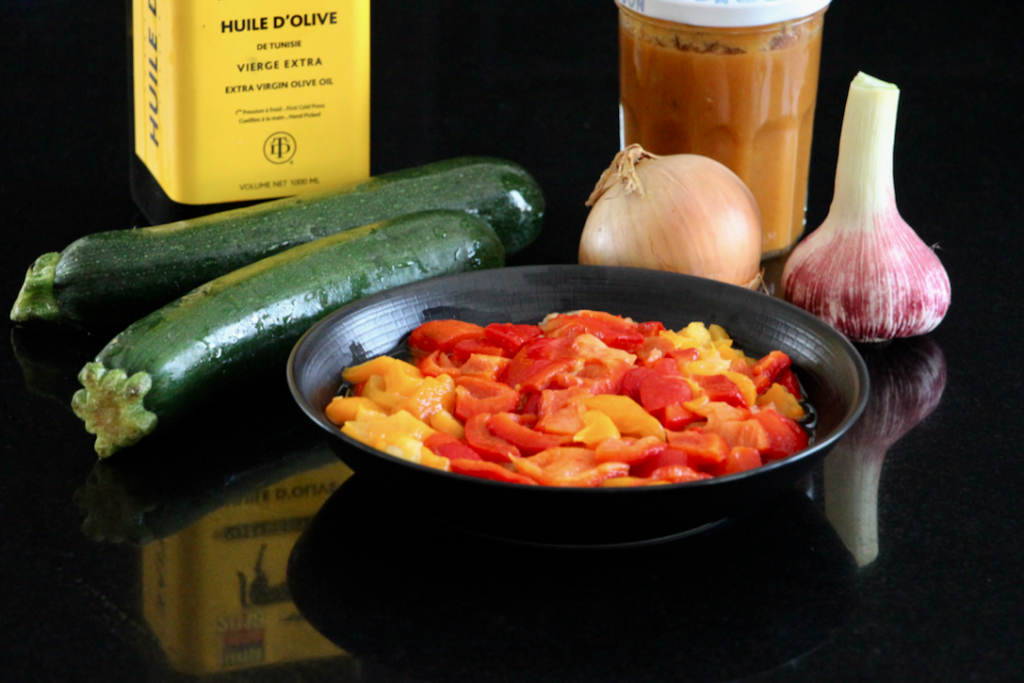 Also called "fritta", it's a kind of Spanish ratatouille, based on red pepper and tomato. Then it's up to you to add whatever you feel like: onions, zucchini,… I love it!!
I have to say that I'm not a huge fan of eggplants, so the traditional French ratatouille is not often on my table.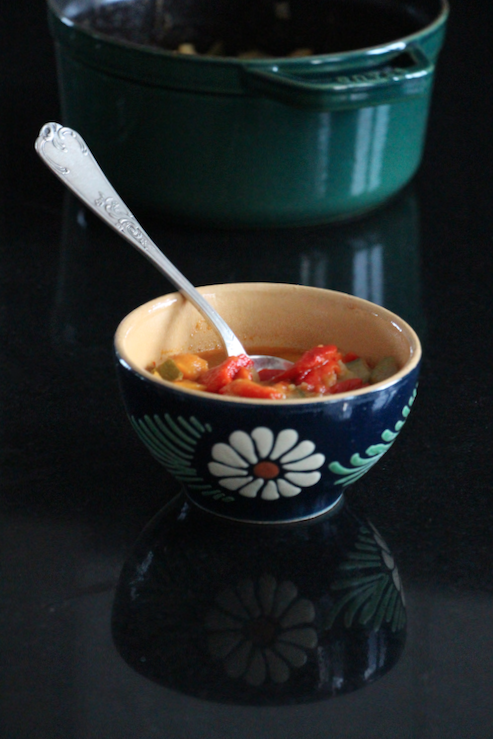 This Mediterranean veggies stew is a great compromise. It will be perfect as a side dish for grilled meat or fish, with pasta or rice, or in my vegetarian lasagna.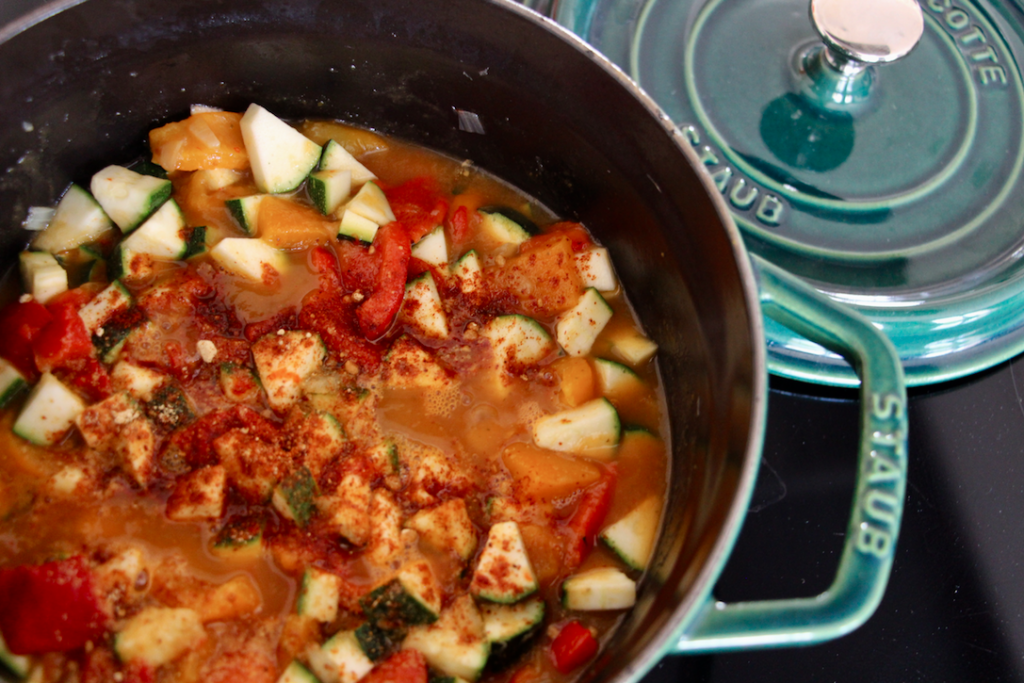 You can enjoy it warm or cold (as an appetizer in small jars for instance), or even add it to my savory cakes preparation and make a savory Mediterranean veggies cake!! This recipe is fantastic!! It's multifunction!!
For the ingredients, you can make your own tomato sauce or buy one in your usual supermarket.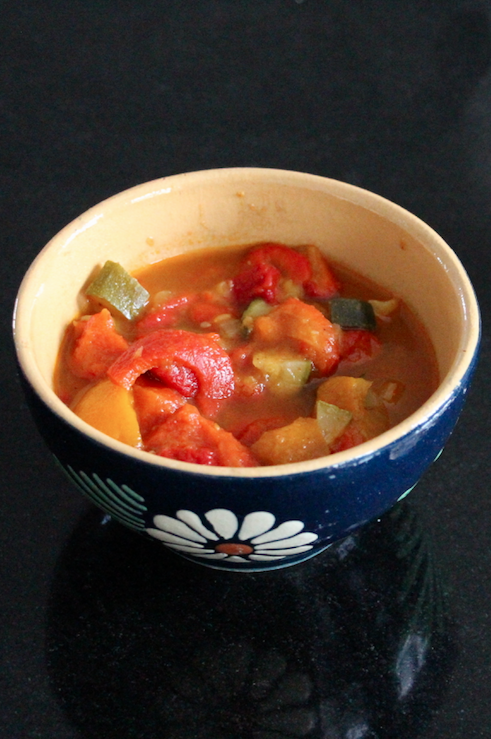 You will notice while reading the recipe that I grill the red peppers in the oven first. I do so for 3 reasons:
1/ You don't get the red pepper skin pieces in your fritta, I don't like the feeling of it.
2/ Your red peppers will be deliciously candied.
3/ I think that the red peppers are much easier to digest without the skin.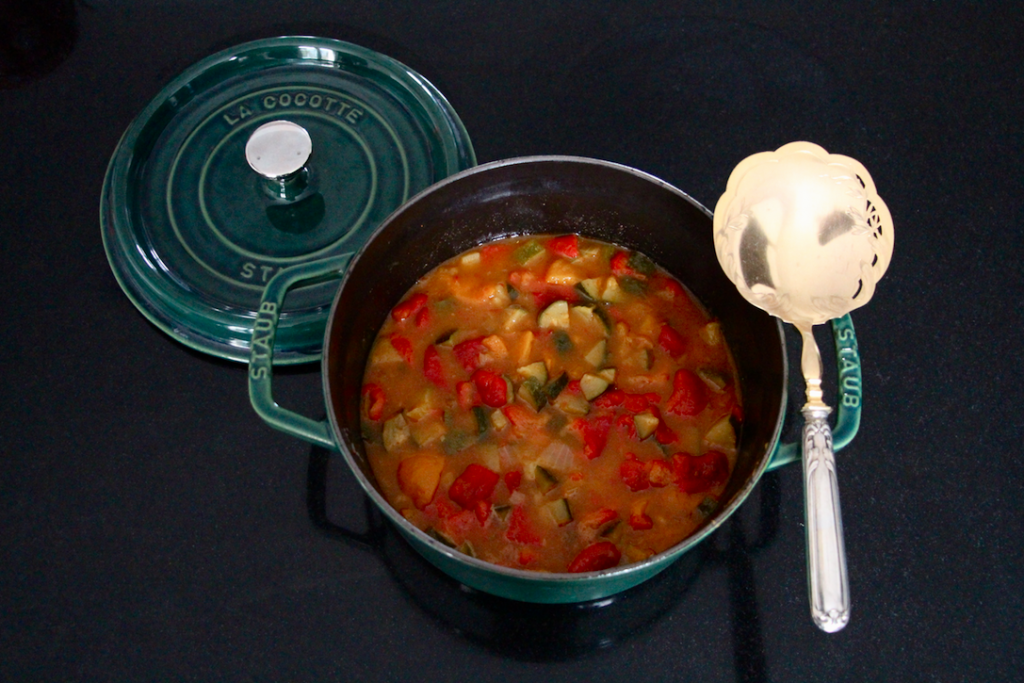 My two other recommendations: go for a slow cooking and make a large quantity of stew!! This fritta can be easily re-heated and will be a saver when you will have to make a good and quick meal!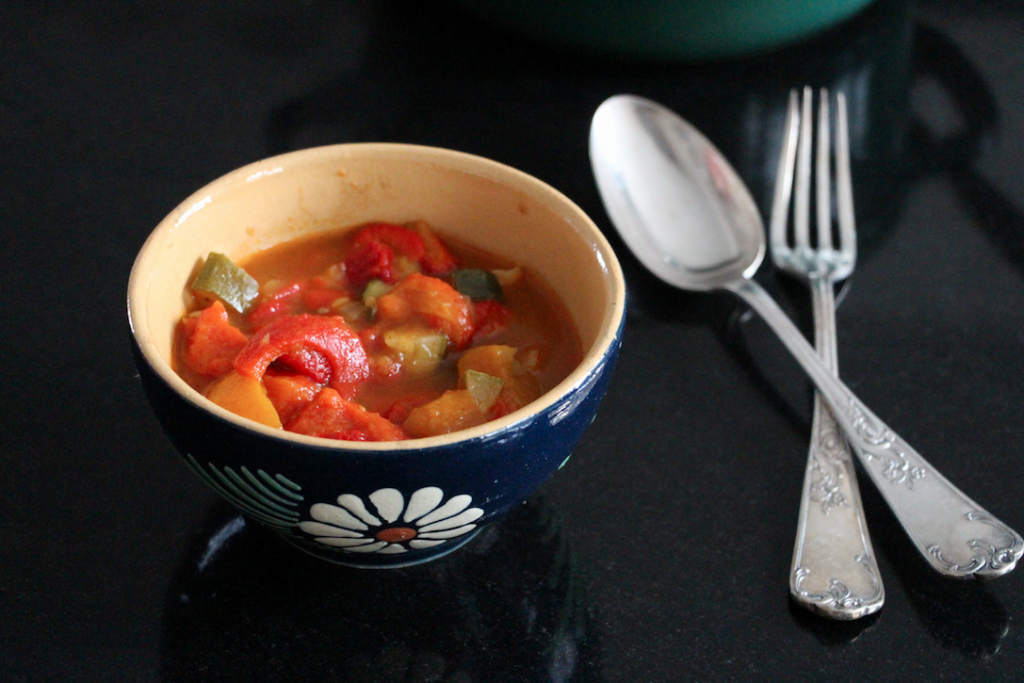 The utensils:
An oven dish to grill the red peppers
And a casserole with a thick bottom, such as my Staub, for the stew part.
You know everything.
The recipe, Chef!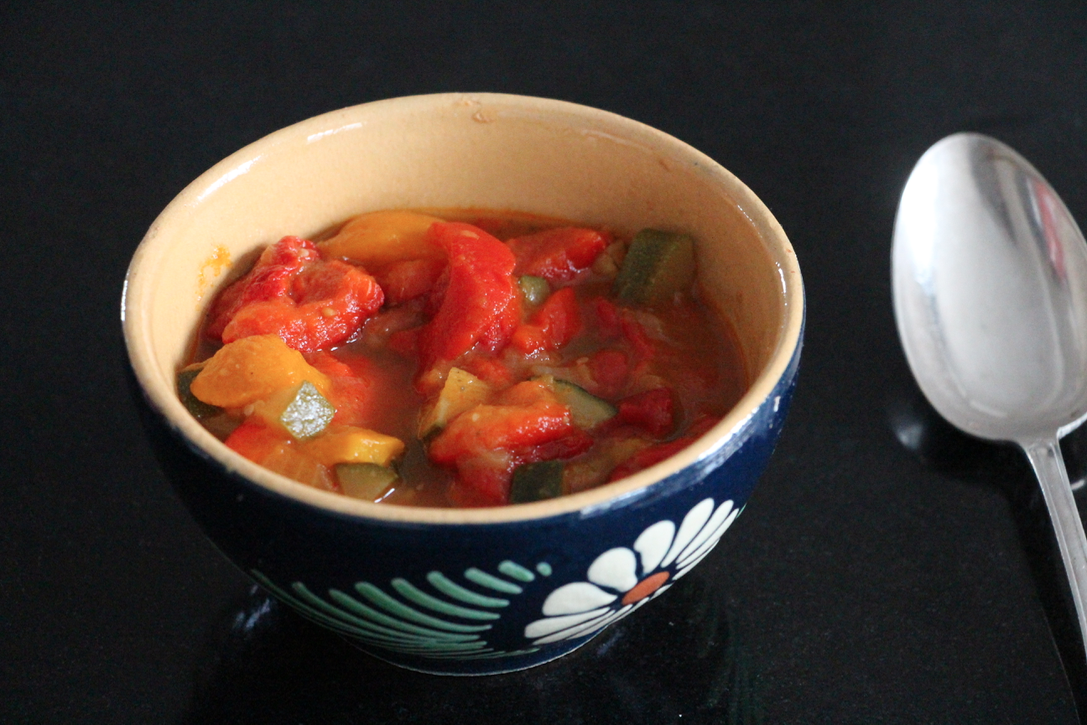 Print Recipe
Mediterranean Veggies Stew
Ingredients
1 red (or orange) pepper

1 zucchini

1/2 onion

1 garlic clove

100 ml tomato sauce

2-3 tablespoons of olive oil

Paprika

Red mild pepper

Espelette pepper

Ground ginger
Instructions
1
Set your oven on "grill" and place your red pepper. Grill on each side. Then place in a plastic bag and close the bag.
2
After 15-20 minutes, peel the red pepper, empty the inside and cut it in pieces.
3
Mince the onion and cook it in a large sauce pan with the olive oil.
4
Add the minced garlic and cook for 1 minute.
5
Add the red pepper cubes, the zucchini also cut in cubes and the tomato sauce.
7
Add salt (do not add pepper until the end of the cooking).
8
Cook at low-medium heat for 45 minutes or more.
9
At the end of the cooking of your Mediterranean veggies stew, check your seasoning and add pepper.
Notes
You can add one tablespoon of tomato concentrate.