Beijing, a little more than 20 years ago… Somewhere between the 3rd and 4th ring road (there are 2 more ring roads now I think) … Dark faces, more weather-beaten than the usual Beijing people I was used to meet… Amazing spices smells… I discover the XinJiang Uighur roasted lamb with cumin.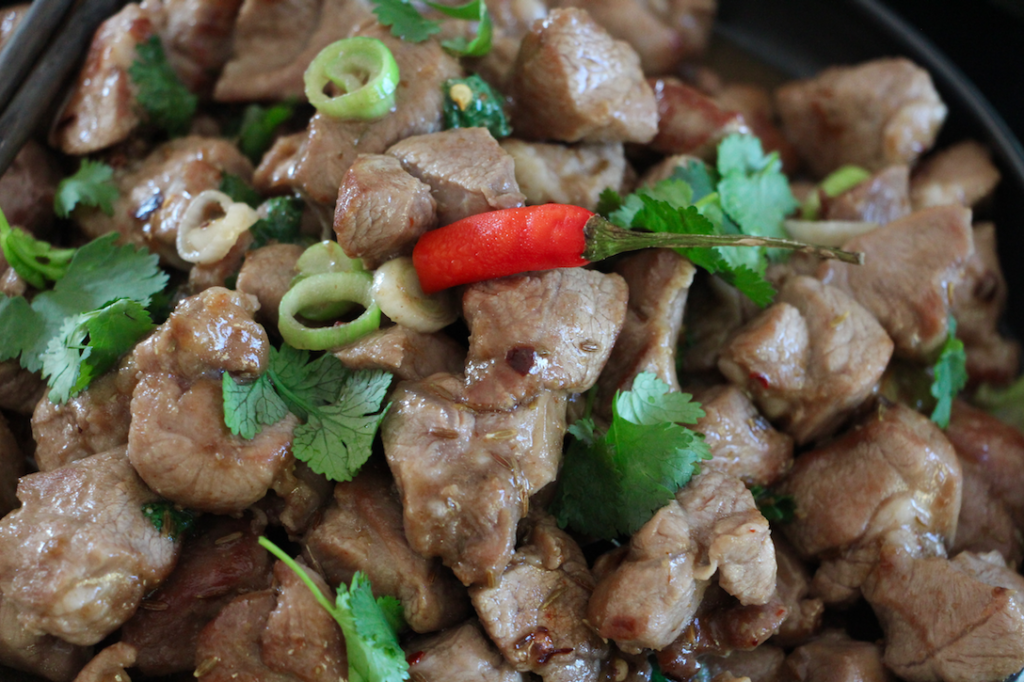 Like those childhood memories that you keep deep down, I looked for this specific taste for a long time, this specific smell, the smell of roasted lamb with cumin.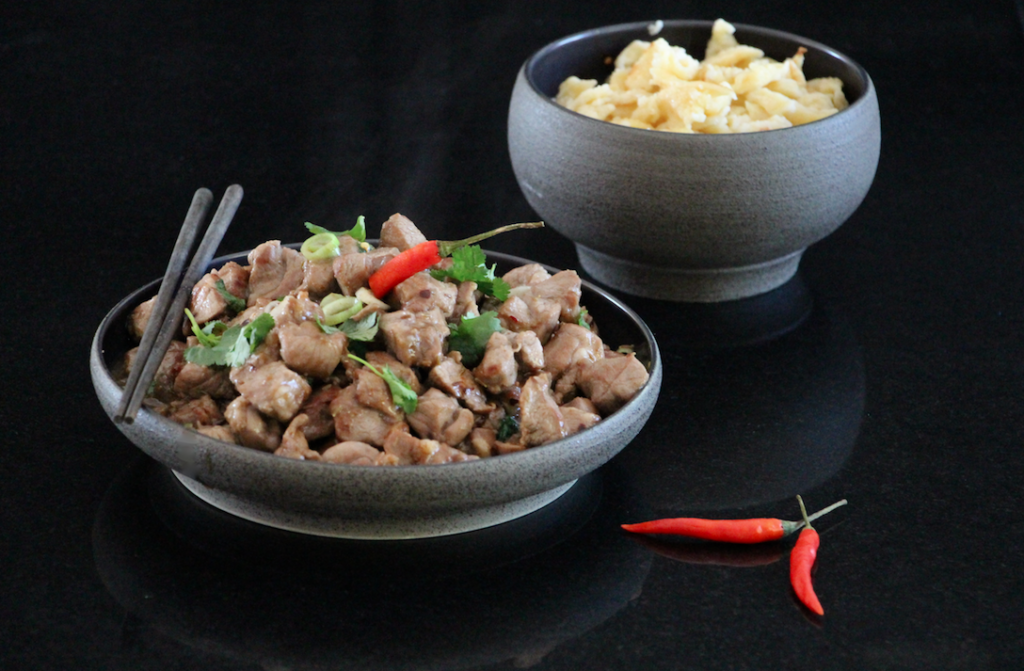 I got lucky one day when I found the blog The Woks of Life, an english speaking food blog with mainly Chinese food.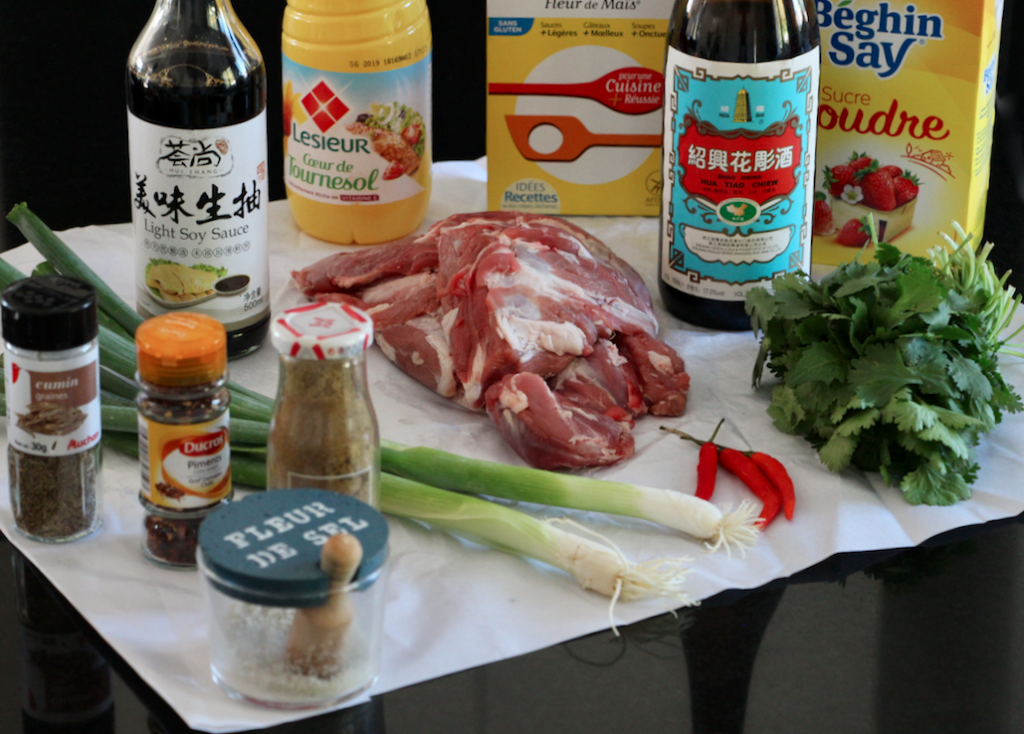 I will give a modified version of the recipe here because in the Xinjiang region, in the North-West part of China, stuck between Mongolia, Kirghistan and Tadjikistan, they eat spicy food. But like really spicy food, the kind that litteraly burns your mouth!!! I love spice, and I'm used to spicy food after quite a few trips in Asia. But this is fire baby!!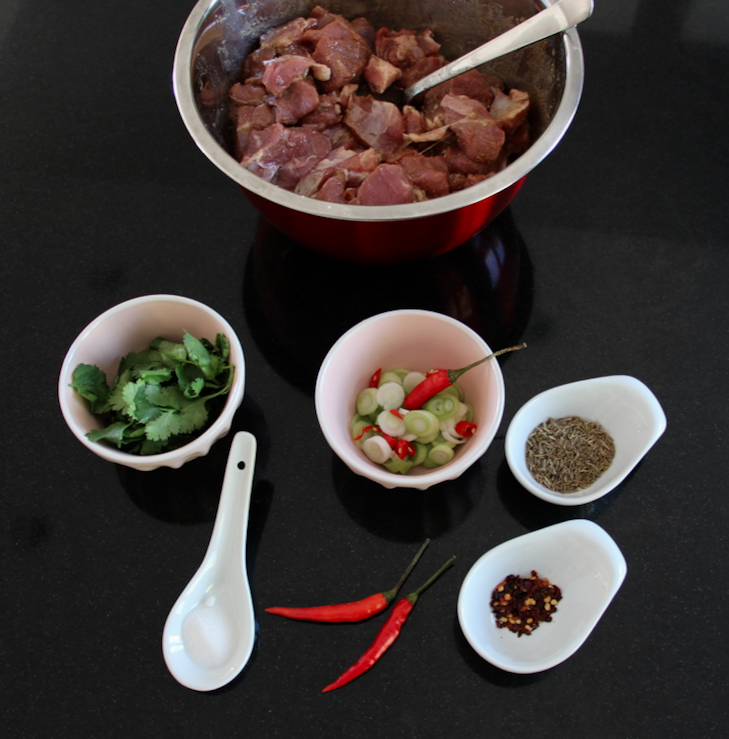 I will give you all the tips to season this dish as you like it ! 😉 Don't you worry about that!!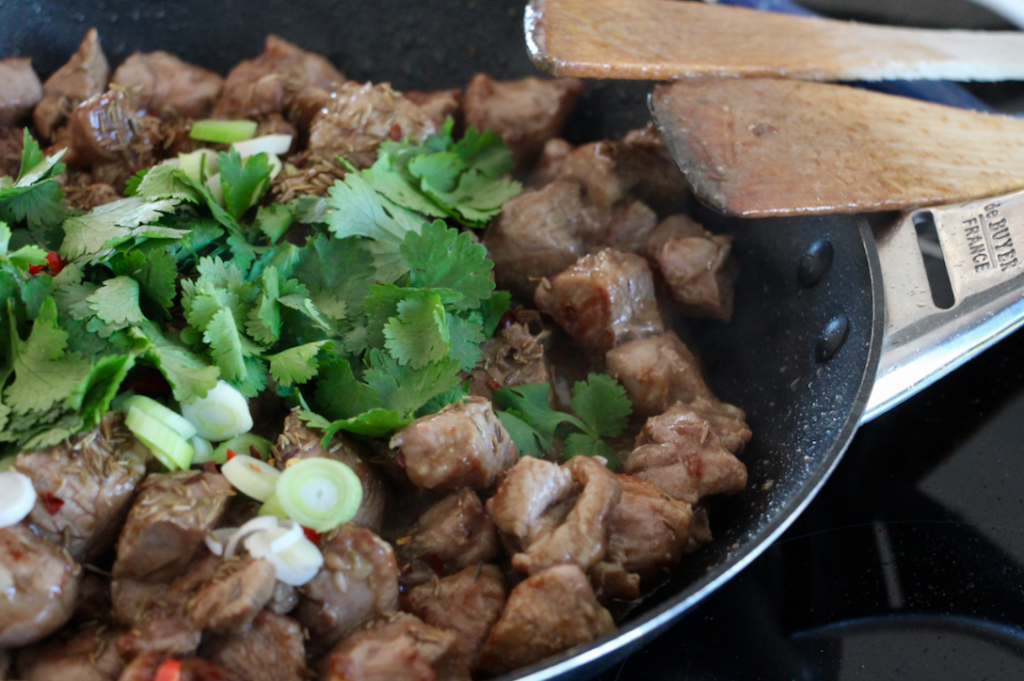 Beyond that point, you will just enjoy it so much: cumin, coriander, lamb… Such a delight!!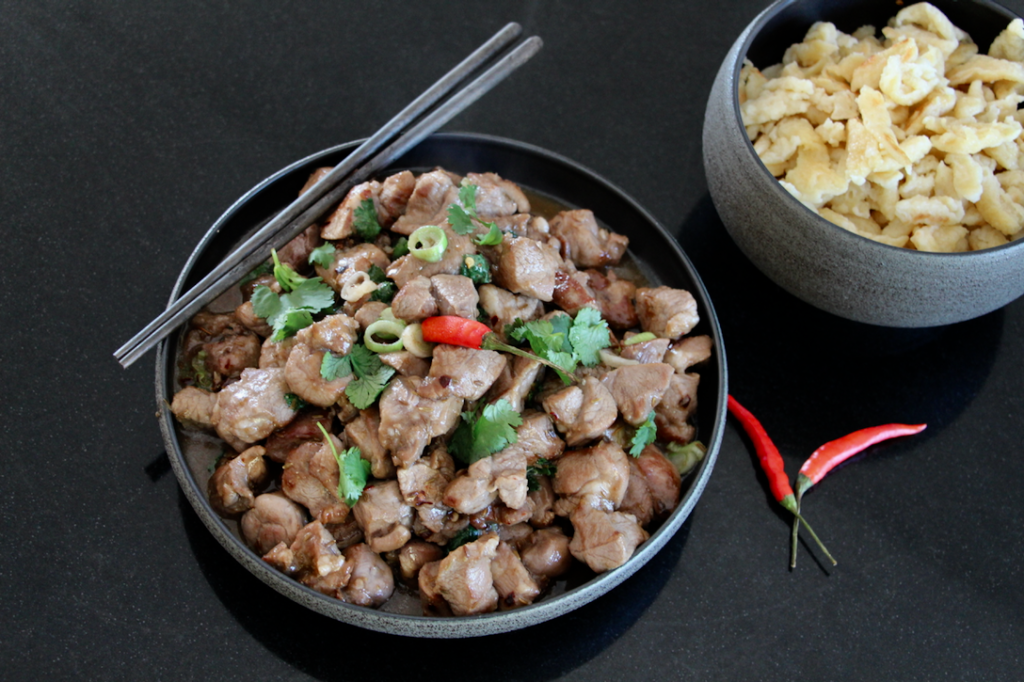 You can serve this cumin roasted lamb with rice of course. During my Chinese stay, I had it with little pastas served in a spicy tomato sauce. So I thought: why not serve it with spaetzles (Alsatian noodles)??!! When China meets Alsace!!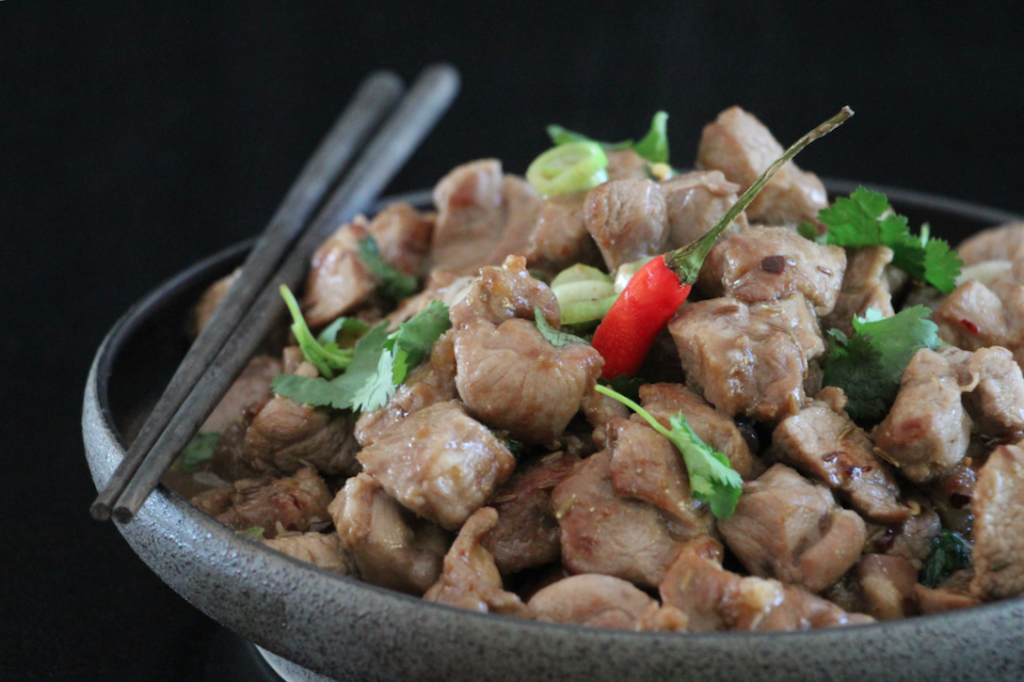 And guess what??? The combination is super delish!!
Are you ready to try the Xinjiang Uighur roasted lamb with cumin?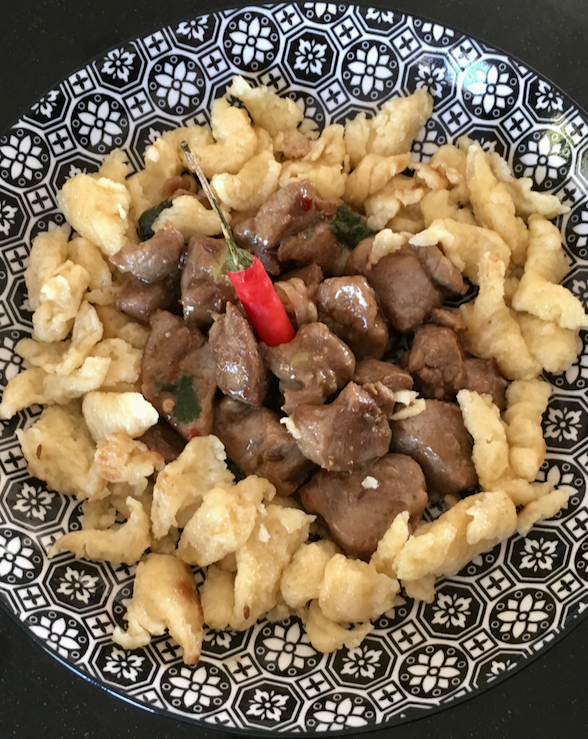 Let's do this!
The recipe, Chef!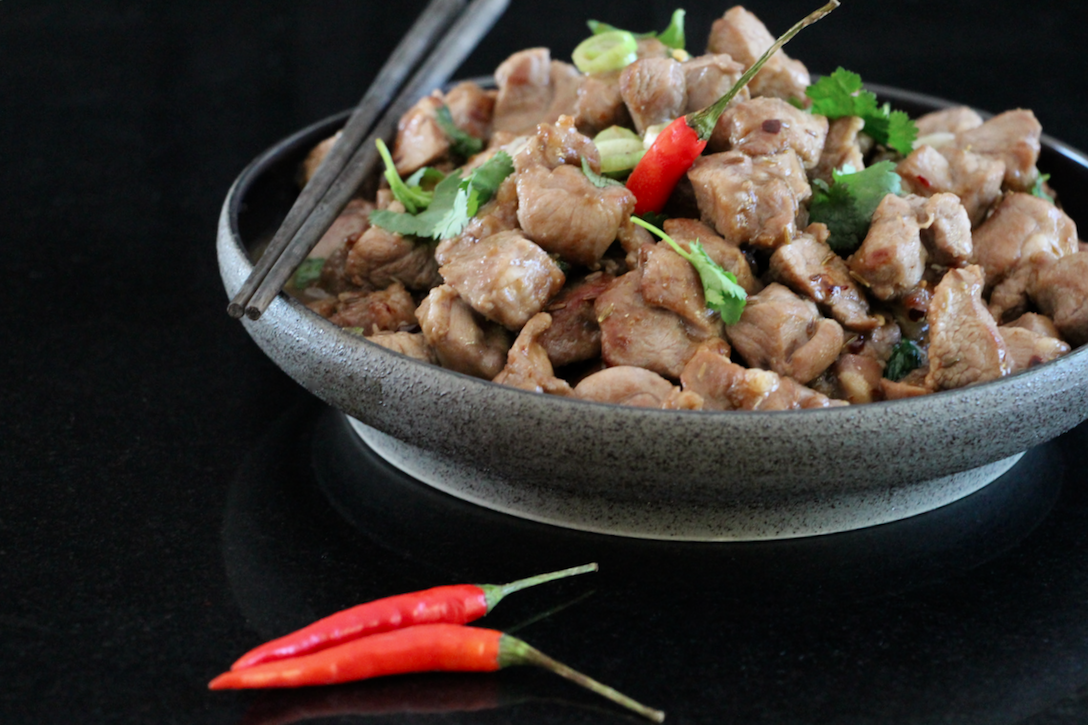 Print Recipe
Xinjiang Uighur roasted Lamb with Cumin
Ingredients
1 kg lamb shoulder cut in 1/2 inch cube

6 teaspoons cumin powder

3 teaspoons cornstarch

2 tablespoons oil

2 tablespoons light soy sauce

2 tablespoons Shaoxing rice wine (yellow Chinese wine)

4 tablespoons cumin seeds

3 tablespoons oil

1/2 red chili pepper, chopped

1 teaspoon Sichuan red pepper flakes or chili powder

1/2 teaspoon sugar

2 scallions, chopped

1 large handful of chopped coriander

Salt
Instructions
1
Mix in a large bowl the 6 teaspoons of cumin powder, the cornstarch, the 2 tablespoons of oil, 2 tablespoons light soy sauce and 2 tablespoons Shaoxing rice wine.
2
Place the pieces of lamb in the bowl, mix and leave to rest for 30 minutes (mix once or twice).
3
Heat a large frying pan or a wok if you have one. Put at medium heat and grill the cumin seeds for a few minutes. Set aside.
4
At high heat, pour 3 tablespoons of oil and stir fry the lamb.
5
Your lamb cubes should get golden. Once cooked, add the chooped red chili pepper, the red pepper flakes, the grilled cumon seeds, the sugar, chopped scallions and minced coriander. Mix well.
Notes
If you're not a huge fan of spicy food, do not put red chili peppers and reduce all the spices quantities. Keep some of the spices though, that's what is so special about this dish.