Hello my friends!
Let me tell you a story… I was supposed to make a picnic box for my daughter, but I was too lazy to get out of the house to buy bread… And I wanted something fun and yummy for her…
So I decided to make avocado and smoked salmon bagel pretzels…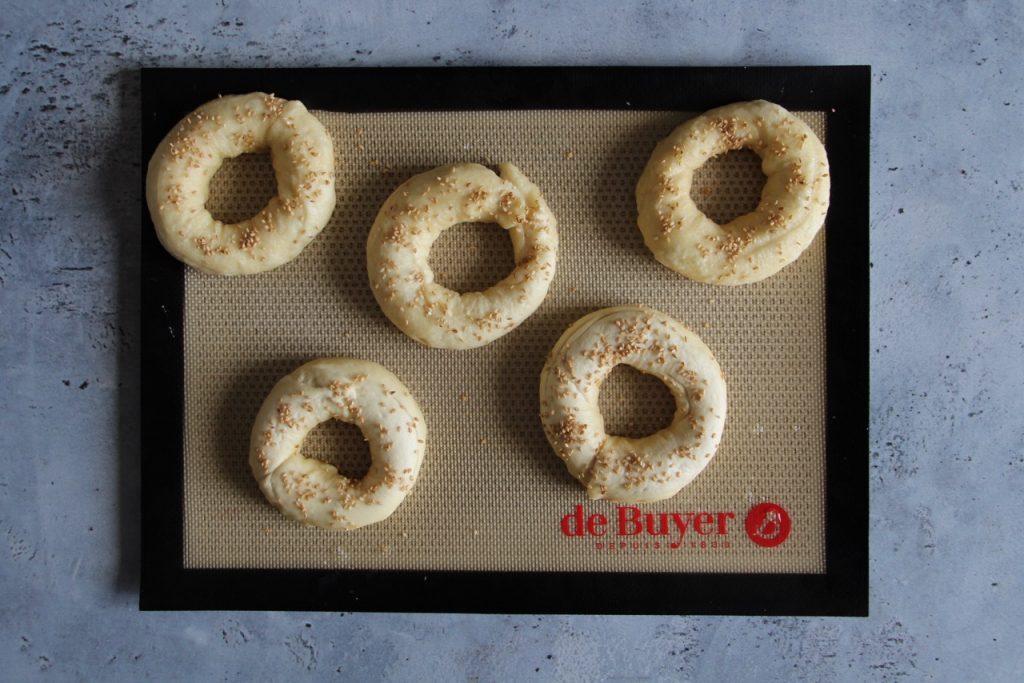 You might say that it usually takes less than 5 minutes to go to the bakery and making "bagel pretzels" (if this doesn't exist, I will run to file a patent right away!!!!) much more. True…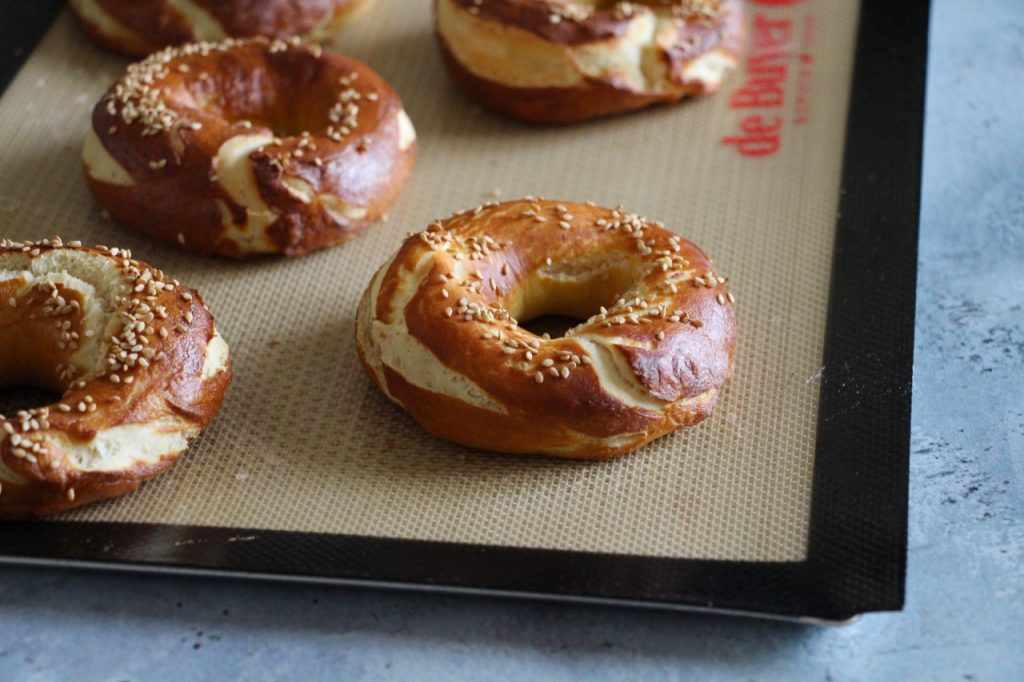 But I wanted this bagel shape and I know that my kids love pretzels.
So I went for those avocado and smoked salmon bagel pretzels!!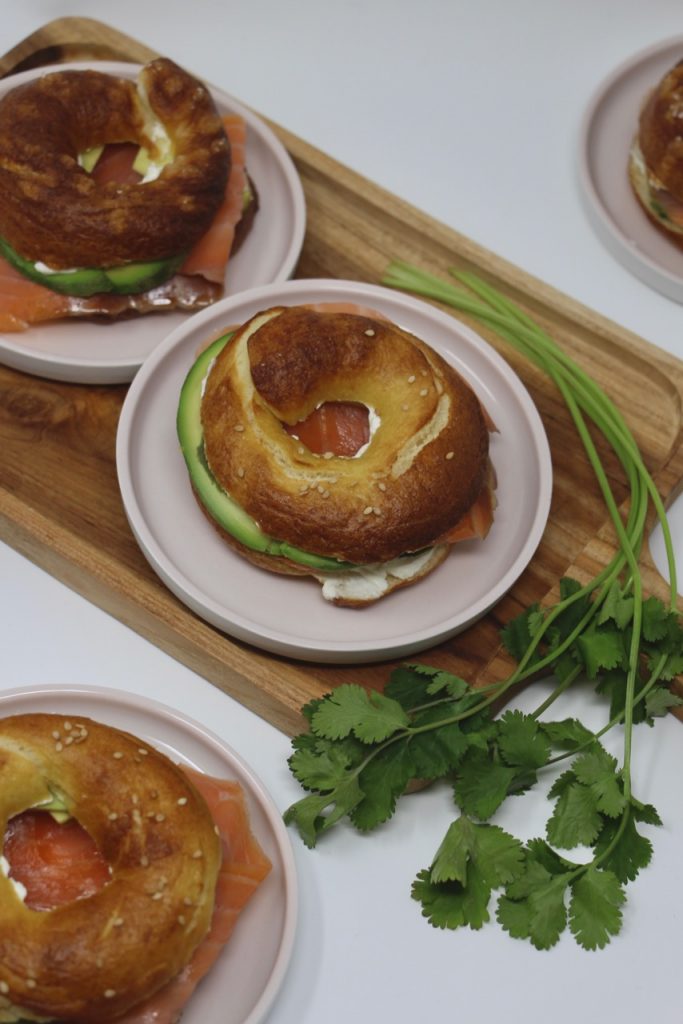 Does the taste of smoked salmon fits well with pretzels? Yes!! Bam! Obvious answer!
Does the taste of avocado fits well with pretzels? Yes!! Bam! Another obvious answer!
Does the taste of Philadelphia fits well with pretzels? Yes!! Bam! Bam! Bam! Third obvious answer!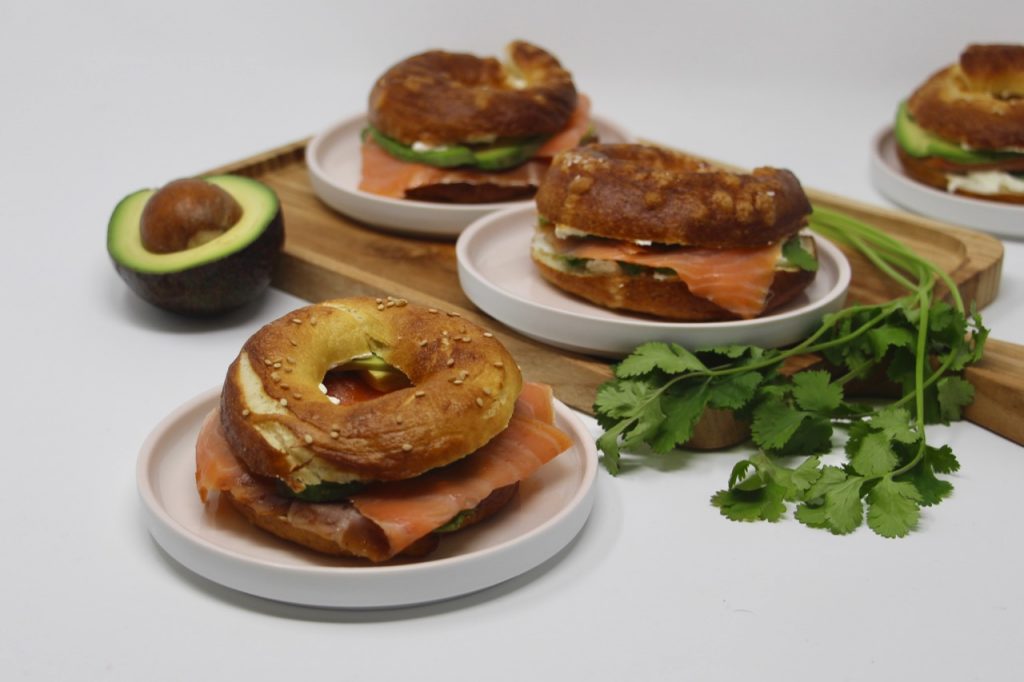 Shall I say more or do you trust me at this point??
I added ground ginger to the Philadelphia to spice it up but it's not mandatory. Besides, if you're not a huge fan of coriander, you can go for chive or dill. It will be yummy either way!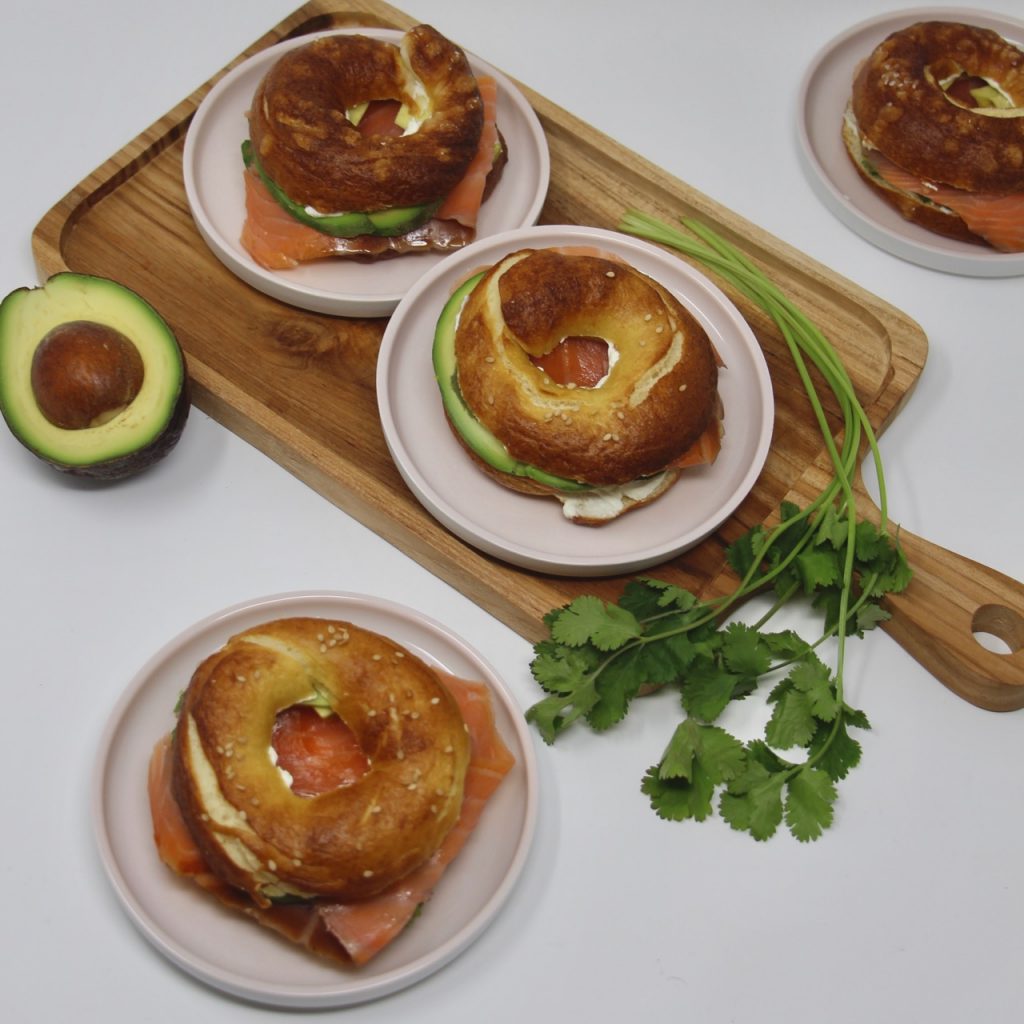 So this avocado and smoked salmon bagel pretzel will be a terrific picnic idea but also a great idea for a nice dinner (tested today with my tomato soup !!) or a great element of your appetizer table or for a buffet…
To make my life easier 😉 , I always make the double of the recipe's quantities and I freeze the remaining bagel pretzels once they have cooled down.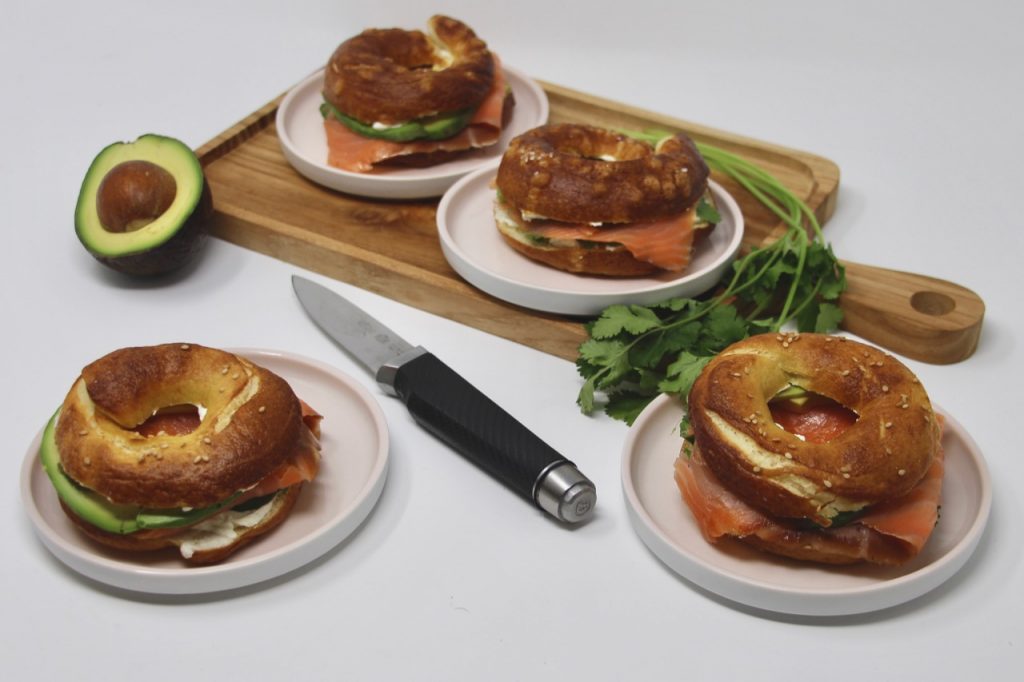 (Presentation : plates L'Econome by Starck by Degrenne)
The utensils:
A food processor with hook,
A baking mat (or a baking sheet)
A cutting board
And a sharp knife (here my FK2 by De Buyer).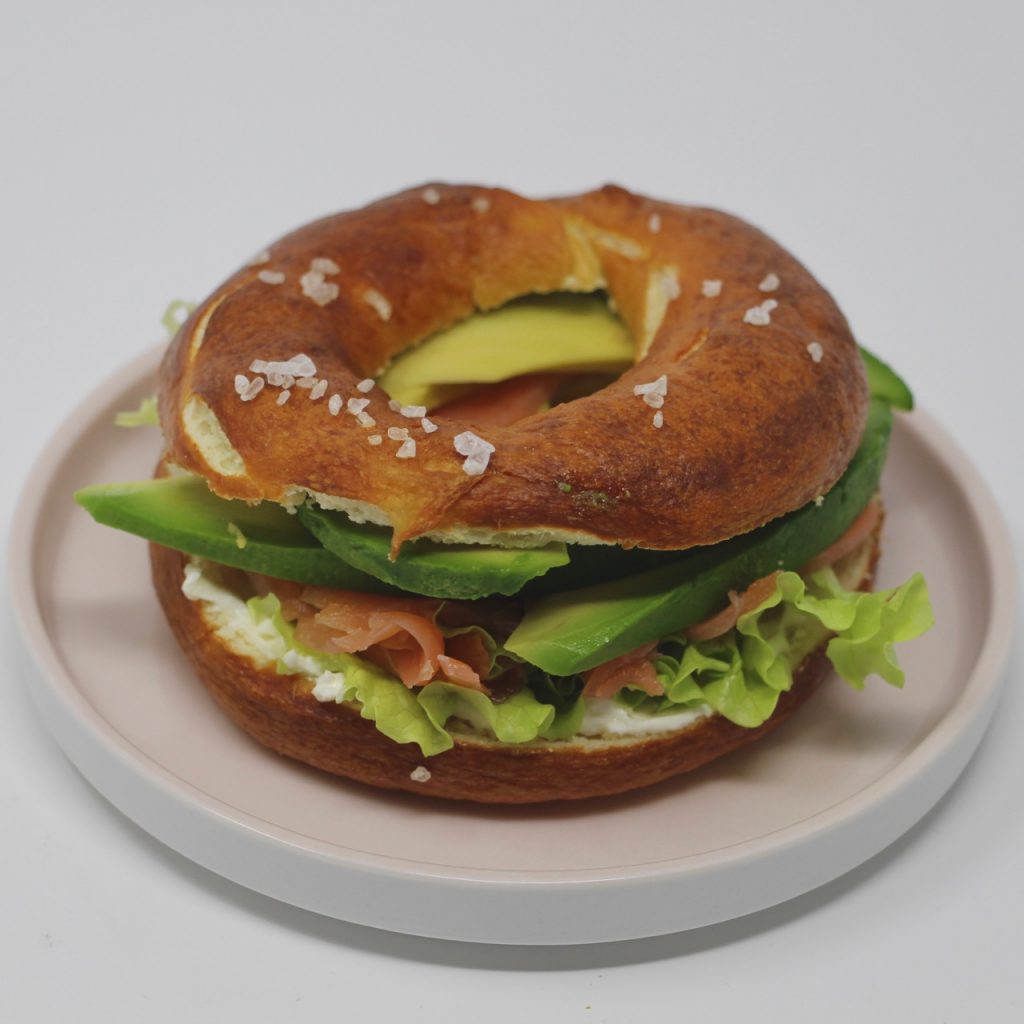 This is it…
Shall we now?
The recipe, Chef!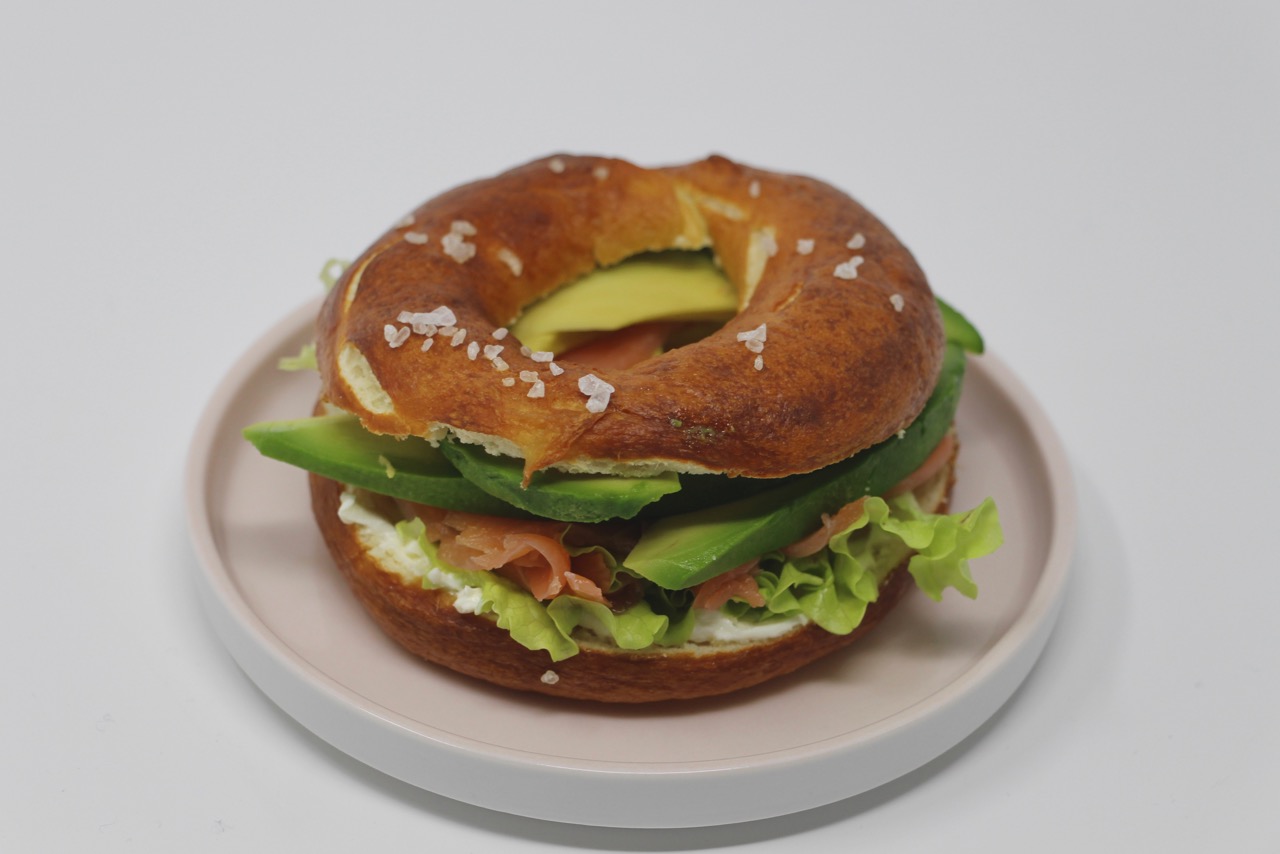 Print Recipe
Avocado and smoked Salmon Bagel Pretzels
Ingredients
250 g flour (20 g more depending on the consistency of your mixture)

10 cl milk

5 cl water

15 g soft butter

5 g salt

5 g dehydrated yeast or 10 g fresh one

Coarse salt, sesame seeds or poppy seeds

50 g baking soda

1 avocado

180 g smoked salmon

Lettuce

A few coriander leaves

100 g Philadelphia cream cheese

Ground ginger
Instructions
1
Warm up a little the milk and add the yeast. Mix until the yeast is fully dissolute.
3
In your food processor, pour the flour, the 5 grams of salt, the butter and the milk+yeast+water.
4
Knead at least 5 minutes until your dough won't stick to the bowl anymore.
5
Cover with a clean sheet and place the bowl in a warm environment for almost 2 hours. Your dough should grow significantly.
6
Degas the dough and split it in 5 pieces. Roll each one with your hands to get a 25 cm long string.
7
Shape your bagel pretzels.
8
Set aside for 15 minutes.
9
Preheat your oven at 220 degrees.
10
Boil 2 liters of water with the baking soda in a large pan (add the baking soda to the cold water otherwise it will overflow!). Put the bagel pretzels, one after the other in the water. They will come up to the surface almost immediatly. Let them 15 seconds on one side, turn them upside down and take them out of the water after another 15 seconds.
11
Place them on a baking paper or a silicon mat.
12
Spread coarse salt, sesame seeds or poppy seeds.
14
Remove the bagel pretzels from the oven and place them on a grid to cool down.
15
Cut them in half horizontaly.
16
Spread Philadelphia cream cheese on both sides. Spread ground ginger.
17
Add a slice of smoked salmon, slices of avocado, lettuce and coriander leaves.