Hello my friends. I had an eye on this recipe for a while…
And it appeared twice the same day in my Instagram feed last week so I decided to give it a try.
Here is the babka brioche by Jeffrey Cagnes.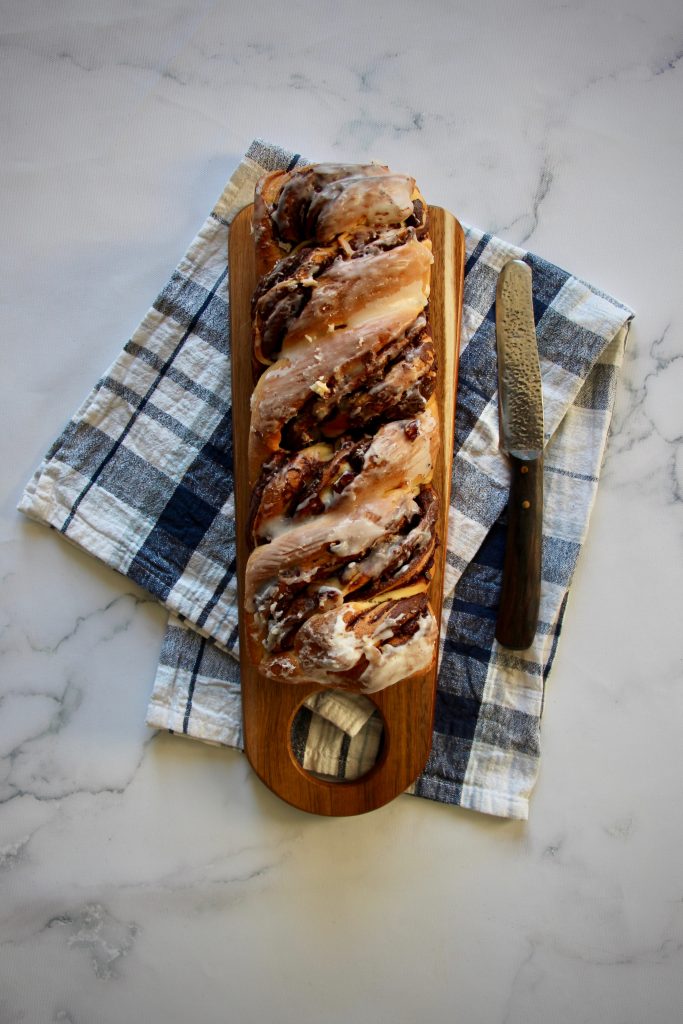 Jeffrey Cagnes is the head pastry of "maison Stohrer", the oldest pastry shop in Paris, created in 1730 by King Louis XV 's pastry chef, Nicolas Stohrer. Before he had already worked at Hédiard or with Jean-François Piège.
It's high level today with this babka brioche by Jeffrey Cagnes, you get that!!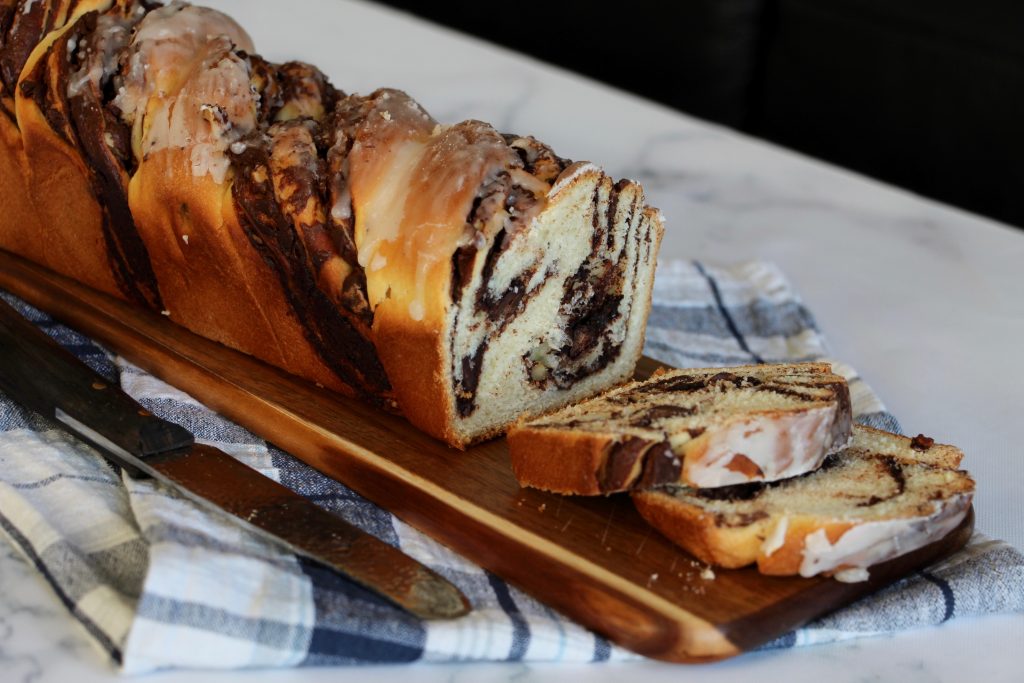 You can find this recipe on several blogs (since it was shared in the magazine "Fou de Pâtisserie"), but I followed Flavie's version, from the blog "il était un gateau" (literally "once upon a pastry"). I strongly recommend this blog, that's why I took the recipe there and followed her advices. Flavie is an amazing pastry artist, she makes pastries with style and elegance!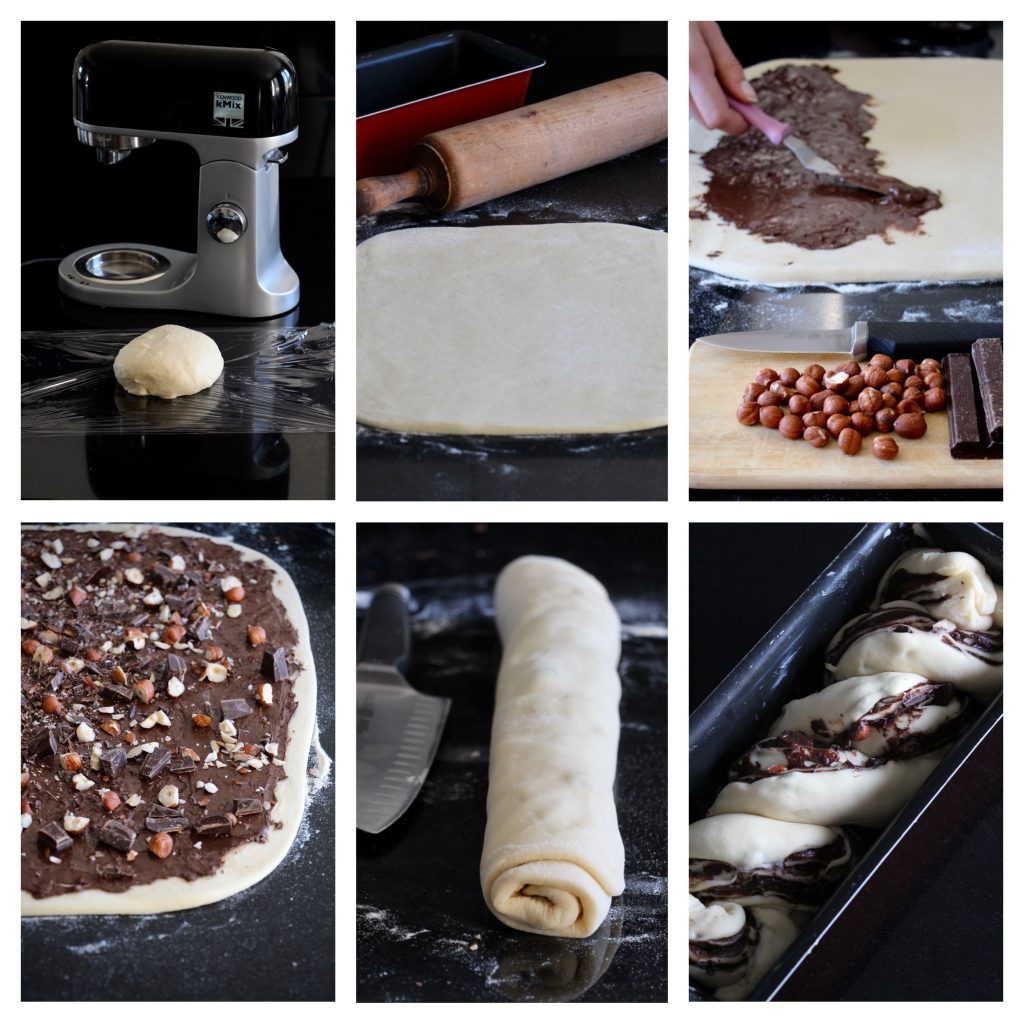 Her recipe is perfect for a 20 cmlong cake mold, I went for a 26 cm long by simply adding 30 % to all ingredients. I did that for 3 main reasons:
– My mold is 26 cm long… (that's a good reason!)
– The initial recipe requires 250 g of flour, and I prefer to work with more flour in my food processor
– We are 5 at home and honestly, if I put on the table a 20 cm long cake, it will end up like a war zone!!
So I went for 26 cm!! 😉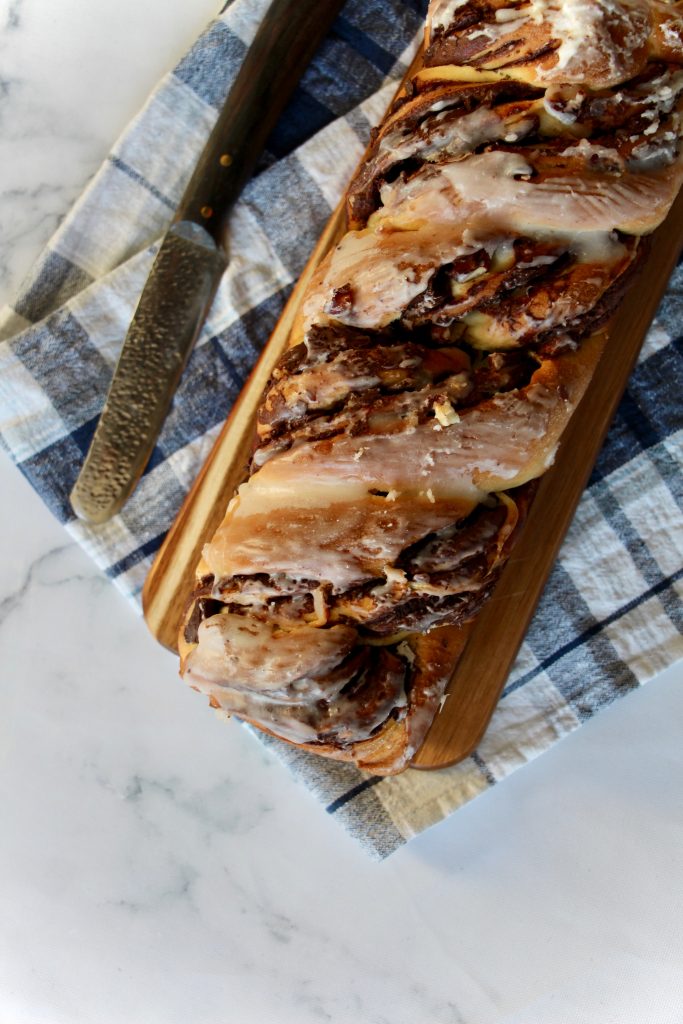 Let me add that this babka brioche by Jeffrey Cagnes is egg free. For those who can't have eggs, or when your fridge is empty, that may be the right idea for a good breakfast or a delicious snack (or both like we did!!!).
And you will already have guessed it, it's yummy!!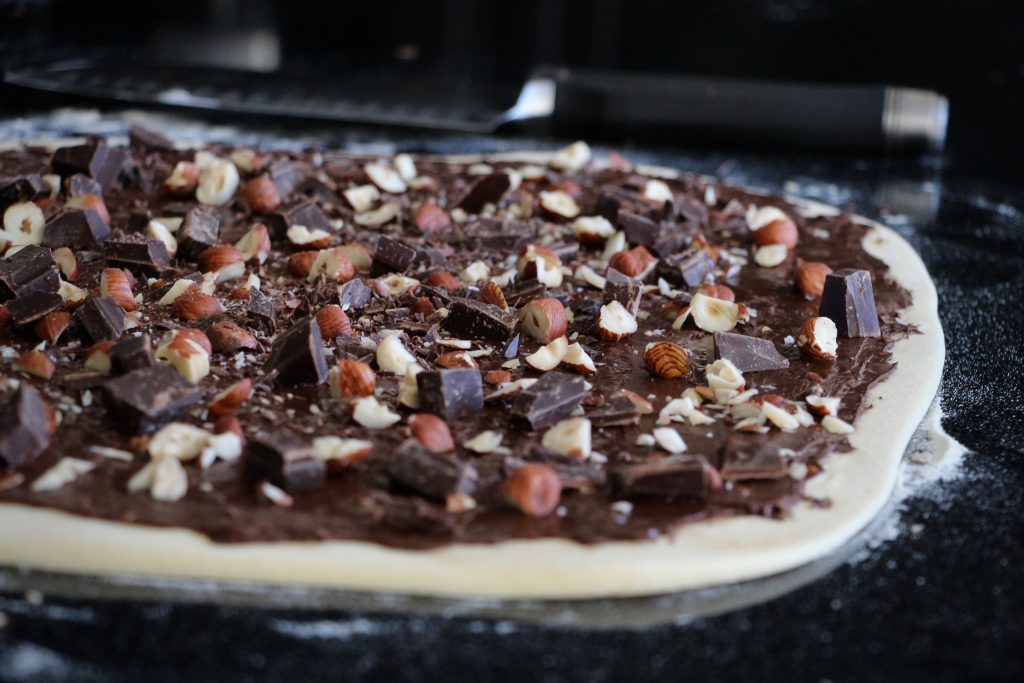 The utensils:
Your food processor with hook (or a large bowl and a bit of energy of you knead by hand),
A spatula,
A knife with a long blade to cut the dough
And a cake mold!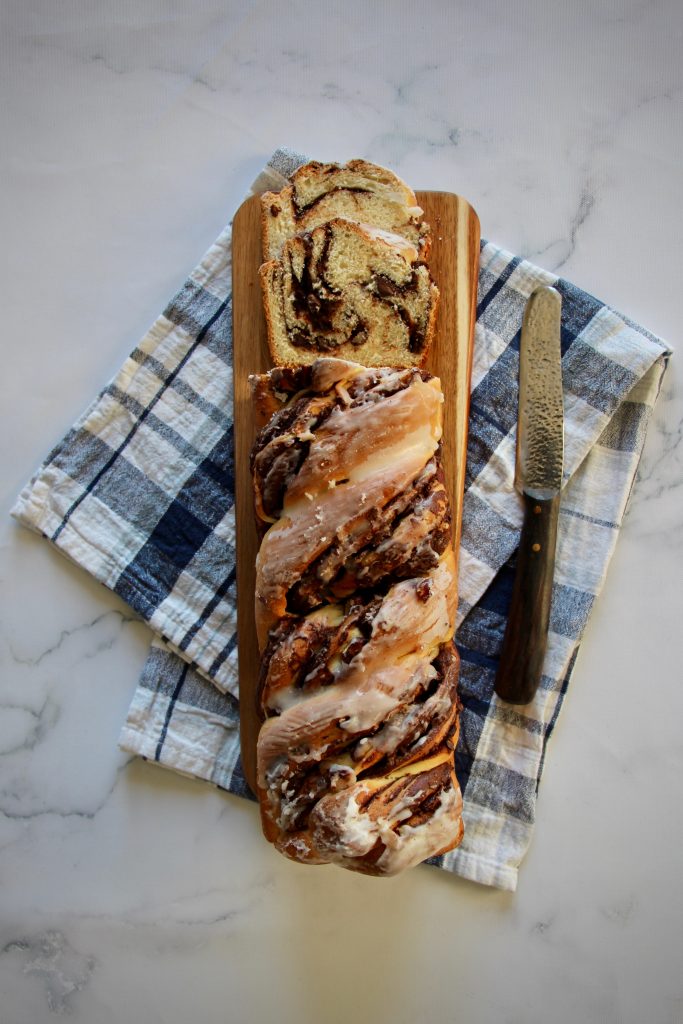 Now we can start…
Let's do this!
The recipe, Chef!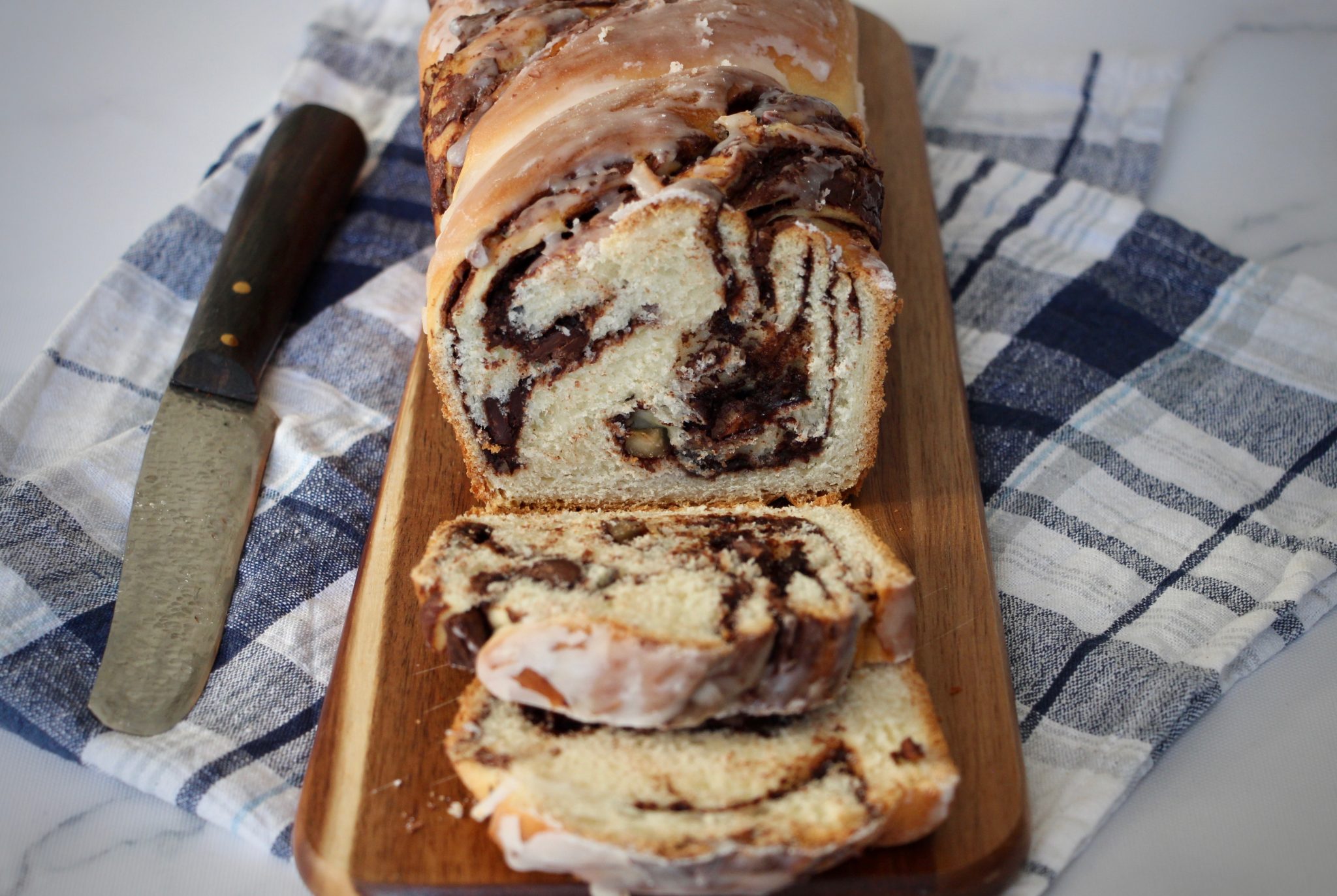 Print Recipe
Babka Brioche (by Jeffrey Cagnes)
Ingredients
320 g flour

4 g salt

65 g sugar

8 g instant yeast (or 16 g fresh one)

195 g milk

65 g butter at room temperature

60 g dark chocolate

60 g hazelnuts

180 g hazelnut or chocolate spread

Butter for the mold
Instructions
1
Heat the milk 40 seconds in your microwave oven. Pour the yeast and mix until dissolution.
2
Place the flour, sugar, salt in your food processor bowl.
3
Start kneading at low speed (2 on a scale from 1 to 6) and pour slowly the milk.
4
Keep on kneading for 5 minutes.
5
Add the butter cut in pieces, knead some more and increase gently the speed to 4.
6
Place the dough in a cling film and set aside in your fridge for one hour.
7
Flour your work plan then spread the dough as a 26 cm by 20 cm rectangle.
8
Spread the hazelnut or chocolate spread on the whole rectangle, then spread the hazelnuts and chocolate roughly chopped with a knife.
9
Make a 26 cm roll. Cut it in two, lengthwise.
10
Butter your mold, swirl the dough and place it in the mold.
12
Preheat your oven at 180 degrees then cook your brioche for 30 minutes.
13
At the end, wait 10 minutes before unmolding and let cool down on a grid.
Notes
The frosting is made with 25 g water and 50 g sugar. Boil them once the brioche is cooked, then spread on the brioche.