Hello my friends!
Are you into Babka brioche at all? Well I am!! Big time…
So I decided to mix my regular Babka brioche recipe with a traditional Alsatian roll recipe. And tadaaa!! There comes my hazelnuta nd raisin Babka brioche.
Let's see the recipe, Chef!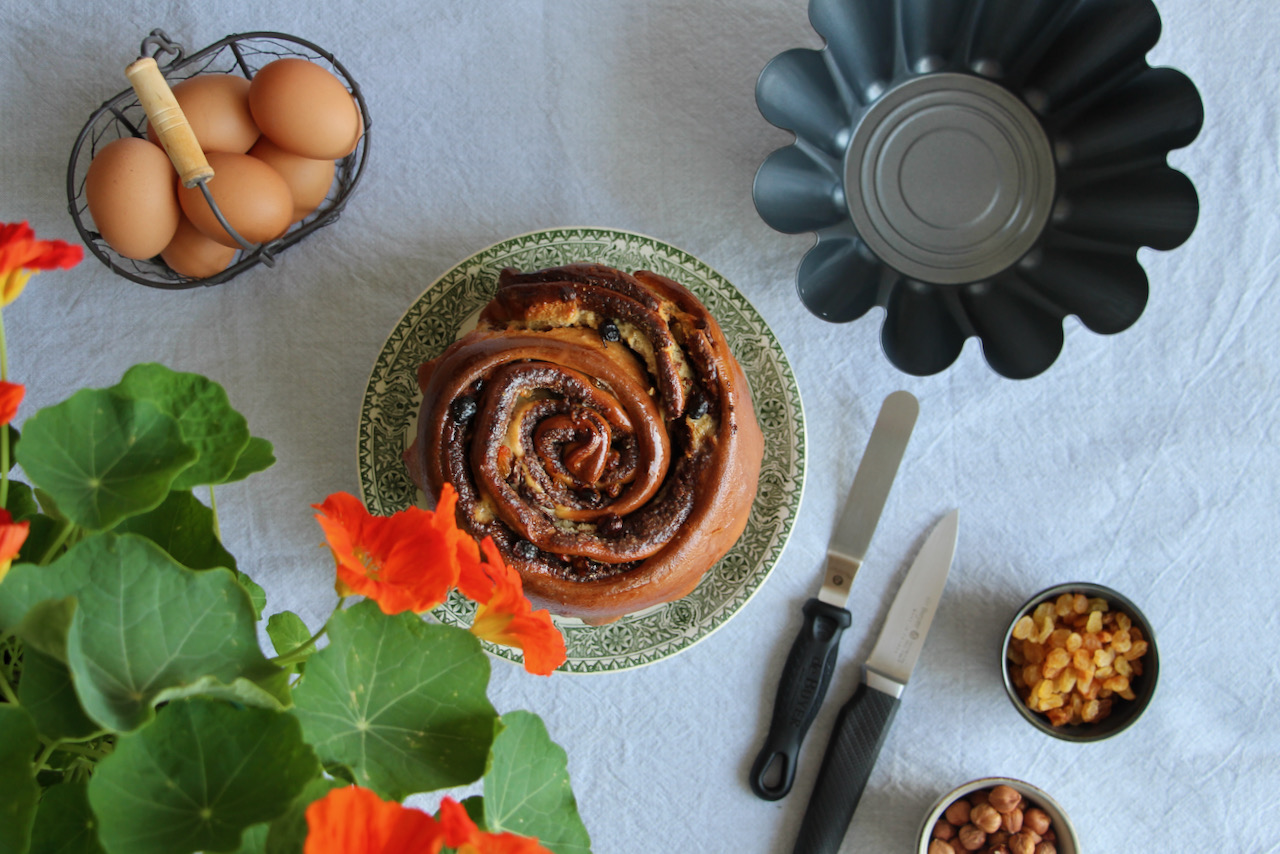 Print Recipe
Hazelnut and Raisin Babka Brioche
Ingredients
350 g flour (for the dough)

4 g salt (for the dough)

65 g sugar (for the dough)

8 g instant yeast (or 16 g fresh one) (for the dough)

170 g milk (for the dough)

65 g butter at room temperature (for the garnish)

150 g ground hazelnut (for the garnish)

60 g sugar (for the garnish)

1 tsp unsweetened cocoa powder (for the garnish)

1/2 tsp ground cinnamon (for the garnish)

40 g cream (for the garnish)

1 egg (for the garnish)

90 g raisins (for the garnish)

Butter for the mold
Instructions
1
Heat the milk 40 seconds in your microwave oven. Pour the yeast and mix until dissolution.
2
Place the flour, sugar, salt in your food processor bowl.
3
Start kneading at low speed (2 on a scale from 1 to 6) and pour slowly the milk.
4
Keep on kneading for 5 minutes.
5
Add the butter cut in pieces, knead some more and increase gently the speed to 4.
6
Place the dough in a cling film and set aside in your fridge for one hour.
8
Mix the ground hazelnut, sugar, cocoa and ground cinnamon.
9
Add the cream and egg, combine well.
10
Flour your work plan then spread the dough as a 26 cm by 20 cm rectangle.
11
Spread the garnish on the whole rectangle, then spread raisins.
12
Cut it in three, lengthwise. Place each strip on one another. Roll them.
13
Butter your mold, place the roll of dough in the mold.
15
Preheat your oven at 180 degrees then cook your brioche for 35 minutes.
16
At the end, wait 10 minutes before unmolding and let cool down on a grid.