Halloween is getting closer and, even though it is not something I was used to celebrate as a child, it brings me quite an inspiration. A few pics found on Pinterest too!!
Today I will give you the recipe of my savory pumpkin brioche, shaped like a pumpkin!
This brioche has a texture close to bread, it is a delight as an appetizer!!
The savory pumpkin brioche is rather light since it has almost no fat in it (just 2 tablespoons of olive oil), no milk and no egg. I added pieces of bacon and it was super good, but you can skip this part or trade them for dried tomatoes for instance.
Also, you can choose to make individual little brioches for a dinner with friends, or freeze some of it and eat them from time to time whenever you feel like it!
This brioche is made with mashed butternut (or mashed pumpkin), slowly cooked with garlic and thyme, and my usual Gruau D'Or flour as always (the white pack!!). It is absolutely yummy and you will notice that the garlic and thyme taste is pretty well balanced.
And I think that the pumpkin shape is fun. It will be a nice piece on your buffet table or even the master piece of your appetizers!
The utensils:
My Affinity frying pan by De Buyer
My kMix food processor by Kenwood to knead perfectly the dough
My hand mixer kMix by Kenwood
Food thread to shape the dough as a pumpkin.
Presentation: Fragment Color plate by Degrenne Paris.
Are you ready?
The recipe, Chef!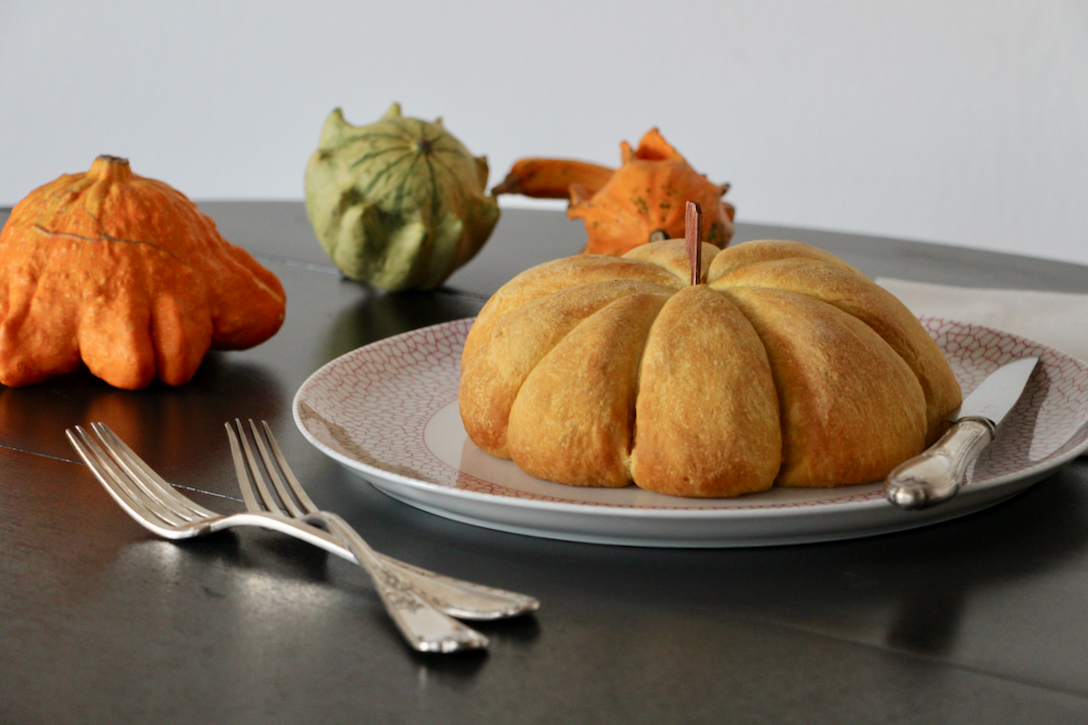 Print Recipe
Ingredients
1/2 butternut
2 cloves garlic
2 tablespoons olive oil
Thyme
1 pinch of salt
250 g allpurpose flour
5 g dehydrated yeast or 10 g fresh yeast
8 g salt (or 2 teaspoons)
4 food threads (35 cm)
A bit of olive oil
3 slices of bacon
1 egg yolk mixed with a tablespoon of milk or olive oil
Instructions
1
Remove the skin of the butternut with a knife (be carefull...) and cut it in cubes.
2
Stir fry at medium heat the butternut cubes with 2 tablespoons of olive oil, a pinch of salt, the grated garlic and stalks of thyme for 5 minutes.
3
Cover and cook some more for 30 minutes at low heat (mix from time to time).
4
When it's cooked, pour in a large bowl, remove the thyme stalks and mix with your handmixer. You should get a smooth texture. Let cool down at room temperature for 10 minutes.
5
Pour 180 g of your mashed butternut in your food processor bowl. Add the yeast and mix.
6
Add the flour and 8 g of salt. Knead at low speed (2 on a scale from 1 to 6).
7
Your dough will seem dry and quite compact at first. It should get better after 6 to 8 minutes. If your dough is still dry, add a little bit of water. (I didn't have to).
8
When the dough comes easily off the bowl, cover with a humid linen and let rise for 2 hours in a warm room.
9
After 2 hours, soak the food threads into olive oil.
10
Cut the bacon in thin pieces.
11
Place the dough on your working plan with a little bit of flour. Take 1/3 of the dough and make a 15 cm diameter round shape.
12
Place your bacon pieces on this dough and make a little ball.
13
Make a 20 cm diameter round shape with the rest of the dough and wrap the little ball in it. This way, you won't see the bacon pieces after rise.
14
Place two food threads as a "+". Place the other two as a "x".
15
Place your dough right in the center and knot the threads on top. Keep them quite loose.
17
Preheat your oven at 180 degrees.
18
Brush your pumpkin dough with olive oil or egg yolk and milk.
20
Check with a knife at the end of cooking, add 5 minutes of cooking if necessary.
21
Remove gently the threads, add a wooden stick in the middle and let cool down on a grid.
Notes
You can eat the rest of your mashed butternut, it is delicious as it is.