Hello my friends!
Let's go for a new Christmas recipe, with a delicious and smooth yule log! If you like coffee and almon praliné, you're going to love this dessert!
Let's see the recipe, Chef!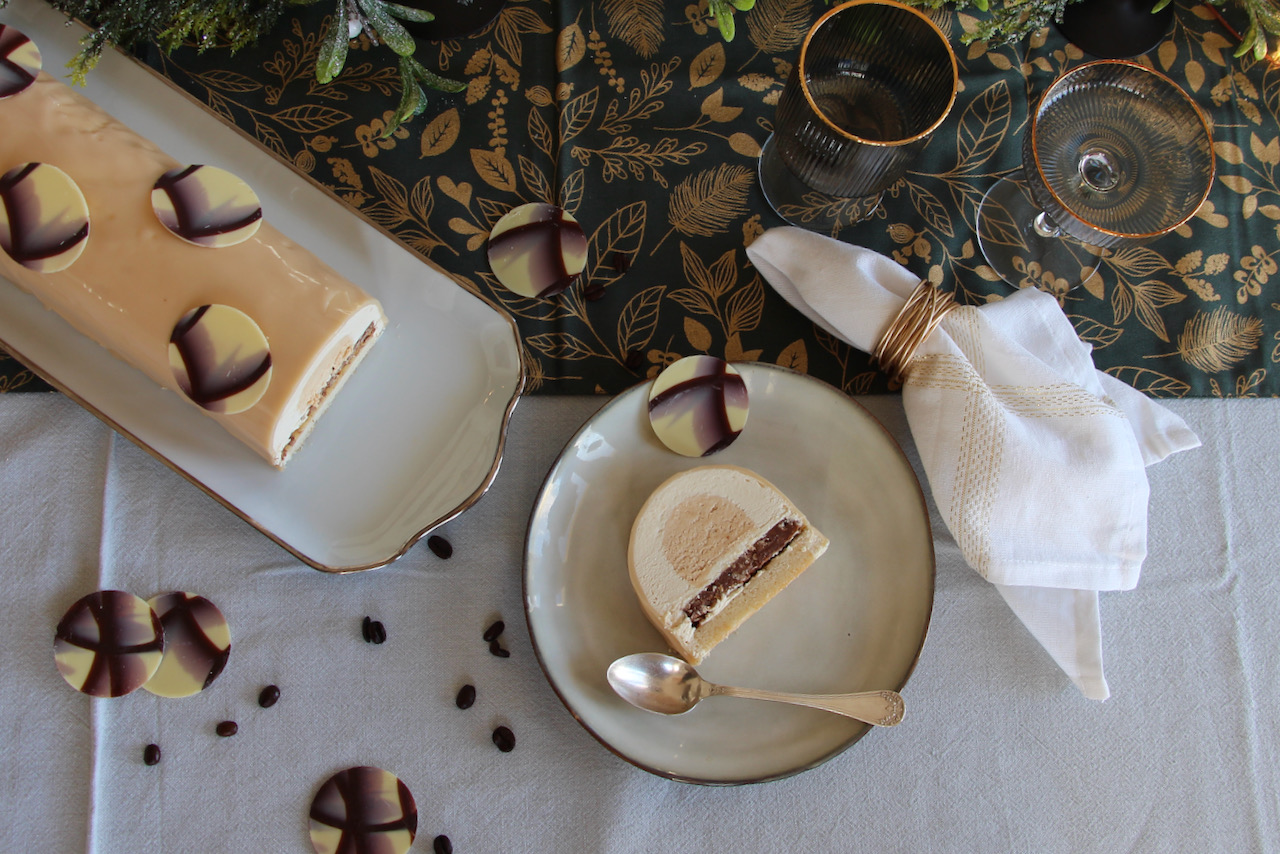 Print Recipe
Almond Praliné and Coffee Yule Log
Ingredients
Creamy Praliné

100 g almond praliné

100 g cold butter

70 g sugar

21 g water

60 g egg whites

Praliné feuillantine

60 g milk chocolate

75 g almond praliné

70 g crispy crepes

Almond financier

100g egg whites

115 g icing sugar

70 g ground almonds

70 g salted butter

35 g flour

Coffee mousse

6 g gelatine sheets

150 g liquid cream (30% fat)

20 coffee beans

50 g caramel chocolat

45 g white chocolat

300 g liquid cream (30% fat)

Mirror glaze

150 g water

182 g sugar

60 g Zephyr Caramel chocolate (or milk chocolate)

10 g gelatine sheets

125 g cream
Instructions
1
Make a boil with the sugar and water up to 120 C / 248 F degrees.
2
Remove from the stove and set aside.
3
Whisk the almond praliné and cold butter cut in cubes in your food processor.
4
Whisk the egg whites and, while still whisking, add the sugar syrup cooled down to 30 C / 86 F degrees.
5
Combine this meringue to the butter / praliné gently with a spatula until homogeneous.
6
Pour in your insert mold and wrap with cling film.
7
Set aside in your freezer for the night.
8
Melt the chocolate with a double boiler.
10
Crush the crispy crepes and add them to the mixture.
11
Mix gently with a spatula.
12
Pour on a baking tray and shape a rectangle that can fit in your yule log.
13
Set aside in your fridge for at least 1 hour.
14
Heat the butter in a sauce pan for 4-5 minutes at medium heat, keep whisking. Your butter will get slightly brown.
15
Preheat your oven at 170 C / 340 F degrees.
16
Pour the sugar, almond, flour in a bowl.
17
Start whisking and add, little by little, the egg whites.
18
When homogeneous, add the butter. Combine.
19
Pour the batter on a baking tray, shape a rectangle.
20
Bake 20 minutes (your financier should be golden).
21
Let cool down a bit before unmolding on a cooling rack.
22
Pour 150 g cream in a small sauce pan, add the coffee beans and heat to a boil.
23
Stop heating right when boiling starts, set aside for 20 minutes.
24
Soak the gelatine into cold water.
25
Melt both chocolates with a double boiler.
26
Remove the coffee beans from the cream, heat it again.
27
Pour the warm cream on both chocolates, combine with a whisk.
28
Add the drained gelatines sheets, combine and set aside.
29
Whisk the 300 g cream until it makes furrows.
30
When the coffee mixture is below 35 C / 95 F degrees, combine gently with the whipped cream.
31
Pour right away 2/3 of your coffee mousse in your yule log.
32
Place the frozen praliné insert. Press gently to get coffee mousse on the sides of the insert.
33
Place the praliné feuillantine on top then the almond financier cut to fit, leaving 1/2 cm on each side.
34
Pipe the remaining coffee mousse, flatten with a spatula and set aside in your freezer for at least 6 hours.
35
Soak the sheets of gelatine in a bowl with cold water.
36
Pour the water, sugar, chocolate and cream in a sauce pan. Heat until it boils whilst whisking.
37
Remove from the heat and add the gelatine sheets. Mix.
38
Place a cling film on the surface of the liquid and let cool down (you will use this mirror glaze with a temperature of 30 C/ 86 F degrees). You can hit gently the bowl against your working plan to help the little bubbles get out of the icing.
39
Remove the log from the freezer, place it on a grid, the grid being on a dish.
40
Pour the mirror glaze on the log. Start over with the mirror glaze on your dish.
41
Set aside in your fridge for 3-4 hours before eating.