Madness … This is pure madness …
Okay, end of the week, let's dive into decadence. Let's just speak with onomatopoeia "hummmm!!! ooohhh!!! Oh yeah!!" while still in your kitchen. Today, it will be a chocolat and pears poundcake day!!! With chocolate topping of course!!
So, I've seen this chocolate and pears poundcake many times on Instagram or Pinterest. It is true that it's really tempting… But I was a bit reluctant to put a whole pear in a cake, yes a whole pear… Finally, after a post from Aurelie on Lilie Bakery (she has always amazing pastries so beautifully staged!!), I took the big decision : I was going to bake one chocolate and pears poundcake.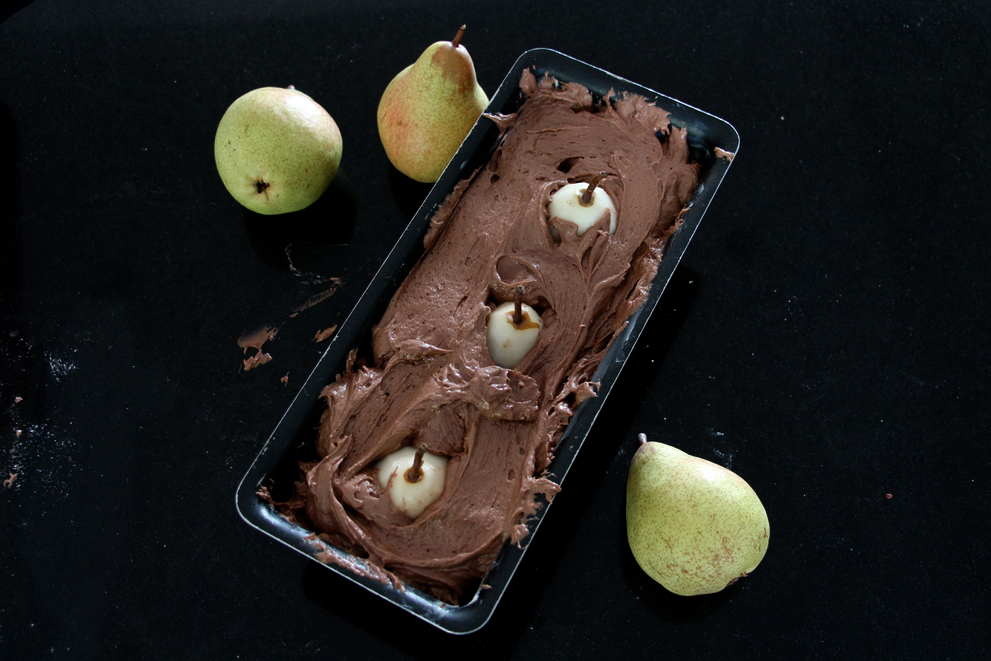 And it was just the beginning of the end, the beginning of a dangerous addiction!! War with the kids to eat more than them, revelation of my primary instincts: fight for food, fight to get more than the others!! Horrible, just awfull…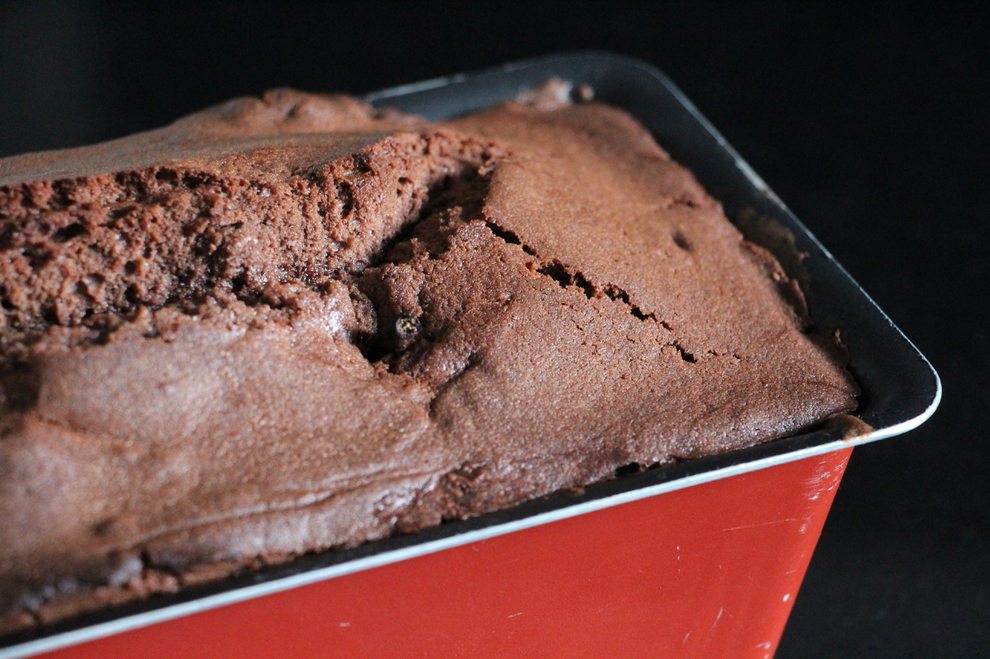 You know it now, do not complain if you fall for it. Now you are aware: you may fall into the chocolate and pears poundcake madness…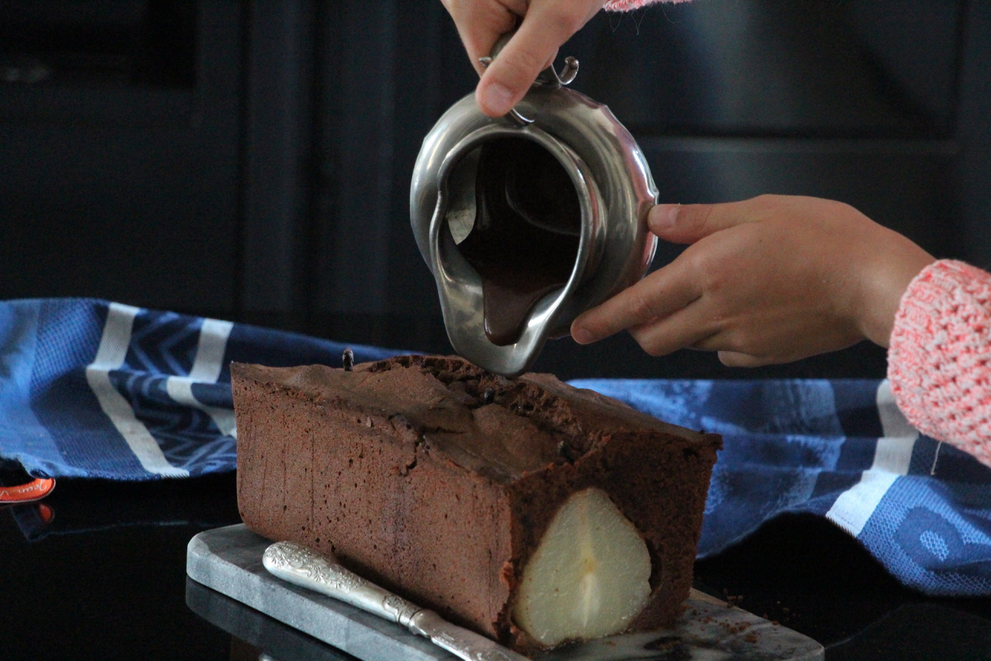 This cake is perfectly balanced with chocolate and cocoa. It is super soft, has this delicate taste of pear, it's heaven at each bite!! And what about the chocolate topping? Flowing on the slices… Mama mia!!! Terrible!!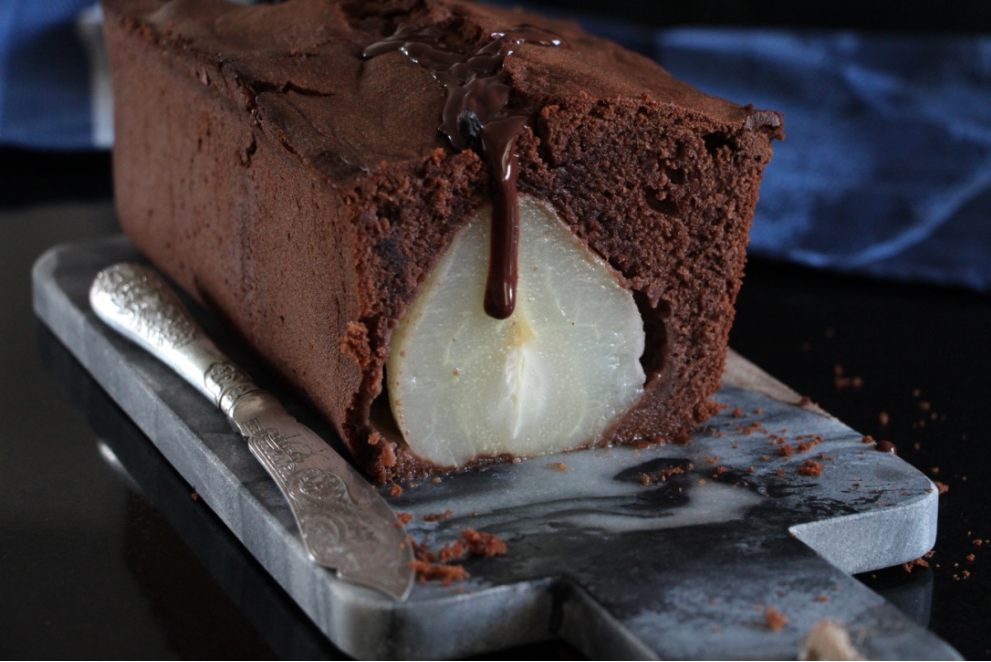 A few recommendations before getting into the recipe though … Take a mold with the appropriate size. The baking powder will make your cake grow a little bit… My mold's size is 26cm lenght, 9 cm width and 8 cm height. Do not take a smaller mold for the below quantities. Also, choose pears that will be as high as your mold otherwise they will disappear into the cake.
At this stage, you should be mouthwatering, you may even have leeked your screen (just a little bit !! 😉 ), let's start !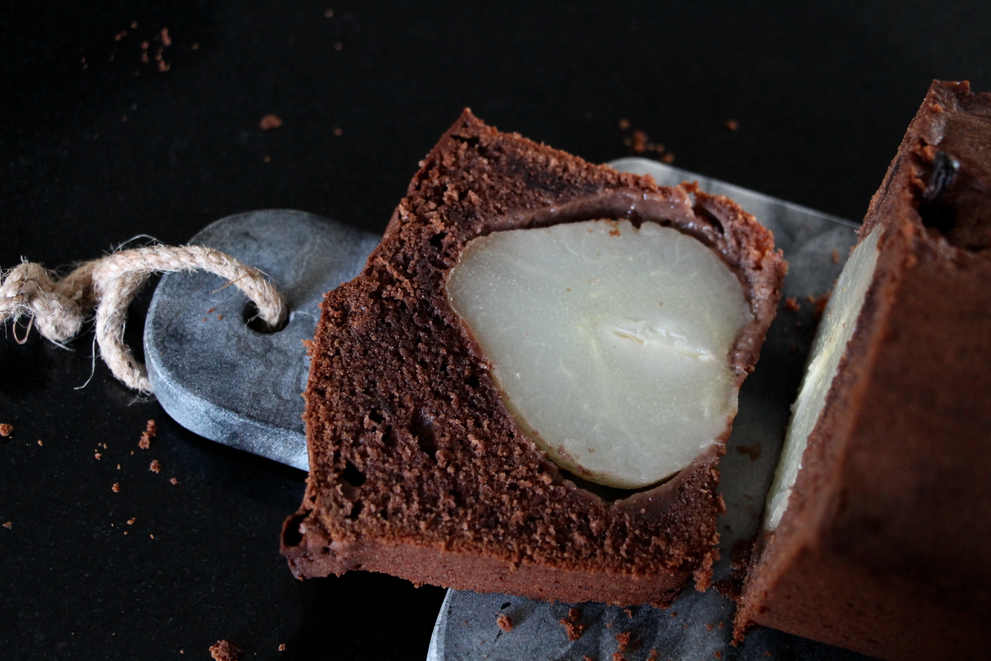 The recipe Chef !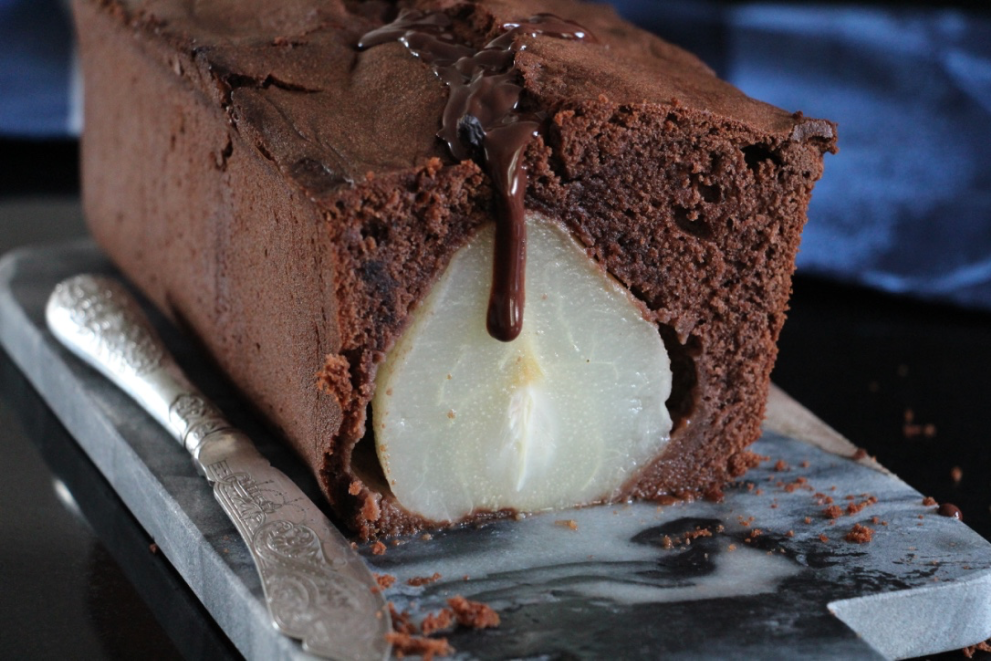 Print Recipe
Chocolate and Pears Poundcake
Ingredients
250 g flour

1 teaspoon baking powder (4 g approx)

220 g butter at room temperature

160 g brown sugar

4 eggs (approx 200 g without shells)

50 g dark chocolate

A pinch of salt

20 g unsweetened cocoa

80 ml milk

3 peeled pears

140 g dark chocolate

140 ml cream

2 tablespoons of water
Instructions
1
Preheat your oven at 180 degrees.
2
Mix the butter and brown sugar a few minutes in your food processor. You should get a creamy texture.
3
Add the eggs one by one (at this point your mixture won't be homogeneous), then the melted chocolate.
4
Sift the flour, cocoa, baking powder and salt into a bowl.
5
Add the powders and the milk (alternate 3 times) to the mixture.
6
Butter your mold generously.
7
Pour 1 cm of batter into your mold then put the pears.
8
Add the rest of the batter (you may need a few extra hands at this point to make sure that your pears remain straight).
9
Bake for 50 minutes and let cool down on a grid.
10
Heat the cream and pour it on the chocolate pieces, wisk and add the water to get a smooth topping.
11
Coat your cake and enjoy!
Notes
Choosing to put the whole pears (without taking the center away) helps with the firmness of the pears while baking and cutting. It is very easy to remove the center once baked. Be carefull not to have too big pears since you need to be able to have enough batter on the sides. Otherwise you might face issues when unmolding...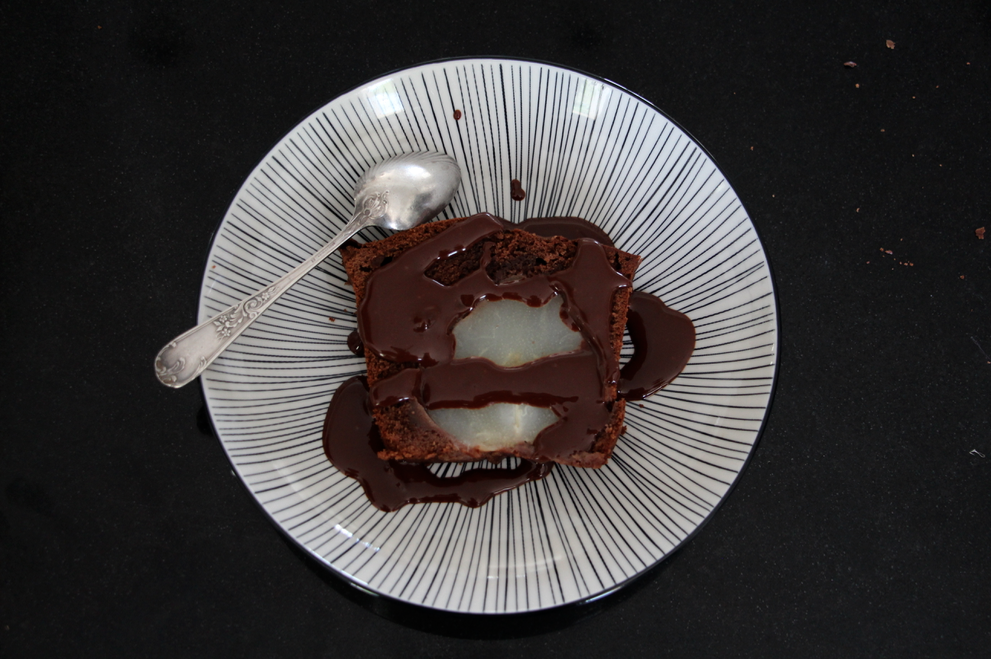 Enregistrer
Enregistrer
Enregistrer
Enregistrer
Enregistrer
Enregistrer
Enregistrer