This could be your Thanksgiving dinner or, as it is in France, the traditional Christmas meal.
Let me introduce my recipe of roast poultry with stuffing.
You can have chicken, capon, turkey or even duck.
The recipe, Chef !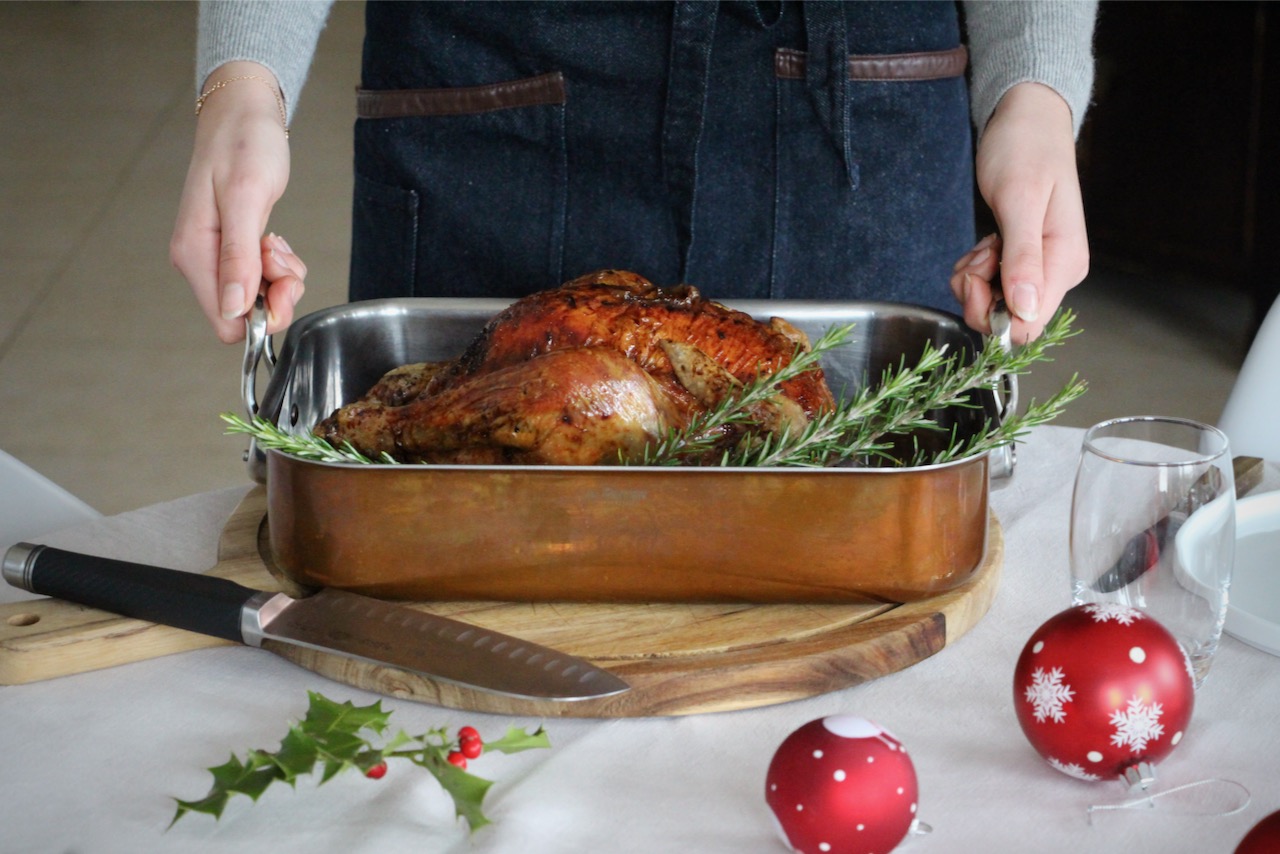 Print Recipe
Roast Poultry with Stuffing
Ingredients
2,5 kg poultry (capon, chicken, duck or turkey)

20 g butter

1 onion

150 g smoked pork belly or bacon

150 g veal fillet

6 large Paris mushrooms

1 egg

4 tablespoons breadcrumbs

1 handfull fresh coriander (or parsley)

Fresh thyme (or fresh chopped rosemary)

2 garlic cloves

4 tablespoons olive oil

1 teaspoon honey

1 teaspoon ground ginger

1 teaspoon paprika

1/2 teaspoon red pepper

Salt

Pepper
Instructions
1
Take the poultry out of the fridge.
2
Melt the butter at medium heat in a sauté pan.
3
Add the chopped onion, and after a minute or two the chopped pork belly.
4
Peel the mushrooms, cut them in cubes and add them to the pan with a bit of salt.
5
Cook at medium heat for 6-7 minutes. Set aside.
6
Preheat your oven at 210 C / 410 F degrees.
7
Mince your veal, set aside in a large bowl.
8
Add the egg, chopped coriander, grated garlic, thyme leaves and breadcrumbs. Mix gently with a spatula.
9
Pour the onion, pork belly and mushroom mix. Add the spices and mix. Adjust seasoning with salt.
10
Place the stuffing inside the poultry, sew with food thread to close.
11
Mix the olive oil and honey in a bowl.
12
Place the poultry in a roasting pan and spread the oil and honey mix.
14
Place in the oven. After 30 minutes, pour a glass of water on the "beast".
15
Lower to 180 C / 360 F degrees and cook 45 more minutes.
16
Spread juice from time to time on the poultry (you can add a bit of water if necessary).
17
Finish cooking at 130 C / 265 F degrees for 45 minutes. If you have a thermometer, check that the center of the stuffing is at 63 C / 145 F degrees.
18
Serve meat and stuffing and enjoy!