Looking for an amazing Christmas dinner idea?
I think you've just found it! This gastronomic recipe is so French!!
Duck and foie gras chartreuse …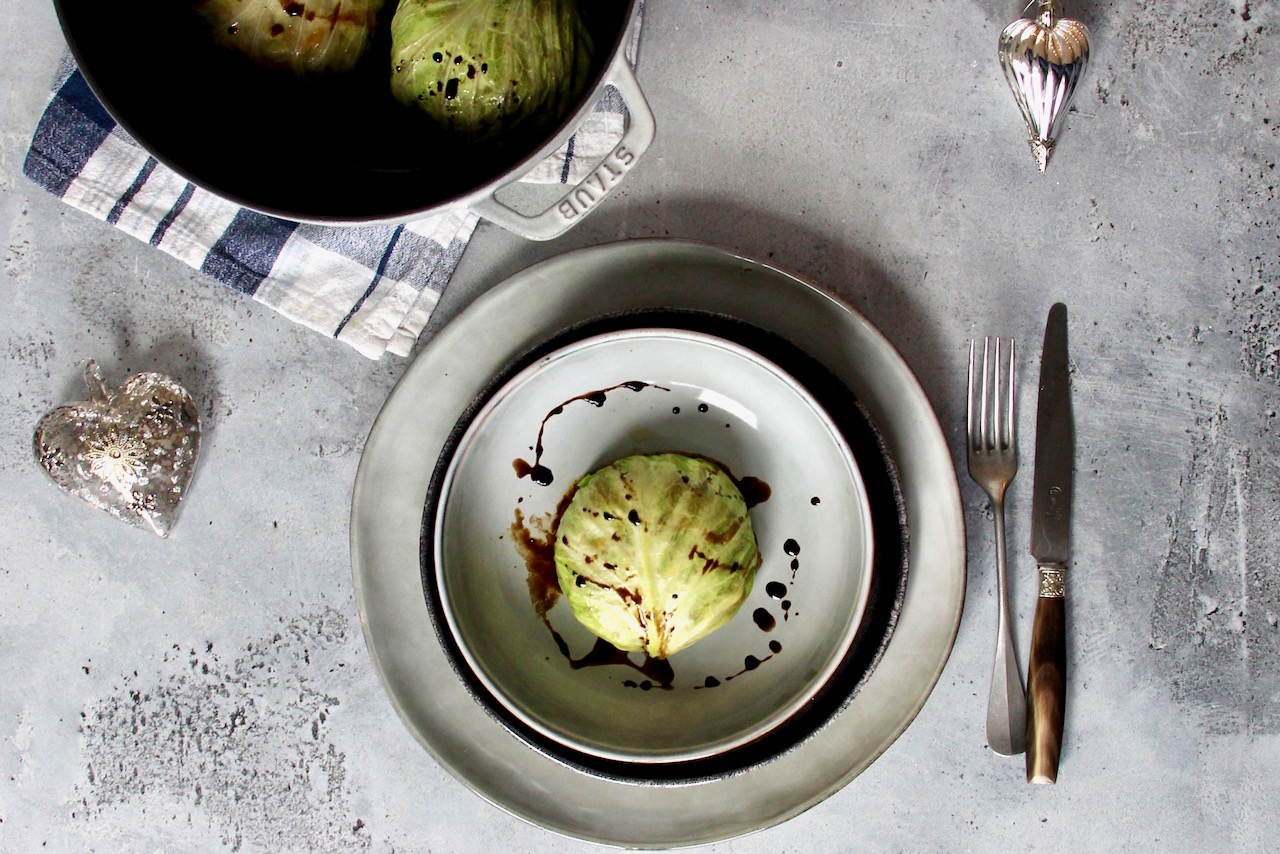 Print Recipe
Duck and Foie gras Chartreuse
Ingredients
3 duck thighs
30 g butter
2 tablespoons olive oil
1 onion
2 garlic cloves
1 slice butternut
2 carrots
1/4 celeriac
Thyme
Rosemary
1 glass red wine
1 liter poultry broth
6 green cabbage leaves
60 g foie gras
Salt
Pepper
1 tablespoon paprika
1/2 tablespoon ground coriander
10 cl balsamic vinegar
Instructions
1
Melt the butter and olive oil in your Staub cocotte.
2
Stir fry the duck thighs on each side until golden. Set aside.
3
Prepare the butternut, carrots and celeriac: peel them and cut them in brunoise (small cubes).
4
Chop the onion and garlic and stir fry in the cocotte with the fat from the duck.
5
Add the vegetables and cook at medium heat for 5 minutes.
6
Add the wine and boil for 2 minutes.
7
Switch back to medium heat, add the warm broth, thyme, rosemary, paprika, ground coriander and salt.
8
Place the duck thighs on top.
9
Cover with a lid and cook at low heat for at least 1 hour.
10
In the meantime, soak the cabbage leaves in boiling water for 4 minutes and set aside.
11
Remove the duck thighs from the cocotte and let cool down a bit.
12
Drain the vegetables, keep the sauce.
13
Pour the sauce in a pan and cook at low heat to make it concentrate.
14
Remove the meat from the thighs, cut it in small pieces and add to the vegetables.
15
Cut the foie gras in cubes and add to the previous mixture.
16
Adjust seasoning, add pepper. Your filling is ready.
17
Preheat your oven at 180 C / 350 F degrees.
18
Place a cabbage leaf on a pastry ring. Garnish with filling. Cast off the leaf and turn the chartreuse with the ring upside down. Place on a baking mat.
19
Do the same with the 5 other leaves.
20
Cook in the oven for 15 minutes.
21
Adjust the seasoning of the sauce.
22
Pour the balsamic vinegar in a small sauce pan and cook at medium heat until your get a syrup texture. Remove from the stove.
23
Serve your chartreuses with sauce and balsamic concentrate.