Hello my friends!
You know I'm not vegetarian, but I try to eat less meat and I enjoy dishes with veggies.
That's the idea here with this spinach and feta cheese chausson.
The idea cam when I saw a post by the blog Papilles&Pupilles introducing a Greek recipe: Spanakopita. It's feta cheese bricks with spinach and filo pastry. The next day, Yotam Ottolenghi was posting filo cigars with feta and spinach. Coincidence? I don't think so!
I had just bough spinachs and feta cheese, I had a round of savory shortcrust pastry in my fridge. I didn't need more!!
I basically followed their recipes with my usual modifications to make this spinach and feta cheese chausson:
– the shortcrust pastry (you got that already)
– I added herbs from my backyard (chive and parsley)
– I put a drop of honey, I love the combo honey and feta cheese
– and I made a chausson to share instead of individual bricks.
As a side dish I made a lettuce and cherry tomato salad. It was delicious!! Let me underline here that the homemade shortcrust pastry does make a difference, do not use an industrial one, it just needs 3 minutes to be prepared…
So obviously, after the success of my spinach and feta cheese chausson, I will have to try the filo pastry version as appetizers most likely… To be continued… Stay tuned!! In this case, I will adjust the cooking time and oven temperature: 15 minutes at 180 degrees.
My last advice: I had quite large spinach leaves. I think that if you want to make bricks or samossas, you should take baby leaves, it will be easier when you will fill in the filo pastry.
That being said, the utensils:
A sauté pan (my Prima Matera by De Buyer) or a cocotte,
A rolling pin,
A pastry brush
And a baking mat or a tray with baking paper.
Now, let's cook!
The recipe, Chef!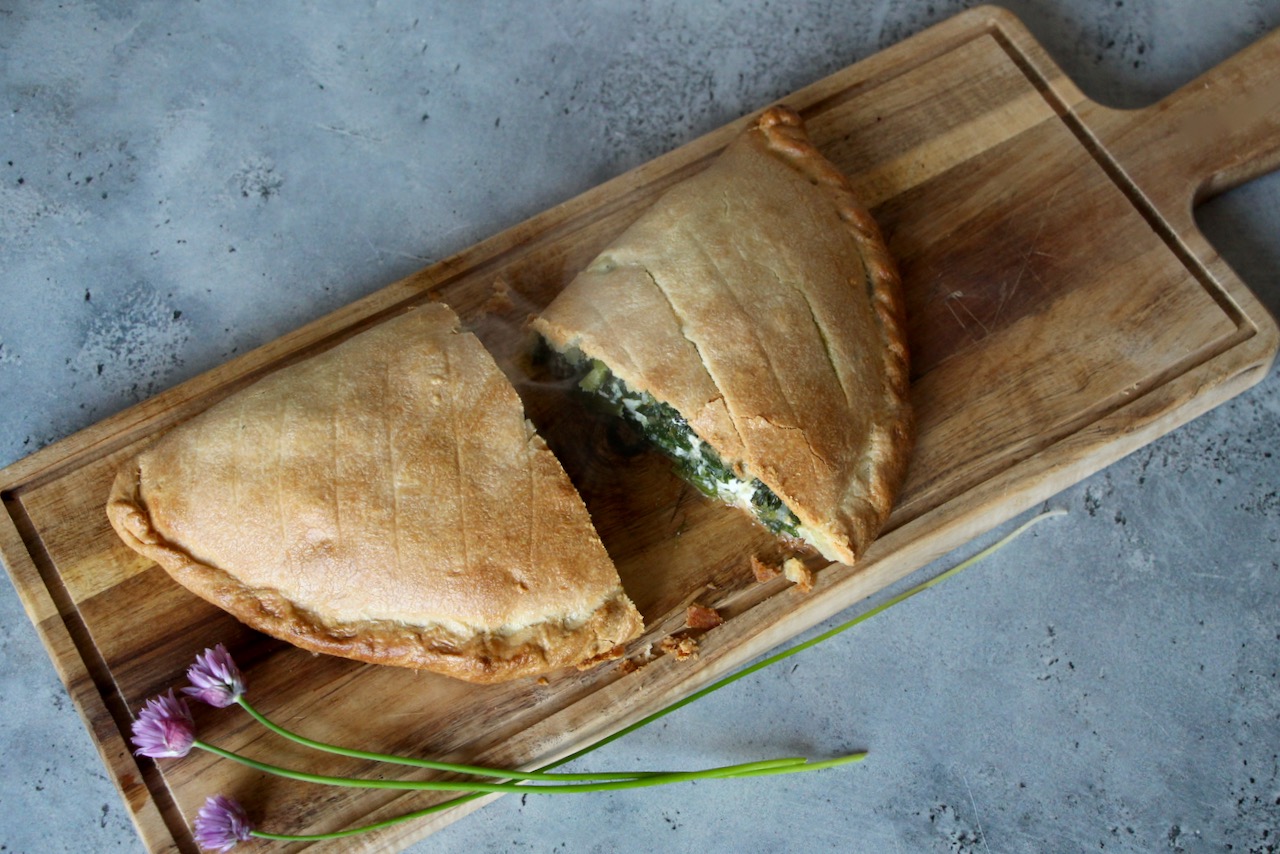 Print Recipe
Spinach and Feta Cheese Chausson
Ingredients
250 g savory shortcrust pastry
300 g fresh spinach
100 g feta cheese
1/2 onion
2 tablespoons olive oil
1 large egg
5-6 chive stalks
Parsley
1 tablespoon honey (optional)
Salt
Pepper
1 tablespoon milk or cream
Instructions
1
Stir fry at medium heat the minced onion with olive oil.
2
Add the spinach roughly chopped.
3
Cook with lid at medium heat for 5 minutes, mix once or twice.
5
Preheat your oven at 200 degrees.
6
Remove the spinach juice and add the feta cheese roughly chopped, the egg, the herbs, honey, salt and pepper.
7
Mix gently with a spatula. Set aside.
8
Spread the pastry in a 24 cm diameter round shape (it shouldn't be too thin).
9
Place the spinach mix on one side, leaving 2 cm from the boarder. Close the chausson, make sure to seal well.
10
Spread milk (or cream) with a pinch of salt.