Hello food lovers!
There we are, spring is definitely here. We can start changing the vegetables we use!! and put more color in our plates!!
As I did here with my delicious red pepper savory cheesecake!
This recipe will help bring back the sun and also the drinks and appetizer times with friends! I love this red pepper savory cheesecake as a bouchée set on a nice table, with many other things to share around… You can also have it as a healthy starter with a simple lettuce.
This savory cheesecake has to be prepared in advance, which can be a good point especially if you're planning a meal with several friends or family, do not hesitate to make it the day before. No cooking is required except grilling the red pepper in your oven. It is really very simple!
And what about the taste??
Fresh, super yummy, with the right balance between the smoothness of the creamy cheese and the typical flavors of the red pepper! Add a few spices to your preparation and it will be great! Here I used the Alizes mix by Roellinger.
When I made this red pepper savory cheesecake, I used a cutter to have a nice round shape. So I had leftovers of red pepper. You can either put them in your creamy preparation and strenghten the red pepper taste of this cheesecake or make a mechouia salad with it (and that you can keep a few days in your fridge).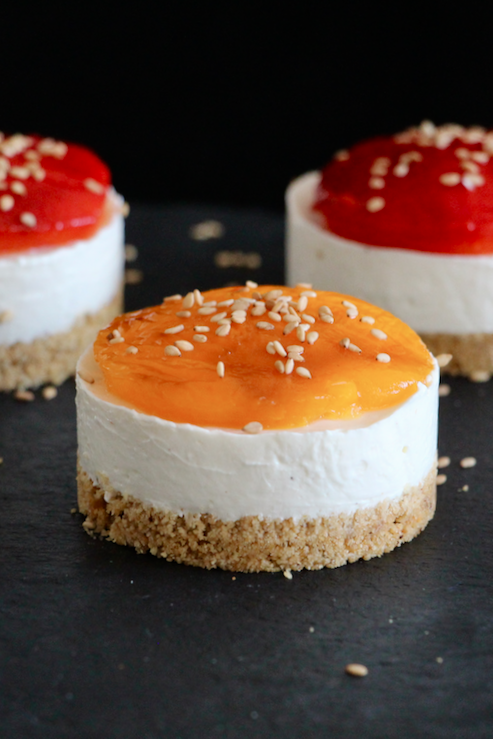 That's what I did. So I anticipated and grilled 2 more red peppers in order to have a significant quantity of red pepper to proceed with the recipe. Or you can also choose to make a red pepper cream. Now you have the choice, it's up to you! Knowing that the ultimate option it to cut the whole red pepper in cubes and divide them on each cheesecake!
(And for an even more elegant version, you can choose to make  my salmon and lime savory cheesecake. Just sayin' 😉 )
To make those cheesecakes, you will need the following utensils:
A small pestle to crunch the crackers
A bowl and a whisk for the creamy preparation
Diameter 5 or 6 cm pastry rings to shape your cheesecakes or little jars
And a cutter.
Ready for it?
The recipe, Chef!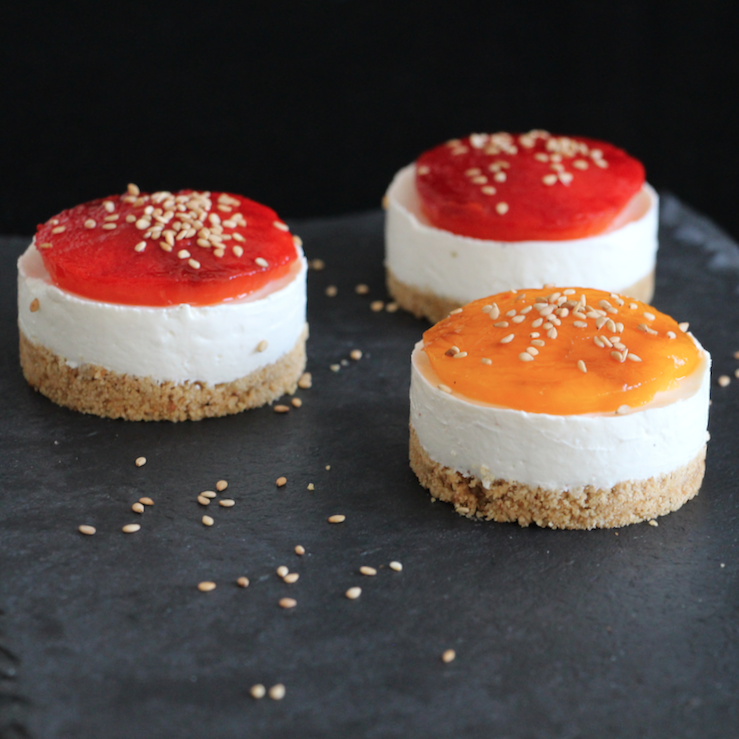 Print Recipe
Red Pepper savory Cheesecake
Ingredients
150 g cream cheese
60 g cream (30% fat)
60 g crackers
30 g butter
1 1/2 tablespoons olive oil
1 red pepper
1/2 lime or 1/4 lemon
1 gelatine sheet
1 teaspoon of Alizes mix or 1/2 teaspoon ground ginger and 1/2 teaspoon ground coriander
Pepper
Sesame seeds
Instructions
1
Place the gelatine sheet in cold water.
3
Melt the butter. Add the olive oil then the mixed crackers.
4
Place this mixture in your pastry rings or jars, set aside in your fridge.
5
Whisk the cream cheese in a large bowl with zest and lemon or lime juice.
6
Heat the cream (do not boil). Add the soaked gelatine sheet and mix.
7
Add the spices and pepper.
8
Pour the cream and whisk.
9
Fill in your molds or jars, flatten and set aside in your fridge at least 2 hours (longer if you can).
10
Set your oven on "grill" and place your red pepper. Grill on each side. Then place in a plastic bag and close the bag.
11
After 15-20 minutes, peel the red pepper, empty the inside and cut it in pieces.
12
Before serving, add the red pepper pieces to the cheesecakes. Spread with sesame seeds.
Notes
I don't add salt in this recipe because the cream cheese is salty enough. You can add pieces of red pepper in your creamy mixture if you want more red pepper in your cheesecakes (in this case grill the red pepper at the beginning of your preparation).