Some days, your children's cruelty is limitless… I learned that recently…
Mum! Can you cook us a chili con carne as good as at school??
And that's cutting my heart into pieces!! First I had never cooked a chili before and then my food was being compared with the one served at school!!! Harsh!!!
Well… here is my chili con carne (better than the one at school!).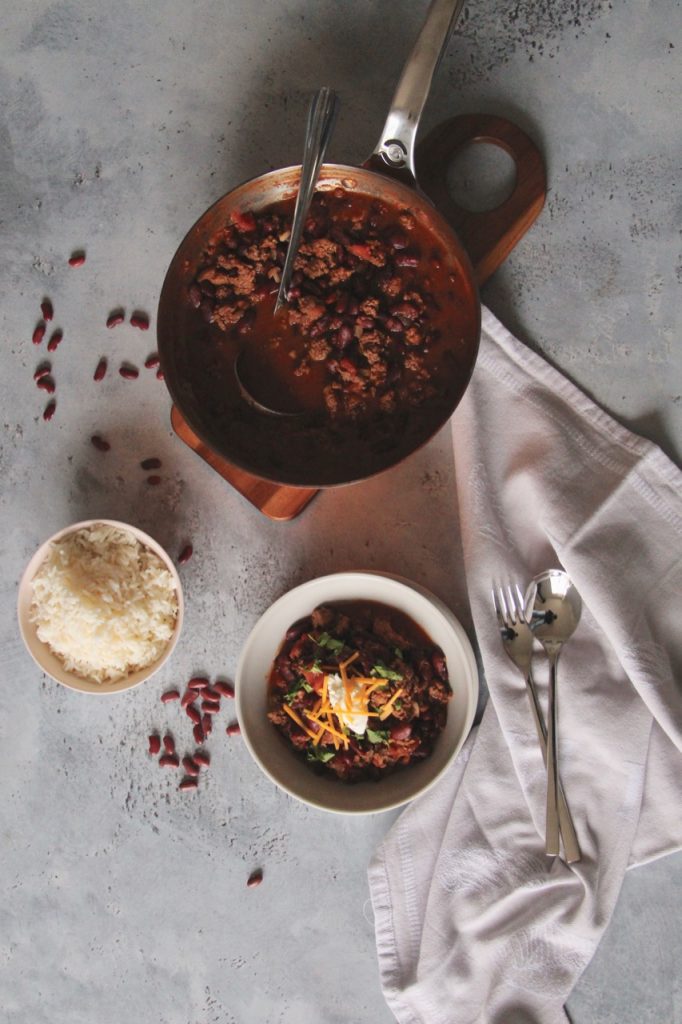 Let's learn something first (thank you Wiki!)…
The chili con carne (chili with meat) is a kind of spicy meat stew from the South of the United-States in which most well known ingredients are beef and chili. And yes! it's not a Mexican dish as some people often say!!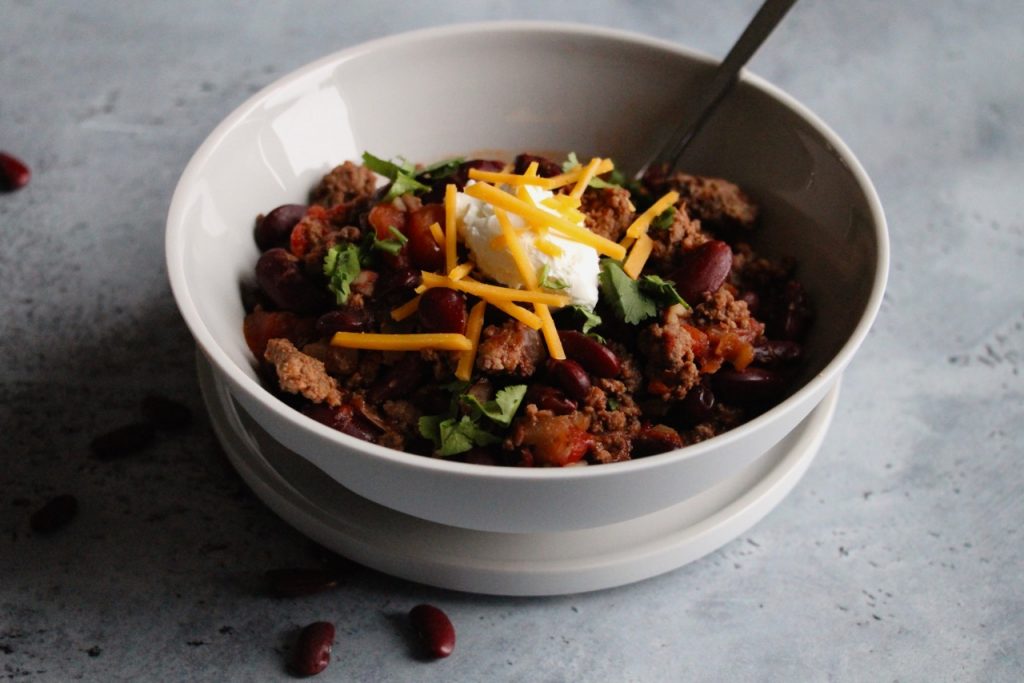 There are many versions of the chili con carne with several kinds of meat, vegetables such as black or red beans, corn, green or red peppers, tomatoes, and seasonings like onions, garlic, ground cumin, coriander, etc.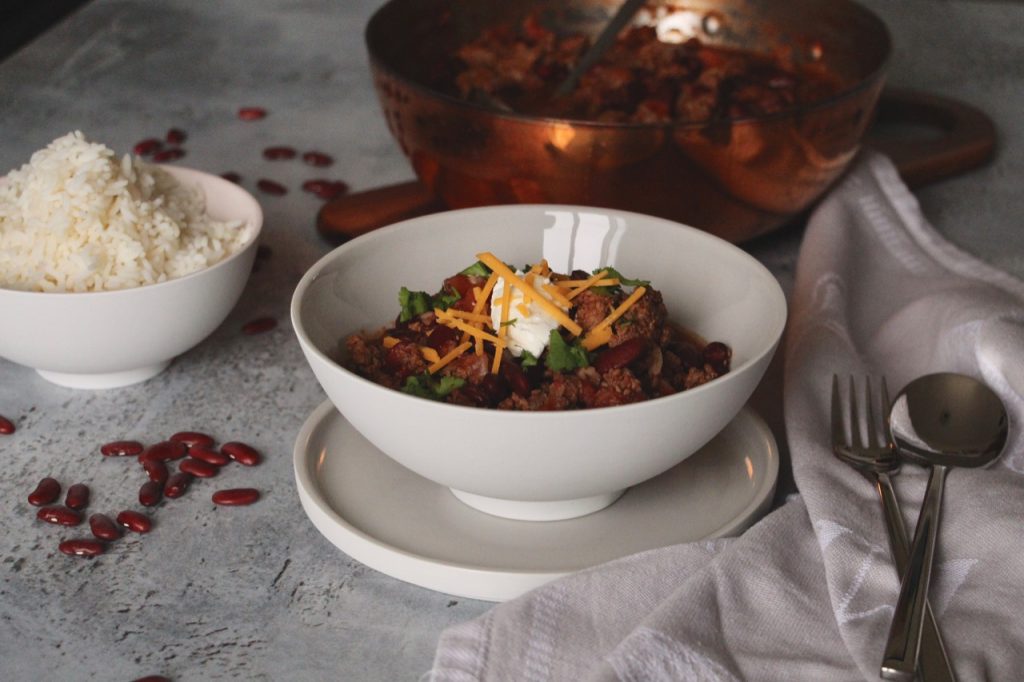 The name "chili con carne" comes from the Spanish chile con carne, litteraly peppers with meat.
Now that this is said, let's focus on the recipe.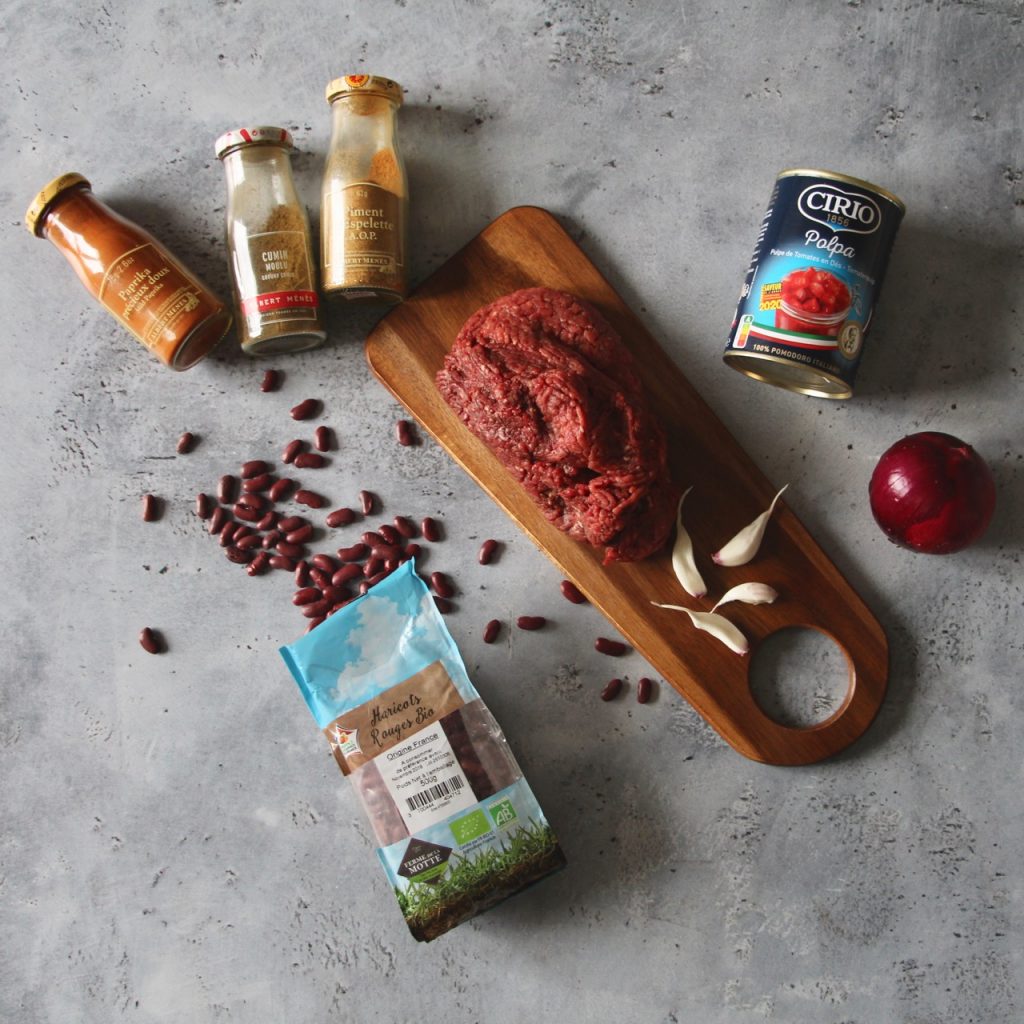 It's very easy to make. It's actually very close (in the making) to a bolognese sauce actually, with different spices and red beans for me here. I chose dry beans and soaked them in water according to the instructions on the package (2 hours… a time to take into consideration when you decide to make this recipe…).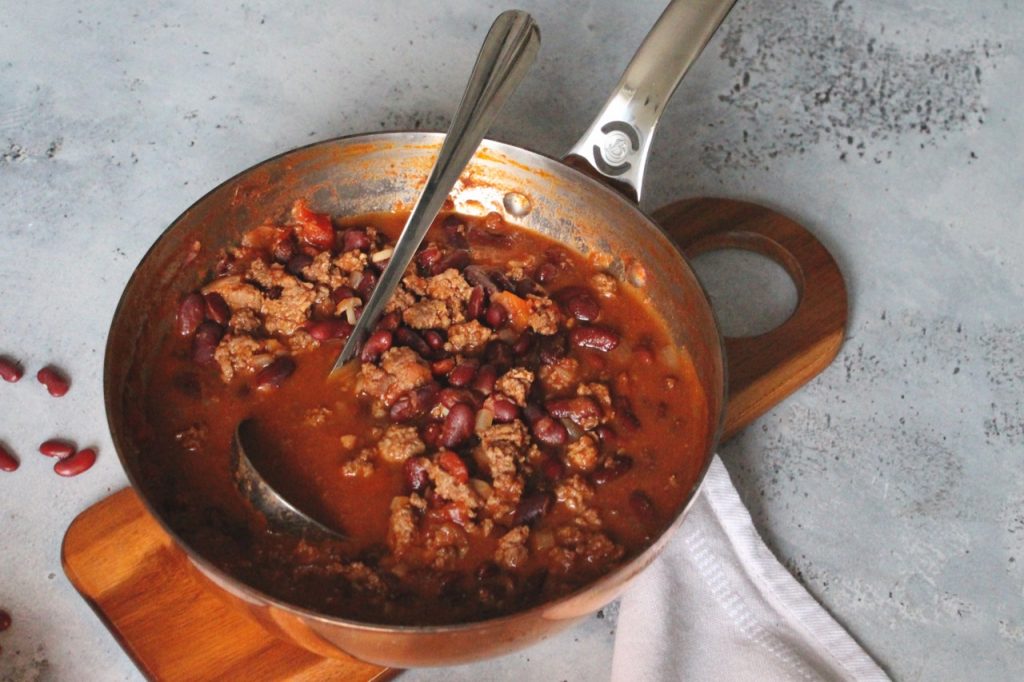 (My copper sauté pan Prima Matera De Buyer)
After a few minutes of preparation, you leave it for a slow cooking and that's it!
Usually this chili con carne is served with white rice, that's also what I did.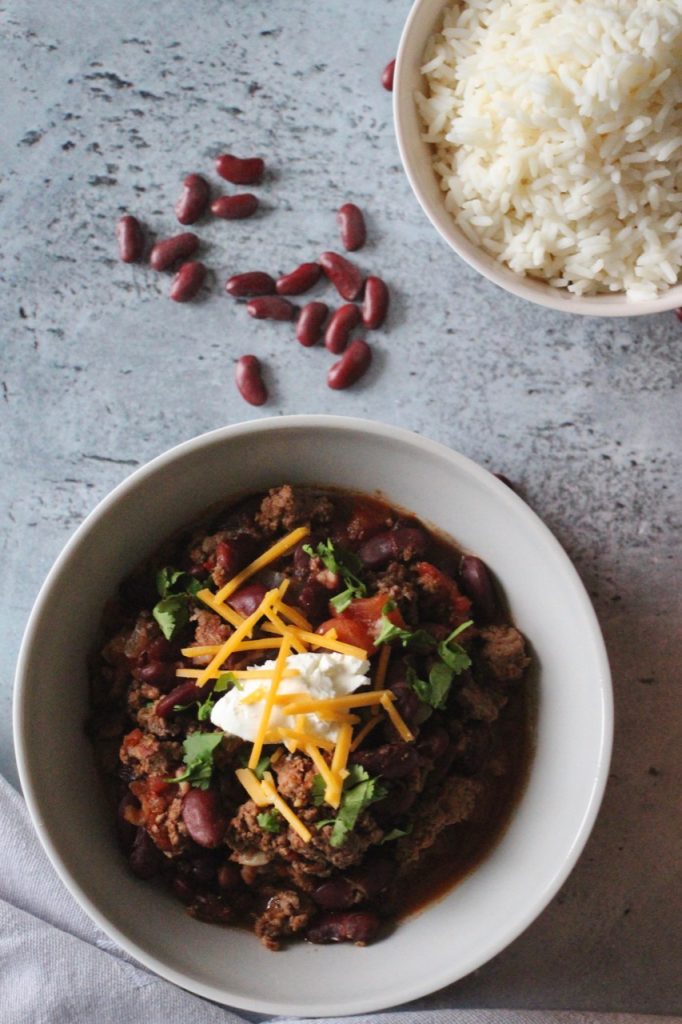 As far as chili is concerned, I didn't put fresh one (as in the original recipe), I took Espelette red pepper. Anyway, the level of spice is something personal. You like it more or less. The recipe I'm sharing today can be adjusted whether you want it more or less spicy.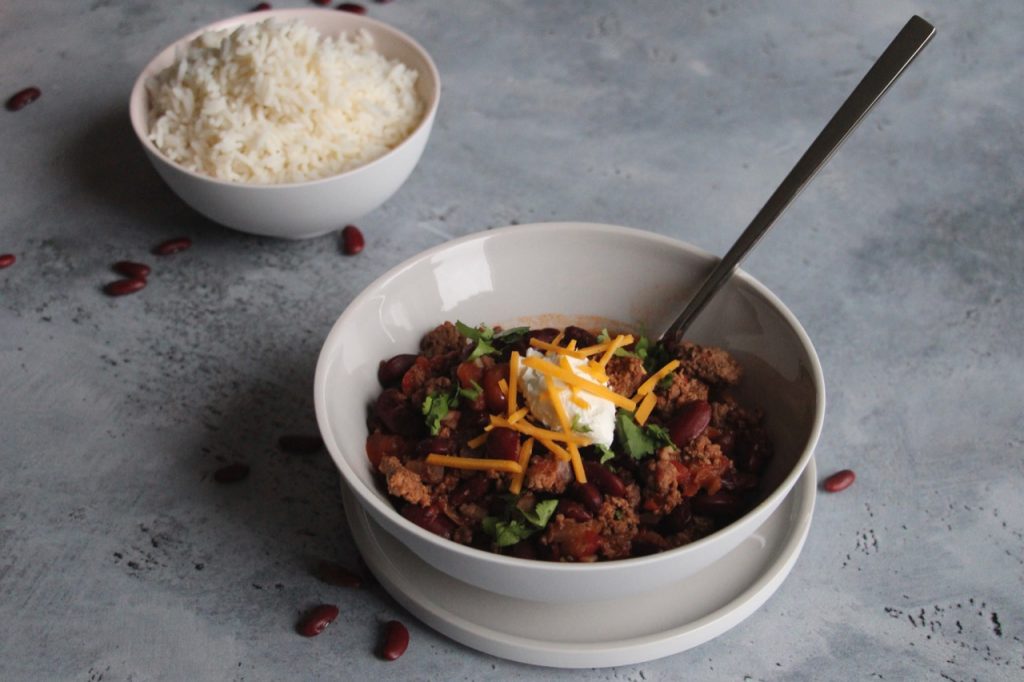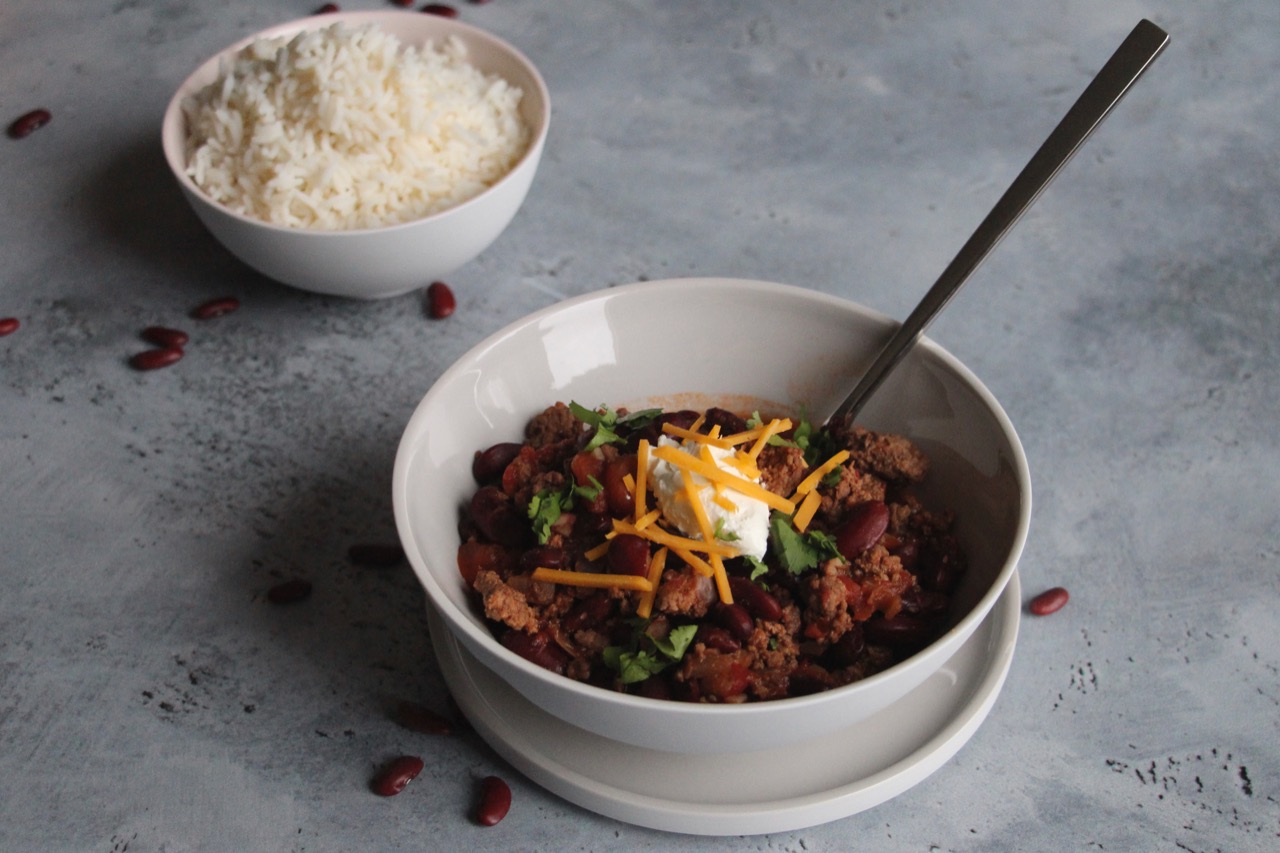 The utensils:
A sauté pan or a cast iron pan
A cutting board
And a sharp knife.
There's nothing that you don't already have in your kitchen!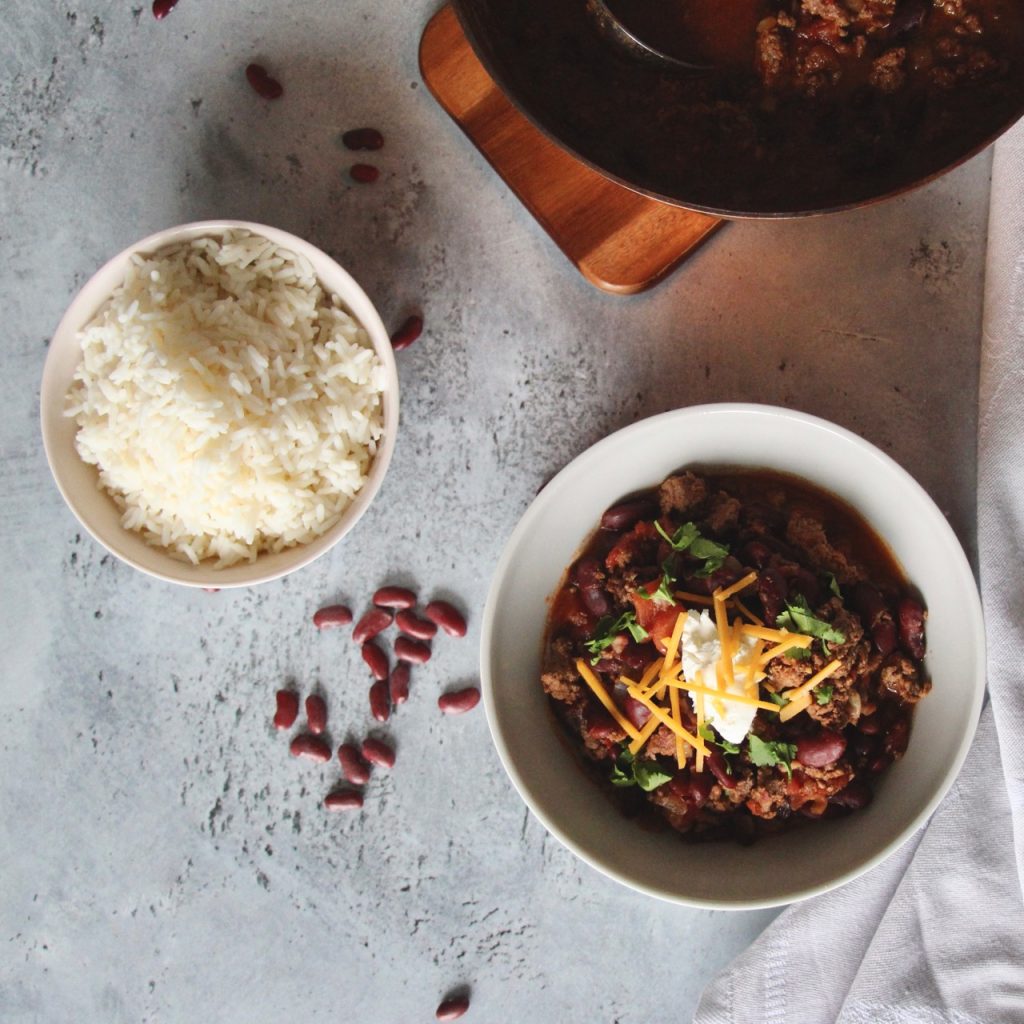 (Presentation : tableware collection L'Économe by Starck by Degrenne)
I told you everything! Shall we now?
The recipe, Chef!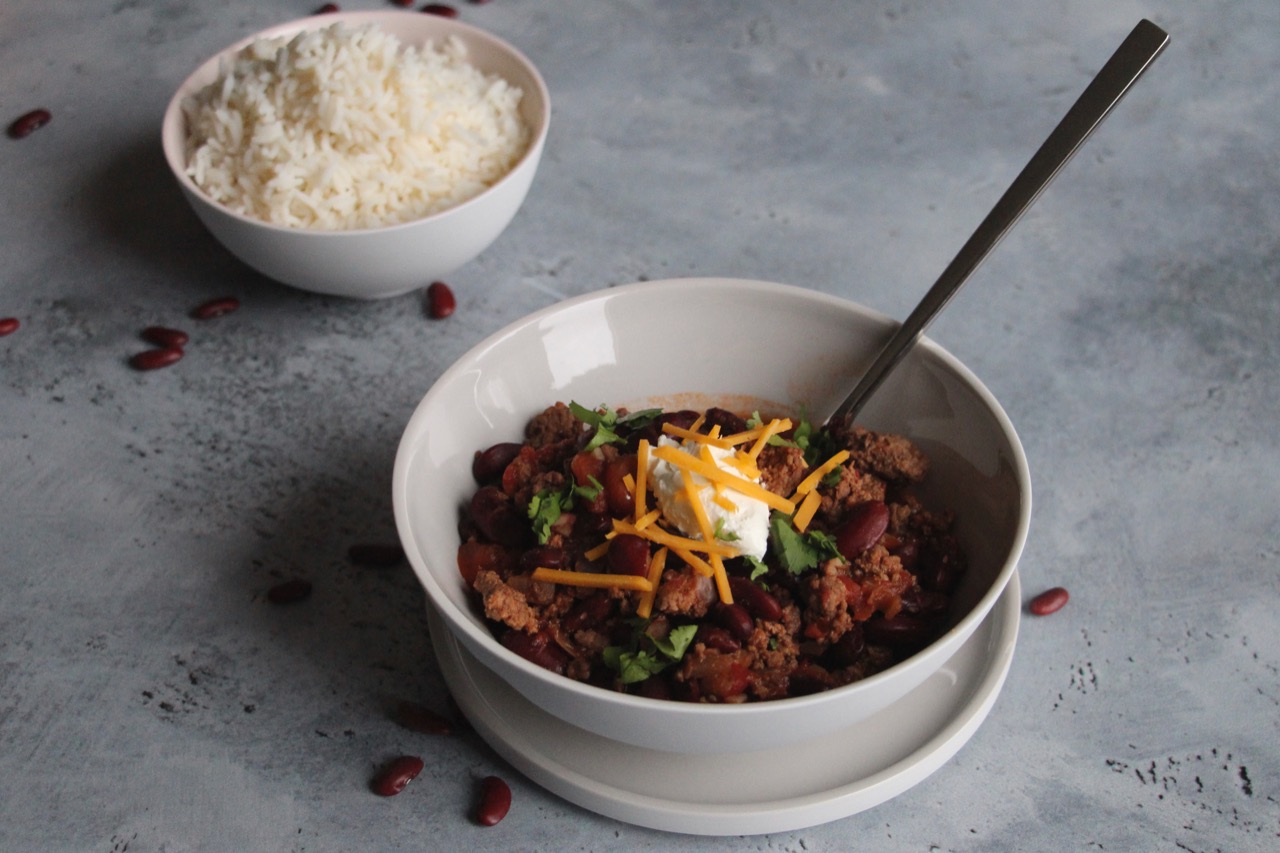 Print Recipe
Ingredients
250 g kidney beans (or 400 g cooked ones)

1 red onion

2-3 garlic cloves

500 g minced beef

1 tablespoon ground cumin

1 tablespoon paprika

1 teaspoon red chili pepper

3 tablespoons olive oil

400 g tomato pulp

(1 tablespoon tomato concentrate if you want)

1 beef stock cube

Salt

Pepper

A few coriander leaves

1 tablespoon sour cream

Grated cheddar
Instructions
1
Cook the kidney beans according to the instructions on the package. Set aside.
2
Mince the onion and cook it in a large sauce pan with 2 tablespoons of olive oil.
3
Add the minced garlic and cook for 1 minute.
4
Add the ground cumin, paprika red chili pepper.
5
Add an extra tablespoon of olive oil and add the minced beef.
6
Once your meat is cooked, add the cooked red beans, 30 cl of water and the beef stock cube.
7
Add the tomato pulp (and add the tomato concentrate).
8
Add salt (do not add pepper until the end of the cooking).
9
Cook at low heat for 1 hour and 30 minutes.
10
Adjust your seasoning and add pepper.
11
Serve with sour cream, chopped coriander and cheddar.