Valentine's day!!
Chocolate and choux is the right combo, don't you agree?? Interested?
Here are my Valentine heart choux!
Let's see the recipe, Chef!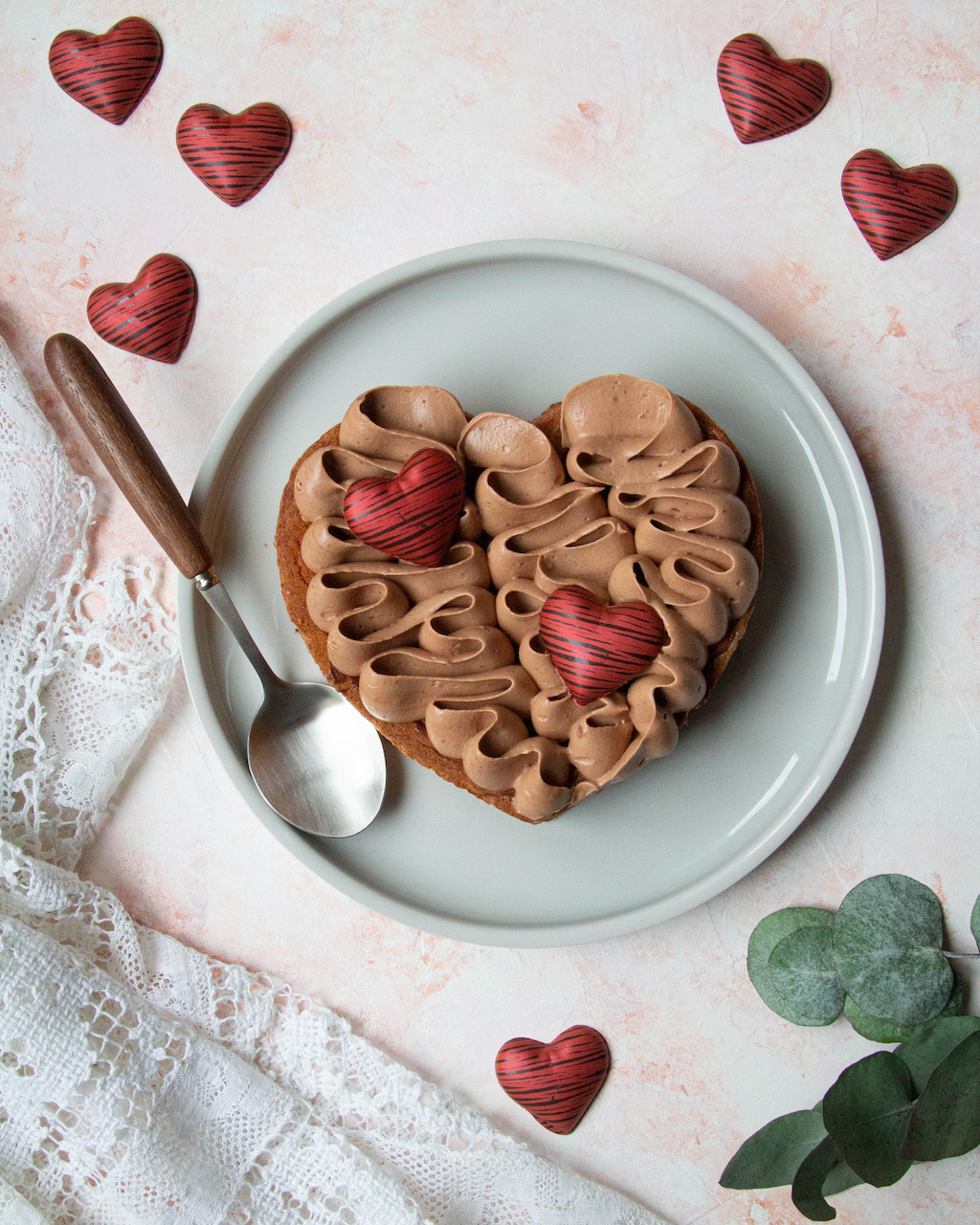 Print Recipe
Ingredients
Whipped milk chocolate ganache

95 g milk chocolate

50 g + 150 g cream

1 tsp honey

Creamy chocolate

40 g egg yolks or 2 egg yolks

20 g sugar

100 g liquid cream (30% fat minimum)

100 g milk

80 g dark chocolate

Choux pastry

70 g milk

70 g water

8 g honey

60 g butter

85 g flour

1/2 tsp salt

2 large eggs
Instructions
Whipped milk chocolate ganache
1
Pour 50 g of cream in a saucepan. Add the honey.
2
Heat until it boils. Stop heating immediately.
3
Pour on the melted chocolate. Combine.
4
Add the 150 g of cream, mix.
5
Place a clingfilm directly on the mixture so that there's no air remaining.
6
Set aside in your fridge for at least 4 hours.
7
Mix the egg yolks with the sugar, do not whiten.
8
Boil milk and cream in a sauce pan.
9
Pour on the egg yolk and sugar mixture.
10
Pour back in the sauce pan and cook at medium heat and keep whisking. (if you have a thermometer, keep the mixture at 85 degrees).
11
When you mixture gets thicker but is still liquid, remove from the heat.
12
Pour on the chocolate cut in pieces. Wait for the chocolate to get soft and mix.
13
Mix with your hand mixer and try not to put air in the mixture. Pour in your piping bag with a 6 nozzle.
14
Set aside in your fridge for 30 minutes.
15
Preheat your oven at 170 C / 340 F degrees.
16
Melt the butter into a sauce pan with the milk, water and honey then boil.
17
Lower the temperature (I put at 4 on a scale from 1 to 10) and add the flour and salt. Mix vigorously with a spatula until you get a homogeneous mixture.
18
Keep on mixing while your sauce pan is still heating slowly (we say that we dry the pastry) for 2 minutes and make sure that the pastry won't stick to the bottom of your pan.
19
Remove the pan from the heat and add one egg and whisk until you get an homogeneous mixture.
20
Add the second egg and whisk. Your mixture must be smooth and homogeneous.
21
Place your pastry rings (sides covered with parchment paper) on a baking mat.
22
Then put the pastry into your pastry bag and pipe up to 1/3 of the ring height.
23
Place another baking mat on top, place a heavy cast iron pan on top.
24
Bake for 50 minutes. Do not open the oven door during that time !
25
Let cool down on a cooling rack.
26
Place the bowl and whisk in your freezer for a few minutes.
27
When the bowl is cold, pour the cream inside and whisk for a few minutes. You should get a firm and compact ganache.
28
Set aside in your fridge.
29
Pipe the creamy chocolate inside the heart choux.
30
Pour the ganache in a piping bag and pipe on top of the choux.
31
Finish with the decoration of your choice.