If there is one iconic American recipe, it must be the delightfull cinnamon rolls!!
Mandatory to have them on Casserole&Chocolat, let's go to the States!!
Here are the American cinnamon rolls!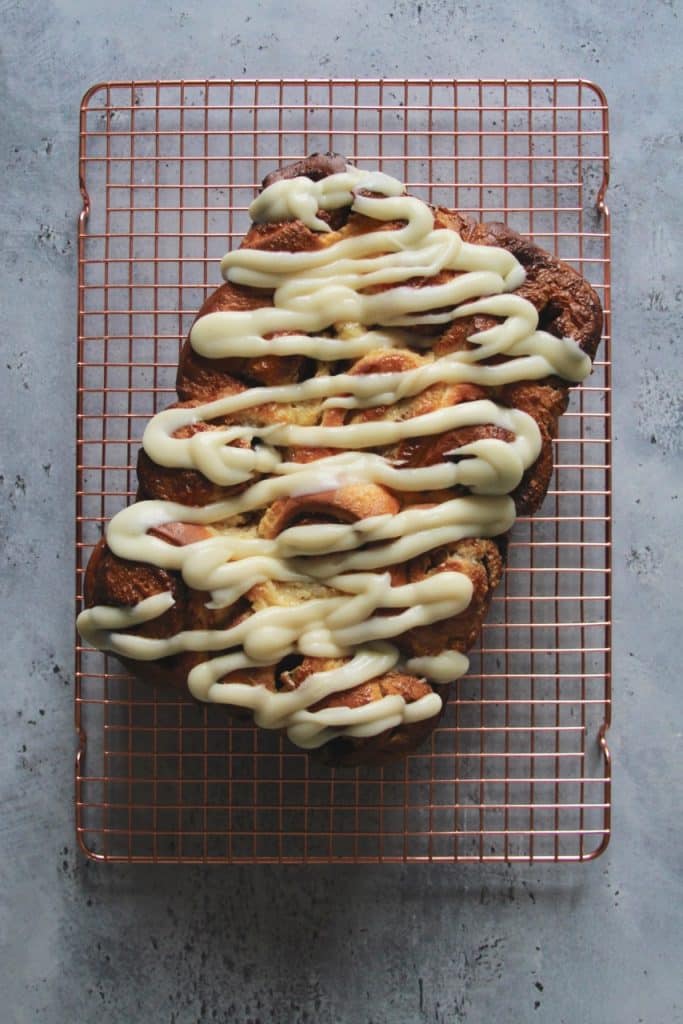 I won't lie but it feels weird to say that an American brioche recipe is outstanding… Let's be chauvinist for a sec, it's us (understand the French!!) the kings and queens of baking!!!!
Brioche is French!! True … but well… those American cinnamon rolls are to die for!!!! Yummylicious!! Moits like crazy!! Stunning frosting, really stunning…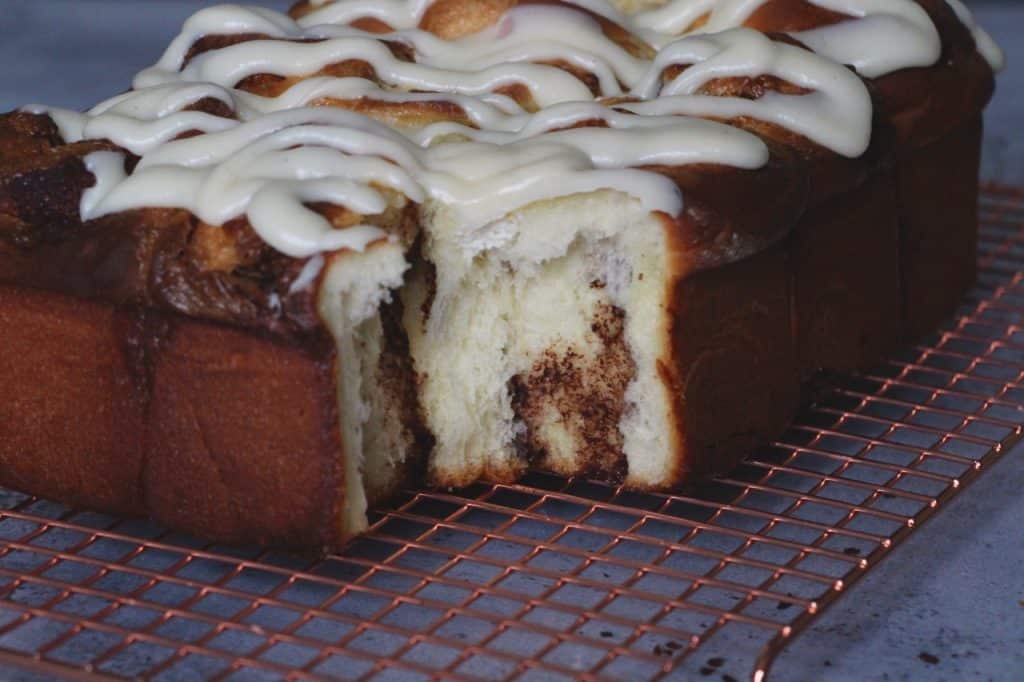 And if I tell you that the first batch was made by my girls, you get that 1/ it's easy to make, 2/ if it goes on like this I will loose my place in the kitchen!!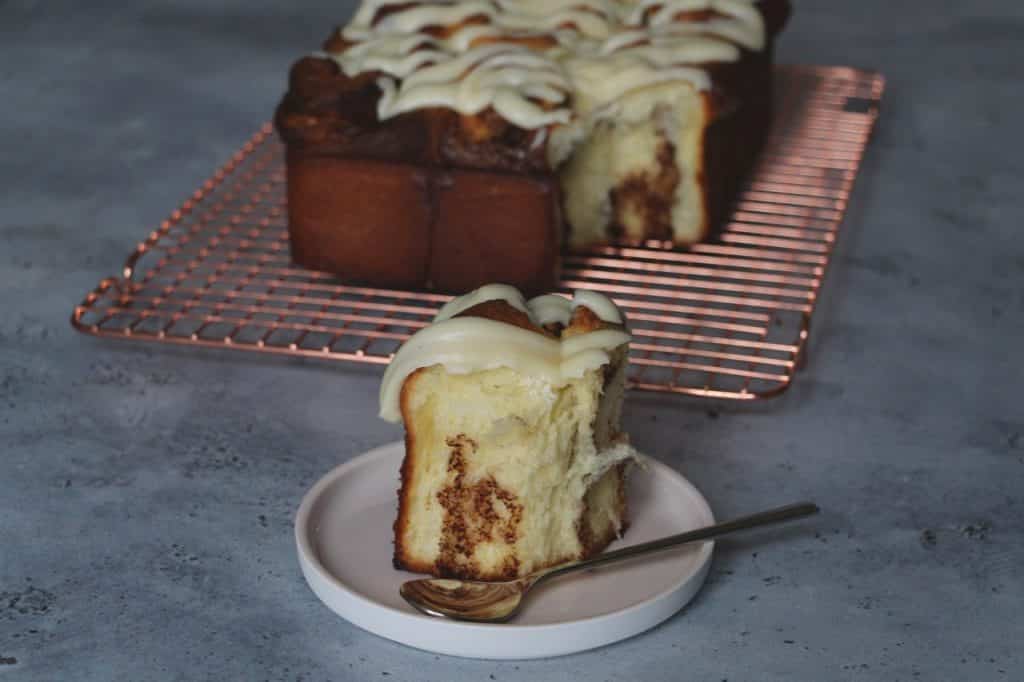 We are close to the Alsatian vanilla custard rolls recipe and we are going to be able to make quite a few different versions! The cinnamon one obviously, one with chocolate chips, one with vanille custard and raisins, etc. Okay, I have a nice baking list!!!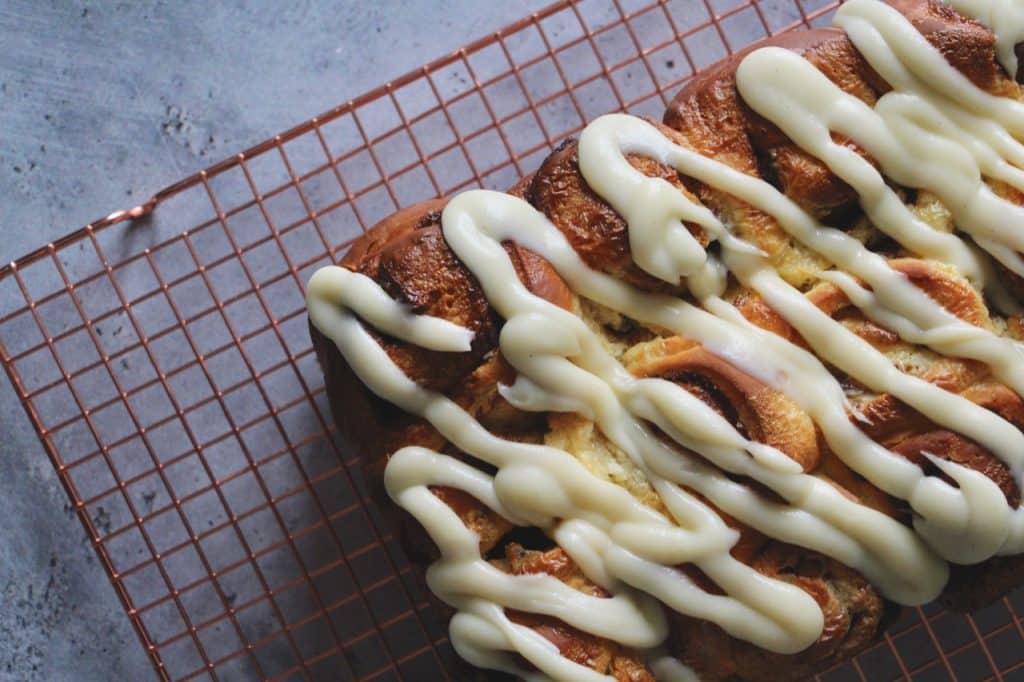 I will tell you something (you do see where I'm going!!), I changed (significantly) some of the ingredients quantities of the recipe found on the blog Tastes of Lizzy T, mainly because I usually find American recipes too sweet and/or fat. I also took mascarpone instead of Philadelphia because it's all I had in my fridge!! Both options work pretty well though. What I kept (after 2 tests) is the cream that we are going to spread on the cinnamon rolls just before cooking. It brings moist (so gooood !!) and helps preserving the rolls…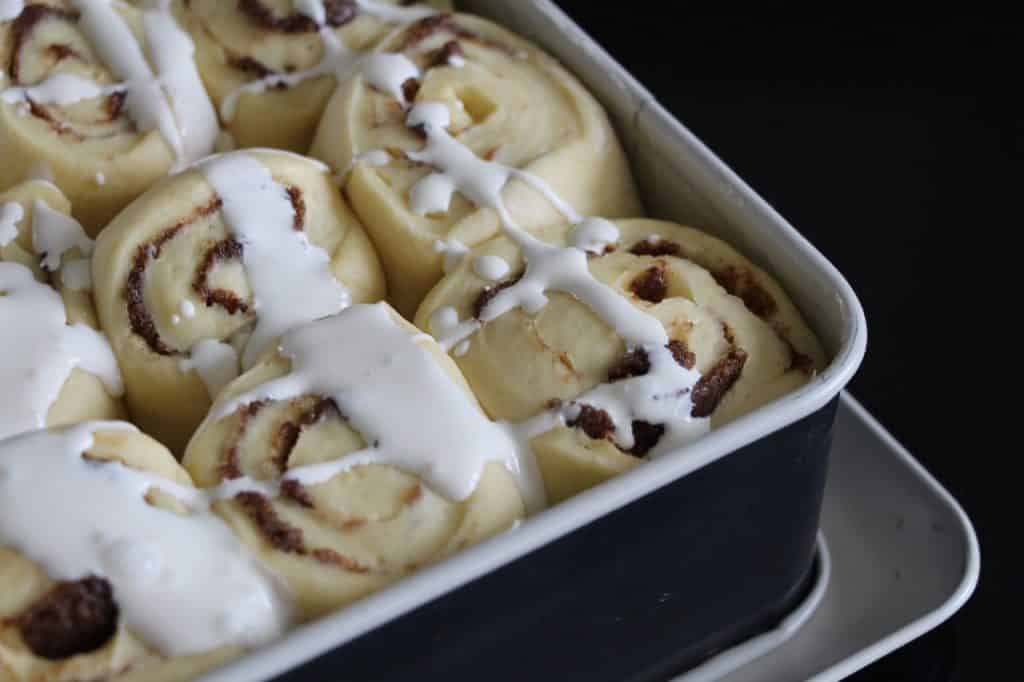 The recipe is quite simple, if you have already made a brioche. The key point here with those American cinnamon rolls is to have the right mold.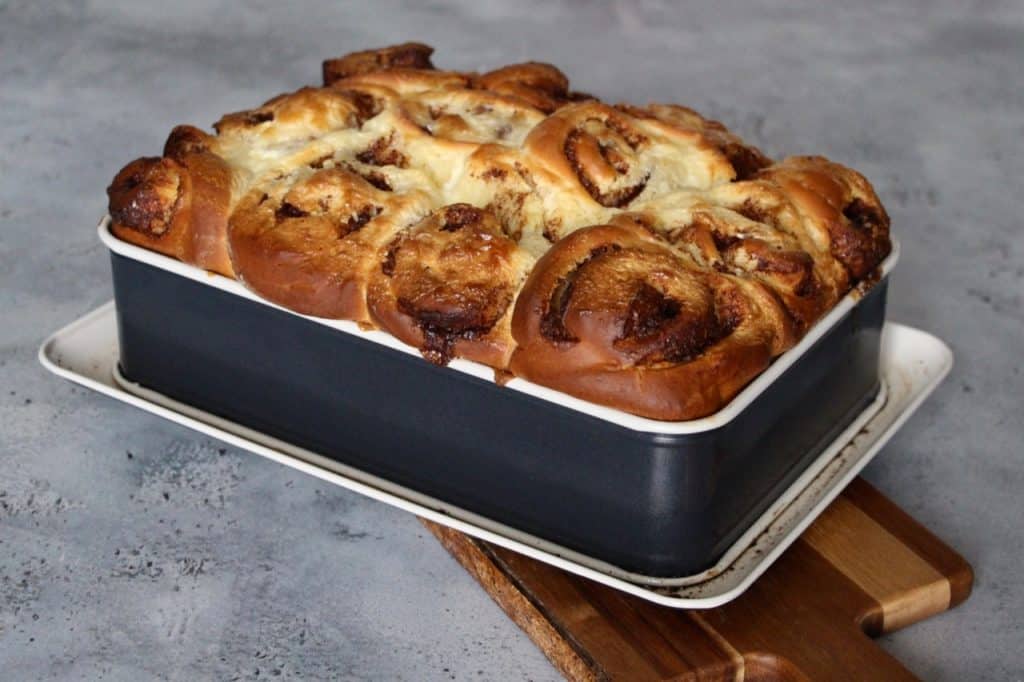 I shaped 12 rolls that I put in a  28 x 18 cm rectangular mold with 7 cm height. If you go for a round mold, you will need a 26 cm diameter one with 7 cm  height. This way, you will get tall rolls like with a good brioche. If you want them more flat, shape 18 or 24 rolls and take two molds. In such case, cooking will be shorter…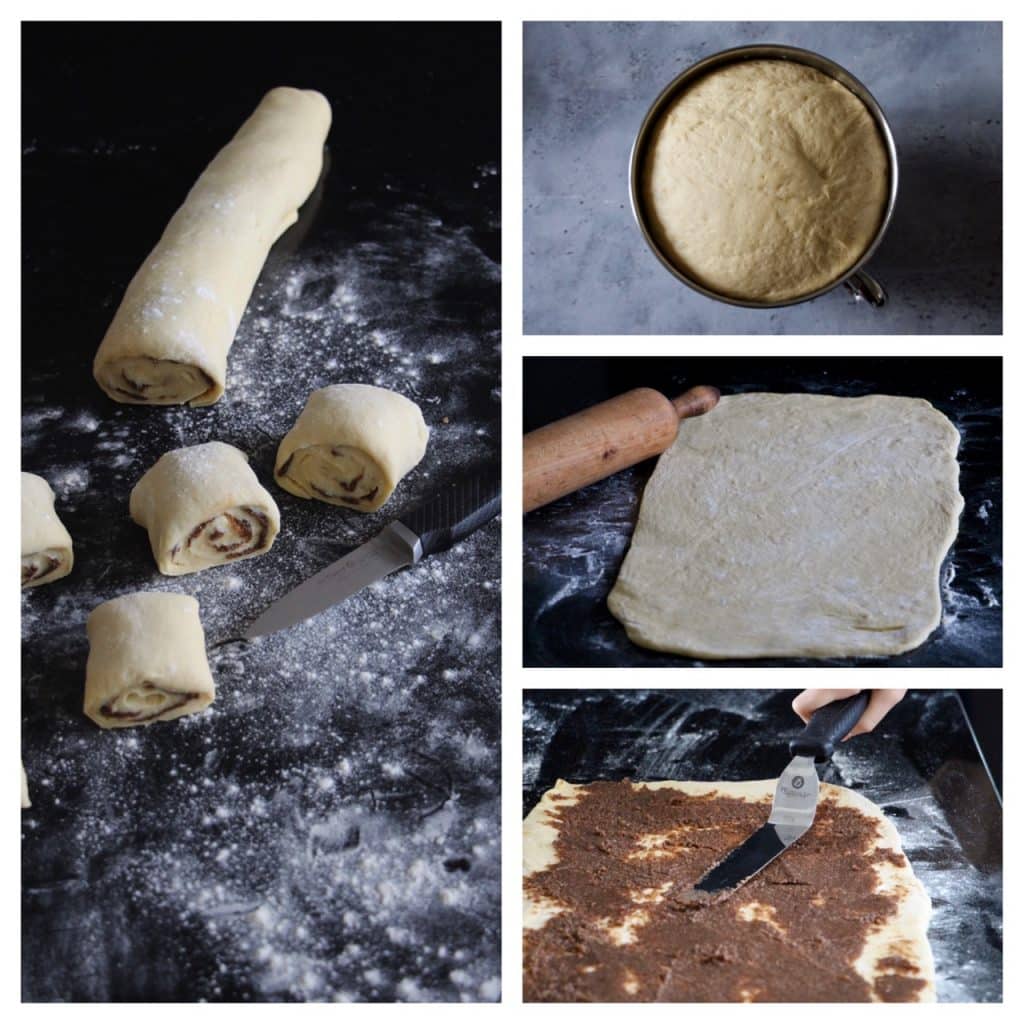 (Sharp knife and cranked Spatula by De Buyer)
The rest of the utensils:
A food processor with hook,
A rolling pin,
A spatula (cranked if you have one),
A bowl and a whisk.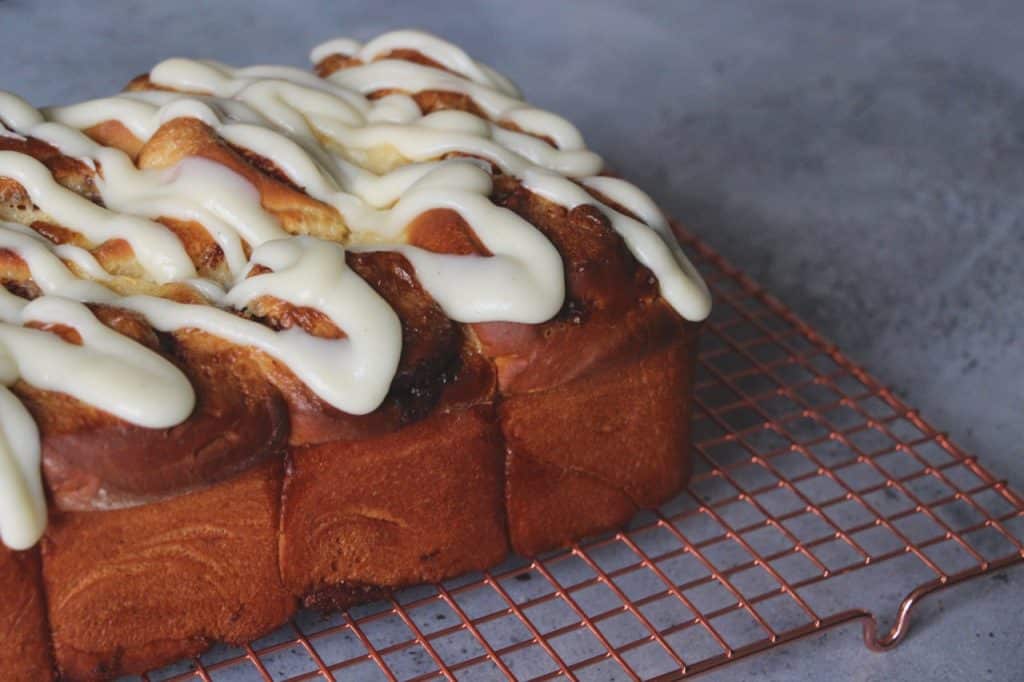 There you go, you can start now…
The recipe, Chef!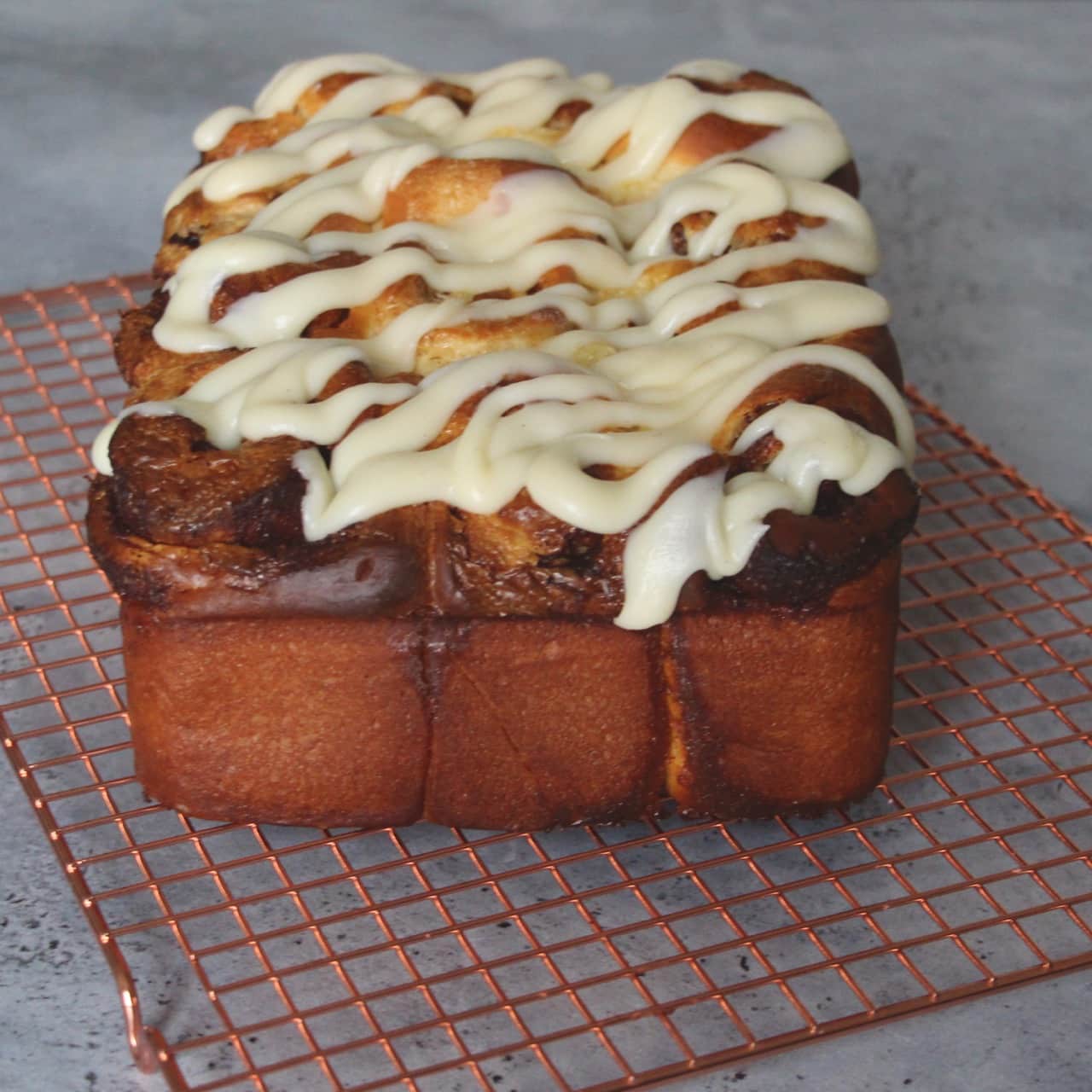 Print Recipe
Ingredients
240 g warm milk (for the dough)

10 g instant dry yeast (for the dough)

2 large eggs (for the dough)

80 g butter melted (for the dough)

560 g all-purpose flour (for the dough)

1 teaspoon salt - 4 g (for the dough)

65 g sugar (for the dough)

100 g very soft butter (for the filling)

120 g brown sugar (for the filling)

2 tablespoons cinnamon (for the filling)

70 g liquid cream

110 g cream cheese (for the frosting)

60 g very soft butter (for the frosting)

70 g sugar (for the frosting)

1/ pinch vanilla powder (for the frosting)
Instructions
2
Pour the warm milk in your food processor bowl, add the yeast. Whisk.
3
Add the eggs, the melted butter, sugar and salt. Whisk.
4
Add the flour and knead with the hook. Start at low speed (2 on a scale from 1 to 6) then increase to 4.
5
Once you have an homogeneous dough, knead some more 3-4 minutes. You'll have a sticky dough, don't add flour at this point.
6
Cover with a clean and humid linen and let rise 1 hour.
7
Make the cinnamon filling.
8
Pour the 100 g soft butter in a bowl, add the brown sugar and cinnamon. Mix. Set aside.
9
Now that your dough has risen, spread it on a floured working plan (spread flour on the dough too) until you get a 60 cm x 40 cm rectangle.
10
Spread the filling on the dough and roll it.
11
Cut 12 slices and place them in your buttered mold.
12
Let rise again for 20 minutes.
13
Preheat your oven at 190 degrees.
14
Pour the cream on your rolls and bake for 25 minutes. Check with a knife and bake some more if necessary.
15
During baking, make the frosting.
16
Whisk the butter and mascarpone. Add the sugar and vanilla.
17
Once your rolls baked and cooled down, pour the frosting (with a piping bag and nozzle as I did here or with a spatula).
Notes
Those cinnamon rolls can be stored a few days in an airtight container.