Hello my lovelies!
I'm super happy today because I'm celebrating my birthday!! Yay!!
So who says birthday, says birthday cake! I had to make one, even for myself. So here is my mango and vanilla entremet. Smooth, sweet, delicious… It will be perfect for any kind of celebration too: Christmas, New Year's Eve, Easter… You name it.
To help you out, here is a collage with the step by step pictures.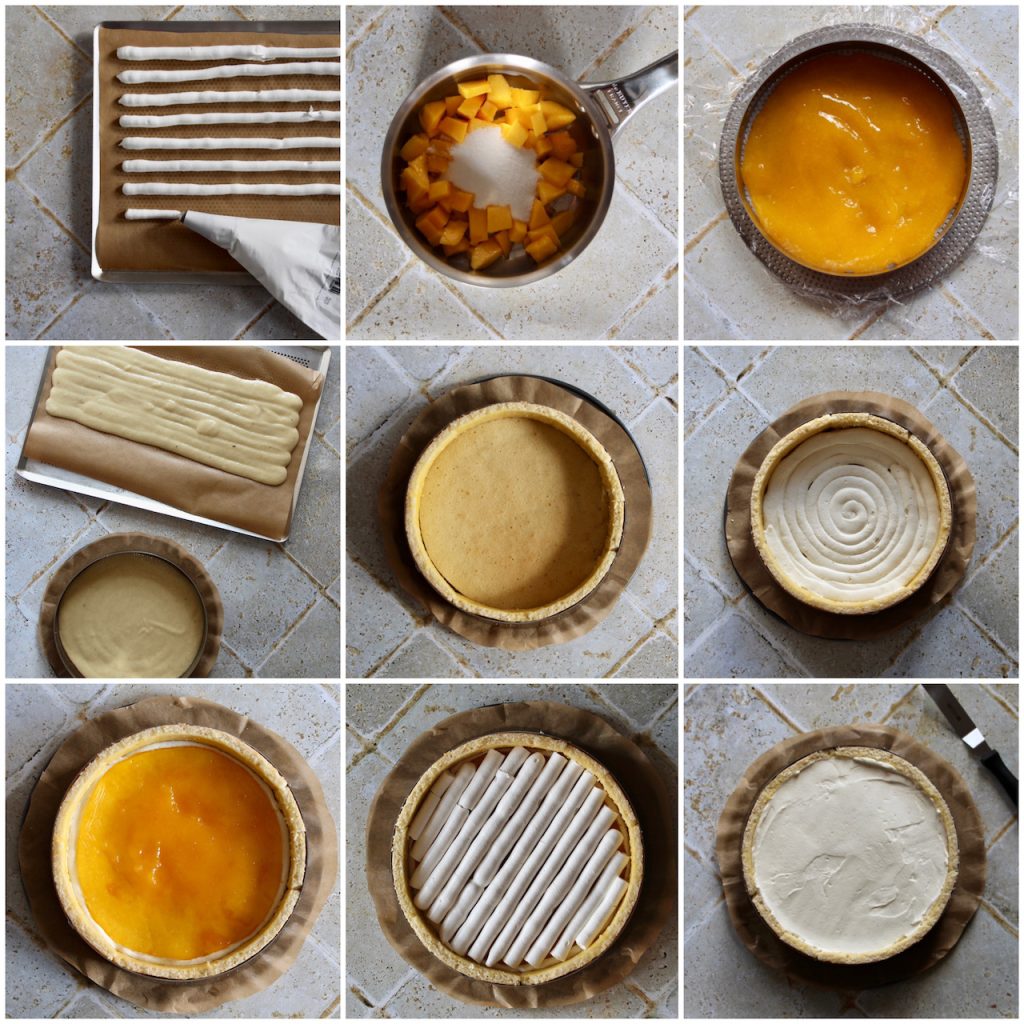 Let's see the recipe, Chef!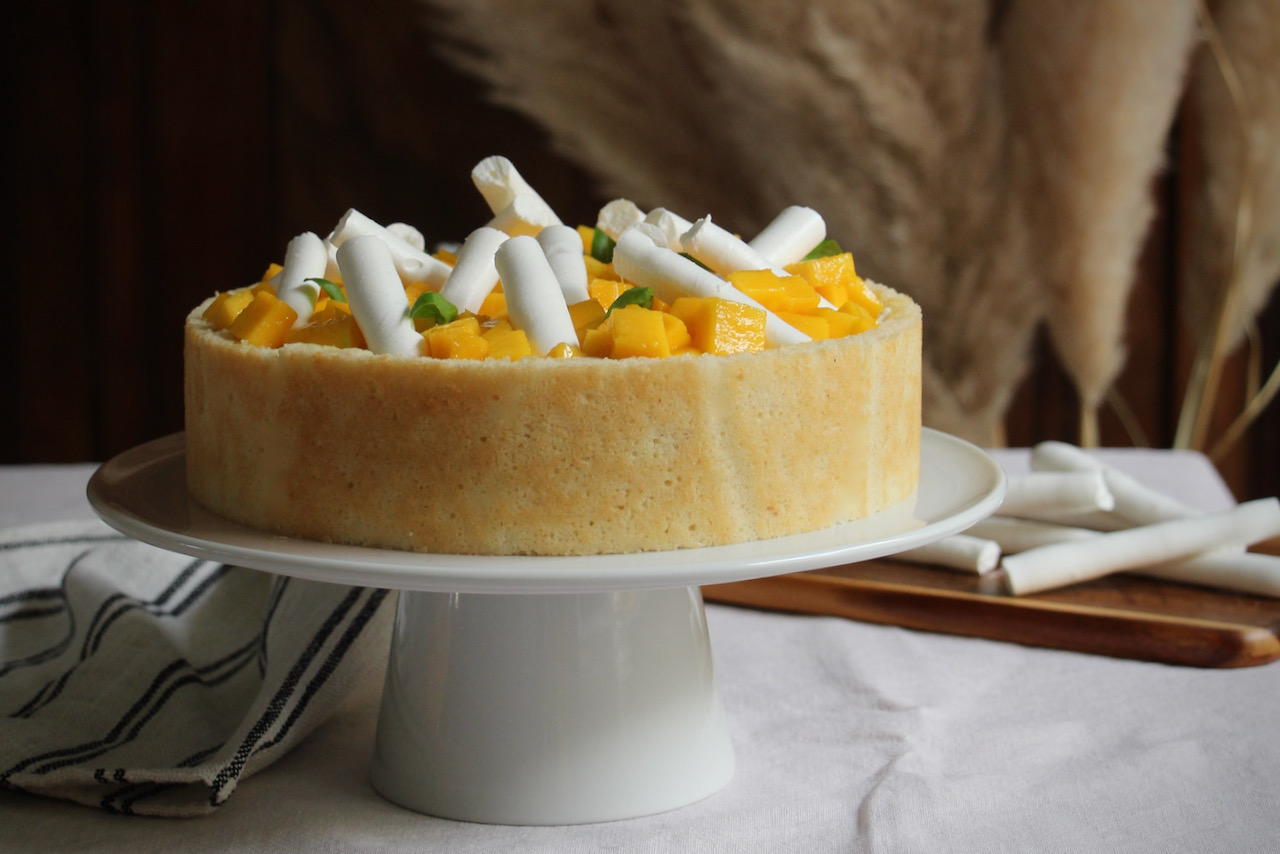 Print Recipe
Mango and Vanilla Entremet
Ingredients
French meringue

80 g egg whites

160 g caster sugar

Vanilla ganache

200 g liquid cream (30% fat)

1 vanilla pod

90 g white chocolate

1 tsp honey

Financier cake

150 g egg whites

170 g caster sugar

100 g ground almond

100 g salted butter

60 g flour

Mango insert

220 g mango

50 g caster sugar

3 g pectine

1 tbsp lemon juice

Decoration

200 g mango cut in cubes

A few basil leaves
Instructions
1
Cut the mango in cubes and put in a sauce pan. Start heat at medium heat.
2
Combine sugar and pectine, pour on the mango. Cook for 5 minutes.
3
add the lemon juice, cook 1 minute.
4
Place a cling film on a tray. Place a 20 cm diameter pastry ring and pour the mango mixture.
5
Set aside in your freezer.
6
Cut the vanilla pod in two pieces in its length. Scrape the seeds.
7
Pour 50 g of cream in a saucepan. Add the honey, vanilla seeds and vanilla pod.
8
Heat until it boils. Stop heating immediately.
9
Remove the pod from the cream (try to extract as many seeds as possible).
10
Melt slowly the white chocolate and add it to the cream.
11
Add the 150 g of cream, combine.
12
Place a clingfilm directly on the mixture so that there's no air remaining.
13
Set aside in your fridge for at least 4 hours.
14
Preheat your oven at 90 C / 195 F degrees.
15
Pour your egg whites in your bowl.
16
Whisk the egg whites until foamy, add little by little the sugar (in 3 or 4 times) and whisk for 5 minutes until you get a compact meringue.
17
Use a piping bag and a round nozzle to make your meringues strings on a baking paper.
20
Preheat your oven at 170 C / 340 F degrees.
21
Pour the powders (sugar, almond, flour) in your food processor.
22
Start whisking and add, little by little, the egg whites.
23
When you get an homogeneous mixture, add the melted butter. Whisk.
24
Pour the batter in your piping bag with round nozzle. Pipe a 20 cm diameter disc and a 32x20 cm rectangle on a parchment paper.
25
Bake 18 minutes (your financier should be golden).
26
When you remove the financiers from the oven, roll right away the rectangle with the parchment paper to get a round shape.
27
Remove the insert from your freezer. Cut a 18 cm diameter disc. Put the disc back in your freezer.
28
Gently heat the remaining insert with 5 cl water to get a syrup.
29
Cut two strips in the rectangle financier 4,5 cm x 31,5 cm.
30
Place a 20 cm pastry ring on your serving plate and place the two strips on the boarder.
31
Cut a 18,5 cm diameter disc in the round financier. Place it in the pastry ring.
32
Brush the mango syrup on all sides. Set aside.
33
Whisk the ganache for a few minutes until firm and compact.
34
Pour the whipped. ganache in a piping bag with round nozzle and pipe a layer of ganache in the ring.
35
Place the mango insert in the center and press until the ganache is around the insert.
36
Cover with meringue strings. Pipe the remaining ganache. Flatten the surface.
37
Place the mango cut in cubes and the basil leaves.
38
Set aside in your fridge for at least 2 hours.
39
When serving, add more pieces of meringue.