Hi everyone !
Today, let's switch to holiday mode, sun, summer, farniente ! The recipe of the day will be for sure yellow and orange pepper gaspacho !
This yellow and orange pepper gaspacho recipe can be served as a starter or in small cups for a lovely buffet. It's fresh, light, seasonal and it's different from the usual snacks that we take with our glass of wine.
Besides, it will be a lovely touch of color on your table. So food pleasure, lowfat, what could be better ?
To cook this gaspacho, you can either use your Thermomix (the recipe can be easily adjusted) or a frying pan and follow the instructions below.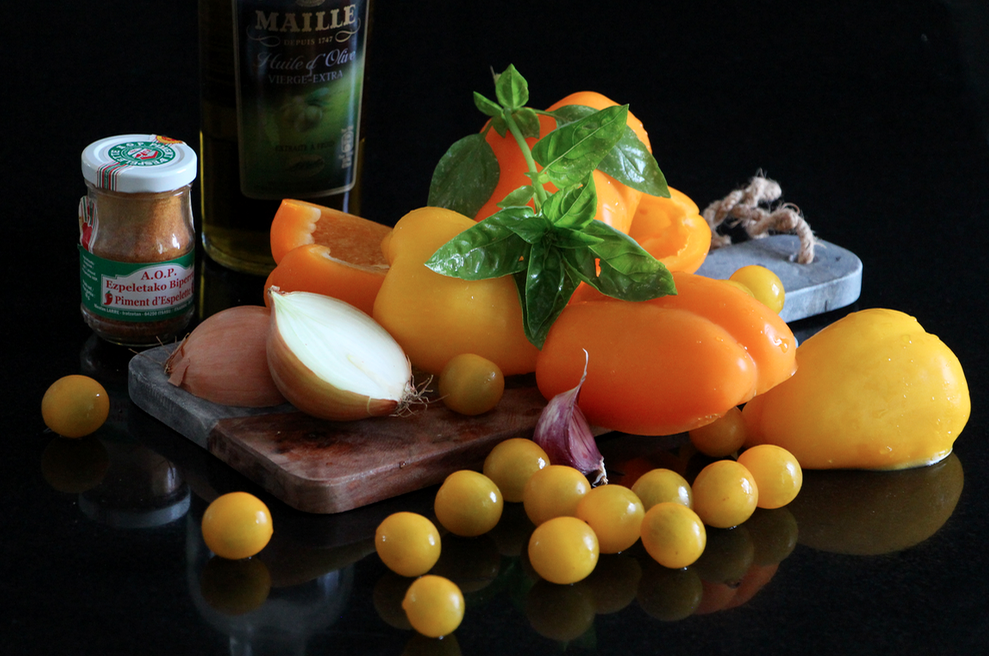 The chef's advice : I use "Coeurs de Bouillon Maggi" Vegetables to make my vegetable broth. Honestly, the taste is great and you just need 3 seconds to prepare it !
No need to wait more, let's start !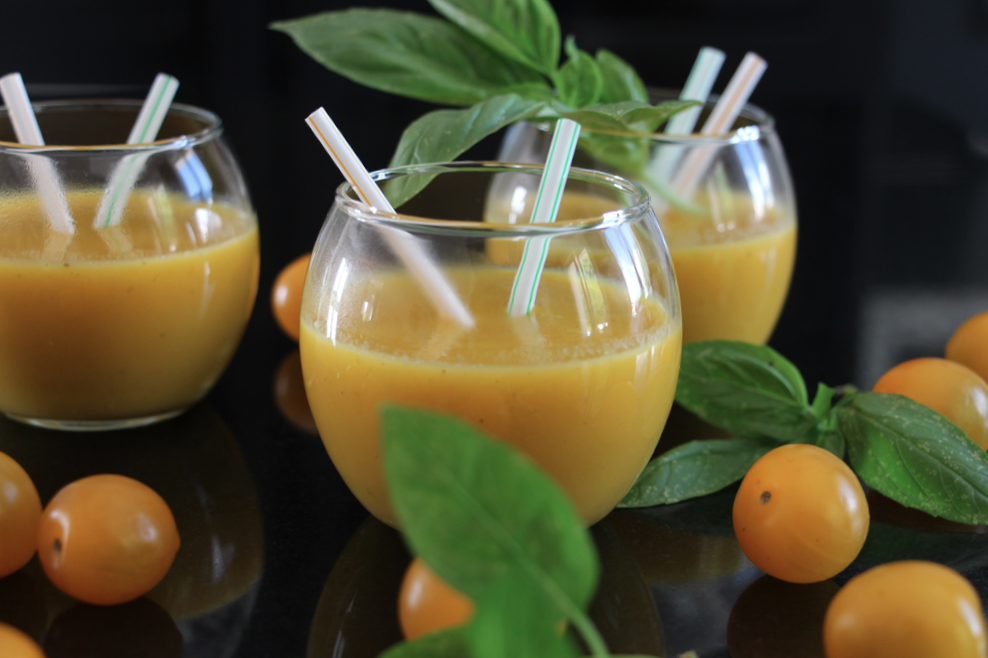 Print Recipe
Ingredients
3 yellow and/or orange pepper
15 cheery tomatoes (yellow or red)
fresh basil
1 garlic clove
1 onion
1 liter vegetable broth
Olive oil
Hot pepper
Salt
Pepper
Instructions
1
Cook gently your chopped onion in a frying pan with olive oil until it gets
2
Wash the yellow/orange pepper, cut them in 2 cm pieces and add them to the onion. Add also the tomatoes, the chopped garlic, the hot pepper and basil leaves.
3
Add salt and cook (medium heat) for 10 minutes.
4
Add the vegetable broth, heat up until it boils, cover and let is cook gently for 20 minutes. Cook again 2 minutes without the cover.
5
At the end, stop the heating. Mix the vegetables and broth with your blender.
7
Add salt and pepper if necessary and put in your fridge for 2 hours at least.
8
When serving, add a basil leaf for decoration.
Notes
You can add smoked pork belly with the veggies and broth during the 20 minutes cooking. When time to serve, cut some Chorizo cubes, fry them and add to your gaspacho.
Enregistrer
Enregistrer
Enregistrer