Hello my friends!
Lately I've been deep in a chocolate and pears phase. I just love those tastes combination! I already gave you a Chocolate and Pear Poundcake recipe a while ago. Today, it will be a chocolat and pear cake, ready to be baked in only 10 minutes that will make everyone very happy around the table!
To tell you the truth, my 10 year old son asks for this very chocolate and pear cake at each birthday! Isn't it the best proof? This chocolate and pear cake is a delight! Slightly crunchy on the sides and deliciously melting at heart…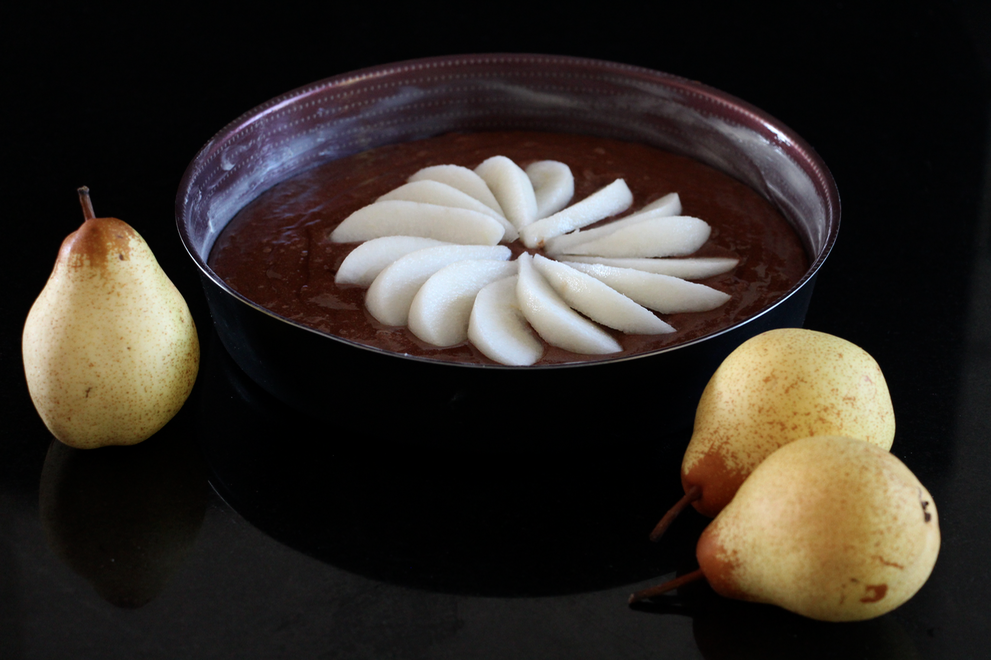 Besides, it's a seasonal cake (you know I like to bake and cook seasonal products 😉 ), our grocery stores are full of pears lately, maybe some of us have pears in their own gardens. So it's time to enjoy those babies!
This cake is the perfect treat for teatime with friends or family. And it's a great afternoon snack for the children, whatever the occasion, it's so much better than opening the industrial cakes cupboard.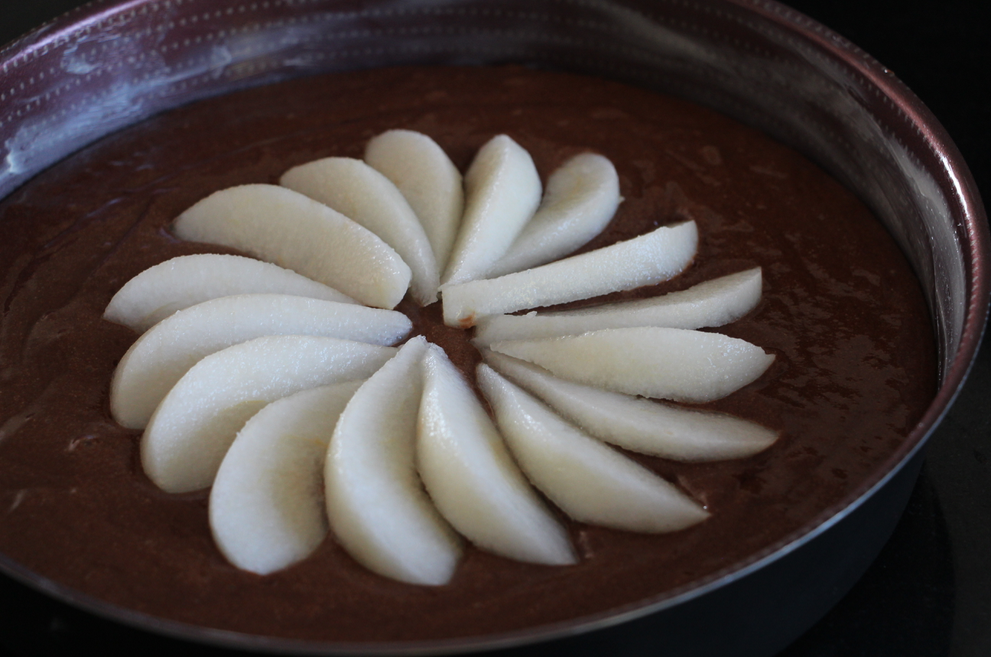 I won't tell you that it is a light cake, but give a slice to your kids and they will be satiated.
You never really know what is inside industrial cakes, your kids need to eat a dozen before saying they aren't hungry anymore. And don't get me started on their price and all the packaging that goes with it…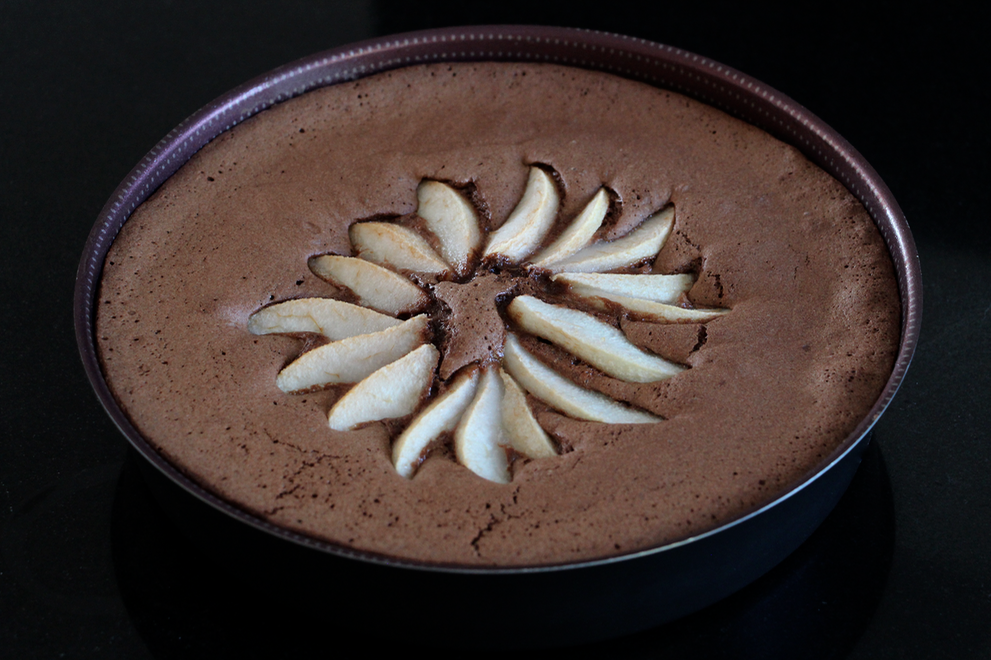 To put it in a nutshell, If you have the 10 minutes mandatory to prepare this chocolate and pear cake, don't hesitate any longer…
Just do it! The recipe, Chef!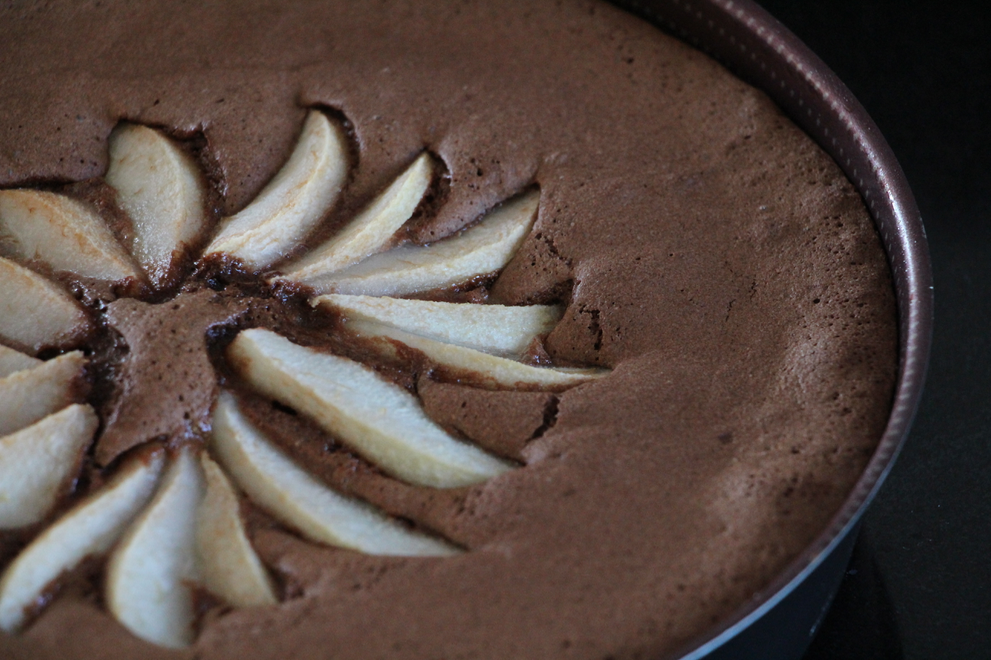 Print Recipe
Ingredients
200 g dark chocolate
125 g butter
125 g sugar
50 g flour
10 g baking powder
4 eggs
2 pears
Instructions
1
Preheat your oven at 180 degrees.
2
Melt gently the chocolate and butter together in a pan.
3
Separate the whites from the yolks.
4
Mix the egg yolks with the sugar until you get a light yellow mousse.
5
Add the chocolate and butter and mix.
6
Add the flour and baking powder. Mix until you get a homogeneous mixture.
7
Beat the egg whites firmly.
8
Add them gently to the mixture with a spatula.
9
Peel the pears and cut them in pieces.
10
Pour the batter in a 26 cm diameter mold (already buttered and slightly covered with flour).
13
At the end of the baking, let cool down in the mold for 5 minutes before putting the cake on a grid.
Notes
If you don't have fresh pears, you can also use canned ones.
Enregistrer
Enregistrer