Hey my lovelies!
It's winter and we're having snow almost everywhere in France, which happens well … never! We are stuck at home and we need comforting! We want good food, something to share with friends or family. Well I have what you need, once again!! 🙂 Waffles!!! Amazing waffles by Cyril Lignac ! Yum!!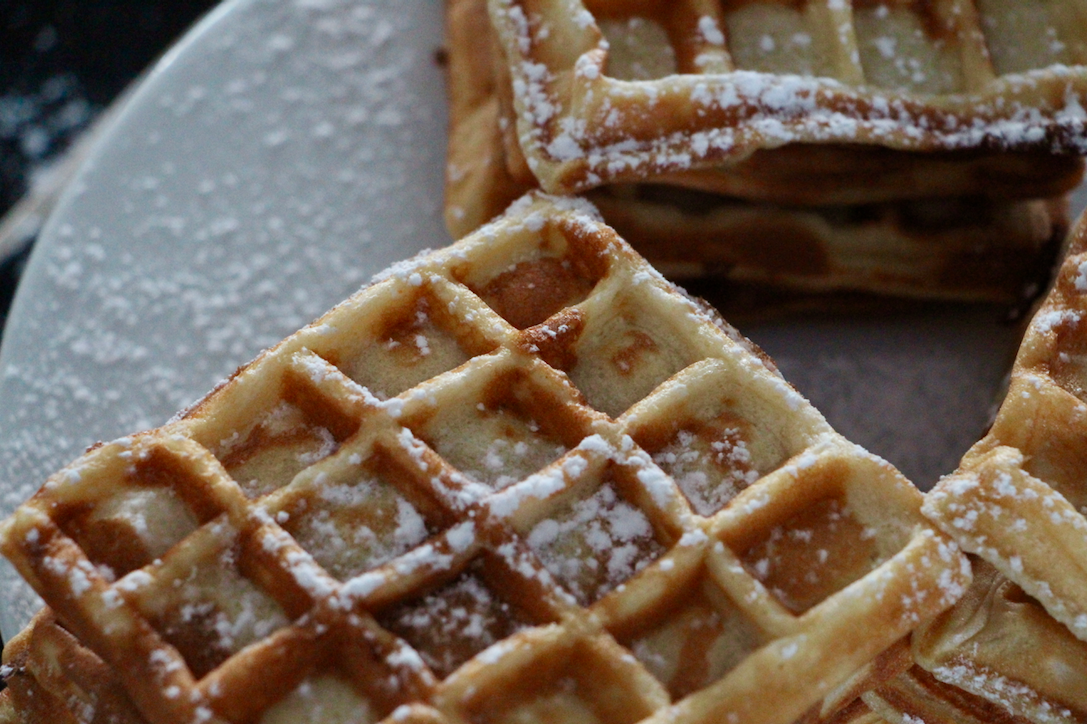 I already shared with you the recipe from Christophe Felder, which is to die for!! They have an amazing texture, a good density since we bake them with yeast. In this recipe, we use baking powder. Two immediate consequences: lighter waffles and no growing time for the dough.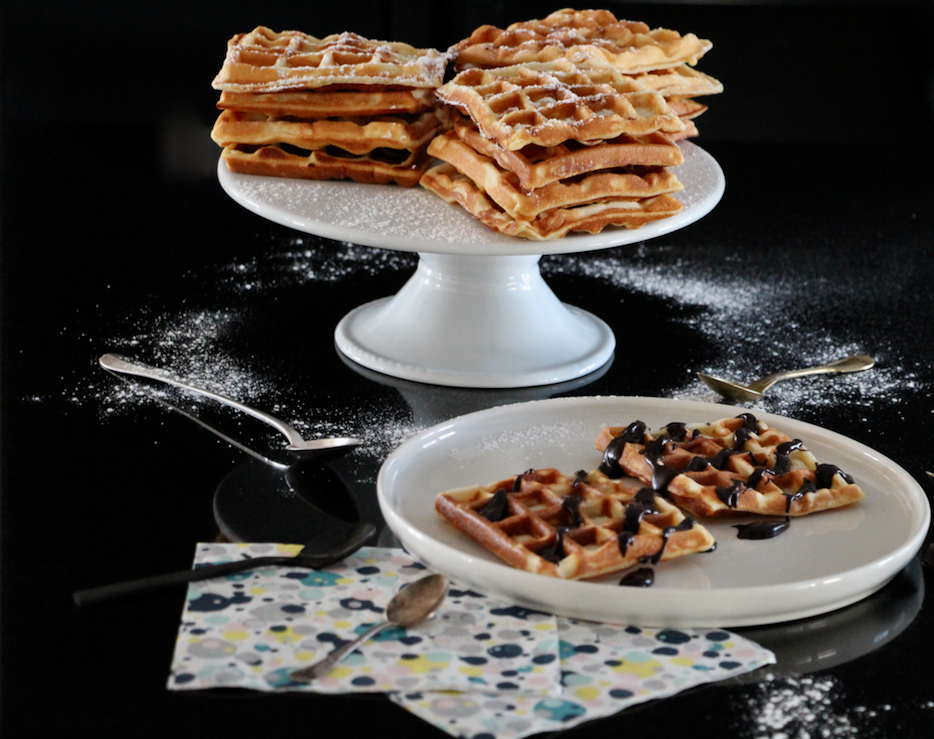 The two options are pretty good, after it's always the same story: a matter of taste!! Or you bake both… So now, shall we bake waffles?!!
Waffles can take a little while to be baked, around 3 to 5 minutes depending on you waffle machine… So if you're the one behind the scene with little hands steeling all the result of your hard work, you might end up with no waffle at all!! Having waffles is like a tummy battle!! 😉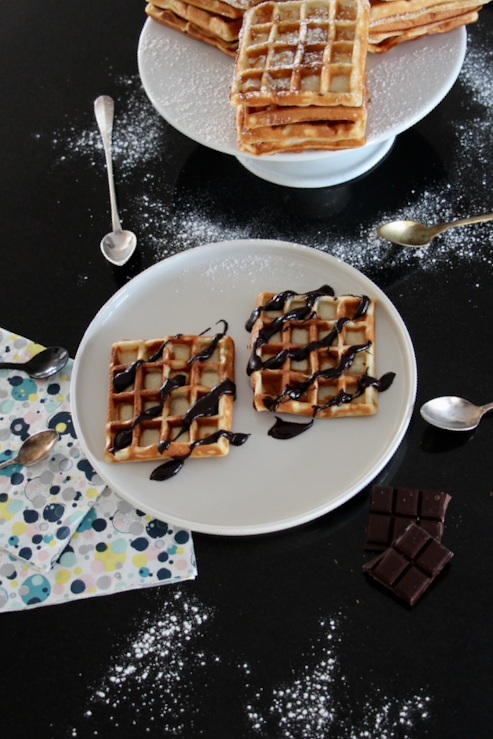 As far as toppings are concerned, I have two favorites: iced sugar and melted chocolate. But you can put hazelnut paste, jam, mapple syrup or make a whole dessert with one or two waffles. Today's idea: banana cut in slices, melted chocolate, homemade chantilly and slightly grilled flaked almonds… See what I mean??
Now that your mind is wandering between melted chocolate and chantilly cream, the recipe Chef!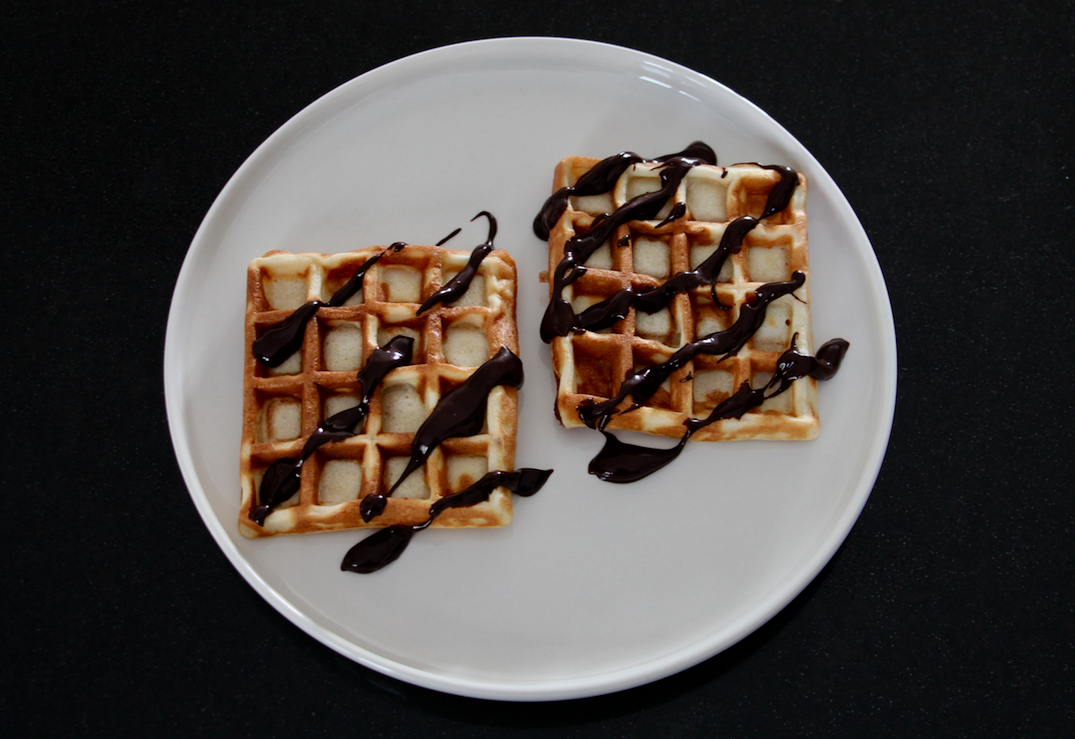 Print Recipe
Ingredients
500 g flour
22 g baking powder
80 g sugar
4 eggs medium size
1 l milk
150 g melted butter
2 pinches of salt
Instructions
1
Mix the powders (flour, sugar, baking powder) in a large bowl or in your food processor.
2
Whisk the eggs and add them to the powders. Mix until you get an homogeneous mixture.
3
Add little by little the milk while whipping.
4
Add the melted butter and whip again.
5
At this point, pour the batter through a strainer to avoid any lumps.
6
You can set aside the batter in your fridge or start baking your waffles.
Notes
I reduced the initial butter quantity (200 g) which was too much for me. This batter will be rather liquid compared to the one from Felder's recipe.