End of the day. I open my fridge hoping to find inspiration… Does this ring a bell?…
I have a Mediterranean veggies stew left over, I can see also a bottle of milk. Found it! Let's make Mediterranean veggies lasagna!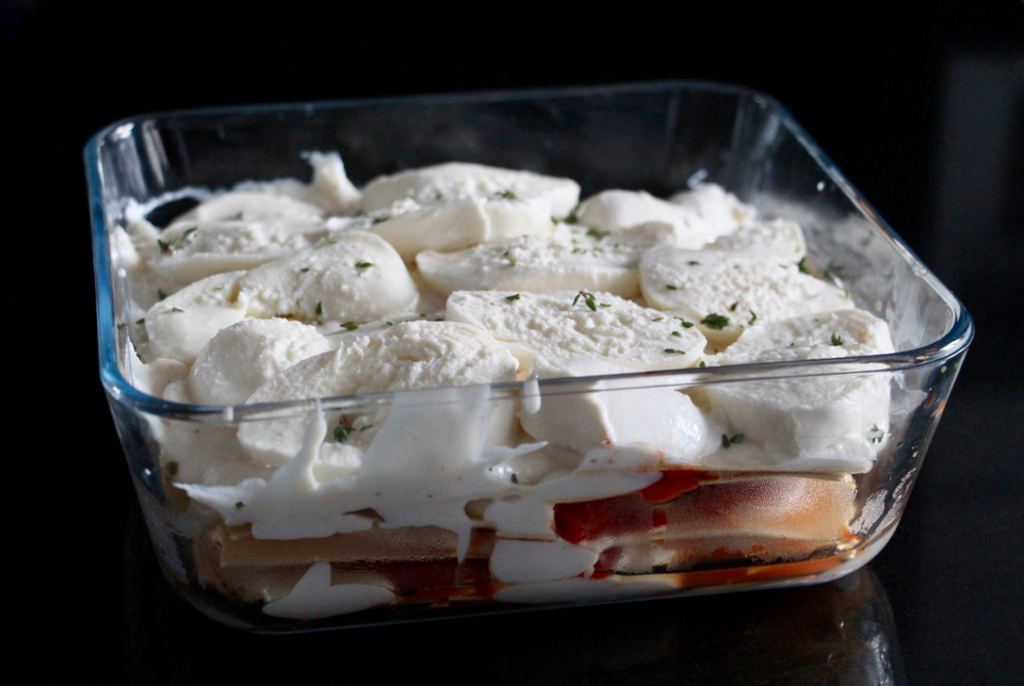 My Mediterranean veggies stew is a Spanish recipe actually, made with red pepper and tomato. Then you just have to adjust it as you like, with onions, zucchinis, …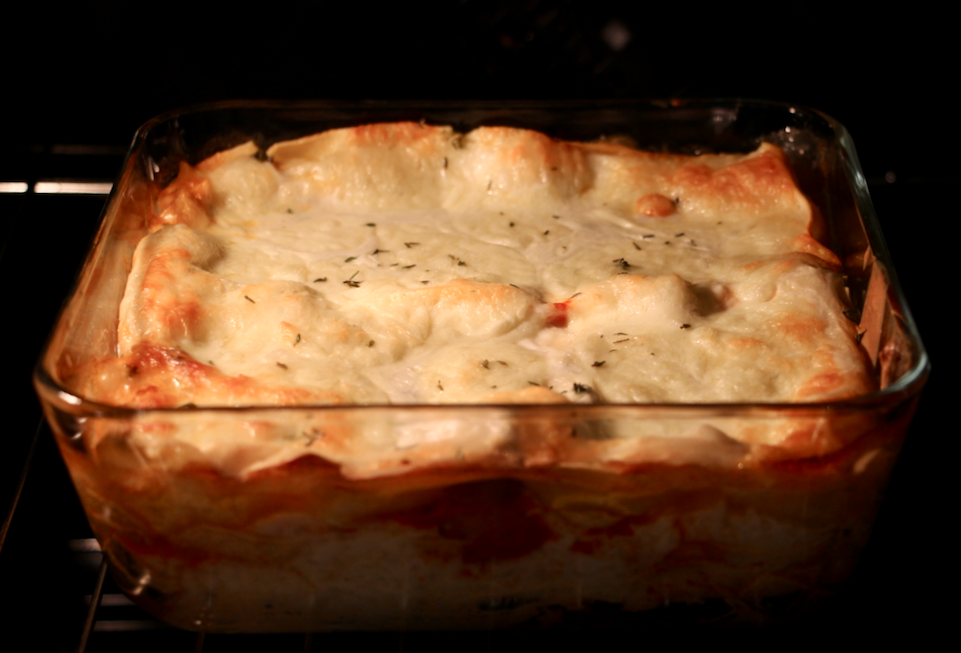 I make this vegetables mix quite often because my kids love it!! With pastas or rice it's delicious. So I had some in my fridge which I used instead of my Bolognese sauce  in my meat lasagna recipe. And bam! A new meatless recipe!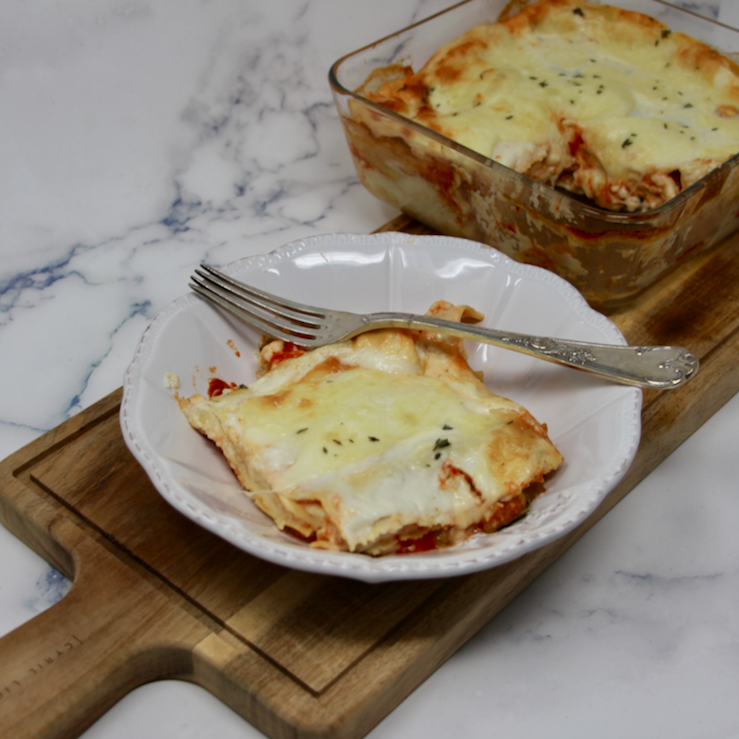 As my veggies were already cooked, it took me no longer than 10 minutes of preparation to make my bechamel sauce and my lasagna layers. After that, 25 to 30 minutes were enough to have a nice dinner on my table (Here I will give you the full recipe, veggies stew included).
I added fresh thyme from my garden to my mozzarella. It smelled like summer in our plates!!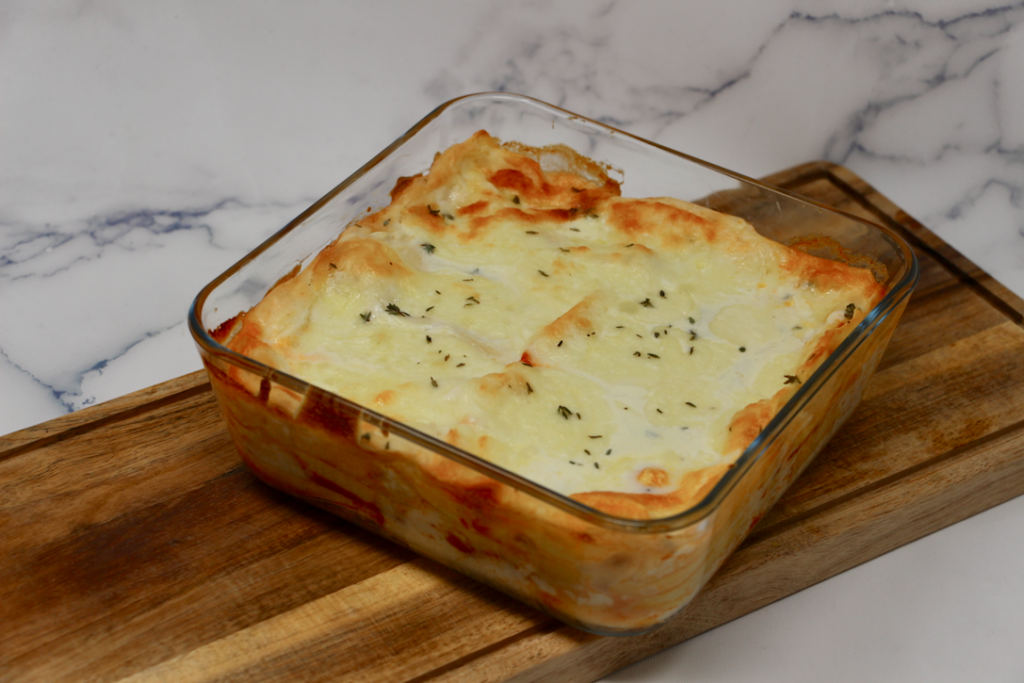 The utensils:
My Thermomix for the bechamel sauce or a sauce pan with a thick bottom,
A cast iron pan, like my Staub diameter 22 cm for the vegetables,
And an oven dish.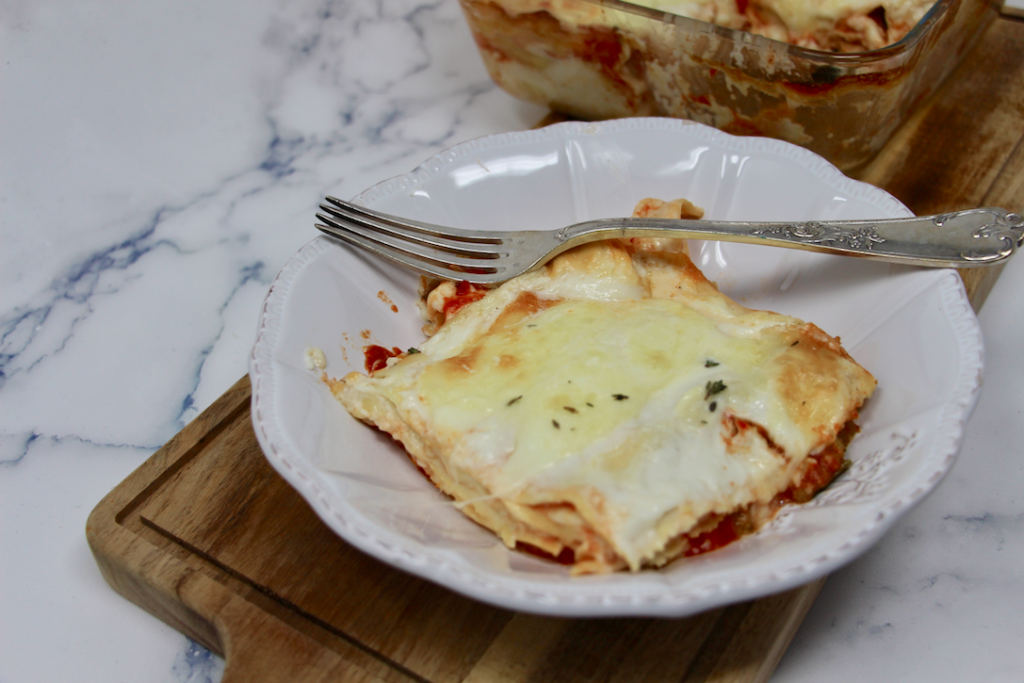 No more talking…
Let's see the recipe, Chef!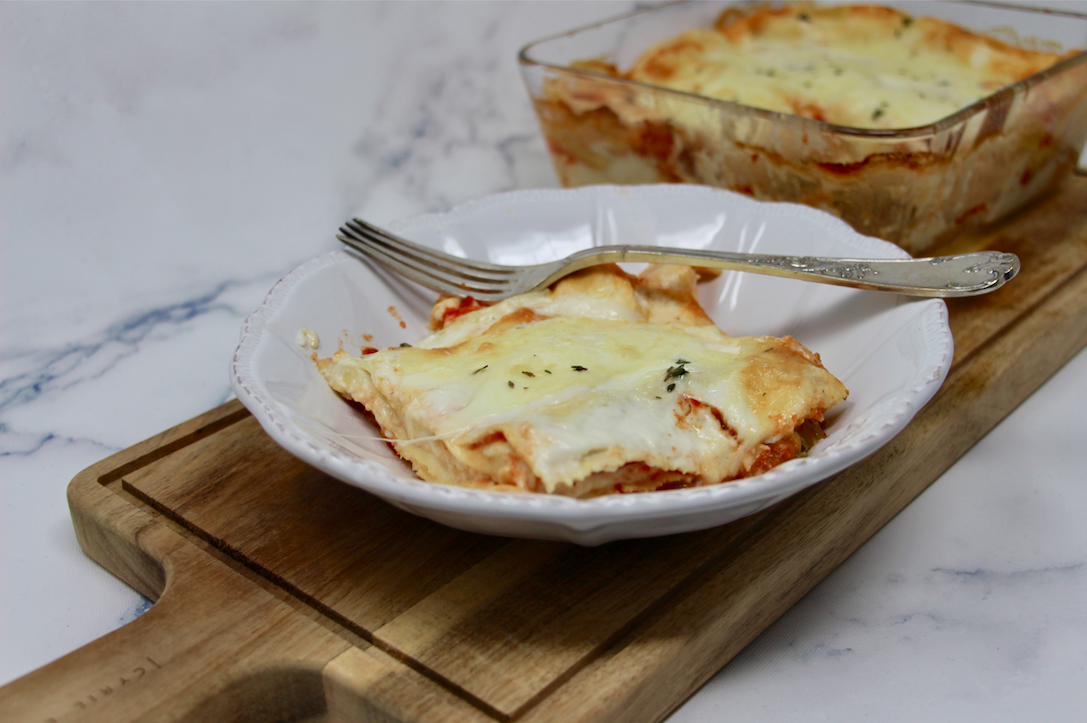 Print Recipe
Mediterranean Veggies Lasagna
Ingredients
1 red (or orange) pepper

1 zucchini

1/2 onion

1 garlic clove

100 ml tomato sauce

2-3 tablespoons of olive oil

Paprika

Red mild pepper

Espelette pepper

Ground ginger

400 g mozzarella

40 g butter

60 g flour

1/2 l milk

Salt

Pepper

Ground nutmeg

6-7 layers of fresh lasagna pasta
Instructions
1
Set your oven on "grill" and place your red pepper. Grill on each side. Then place in a plastic bag and close the bag.
2
After 15-20 minutes, peel the red pepper, empty the inside and cut it in pieces.
3
Mince the onion and cook it in a large sauce pan with the olive oil.
4
Add the minced garlic and cook for 1 minute.
5
Add the red pepper cubes, the zucchini also cut in cubes and the tomato sauce.
7
Add salt (do not add pepper until the end of the cooking).
8
Cook at low-medium heat for 45 minutes or more.
9
If you have a Thermomix, go to bullet point 13.
10
If not, melt gently the butter in a sauce pan.
12
Pour the milk, add the salt, pepper and ground nutmeg. Cook at medium heat while whisking until it thickens.
13
With a Thermomix, put all the ingredients (flour, milk, butter, ground nutmeg, salt and pepper) in the bowl. Set 7 min at 90 degrees, speed 4.
14
At the end of the cooking of your Mediterranean veggies stew, check your seasoning and add pepper.
15
Preheat your oven at 170 degrees.
16
Place one (or two) layer of lasagna pasta in your gratin dish.
17
Add vegetables, spread. Add the bechamel sauce.
18
Add more lasagna pasta layers, with vegetables and bechamel sauce until you get at least 3-4 layers of pasta.
19
Cover finally with mozzarella slices and thyme leaves.