Hello hello !!  Crepes are back !
We celebrate "la Chandeleur" (Candlemas) and Mardi Gras in France (also know as Shrove Tuesday) as in many other countries and you have the no other choice but to make crepes. To be completely honest, at Casserole&Chocolat(e), we do not wait for this special day to make them!
But first things first, where does this tradition come from ?
At the time of the Romans, Candlemas was a celebration for god Pan. All night long, the believers would walk the streets of Rome with torches.
In 472, the pope made it a religious celebration, which would soon stand for the presentation of  Jesus at the temple. Processions with candles would be put in place on that day: each believer had to bring a candle back home from the church, making sure to keep it burning.
Then another tradition was added : a myth saying that if people didn't make crepes on Candlemas day, the production of corn would be ruined for the whole year.
Also, while making crepes, people had to follow the rule of the golden coin. The peasants would bake the first crepe with their right hand while keeping a golden coin in their left hand. Then the coin would be wrapped in the crepe, carried by the whole family to the dormitory and put on the top of a shelf until the next year. They would take the remains of the previous year's crepe and give the golden coin to the first poor they would meet.
Doing all that, the family would be sure to have enough money for the whole year.
Now that you know everything about this great tradition, here is a recipe that I love : no oil in your batter but melted butter. It gives a nut taste so yummy !! Shall we start?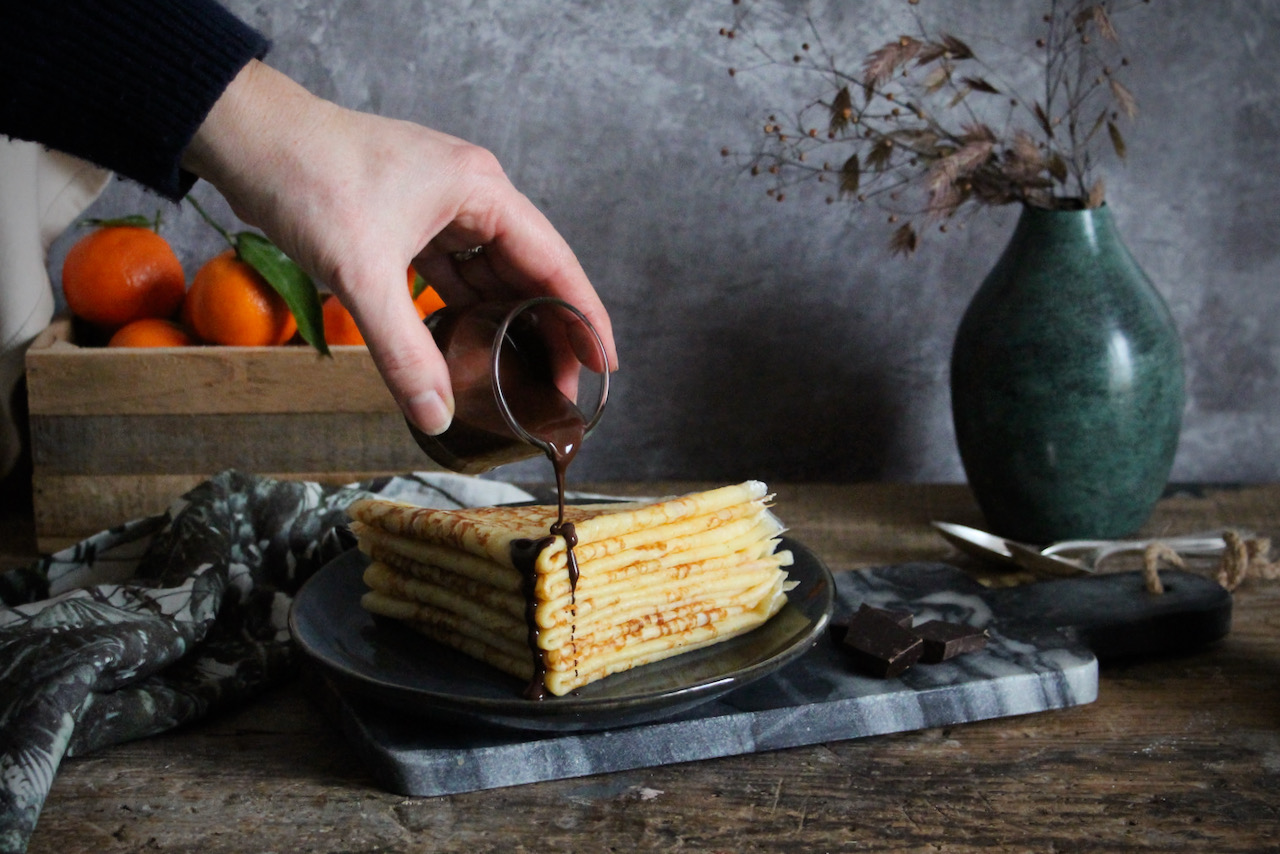 Print Recipe
Ingredients
750 g milk
250 g plain flour
6 eggs (approx 360 g)
1 egg yolk (20 g)
70 g golden caster sugar
20 g Grand Marnier (or White Rhum)
75 g butter
oil for the frying pan
Instructions
1
Melt gently the butter in a pan for approx 4 minutes. Keep whisking until the melted butter turns to a light brown. It should be foamy.
2
In a large blender bowl, mix the eggs, the egg yolk and the sugar together until it gets creamy.
3
Add the flour step by step and whisk until smooth.
4
Add the butter then, solwly, the milk.
7
Pour in one laddle of batter in a heated frying pan (use a paper towel to put oil before each laddle) then cook your crepe 1 to 2 minutes until it starts to come away from the sides. Flip it over and cook for 20 to 30 seconds tops.
8
Serve straightaway with your favorite topping.
Notes
My advice : when flipped over, don't cook it more than 30 secs otherwise your crepe miht dry. Bon appetite !