Hello my friends!!
Today I will share a festive recipe that you will love for sure!!
Here is my Mac'Praline…
This dessert, which is delicious 😉 , presents a great advantage, when time flies as it does at the end of the year… This Mac'Praline must be prepare in advance.
Indeed, once finalized, the Mac'Praline must be set aside in your fridge for at least 24 hours  (48 hours are even better) before being eaten. You get it, it's a good idea when you know that time will be an issue!!
To make it, you will have to make two large macaron discs or shells that will be filled with praline whipped ganache.
For the praline paste, I recommend that you make it yourself with the recipe on the blog. You will have leftovers… don't you worry, you can keep it for weeks and weeks.
(The "flowers" are made here with the Russian nozzle number 241 by De Buyer)
As far as organisation is concerned, start the ganache if possible 3 days before eating.
2 days before eating, make your two large macarons and whip the ganache. Then pipe the ganache on your macaron discs an set your Mac'Praline in your fridge until D day!
(If you decide to go for this very yummy version, you will make half of the praline ganache quantity more)
The utensils:
A food processor with whisk,
A small sauce pan with thick bottom if possible,
A spatula,
A food thermometer if possible
And a piping bag with diameter 12 nozzle or a 16 teeth star nozzle for example.
Shall we now?
The recipe, Chef!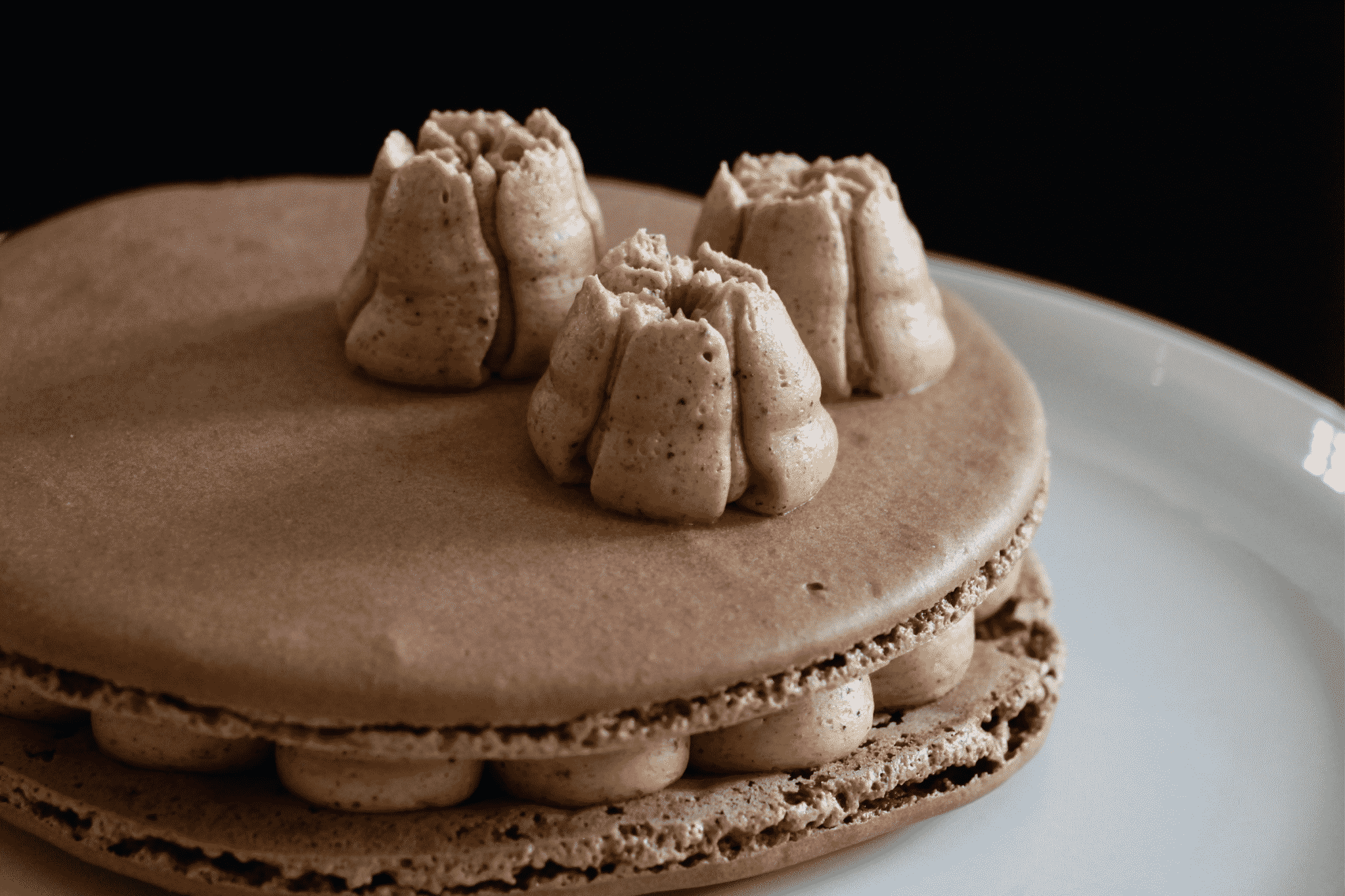 Print Recipe
Ingredients
145 g egg whites (4 egg whites) (for the shells)
180 g sifted almond powder (for the shells)
180 g sifter icing sugar (for the shells)
10 g unsweetened cocoa (for the shells)
180 g caster sugar (for the shells)
52 g water (for the shells)
80 g white chocolate (for the ganache)
50 g + 150 g cream (for the ganache)
65 g praline paste (for the ganache)
Instructions
2
Pour 50 g of cream in a saucepan.
3
Heat until it boils. Stop heating immediately.
4
Add the white chocolate. When it's melted, mix. Then add the praline paste.
5
Add the 150 g of cream, mix.
6
Place a clingfilm directly on the mixture so that there's no air remaining.
7
Set aside in your fridge for the night (or at least 4 hours).
8
Prepare the macaron shells.
9
Mix the almond powder, icing sugar, cocoa and 70 g egg whites in a large bowl. You should get a very compact mixture.
10
Start whisking the remaining egg whites at speed vitesse 4 on a scale from 1 to 6.
11
In the meantime boil the water and caster sugar. When the syrup reaches 118 degrees (or when you have littles bubbles all over the surface), pour it gently on the egg whites while whisking.
12
Keep on whisking until the mixture gets below 50 degrees (you should be able to place your hands against the bowl without burning them).
13
Add a large tablespoon of this meringue to your almond batter and mix with the spatula.
14
Add 1/3 of the meringue and mix with the spatula.
15
Add another thrid of meringue and mix.
16
Add the last third and mix.
17
Mix gently until the batter surface flattens when you stop mixing. Be carefull, if you mix to much you won't get the right result after baking.
18
Pipe the two shells on two baking paper sheets.
20
Preheat your oven at 170 degrees.
21
Bake each shell (one after the other) 20 minutes.
22
Place your shells on a grid for cooling down.
23
Finish preparing the ganache.
24
Place the bowl and whisk in your freezer for a few minutes.
25
When the bowl is cold, pour the cream inside and whisk for a few minutes. You should get a firm and compact ganache.
26
Garnish immediately your first shell. Cover with the second one and finish decorating.
27
Set aside at least 24 hours in your fridge before eating.