Hello my lovelies!
Today I will share a recipe that is the direct result of the challenge given to me by Ambiance et Styles, a French tableware retail store.
Here are the (mini) goat cheese, honey and basil madeleines.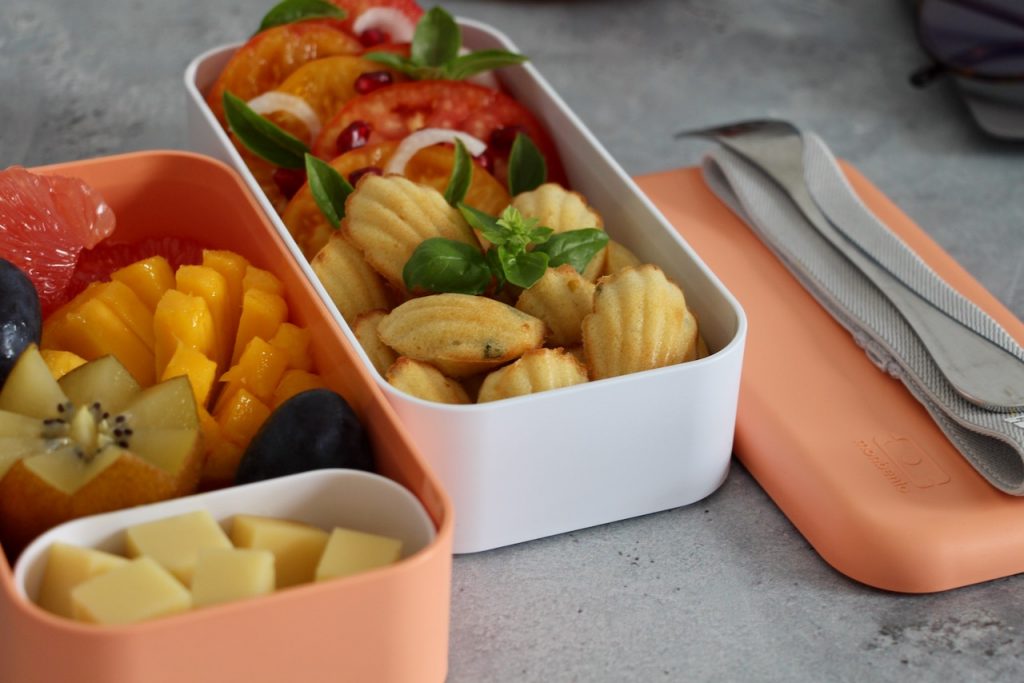 Ambiance et Styles is celebrating its 25th anniversary. So let's wish them 25 more years and a happy anniversary!!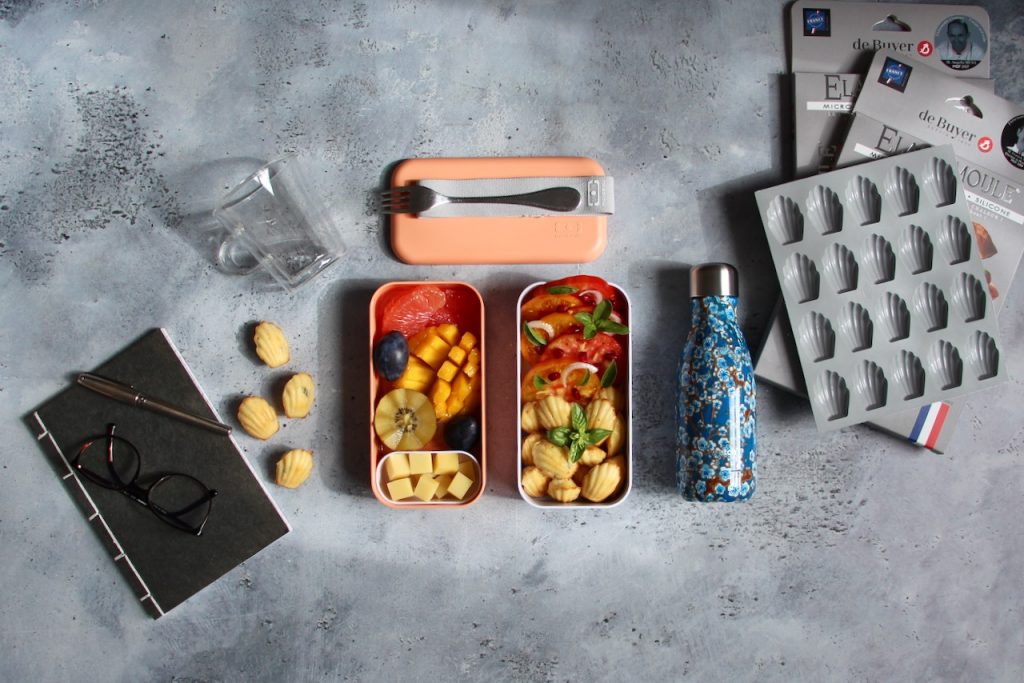 This goat cheese, honey and basil madeleines recipe is the good opportunity to introduce a tiny bit of the wide range of products you can find in their stores.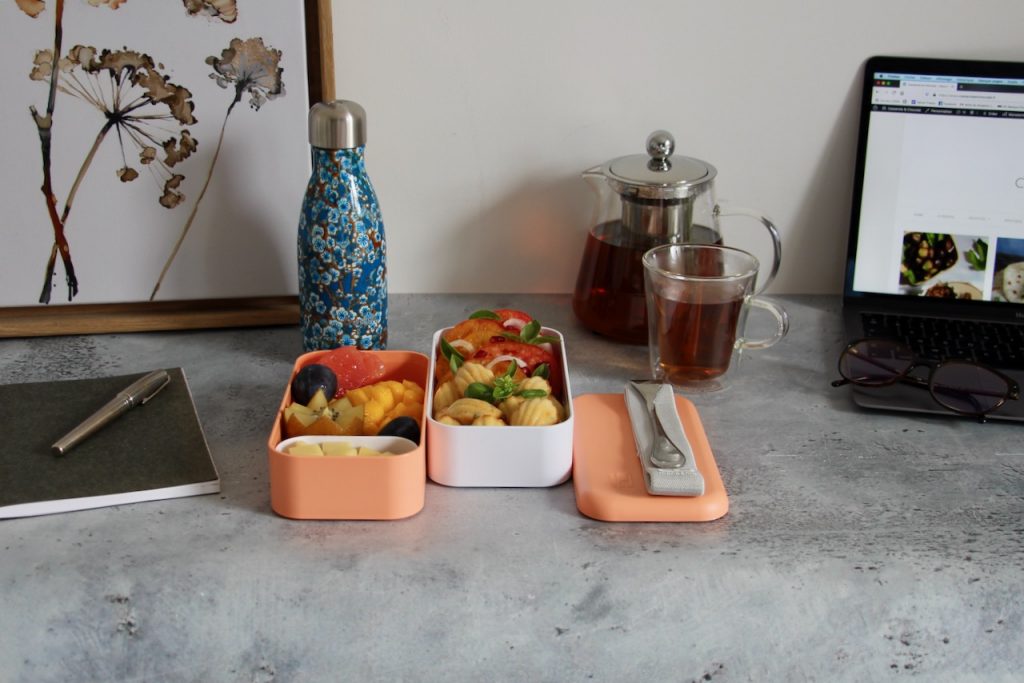 I wanted to give you a solution for your lunches at work with this Bento box! Yummy and healthy!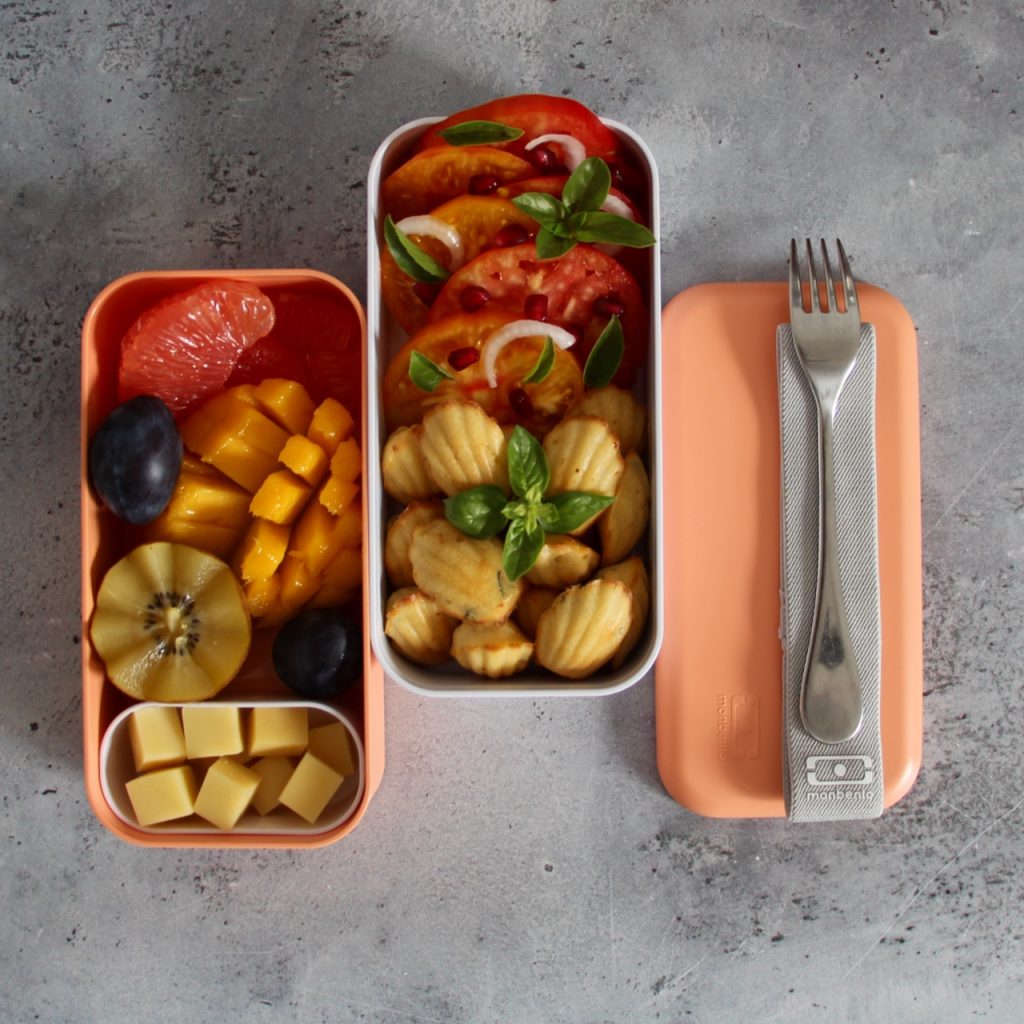 You'll find my tomato and pomegranate salad (I still have a few delicious tomatoes in my garden!!) perfectly combined with my goat cheese, honey and basil madeleines. I used here the mini-madeleines Elastomoule by De Buyer (yes, my favorite brand is well represented in all the Ambiance et Styles stores!!).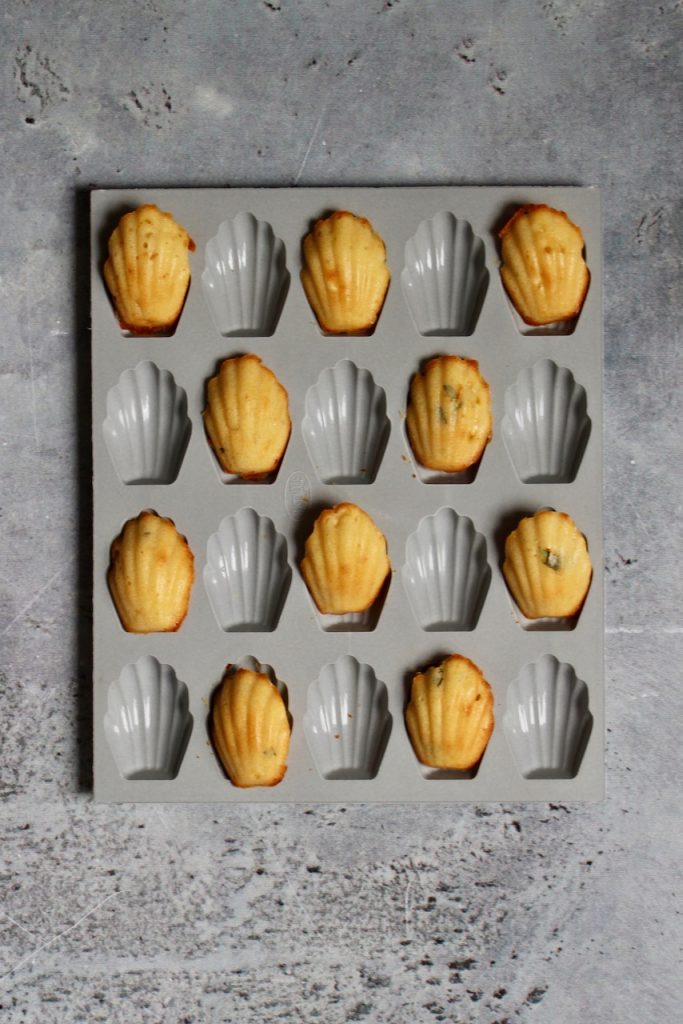 You can cook your madeleines in molds for larger ones. In this case, add 3-4 minutes of baking. You'll be able to make 15 to 18 madeleines.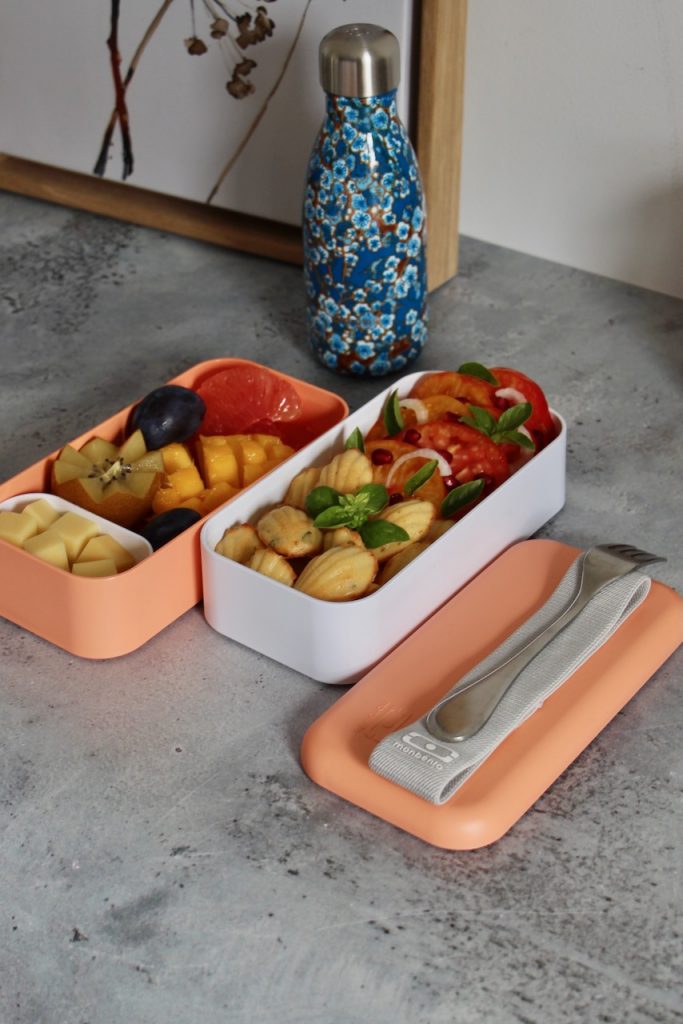 I added Comté cheese and fresh fruits in my Bento box. It was perfect, nourishing and healthy don't you think ? And as you know me so well, you understood already that this recipe will be a part of my appetizers for Friday dinners!! 😉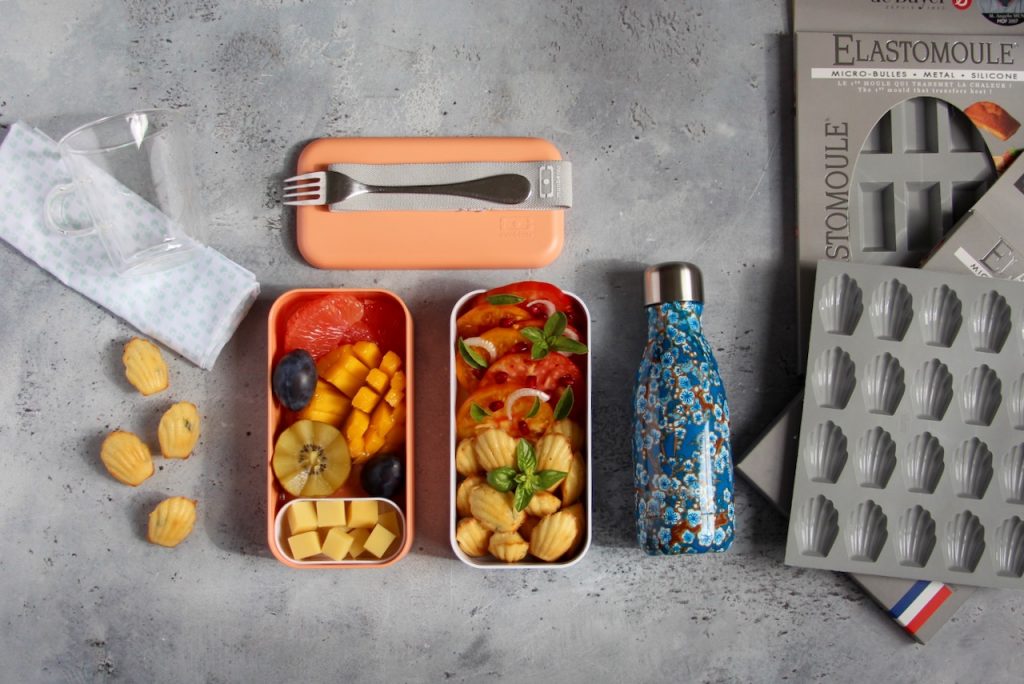 The lunch box "Monbento" and the De Buyer molds are made in France. Another good reason to get one …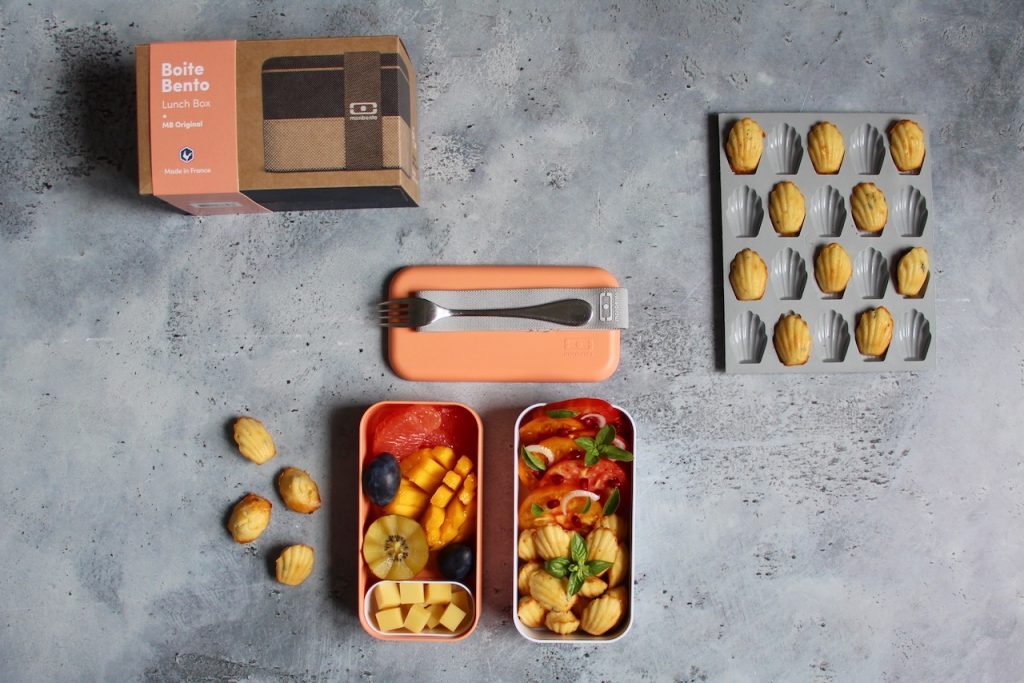 The utensils you need to make my goat cheese, honey and basil madeleines:
A large bowl,
A small sauce pan,
A whisk,
A spatula,
A piping bag and a 10 or 12 round nozzle to fill in the molds (or a teaspoon)
And the mini madeleines elastomoule.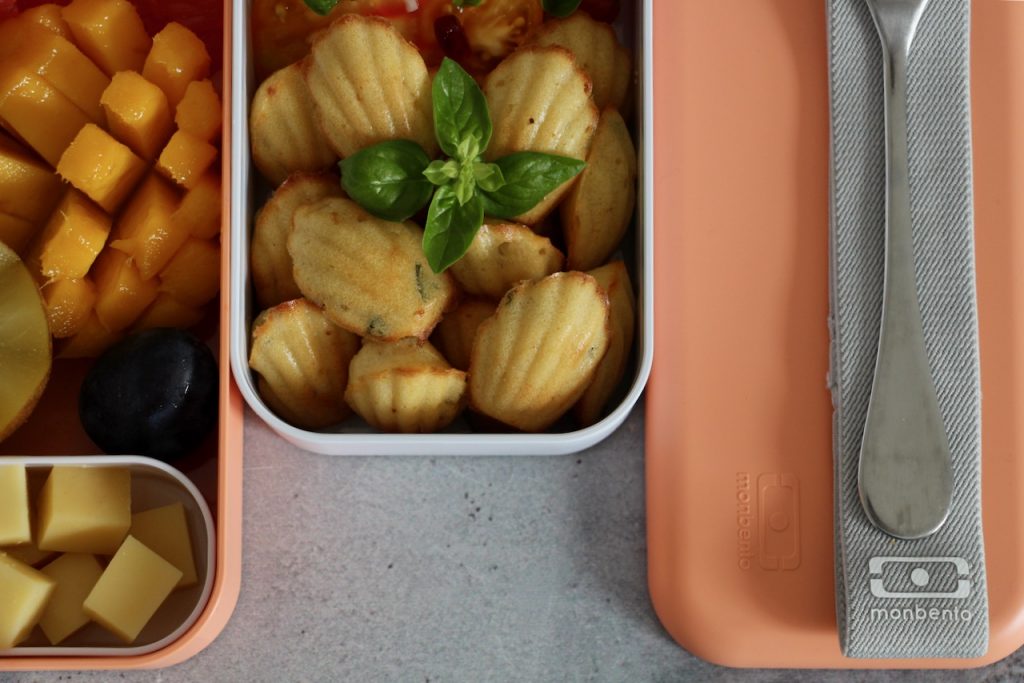 And now let's say thank you to Ambiance et Styles for the challenge.
The recipe, Chef!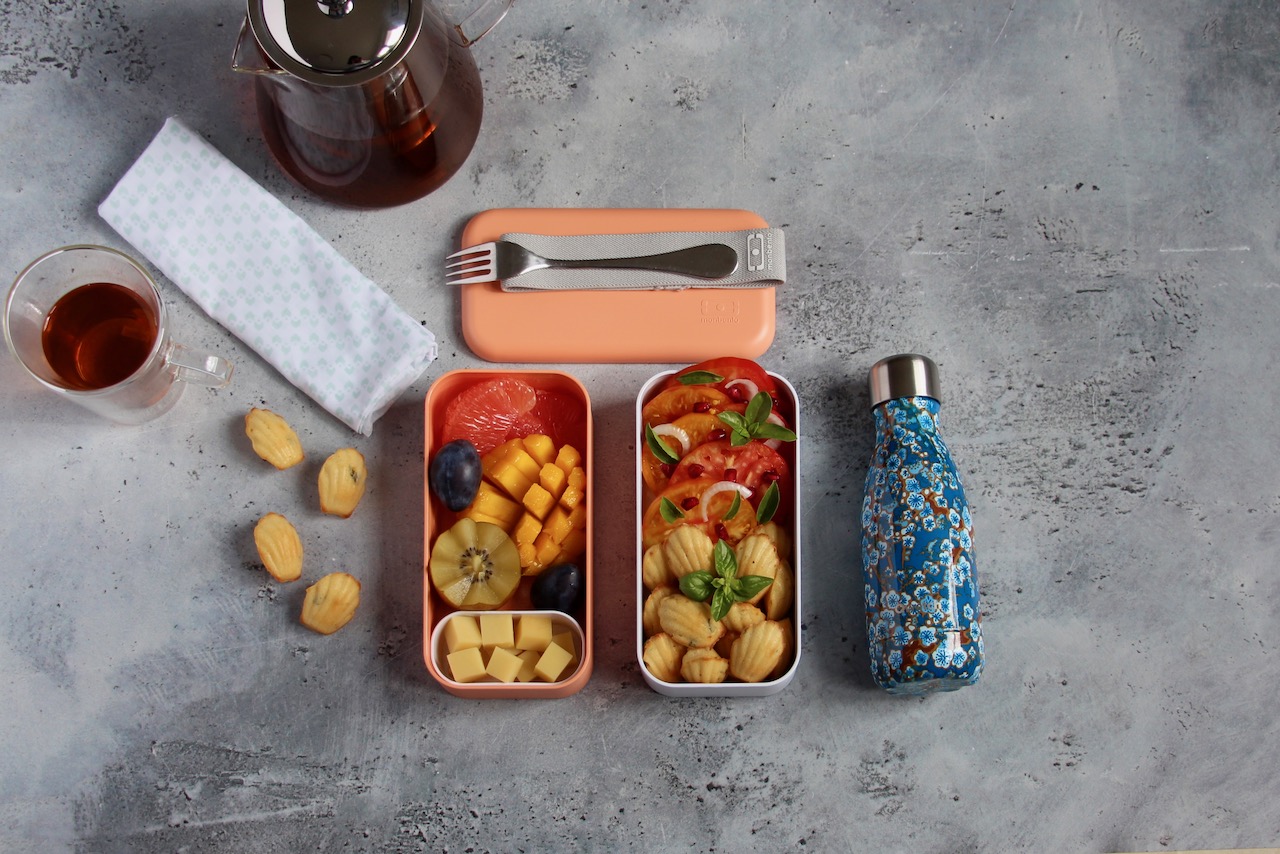 Print Recipe
Goat Cheese, Honey and Basil Madeleines
Ingredients
2 large eggs
100 g flour
1 teaspoon baking powder
65 g butter
20 g honey
50 g goat cheese
6-8 basil leaves
1/2 teaspoon salt
1 pinch Espelette pepper
Instructions
1
The day before (or 4 hours before cooking), melt the butter and honey in your sauce pan. Set aside.
2
Pour the flour and baking powder in your bowl.
3
Start whisking and add the eggs one by one.
4
Whisk until you get an homogeneous mixture.
5
Add the melted butter and honey. Whisk.
6
Add the goat cheese cut in small cubes, the chopped basil, salt and Espelette pepper. Mix gently with a spatula.
7
Place a cling film directly on the surface and set aside in your fridge for the night.
8
The next day butter and flour the madeleine molds. Fill them in up to 3/4.
9
Place them back in your fridge.
10
Preheat your oven at 200 degrees C (390 F).
11
Place your madeleines trays in the oven and lower the temperature immediately to 170 degrees C (340 F). Cook 6 minutes.
12
Remove from the oven, let cool down 5 minutes before unmolding.
13
Serve warm or at room temperature.