What if you went on a trip? Far away… Where there's sunshine, amazing landscapes and really great food??
Today let me take you to Thailand with this lamb Massaman (red curry).
I love this dish which I was lucky enough to discover during a trip there, it's definitely one of my favorite Thai meals. It's quite spicy most of the time, this recipe is spicy but not in the way that your mouth will burn! My whole family enjoyed it…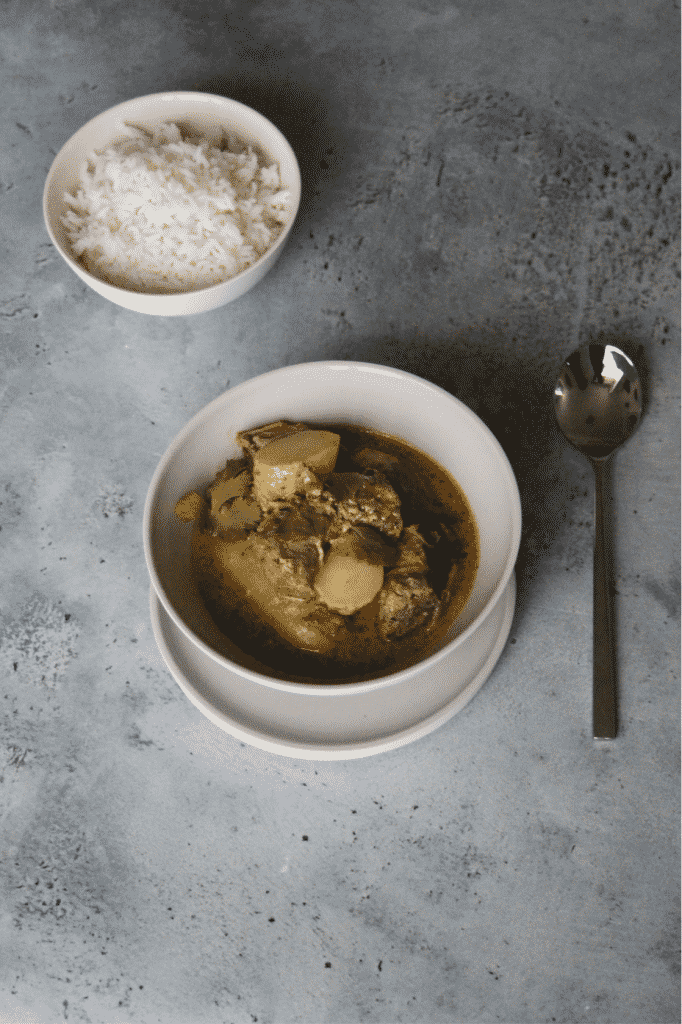 So if you're not a huge fan of spices, or on the contrary if you like to set your mouth on fire, it's up to you to adjust the ingredient quantities.
Basically, whether it is for this lamb massaman, or more generally for any spicy food, I season my meals step by step. Spices and curry paste will develop their flavors little by little during cooking. That's why you should take it slow, taste your lamb massaman often and adjust to get the right balance of flavors and spice.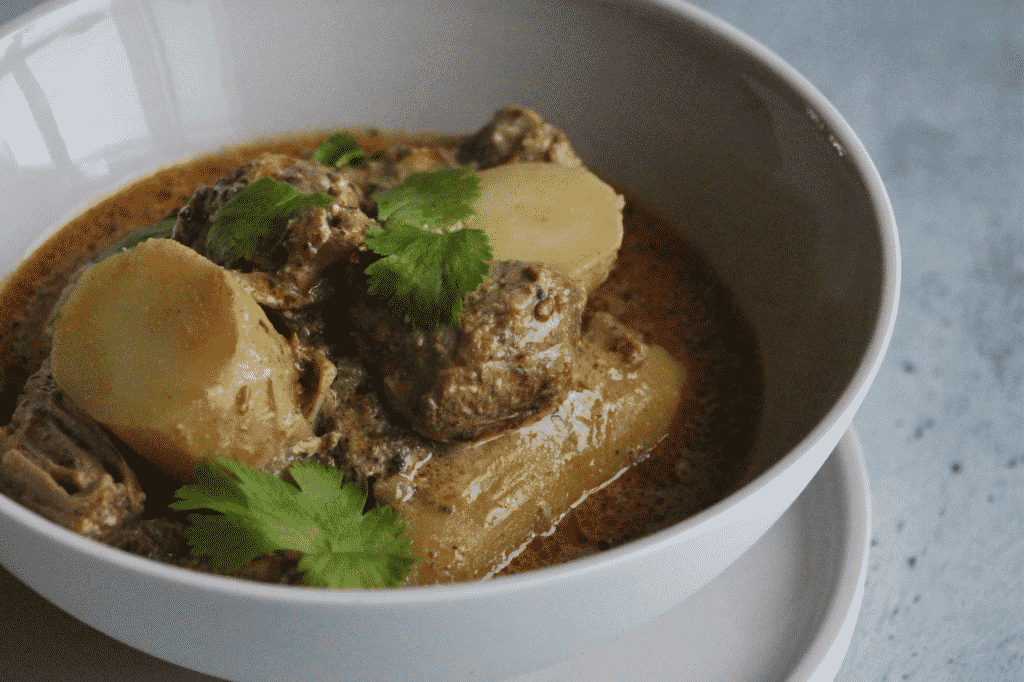 This lamb massaman is a full dish, yet often served with white rice. The cooking is gentle and slow, a little bit like my 7 hours lamb shoulder … In the end, the meat will be super tender, it will almost  melt in your mouth!!
Most of the time I make the recipe over 2 days. I cook it around 4 hours the day before and then I leave it to rest. The flavors will have time to spread. The next day, I start cooking again, I adjust seasoning with spices and/or curry paste and I eat!!!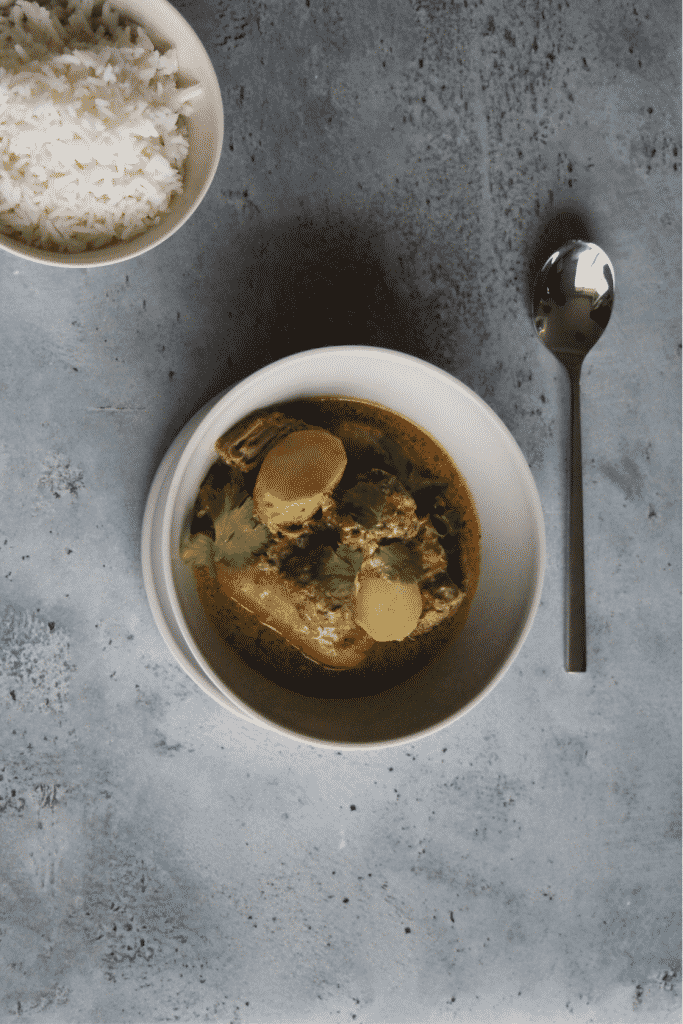 I cooked this dish first in my oven and then on my stove since I find it easier to have the casserole on the stove when you have to adjust the seasoning. Still, you can choose to cook it entirely in your oven or entirely on your stove.
Another good point about this lamb massaman: I always cook large quantities and the whole family enjoys leftovers… Not bad, right?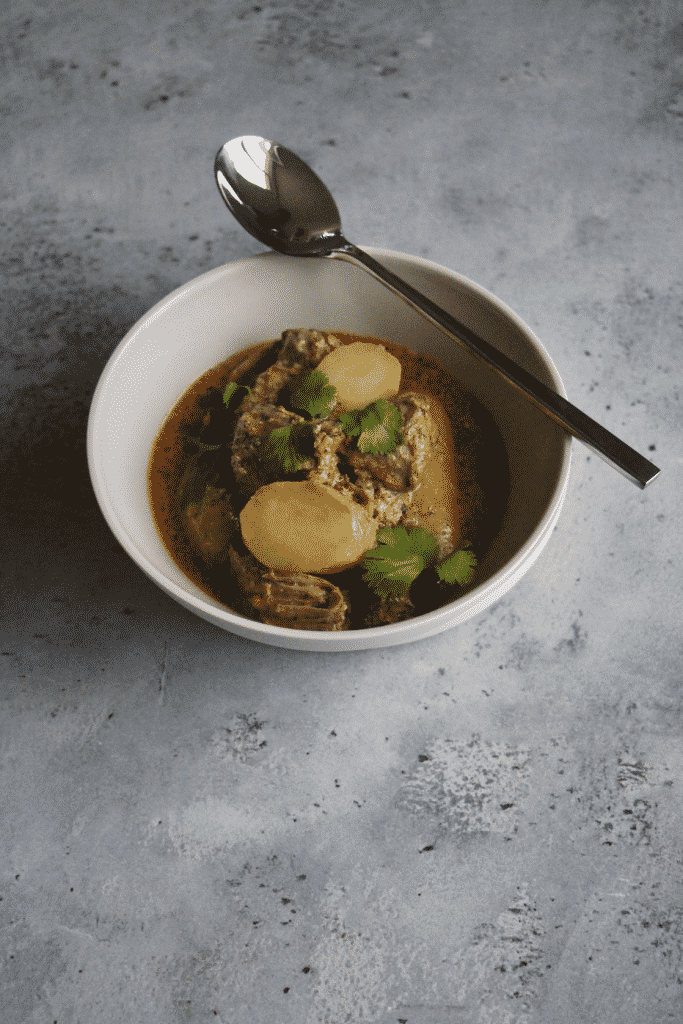 The utensils:
A cast iron casserole like Staub or Le Creuset,
A cutting board
And a sharp knife.
Nothing more!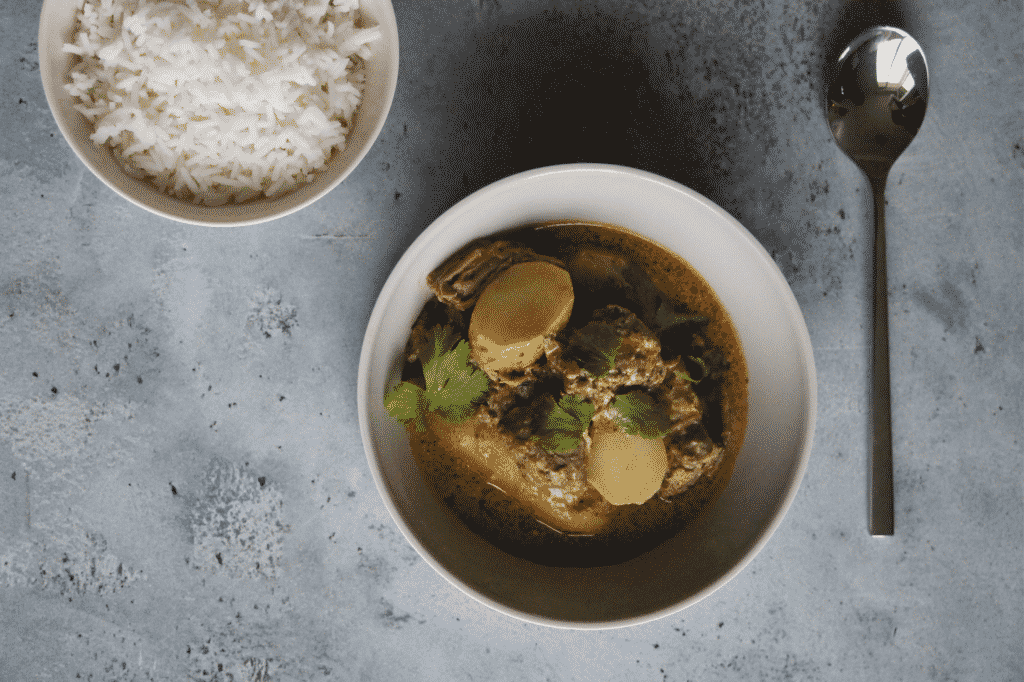 (Presentation: tableware and spoon L'Économe by Starck and Degrenne)
Ready now?
The recipe, Chef!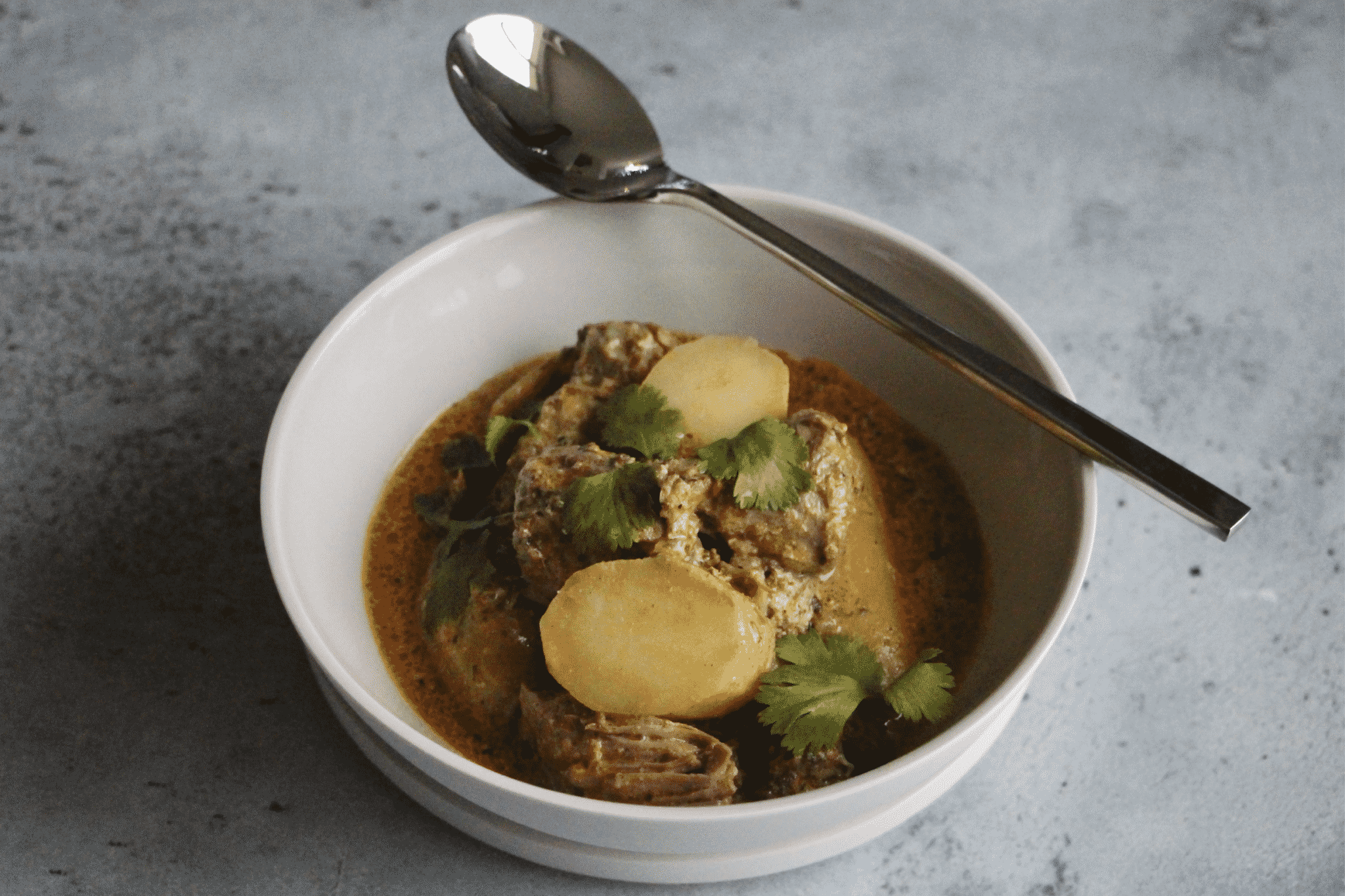 Print Recipe
Lamb Massaman (red Curry)
Ingredients
1,6 kg lamb shoulder cut in pieces

2 onions

600 ml coconut milk

5 large tablespoons red curry paste

5 garlic cloves

15 - 20 small or medium size potatoes

1 tablespoon ground cinnamon

1 tablespoon green anise or fennel seeds

1 tablespoon cumin seeds

1 tablespoon ground ginger

1 tablespoon ground coriander

Salt

Pepper
Instructions
1
Preheat your oven at 110 degrees.
2
Place your lamb pieces in your casserole.
3
Add the onions roughly cut, the minced garlic and spices.
4
Pour the coconut milk, and water so that to cover more or less the meat. Add the curry paste and salt.
5
Place the lid and cook for 2 hours 30 minutes.
6
After this time, remove from the oven. Taste the sauce and adjust seasoning (be carefull, cooking isn't over yet, do it little by little).
7
Add the potatoes (peeled or not, it's as you wish), cover and place on your stove at low heat (2 on a scale from 1 to 6).
8
Cook for 4 hours, mix from time to time and taste the sauce.
9
Add pepper before serving.
Notes
You can add fresh coriander when serving.