Last few days before Christmas, it feels like a bakering marathon!!
I made the famous bredeles (the Alsatian Christmas cookies), brioches, muffins and now I fill a gap, even a void, here is finally my gingerbread!!
It's has been a few years since I wanted to make gingerbread. Each time something was missing: the right recipe, a specific ingredient…
This time, I was super ready!! I had found Chef Christophe Felder's recipe (thank you the amazing cookbook "Pâtisserie!"), I went grocery shopping!! With a written shopping list so that I wouldn't miss a thing…
Do you see it coming? The failure? Aww yes! I forgot the orange marmelade!! So I will introduce the almost Christophe Felder's gingerbread recipe.
I took what I had in my kitchen: yellow plum jam, but Alsatian yellow plums, so that remains okay!!! 😉 I also added pearl sugar and I used a pound cake mold, whereas the Chef suggests gingerbread shaped as muffins.
Anyway… I just can't help it!! But guess what? It's was good, even really good!!! Amazingly soft and moist!! I could find the gingerbread taste from my chilhood memories… which a slight touch of yellow plum!! 😉
Add butter and it will be heavenly!!
The utensils:
My Affinity sauce pan by De Buyer
A mixing bowl, a spatula and a good whisk
A pound cake mold or muffin molds.
Shall we now? Let's do this!
The recipe, Chef!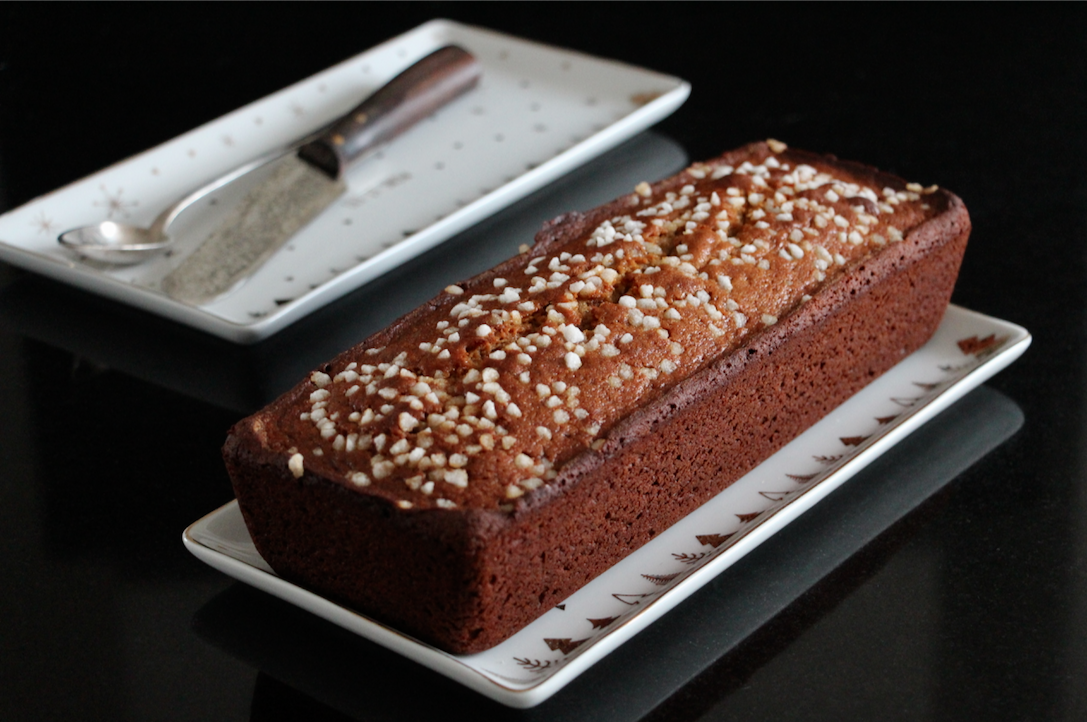 Print Recipe
Ingredients
150 g rye flour
50 g allpurpose flour
15 g brown sugar
11 g baking powder
1 teaspoon cinnamon
1/2 teaspoon gingerbread mixed spices
200 g yellow plum jam
240 g fir tree honey
2 eggs
80 g butter at room temperature
1 teaspoon salt (4 g)
100 g milk
1 tablespoon star anise
1 handful pearl sugar
Instructions
1
Heat the milk. Remove from the stove once it starts boiling.
2
Add the star anise and set aside 10 minutes.
3
Preheat your oven at 170 degrees.
4
Pour the flours, baking powder, brown sugar, cinnamon powder and gingerbread mix in a large bowl.
5
Heat the honey and add it to the powders in your bowl. Add the jam too. Mix with a spatula.
6
Add the 2 eggs, soft butter and mix until you get an homogeneous mixture.
7
Remove the star anise from the milk and add the milk to the mixture. Whisk.
8
Pour in a 22-24 cm length cake mold, previously buttered. Spread pearl sugar.
Notes
The initial recipe is made with 240 g orange marmelade instead of the 200 g of yellow plum jam.