Hello my friends,
This is probably one of the most iconic French pastry recipes! The famous Paris-Brest! A delicated choux pastry, filled with a delightful praline mousseline cream and praline paste. Interested maybe?
Let's see the recipe, Chef!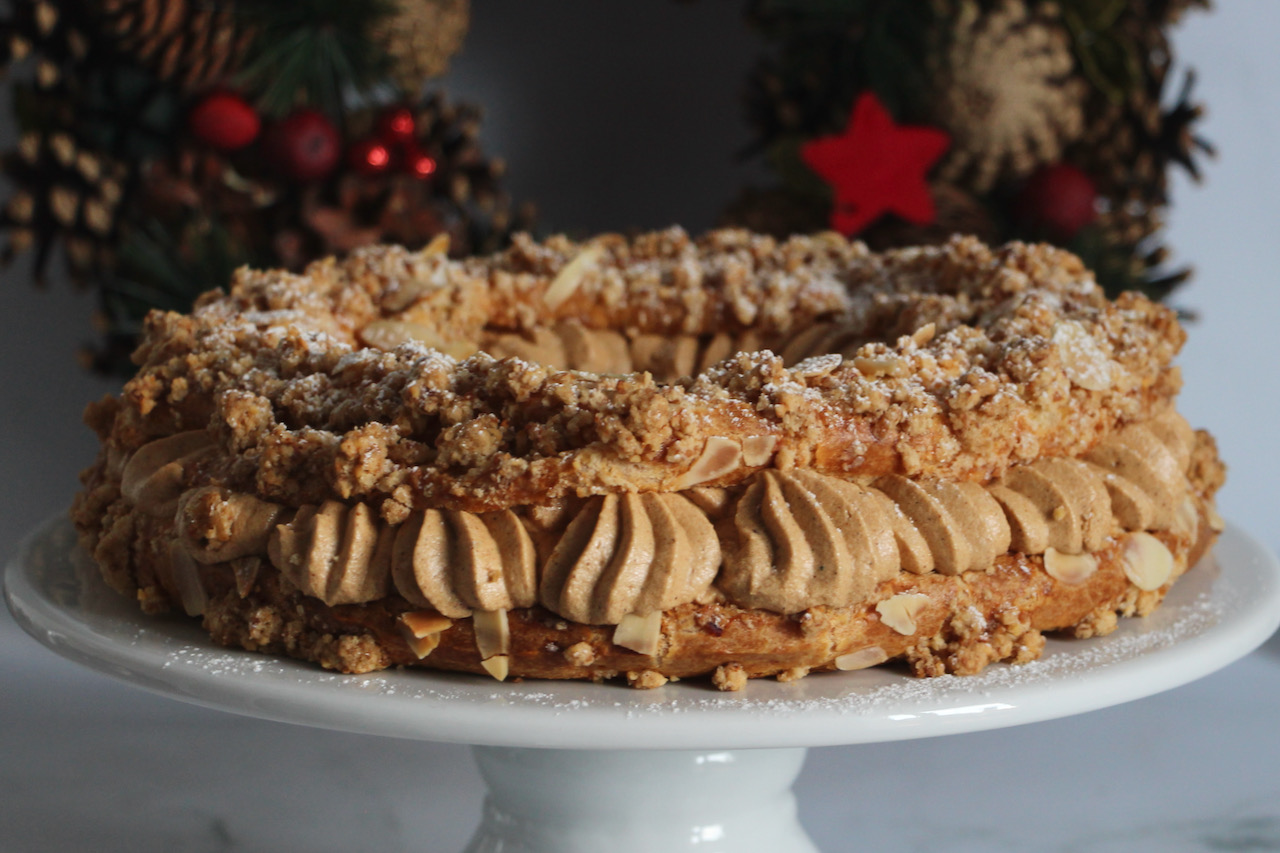 Print Recipe
Ingredients
Choux pastry

120 g eggs (2 large eggs)

70 g milk

70 g water

8 g honey

60 g butter

85 g flour

1/2 tsp salt

Streusel

20 g crushed nuts

20 g brown sugar

20 g cold butter

20 g flour

Vanilla curd

1/4 l milk

4 egg yolks

20 g sugar

22 g flour

1/2 vanilla pod

Light butter cream

25 g water

60 g de sugar

45 g de egg whites

15 g sugar

3 egg yolks

150 g de sugar

60 g water

210 g butter at room temperature

Assembly

170 g praline paste

50 g almond flakes

1 tbsp icing sugar
Instructions
1
Mix with your fingers the cold butter, flour, brown sugar and crushed nuts.
2
Set aside once homogeneous.
3
Preheat your oven at 160 C / 320 F degrees.
4
Melt the butter into a sauce pan with the milk and water then boil.
5
Lower the temperature and add the flour and salt. Mix vigorously with a spatula until homogeneous.
6
Keep on mixing while your sauce pan is still heating slowly (we dry the pastry) for 2 minutes and make sure that the pastry won't stick to the bottom of your pan.
7
Take the pan away from the heat and add one egg and whisk until you get an homogeneous mixture.
8
Add the second egg and whisk. Your mixture must be smooth and homogeneous.
9
Pour the pastry into your piping bag and pipe a ring on a baking mat or a baking paper.
10
Pipe a second ring inside the first one, against the boarder of it.
11
Pipe a third ring on top the first ones, in the middle.
13
Cook for 50 minutes. Do not open the oven door during that time ! According to your oven you might need 1 hour cooking.
14
Make sure to have a nice golden color (if not, cook a few more minutes while still watching).
15
Remove from the oven, wait 2-3 minutes and place on a cooling rack.
16
Pour the milk in a saucepan with the vanilla pod cut in half.
17
Boil and remove immediately from the heat. Set aside for 15 minutes.
18
Combine the egg yolks and the sugar until foamy white.
19
Add the flour and combine.
20
Remove the vanilla pod from the milk. Pour half of the milk on your egg mixture and mix. Pour the other half, mix again.
21
Pour back in your saucepan and put at medium heat for 2 minutes while whipping with energy.
22
Pour it in a bowl and cover with a clingfilm. Set aside in your fridge.
24
Heat the 25 g water and 60 g sugar up to 118 degrees (you should get bubbles all over the surface).
25
In the meantime whisk the egg whites with 15 g sugar.
26
Pour the sugar syrup on the foamy whites and keep whisking until it cools down completely (several minutes). Set aside.
27
Place the egg yolks in your food processor bowl and start whisking.
28
Heat the 60 g water and 150 g sugar up to 118 degrees (you should get bubbles all over the surface).
29
Pour the sugar syrup on the egg yolks, keep whisking until it gets foamy and white.
30
Place the butter in another bowl and whisk it. Add it to the previous mixture. Whisk until you get an homogeneous mixture.
31
Finally, add the meringue and whisk at slow speed in order to add air in your butter cream.
32
Cover with a cling film. Set aside in your fridge.
33
When your butter cream is cold, pour it in your food processor bowl. Whisk at medium speed.
34
Whisk your vanilla curd to get a smooth texture.
35
Pour the vanilla curd on the butter cream, add 150 g praline paste and combine gently with a spatula until homogeneous.
36
Cut your choux pastry crown in half, horizontally.
37
Pipe a generous layer of cream on the lower part of the crown.
38
Pipe the remaining 20 g of praline paste in the center. Pipe the remaining cream.
39
Place the upper part of the crown back, spread almond flakes and icing sugar.
40
Set aside in your fridge until serving.